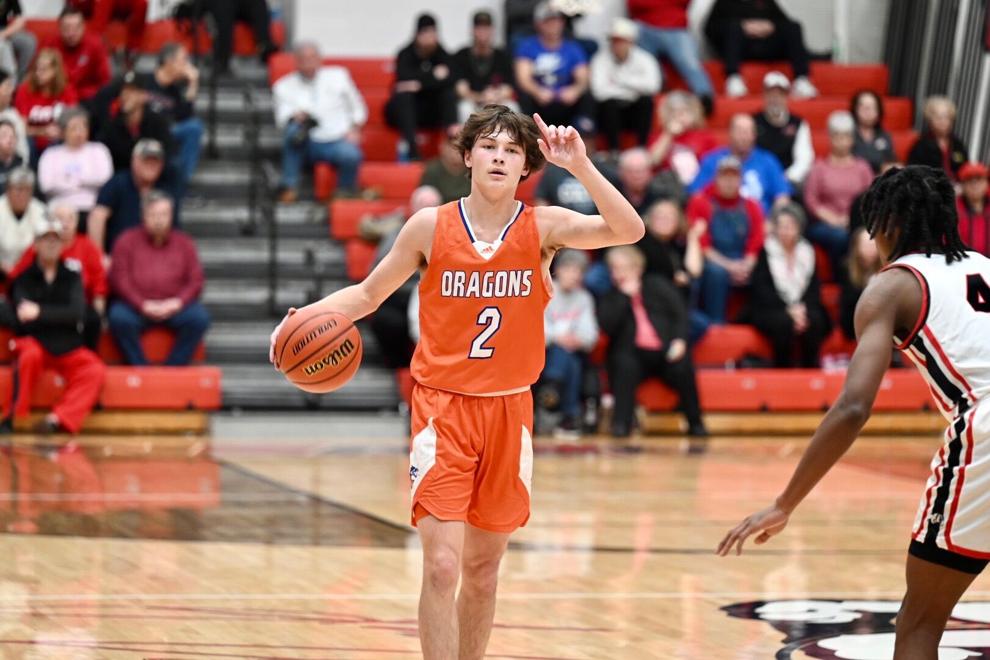 NEW ALBANY — The pressure of a close, tight game didn't phase Silver Creek in the fourth quarter Friday night.
After surrendering a late lead, the Dragons came back for a 65-57 win over host New Albany at the Doghouse.
"We knew they'd go on their run," said Silver Creek senior guard Kaden Oliver, who tallied a team-high 22 points in the victory. "We knew not to rush anything, just get good shots and get to the rim."
Walker Hoffman's rebound basket with 7 minutes, 20 seconds to play put Creek up 50-42. But then Josten Carter took over.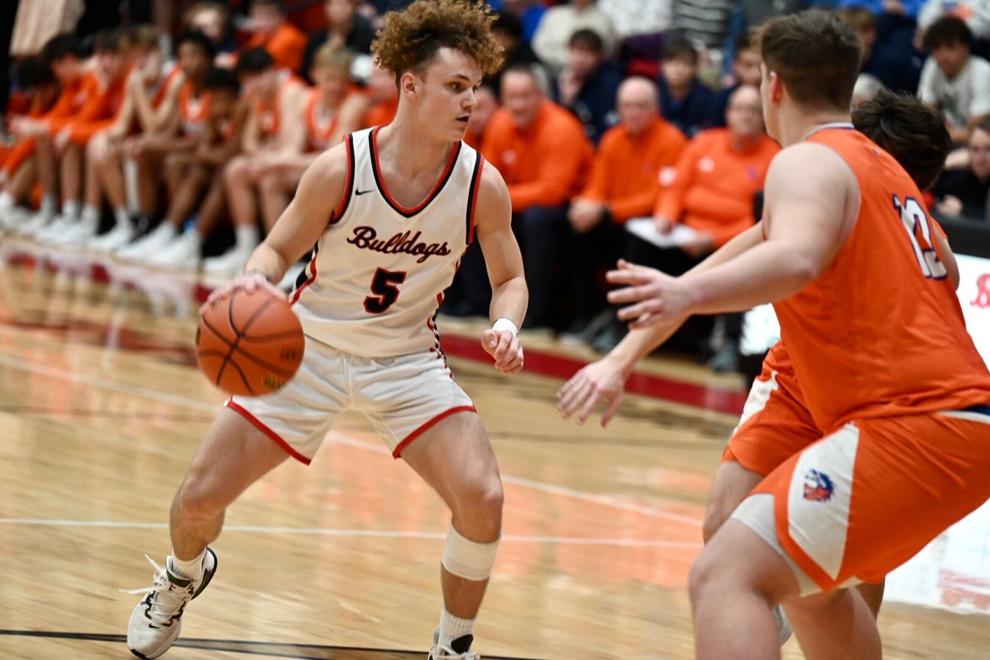 The Bulldogs senior, who finished with a game-high 26, scored nine consecutive points. Then a layup by teammate Tommy Devine gave the hosts a 53-50 lead with 4:36 left.
However Creek didn't retreat. Instead, the Dragons finished the game with a 15-4 run.
Oliver had six points during that spurt while freshman Kasen Daeger added five for Silver Creek (6-5).
"During that stretch we hit some big shots," Dragons coach Brandon Hoffman said. "We've been through a lot with injuries already. We had a great week of practice and we had everybody together. This is a huge win. Anytime you win at New Albany it's a big deal."
In the first half neither team could get much separation.
The 'Dogs led 13-9 before Creek closed to within 18-17 by the end of the first quarter.
The Dragons took the lead in the second period, but the Bulldogs got a basket by Rylan Schrink and a 3-pointer from Carter to tie it up at 28 by the break.
Both teams were 10 of 26 from the field in the first half. Oliver had 14 points, compared to Carter's 12, in the opening 16 minutes.
"I didn't think we played very well on defense the first-half, especially on Oliver. He hurt us," New Albany coach Jim Shannon said. "We started shadowing him a little, not letting him have the ball. Once he got it, he did a lot of damage. It wasn't just him, it was others too."
Silver Creek seemed to establish itself in the third quarter. A Dragons' surge, which included five points from senior Jace Burton, put them up 46-34 after a 3-pointer by Nate Davidson.
However the Bulldogs (8-5), behind Carter, battled back.
"We seemed to settle down and move the ball a little bit better. As much trouble as we had with Oliver, they had with Carter," Shannon said. "They had other kids step up and help Oliver. We didn't get much help for Josten tonight. We've got to do a better job of getting other guys some points."
Daeger contributed 13 points while Hayden Garten added eight for the Dragons, who host Austin at 7:30 p.m. tonight.
"I said to the guys before the game, 'They are going to make big plays, we just have to in-bound, go back and play our game.' We were pushing the ball up the floor and playing harder on defense."
Jeremy Rose tallied 12 and Jordan Treat eight for the Bulldogs, who will visit Evansville Reitz at 8 p.m. tonight.
.
SILVER CREEK 65, NEW ALBANY 57
Silver Creek 17 13  18 17 — 65
New Albany 18 12   12 15 — 57
Silver Creek (6-5): Hayden Garten 8, Kaden Oliver 22, Kasen Daeger 13, Kyle Roberts 6, Walker Hoffman 4, Jace Burton 7, Nate Davidson 5.
New Albany (8-5): Tommy Devine 7, Josten Carter 26, Jeremy Rose 12, Jordan Treat 8, Rylan Schrink 4.
3-point field goals: Silver Creek 6 (Oliver 2, Roberts 2, Burton, Davidson); New Albany 10 (Carter 6, Devine, Rose 2, Treat).
JV game: New Albany 60, Silver Creek 55.