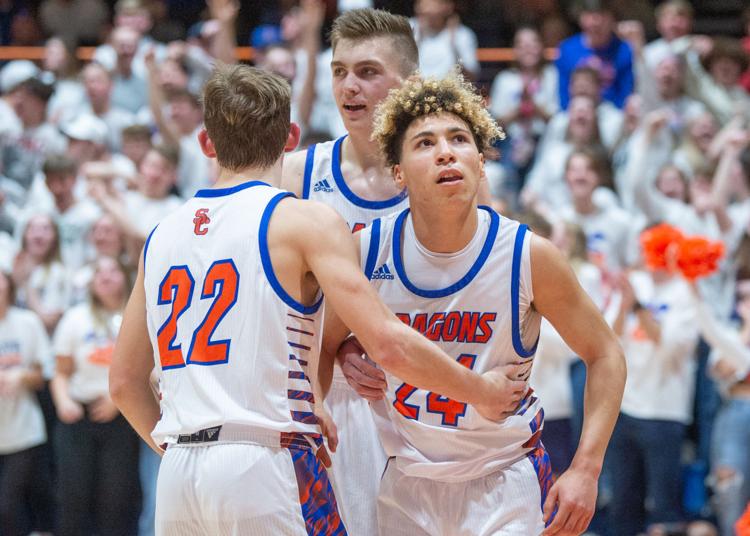 SELLERSBURG — Two state powers collided Tuesday night in Sellersburg, and the result was anything but disappointing.
In the first matchup between Silver Creek and Floyd Central since 2014, Branden Northern played hero with 44.7 seconds left and his Dragons down two points. The 6-foot sophomore point guard drove into the body of a Highlander defender, scooped a layup, drew the foul and completed the old-fashioned three-point play to give Class 3A No. 1 Creek a 63-62 victory over visiting Floyd.
The Highlanders' game-winning shot attempt, off the hands of none other than junior standout Jake Heidbreder, who tallied 31 points on 10 of 16 shooting, was thwarted by Northern's defense and the presence of star Trey Kaufman on the defensive glass. Then the junior big man, playing in front of Indiana coach Archie Miller, blocked a putback attempt at the rim in the waning moments to preserve the victory.
FINAL: Silver Creek 63, Floyd Central 62. The final possession: pic.twitter.com/6FbeBrJ1W6

— Kyle Williams (@thekwill) February 12, 2020
Northern and Kaufman totaled 16 and 21 points, respectively, with all Northern's coming in the second half — and without a miss. Kaufman finished with 14 in the second half. The Dragons shot 17-for-26 from the floor after trailing 26-13 at halftime. They forced nine second-half turnovers.
"The last two possessions, [it was about] grinding it out, Branden made a big play," said Silver Creek coach Brandon Hoffman, whose team trailed by 15 early in the third quarter. "Branden's defense was good on the ball, and Trey saved the day with the block and the recovery. It was a tale of two halves. The first half, we didn't shoot the ball well. … I was very impressed with how relentless our kids played."
The win for Silver Creek (18-2) marked its 10th win in 11 games, the lone loss coming at the hands of 4A No. 1 Bloomington South at the buzzer. The Dragons entered Tuesday's matchup ranked eighth in the state in scoring (74.5 points per game) and ninth in overall margin (21.4).
The loss for Floyd Central (12-6), which is ranked No. 20 in the IBCA all-class poll, makes three straight after rattling off four consecutive wins to close out the month of January. The Highlanders are 6-6 since beginning the season 6-0. Four of their losses have been by a combined seven points. In addition to Heidbreder's outing, Grant Gohmann added 10 points. The Highlanders shot 59 percent and won the rebounding battle.
"Live-ball turnovers and second shots is what it came down to in the second half," Floyd Central coach Todd Sturgeon said. "In the first half, we were able to have them be one-and-done. In the second half, we couldn't secure enough of those misses, and we obviously turned the ball over.
"We just have to finish. That's two games in a row we've lost an eight-point lead going into the fourth quarter. We have to finish that. In both games, we've turned the ball over."
Heidbreder opened the scoring with a 3-pointer at the 5:30 mark of the first quarter prior to an answer from Holden Groher. Kaufman's first bucket gave the hosts their only lead of the first half on the ensuing possession.
After a Caleb Washington bucket knotted the score at 5-5, Gohmann went on a personal 4-0 run, including a putback off a missed 3-pointer to end the first, for a 9-5 lead entering the second quarter.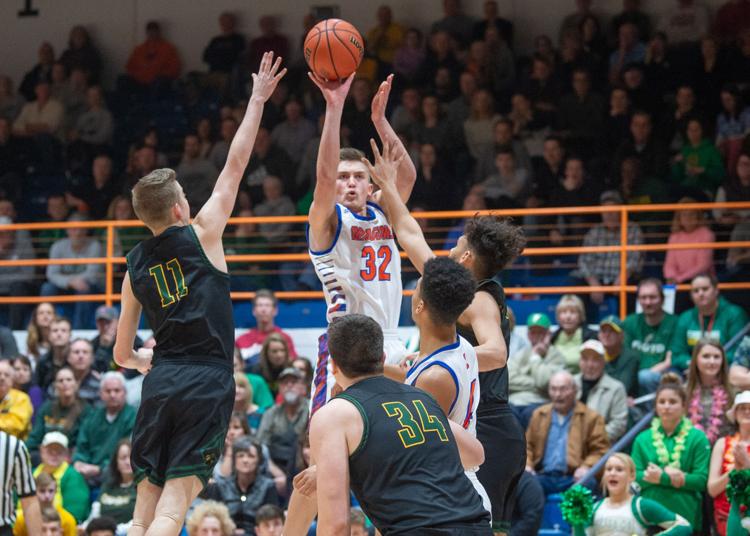 The run continued. Back-to-back Brady Moore baskets made for a 13-5 Floyd lead early in the second. With 6:18 showing, Creek's Kooper Jacobi stopped the bleeding with a 3. The lead for the Highlanders grew to 10 with 3:40 left and stood at 13 as the first-half buzzer sounded. The Dragons shot 5-for-18 in the first half to the Highlanders' 10-for-17. Heidbreder had 14 points to lead all scorers at the break.
"We obviously play off of him, every game," Sturgeon said, "We're constantly looking for him. But a lot of it tonight was broken situations where they're pressing to get back into the game.
"I liked our effort in general. We battled. Even against the pressure when we had some turnovers, we kept attacking, and got several baskets out of it too. We just had too many live-ball turnovers."
Gohmann's second bucket of the second half made for a 31-16 lead before a quick 6-0 spurt for Silver Creek, created all off turnovers. Five straight for Heidbreder increased the margin back to 11, and although the hosts got within 39-36 by way of an 8-0 run, they entered the final quarter trailing 44-36. Silver Creek forced six third-quarter turnovers.
"That was the gameplan all along, was to speed them up," Hoffman said. "Once we smelled blood there, we got a little more active. They didn't handle it very well. But that team's really good. Their defense is really good. When you have a deadly scorer like Heidbreder, I would not want to play them in the tournament.
"A lot of that was credit to our athleticism and our speed."
A Northern 3-pointer with 6:13 left brought the Dragons within 49-44 and jump-started a run that led to the hosts' first lead since it was 5-3 in early moments. After a Groher 3-pointer and Kaufman's three-point play, the score read 55-53 with five minutes left.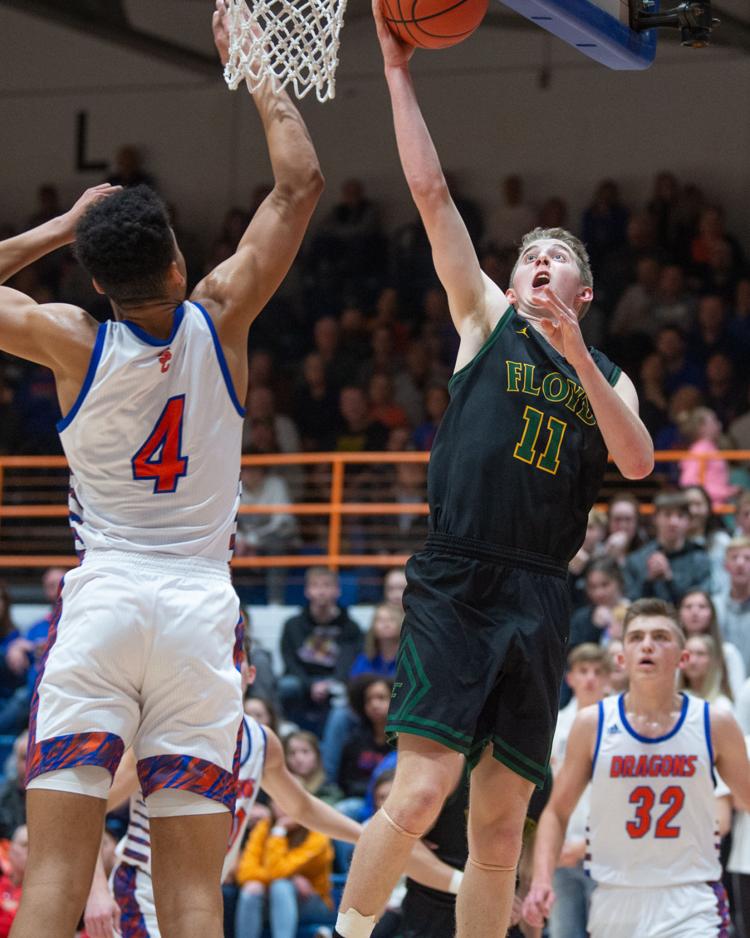 Heidbreder's seventh and eighth points of the fourth once again provided a cushion. Jacobi tied it yet again with a 3-pointer. Like much of the fourth period, the score was knotted again after a back-and-forth rally. Two more Heidbreder free throws set up Northern's finish with 44.7 seconds left, and the ensuing defensive stop by both he and Kaufman.
"Branden's a good player," Hoffman said. "When teams are playing zone and packing it in a lot, there's going to be opportunities for others. He hit some big shots. Isaac [Hinton] hit a big 3, Holden hit a big 3. … Trey was spectacular in the second half, I thought."
Next up for Silver Creek is a Mid-Southern Conference matchup at Scottsburg on Friday. The Warriors will bring with them a perfect 8-0 MSC mark. The Dragons are the league's only other unbeaten at 6-0. They'll finish with Austin (Feb. 18) and Corydon Central (Feb. 21).
Floyd Central, meanwhile, will host New Washington (12-7) at 7:30 p.m. Saturday.