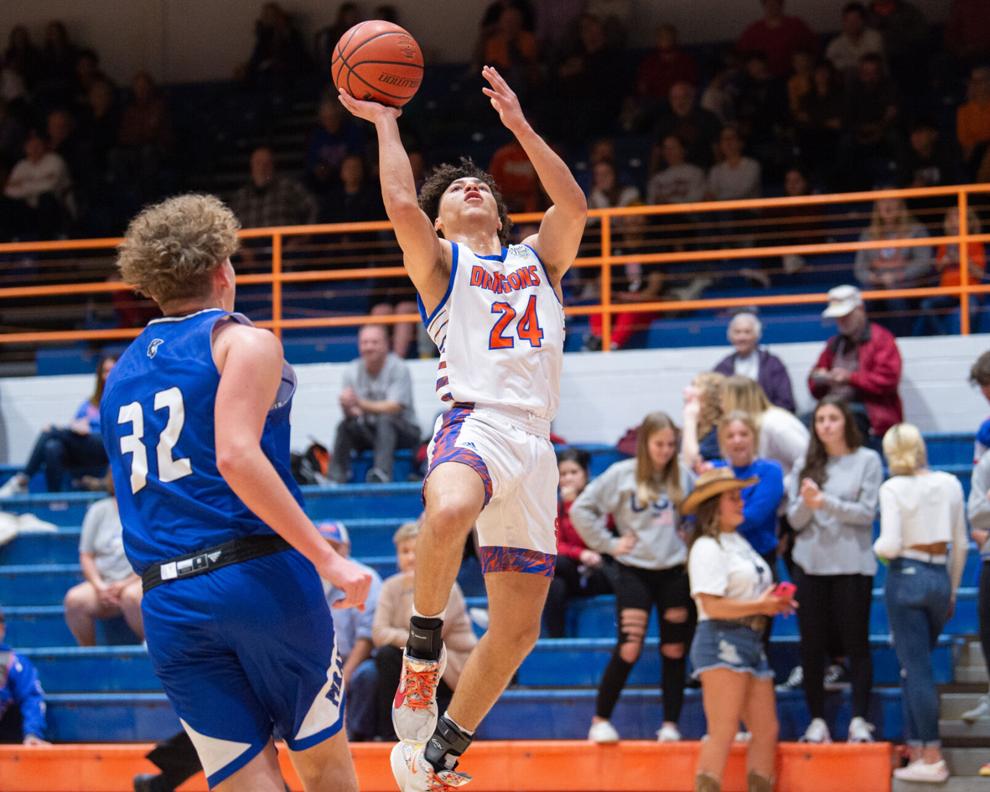 SELLERSBURG — The Silver Creek Dragons breathed fire at both ends of the court Tuesday night and ran away with a 73-40 win over visiting Charlestown in a Mid-Southern Conference clash.
The Class 3A No. 4 Dragons forced 20 turnovers and shot 56 percent en route to their eighth straight victory over the Pirates, as well as their 16th win in a row dating back to last season.
Creek senior point guard Branden Northern hit four 3-pointers and led all scorers with 30.
"Our energy was really good tonight," Northern said. "We don't have the talent we did last year, so we know we have to bring a lot of energy to the court every night. I thought Trey Schoen and Zac Stricker played super hard, especially rebounding and defensively, and that really helped us out tonight."
The two-time defending state champion Dragons (2-0, 1-0 MSC) darted to a 13-3 lead midway through the first period and were ahead 20-13 at the first stop.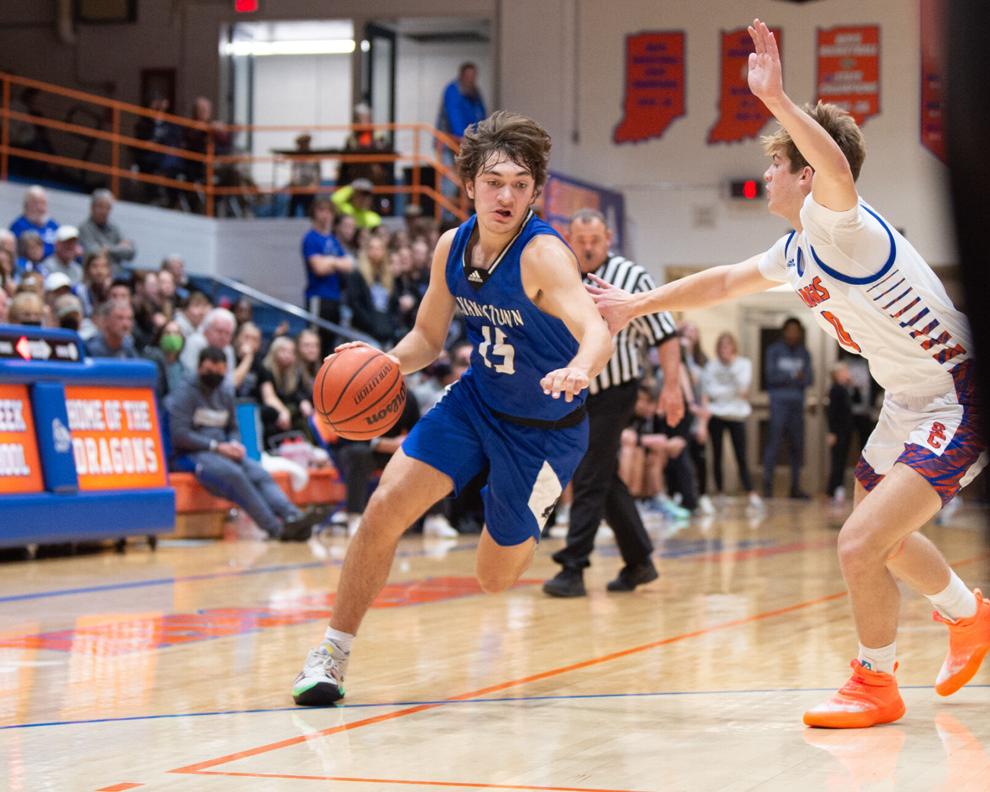 "Coming into this game the three things we said we had to do was: transition defense, limit turnovers, and block out to limit them to one shot," first-year Charlestown head coach Matt Lynch said. "We weren't doing any of those three things to start the game. We did battle back, but then started having the same mistakes that we did to start the game."
Karson Higdon hit two from behind the arc to pull the Pirates within 26-21 halfway through the second stanza. Silver Creek then proceeded to finish the first half with a 15-2 run and posted a 41-23 lead at intermission.
"I think we turned up our defense a little bit and our offense got a lot more fluid," Dragons head coach Brandon Hoffman said of the spurt. "I think when you score in bunches really quick it's almost like fool's gold, because you forget how hard you have to work for it."
The hosts were electric out of the locker room as they put the game away.
Northern scored 13 in the third quarter and the Creekers led 63-30 heading to the final frame.
"In our scrimmage and first game we played great in the first half, but then came out sloppy in the second half," Northern said. "Tonight we really wanted to make sure we buried them and not let them get a second breath in the third quarter."
The Pirates (1-1, 0-1) were led by Austin Pickerell's nine points, including a triple. Higdon and Ethan French added seven apiece. The visitors shot the ball well all night, netting 52 percent from the field and 44 percent on 3-pointers.
"We have a lot of guys that played JV and freshman ball last year so the game speed is an extreme difference," Lynch said of his team, which only has two seniors on its roster. "We're young and this is a learning experience for us. We're disappointed with the outcome, but hopefully we can take an experience like this and learn and improve."
In addition to lighting up the scoreboard, the Dragons also won the battle of the backboards 25-17 and were plus-11 in the giveaway/takeaway category.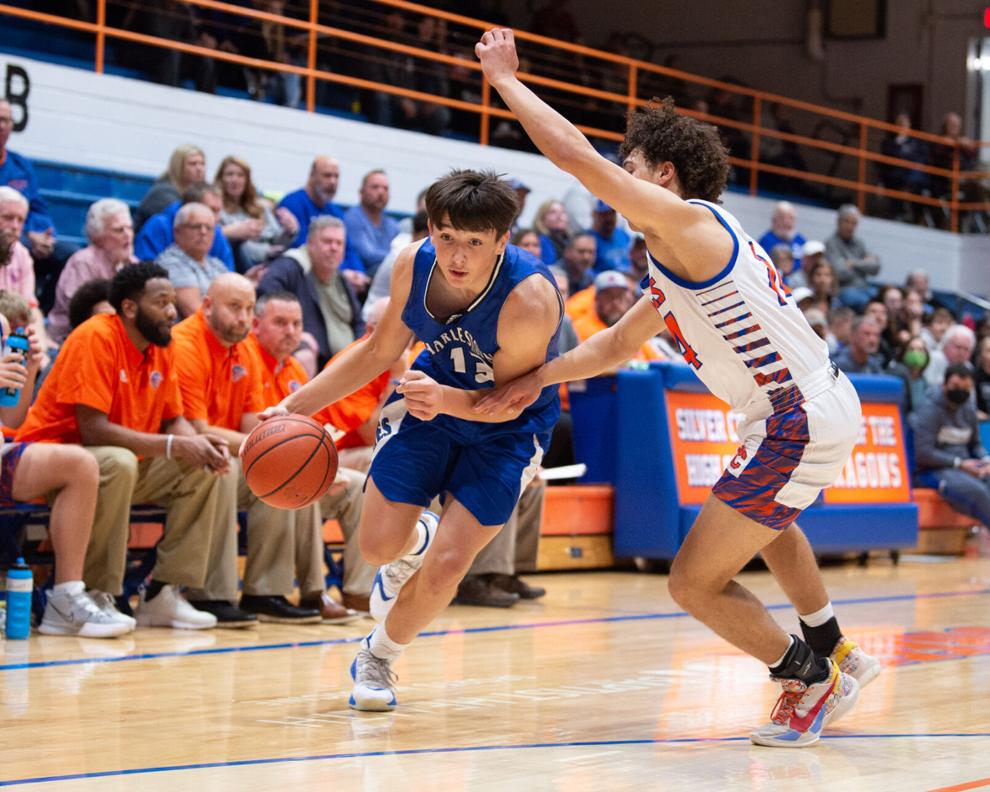 "When you watch our guys play you see a pretty scrappy group," Hoffman said. "We're not as talented as we've been in years past, so we have to make up for that by playing as hard as we can and generating baskets with a lot of energy. We've got a quick, athletic group."
Both teams are back in action Friday night as Creek will visit Columbus North while Charlestown hosts conference-rival Scottsburg.
.
SILVER CREEK 73, CHARLESTOWN 40
Charlestown 13  10   7  10 — 40
Silver Creek  20  21  22  10 — 73
Charlestown (1-1, 0-1): Jake Ottersbach 4, Ethan French 7, Trace Thierman 6, Austin Pickerell 9, Grason Connell 3, Jake Helton 4, Karson Higdon 7.
Silver Creek (2-0, 1-0): Kyle Roberts 5, Bryce Henderson 2, Cooper Murley 7, Walker Hoffman 4, Trey Schoen 7, Cameron Wheeler 5, Branden Northern 30, Zac Stricker 11, Nate Davidson 2.
3-point field goals: Charlestown 4 of 9 (Higdon 2, Pickerell, Connell), Silver Creek 7 of 22 (Northern 4. Murley, Schoen, Wheeler).
Rebounds: Charlestown 17, Silver Creek 25.
Turnovers: Charlestown 20, Silver Creek 9.
Field-goal shooting: Charlestown 14 of 27, Silver Creek 28 of 50.
Free-throw shooting: Charlestown 8 of 14, Silver Creek 10 of 13.
JV score: Silver Creek 67-40.