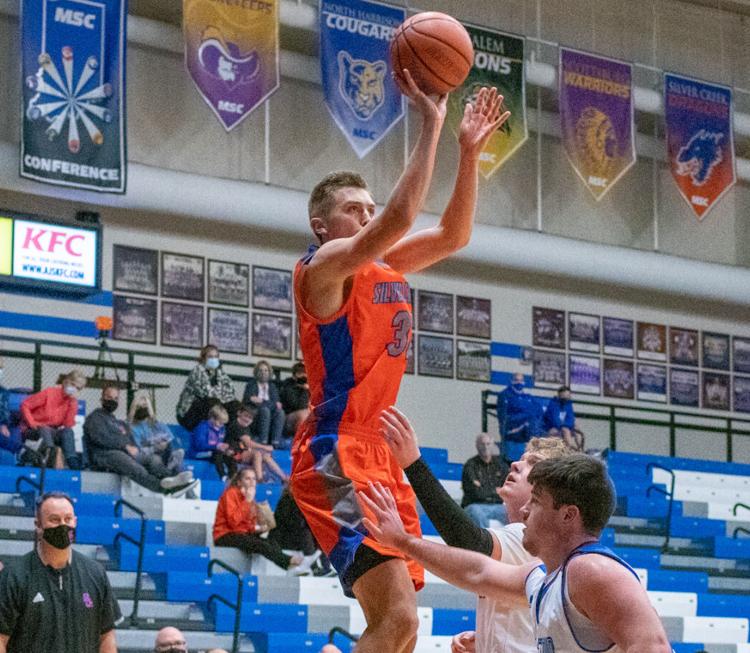 CHARLESTOWN — Silver Creek started fast and never looked back in a 78-31 runaway win at Charlestown on Tuesday night.
While the Dragons' offense normally takes center stage, it was their defense that stole the show in the Mid-Southern Conference matchup.
Creek (2-0, 1-0) held the Pirates to just 27-percent shooting while forcing 17 turnovers en route to its 11th straight win.
"I was very pleased with our intensity on defense," said Dragons head coach Brandon Hoffman, whose team outscored Charlestown 39-2 after falling behind 4-0. "We gave up 81 points last week to Columbus East and it looked like we were just playing an open gym or playground game. We were just bad on defense last week. The way we dialed-in on defense tonight was awesome, just spectacular."
Playing once again without Purdue-signee Trey Kaufman, who's out with an ankle injury, fellow senior Kooper Jacobi pumped in 32 points to pace the reigning Class 3A state champs. Junior point guard Branden Northern added 21, including two triples.
"Kooper and Branden are going to get a lot of credit, and they're going to get their points, but Trey Schoen had his fingerprints all over this game," Hoffman said of his feisty junior guard, who also scored seven and hit a three. "His defense is as valuable as 25 points. He had five steals and six deflections. We had other guys like Issac Hinton and Nolan Gilbert that were all over the defensive stats."
Despite the loss, Charlestown head coach Sean Smith saw positives from his squad, which was playing its first game of the season.
"I think our kids battled and fought the whole game tonight," he said. "I never saw them quit or give up on a play. I think our kids made Silver Creek really work for the majority of their points. I think we can get better from this. There are things that I'm really encouraged about with this team."
After allowing the first four points of the game, the visitors led 19-6 at the first stop and then tossed a 20-0 shutout in the second frame to claim a commanding 39-6 lead at halftime.
"The main thing was that we talked about just taking it personal if you get scored on," Hoffman said. "I know I'm repeating myself, but last week we didn't take it personal. We were okay with getting scored on. No matter what time in the game, you have to take it personal when you get scored on."
The Pirates (0-1, 0-1) righted the ship a bit in the third frame as four players found the scoring column, but it was too little too late.
"We just couldn't throw it in the ocean in the first half," Smith said. "We probably forced a few fast-break opportunities, but overall we had good looks at the rim that we normally make in practice. The shots just didn't go down. Sometimes it's a mental thing, when shots aren't falling early then the basket starts looking smaller for everyone."
The Dragons, who have now beaten Charlestown seven straight times, shot 52 percent from the field and dominated the glass to a 45-17 tune.
"We're always talking about never taking a game for granted," Jacobi, who has signed with Toledo, said. "When you see multiple teams have games canceled, it really hits home and makes you really value each time you get to play. I think we're getting better every game."
Smith, in his 10th year on the Pirates bench, dialed up some classic American literature to put the game in perspective for his team.
"I told the boys just now that Mark Twain once said, 'If your job is to eat a frog, eat it first thing in the morning.' So we got that out of the way," said Smith, whose team ended last season with an 88-51 loss to Silver Creek in the first round of the Corydon Central Sectional. "We just played the biggest and baddest team on our schedule right off the bat. I think we can grow from this because we battled and played hard."
Charlestown is scheduled to be back in action at 7:30 p.m. Friday night at MSC-rival Scottsburg. At the same time the Dragons will host Clarksville in an MSC contest.