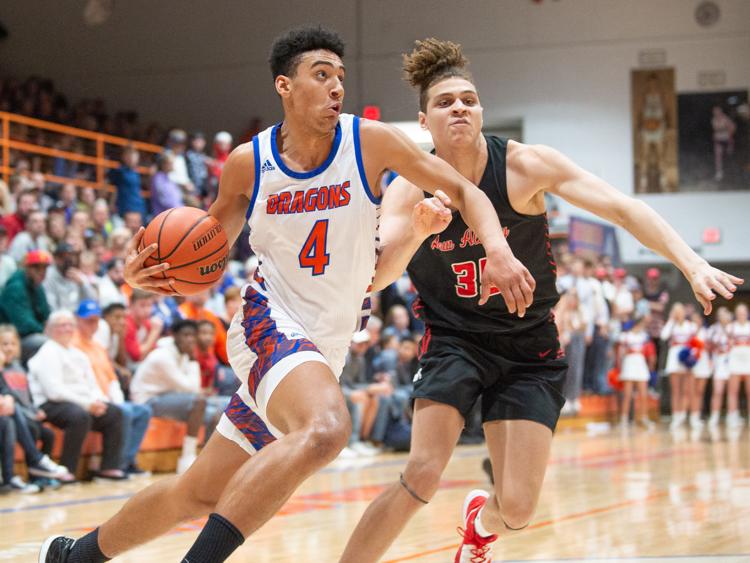 SELLERSBURG — Behind another big game from its big man, and with a big boost from its bench, Silver Creek won its second straight game over New Albany. 
Junior forward Trey Kaufman tallied a game-high 20 points while the Dragons' reserves outscored their counterparts 22-2 as Creek beat the Bulldogs 69-64 Friday night in front of a packed house. It was the Dragons' first home win over New Albany in 22 years and possibly their first-ever consecutive victories over the Bulldogs. 
"That's a great win against a really good team. I was really proud of the way our guys kind of grinded it out in a big postseason environment," Dragons coach Brandon Hoffman said. "Obviously Trey got a lot of their guys in foul trouble and kind of forced them to go zone. Then, I thought some of our other guys really contributed."
Branden Northern and Holden Groher added 16 points apiece for the Class 3A No. 1 Dragons (14-1), who won their sixth straight game. Groher, a 5-foot-11 junior guard, and 5-11 sophomore guard Trey Schoen (six points) gave Creek a lift off the bench, particularly with their outside shooting. The two combined to hit six of their team's nine 3-pointers as the Dragons outscored New Albany 27-6 from behind the 3-point line. 
"Trey Schoen came in and hit a couple threes and then Holden had four threes, had 16 points and was plus-seven — he had three steals, three assists and a deflection. I thought he was a big X-factor in the game," Hoffman said. "[Defenses] are going to really key on Trey and Kooper [Jacobi] and Branden, there's going to be a time when someone else has got to score. All these guys have the ability and they proved it tonight, those two. Being able to make them pay for packing it in I think was a big, big thing for us on offense." 
Shortly after checking in midway through the first quarter Groher made an immediate impact with a steal and layup. Then, a minute later, he hit the first of his 3-pointers to give the Dragons a lead they'd never relinquish. 
Although New Albany (8-6) never led again, the Bulldogs never went away either. They trailed 11-10 at the end of the first quarter, 30-27 at halftime and 49-42 heading into the final frame. 
New Albany senior forward Trey Hourigan, who finished with 18 points, hit back-to-back baskets to start the fourth quarter, pulling New Albany within three. But then, after a timeout, Groher drilled his final three to put the Dragons back up six. Moments later he recorded another steal that led to a Jacobi basket. 
Still, the Dogs wouldn't go away. Tucker Biven, who matched Hourigan's 18 points, hit two free throws. Then, after a driving layup by Northern, Julien Hunter scored off a putback and Kaden Stanton hit a jumper to make it 56-52 with 2:57 to play. 
That's when Kaufman went to work. First he scored off a high-low feed from Jacobi 17 seconds after Stanton's basket. Then, after an empty New Albany possession, he scored easily inside off a nifty feed from Northern. 
"It was just taking what they gave us; it's not rocket science," Kaufman said. "If they're going to play man-to-man, I'm going to be hungry for the ball. They played matchup zone and they played zone and a bunch of different schemes, so when they finally matched up and I could get it in there I did my best to score."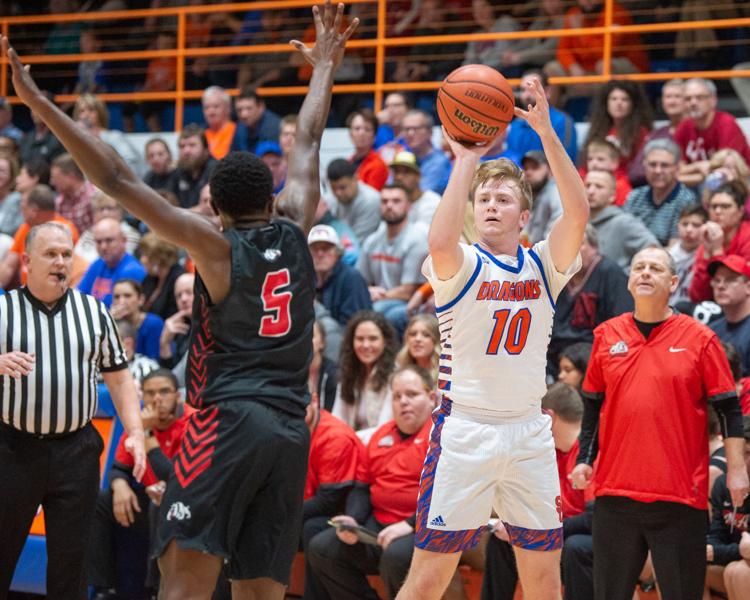 The Dragons then made 9 of 10 free throws in the final 1 minute, 31 seconds to seal it. 
"They've got so many weapons, so many weapons," New Albany coach Jim Shannon said. "When you've got a 6-9 Division I excellent player, it's easy to build the team around him. Then you've got a 6-6 Division I player to complement him, and then you've got a 6-foot point guard who's Division I, it's really difficult. And then they had shooters to go around them, so we had to pick our poison. And we thought we picked it pretty well, obviously, except for the shooter. 
"We did our homework on him, I swear we did. He was shooting about 32 percent from 3 on the year and then you know what Trey Kaufman's shooting from the paint? Eighty-eight percent. He's only missed 12 shots in the paint all year. So what do you do? So we felt like we did what we had to do to try to make other people beat us. I give the Groher kid a lot of credit, he hit some big shots."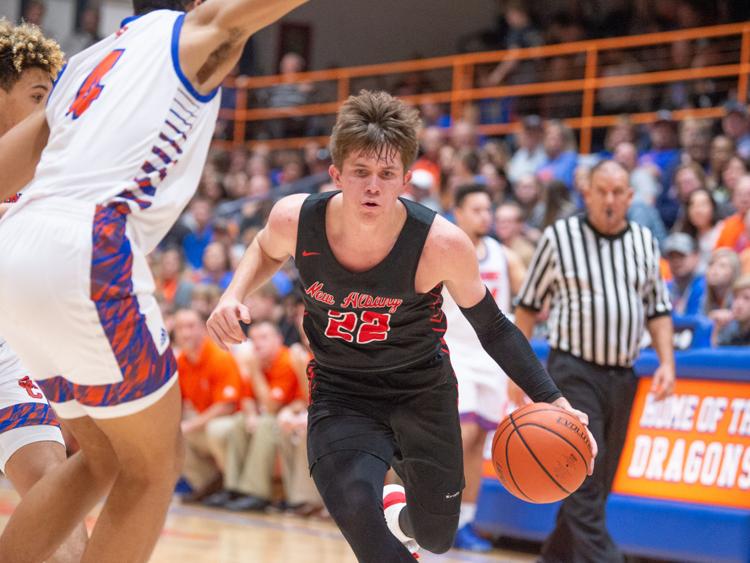 While Biven and Hourigan led New Albany with 18 apiece, Hunter had his best game since returning from a stress reaction in his foot, scoring 16. Stanton added 10 for the Bulldogs, who host Evansville Reitz, and junior standout Khristian Lander, at 8 p.m. tonight. 
The Dragons, meanwhile, play at Providence at 7:30 p.m. Tuesday night.