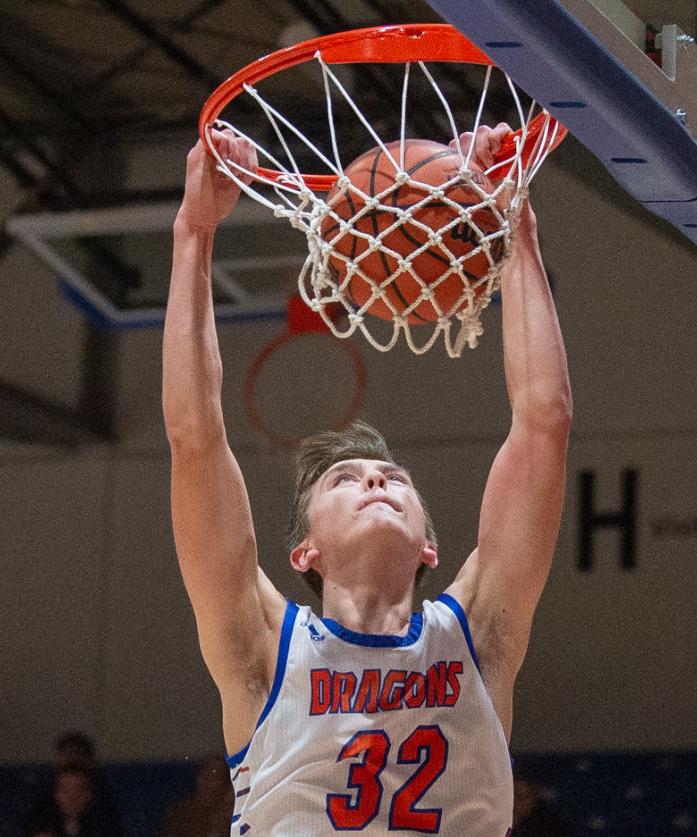 SELLERSBURG — Although some opposing coaches may be ready to see him graduate, Kooper Jacobi can hardly believe he's only a few weeks from starting his senior year at Silver Creek.
"It flew by. It's crazy that I've already been here three years," the boys' basketball standout said earlier this week.
The 6-foot-6, 195-pound forward returned to the court Monday as voluntary summer workouts began throughout the state.
"It was a great first day," he said that day. "It was a little weird being back in the gym for the first time since, I think, some time in March. It's been three months since we've been shooting in there, so it was different. … I've seen some of the guys, and worked out with them and some things, but most of the freshmen and sophomores I haven't seen in awhile, so it was good getting back together.
"Hopefully basketball-wise we can do the same things we've done, have the same successes as the last two years."
Jacobi has averaged 15.5 points, 7.4 rebounds and 2.5 points per game over the past two seasons for the Dragons, who have gone 50-5 in that time. He averaged 13.9 points, 7.1 rebounds and 2.5 assists per game as a sophomore starter on the 2018-19 team that won the Class 3A state title. Last season he averaged 17.3 points, 7.7 rebounds and 2.5 assists per game for the Dragons, who went 25-2 and won their third straight sectional title before the state tournament was postponed — and eventually canceled — due to the coronavirus pandemic.
"It was crazy," Jacobi said. "At first I hurt for our senior [Taylor Betts] and just everyone that was playing Indiana high school basketball. But then the whole country got hit. It stunk for everyone, so you couldn't really be too mad because the whole world was going through it. It hurt, but after a couple weeks I just got back to working out."
And he's continued to do so, save a week of vacation.
"I found a gym to shoot at and do workouts at and I've been lifting a lot of weights. I've been doing a program at home," Jacobi said. "I've probably gained about five or 10 pounds. I was 185 last year, I'm probably about 190 or 195 now."
Jacobi has continued to build up his game and his body in preparation for his final season and college.
Although the COVID-19 pandemic has affected college recruiting — most notably the summer evaluation period — Jacobi has around 10 scholarship offers. In addition to those from Indiana State, Akron, LaSalle, Miami (Ohio), Ball State, Evansville, IUPUI and Bellarmine, he received offers from Toledo and Southern Illinois-Edwardsville over the summer.
"Miami, Akron, Toledo, Indiana State and Evansville, they're talking to me still. I would say those are the main ones," Jacobi said.
The shutdown of NCAA sports (the recruiting dead period was recently extended through August), however, has kept Jacobi, and other high school athletes, from face-to-face meetings with coaches and on-campus visits.
"I wanted to visit in September, but since that might not be possible I might just have to decide in September or October, hopefully before the season starts, but we'll have to see what happens," Jacobi said. "It is really weird."
It's been that way for both Jacobi and teammate and classmate Trey Kaufman.
"The good thing for them is that it's not like they're trying to prove stuff to people, like nobody knows who they are. They've got good opportunities already, but there always is more that could be out there," Silver Creek coach Brandon Hoffman said. "Hopefully in the fall they get to go out and they get to form relationships and maybe more people can come see them workout and they can go visit places. I told both of them, 'You still need to make the right decision. The timing isn't as important as you making the right decision.'
"I think they both would say they want to be able to visit places. They want to see things and talk to people and form relationships, there's nothing wrong with waiting for that to happen."
In the meantime Jacobi has taken virtual tours of Toledo, Akron and Indiana State.
"It was good, really good," he said. "It was a little different than being on campus, but it was cool to see the gyms and weight rooms and everything."
But before he heads to college, Jacobi has one more high school season — he hopes — to play.
"I'm looking forward to it, hopefully it's normal, but I guess we'll just have to see as the weeks go on," he said. "But I'm really hoping to get back at it and have a good year."