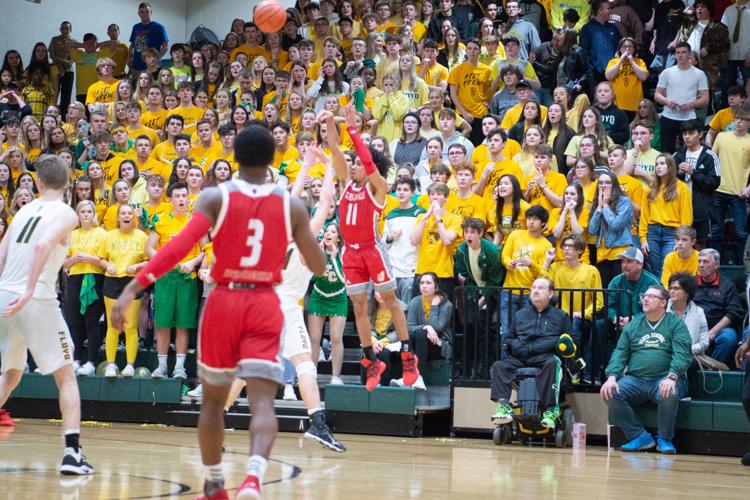 FLOYDS KNOBS – Entering Friday, the past five meetings between area powers Jeffersonville and Floyd Central were decided by an average of four points.
The latest installment in the series proved to follow that script.
The Red Devils secured a last-second, 49-46 win over the host Highlanders Friday by way of a buzzer-beating 3-pointer off the hands of senior Jacob Jones. The point guard inbounded the ball with seconds remaining, got it back and threw up a prayer that banked in softly and handed Floyd Central, ranked No. 11 in the Class 4A Associated Press poll and No. 15 in the statewide coaches rankings, its first Hoosier Hills Conference loss on the season.
"In the back of my head, I knew I was going to shoot it," Jones said. " … Wasn't sure if I was going to make it, but thank God I got lucky and I hit it.
"I can't think of a word to describe it. A lot of emotions running through me."
Jeffersonville (10-4, 3-0 Hoosier Hills), ranked No. 17 in the most recent statewide coaches poll but left out of the AP ranks, have now won four straight and seven of their past eight games. They've won two straight versus the Highlanders (8-3, 1-1), with last season's result ending in similar, dramatic fashion.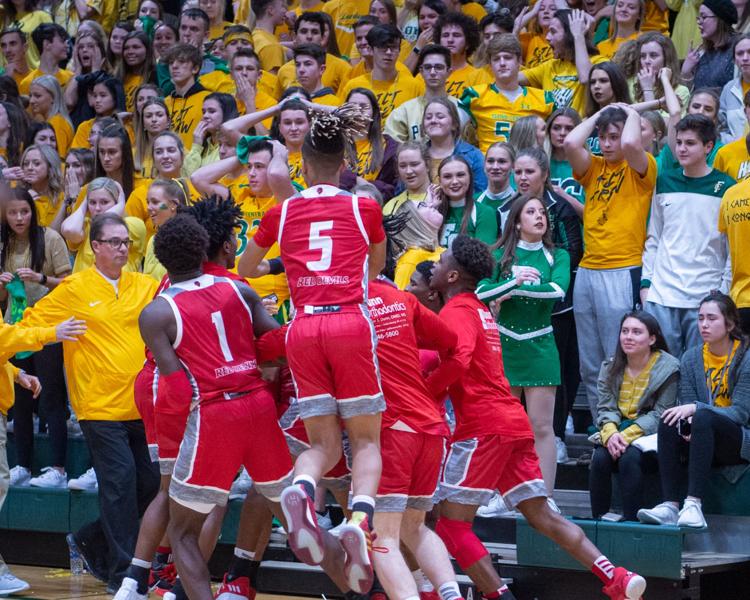 "Tough, competitive, gym rat, loves to compete," Jeffersonville coach Chris Moore said. " [Jones] loves to compete so much that sometimes, it's high-risk, high-reward. … That's just his competitive nature. You just have to trust him at times. We knew we wanted the ball in his hands."
Jones finished with 18 points to lead the Red Devils, who got 11 points from Kobe Stoudemire and nine and seven, respectively, from its standout post duo of Will Lovings-Watts and Tre Coleman. Jake Heidbreder led the way for the Highlanders with 21 points on 8-14 shooting, which included 13 fourth-quarter points.
Both clubs shot 45 percent on the night, but Floyd Central turned the ball over 11 times to Jeffersonville's six. The Red Devils shot 52 percent from 2 to the hosts' 35 percent. The Highlanders outrebounded Jeffersonville by 11.
"They're a good defensive team," Floyd Central coach Todd Sturgeon said. "They've got big, strong, quick, tough guards and size and athleticism and length inside. That's a good combination. We were guarding them too. That's what happens in a conference game like that."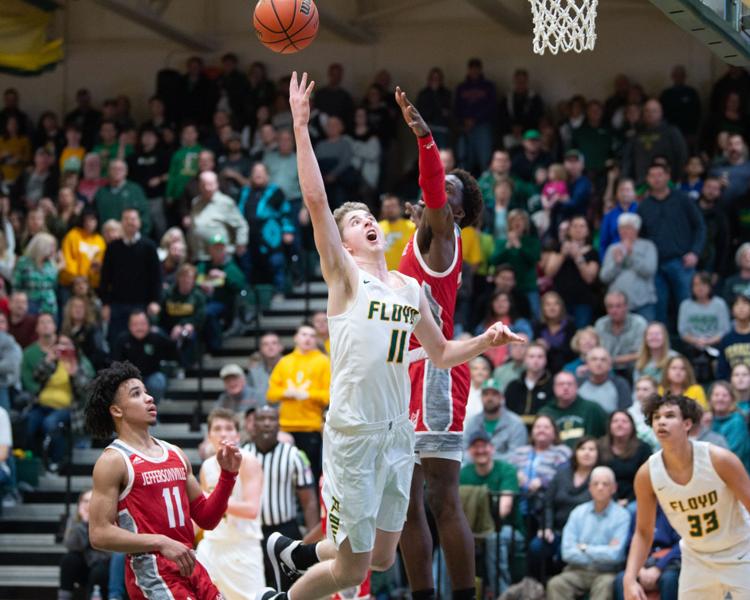 A Lovings-Watts three-point play knotted the score at 7-7 with 4:27 showing in the first quarter, part of a Red Devils 10-0 run, capped by a Stoudemire 3-pointer on an assist from Jones. A 3-pointer from Cole Harritt stopped the bleeding for the Highlanders, though, and sparked a run of their own. Two consecutive Jeffersonville turnovers led to easy baskets before a Heidbreder driving layup at the buzzer lifted Floyd Central to a 16-14 lead after one.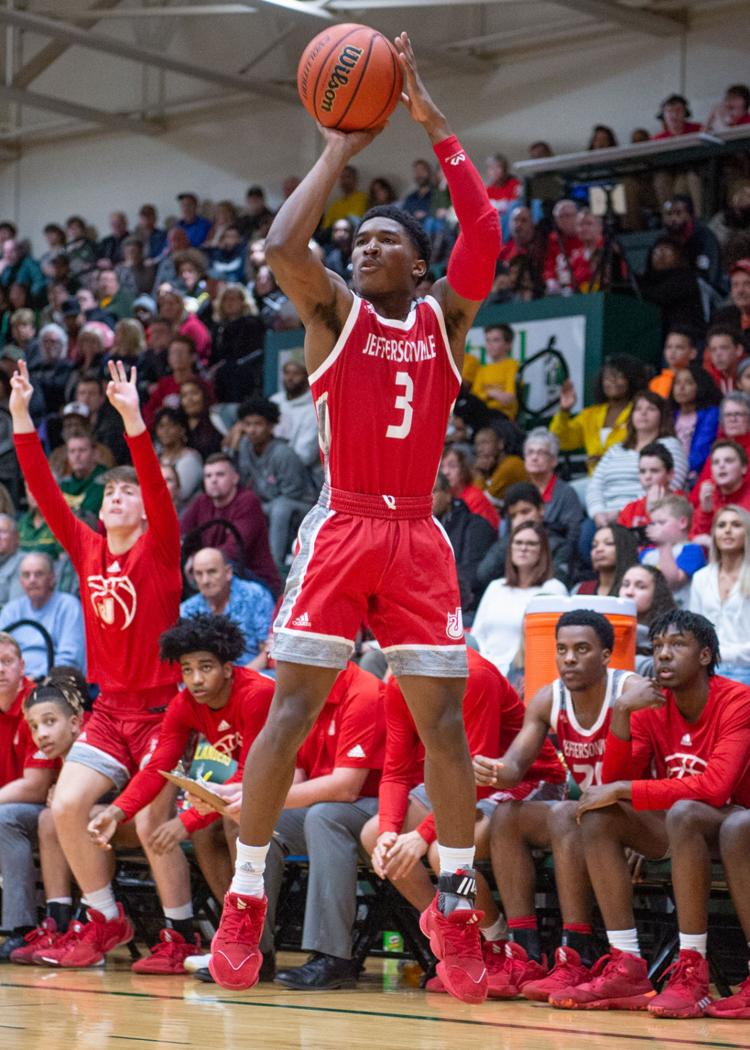 The buckets didn't come as easy in the second period. Jones' lone field goal of the quarter gave the Red Devils a 17-16 lead with 6:20 showing, and the Highlanders didn't manage an answer until the 3:42 mark on a right-wing 3-pointer from Ben Purvis. That proved to be the hosts' only points of the period as another Stoudemire 3-pointer off an assist from Jones gave the visitors, who went cold themselves, a 20-19 lead at the break. Floyd Central went 8-for-23 in the opening half with six turnovers.
Lovings-Watts began another run and a Jones 3-pointer capped it at 7-0 to begin the third for Jeffersonville, and another Stoudemire 3-pointer made for a 16-7 run and 34-28 lead with 3:25 showing. In wake of a Coleman basket from Jones and three free throws from the latter, the Red Devils led 41-31 entering the fourth. They outscored the hosts 21-12.
"I forget sometimes [Lovings-Watts] is just a sophomore," Moore said. "He approaches things like he's a four-year veteran. … That spark there in the second half was big for us."
But Heidbreder had something to say about that. He scored the team's first six points of the quarter, and 3-pointers from Grant Gohmann and Harritt inched the Highlanders within 44-42 with five minutes left. After another stop, Heidbreder promptly tied it with a driving layup.
"We hung in there and got some stops, and Jake was phenomenal," Sturgeon said. "That stretch there. … I thought Jake looked like an Indiana All-Star kind of player. The guys guarding him, Jones and Starks, those two guys can defend."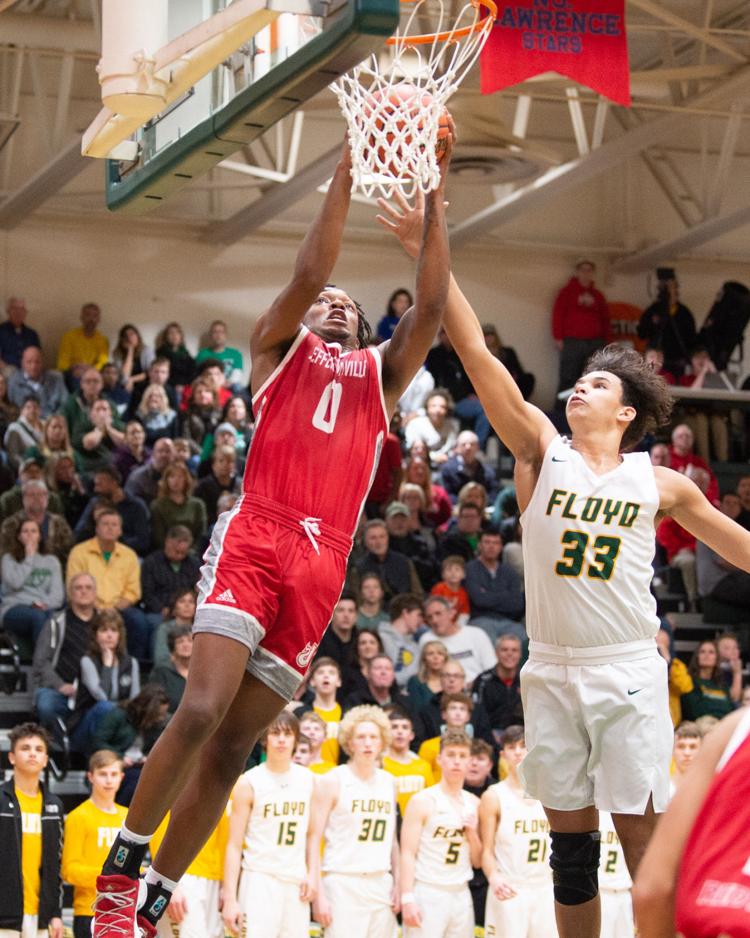 After another back-and-forth made it 46-46, the Red Devils milked the clock before Jones' heroics sealed the win, a victory that will hopefully lead to continued success.
"We're getting better every day," Jones said. "Everything now is just preparing us for the tournament."
Next up for Jeffersonville is a home matchup versus Providence today. Floyd Central, meanwhile, travels to North Harrison.
"We just have to develop more of a rough edge to us," Sturgeon said. "This is something we can use, build off of and see them again in March, maybe have a little edge to us."