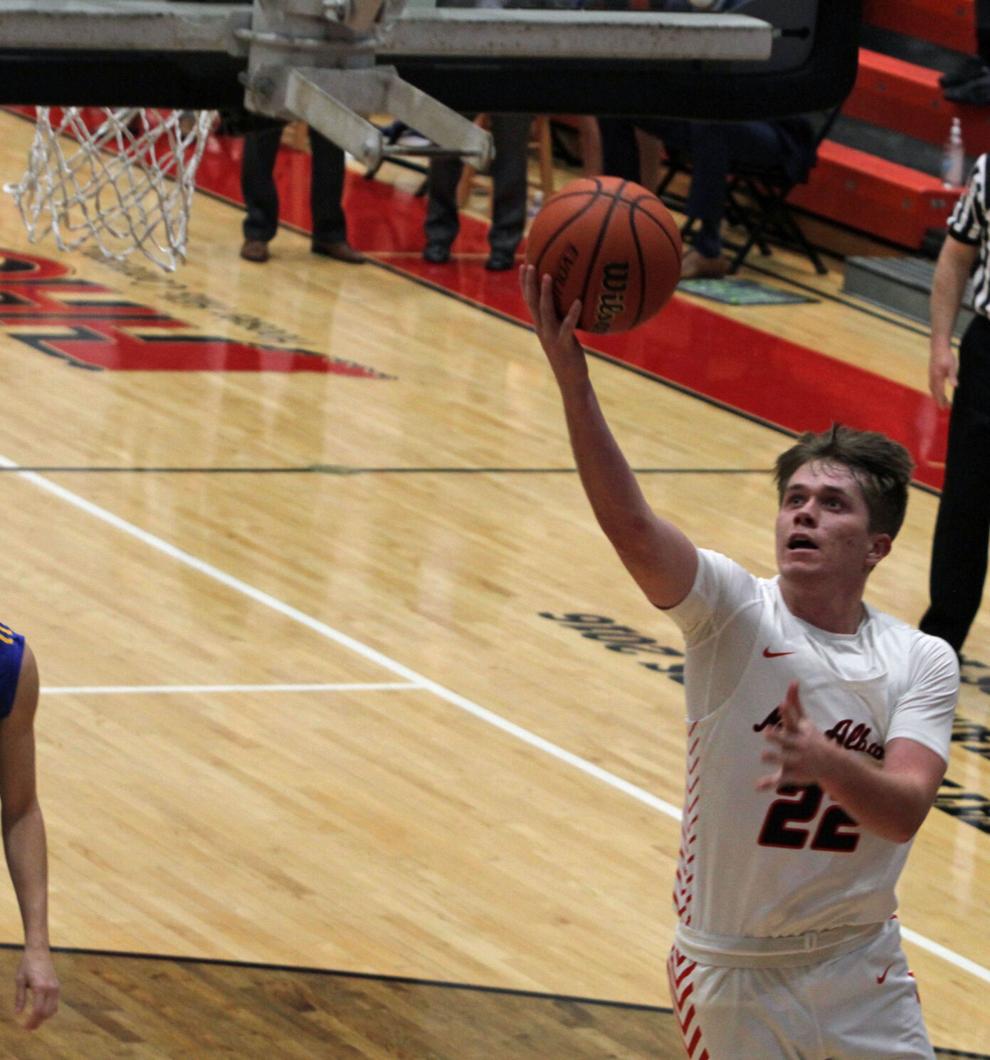 NEW ALBANY — Tucker Biven is a star on the diamond.
The New Albany junior committed to play college baseball for the University of Louisville before he ever played a high school game, and if all goes well he'll likely be selected in the 2022 Major League Baseball draft.
Biven continues to prove, though, that he's a handful on the hardwood too. 
Saturday night the 6-foot-1 guard scored a game-high 27 points in the Bulldogs' 50-42 loss to top-ranked Carmel in the Doghouse.
"He was phenomenal," New Albany coach Jim Shannon said afterward. "He was arguably the best player on the floor tonight, it'd be hard to say he wasn't."
When Biven wasn't hitting one of his four 3-pointers — he hit three during the second quarter to get the 'Dogs back in the game — he was posting up, taking the ball to the basket or getting to the free-throw line.
"I felt pretty good, but I got tired there toward the end and started missing free throws," said Biven, who missed 3 of 4 free throws in the fourth quarter.
He single-handedly kept the Bulldogs, who played without senior forward Jordan Thomas (illness) and played with a less than 100-percent point guard as Kaden Stanton was hampered by an ankle injury he suffered at Zionsville the previous Saturday.
And Biven did it against a team that has 11 players taller than him on its roster.
"They've got two or three guys that can guard him, so they traded off and he just battled and battled and battled," Shannon said. "He didn't hardly have anything left in the tank and I think that's why he missed his free throws towards the end of the game, he just didn't have anything left. He has to defend down there one of their top one or two players. You're being asked to carry the team, obviously, when you score 70 percent of the points, if not higher, and then you've got to guard either their best player or their second-best player. I thought he really answered the bell tonight."
Behind Biven the Bulldogs battled back, and briefly took the lead a few times, against the Greyhounds before losing.
"I feel like we fight a lot, we have a lot of heart. When things get down we don't just give up. We've got a lot of heart," said Biven, who is averaging 17 points per game. "They're the No. 1 team in the state, they played eight or nine guys, they all can score, so it's pretty hard to defend that. But we fought through it, dug deep and we tried to stay in the game as long as possible."
BROWN, BLACKFORD VISIT BULLDOGS TONIGHT
Biven and the Bulldogs (4-2) will try to bounce back from a two-game losing streak when they host Class 2A No. 3 Blackford (5-0) and high-scoring senior standout Luke Brown at 7 p.m. tonight.
The 6-1 point guard enters the game 21st on the state's all-time scoring list with 2,227 career points — one behind recent Gary 21st Century Johnell Davis.
So far this season the Stetson-signee is averaging 33.2 points, seven assists and four rebounds per game.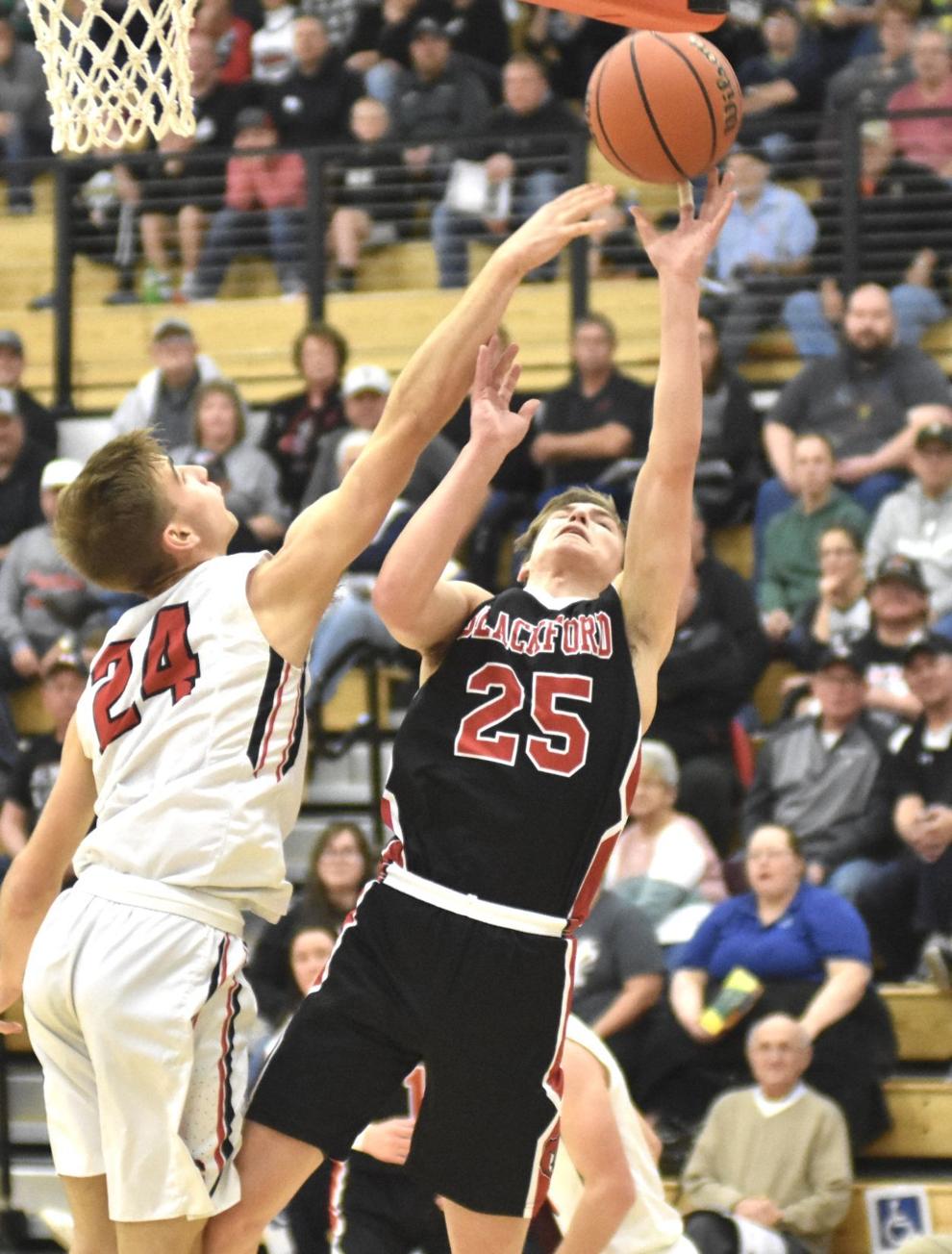 "He's obviously a really nice basketball player," Shannon said following Saturday night's loss to Carmel. "He can shoot the three. His distance on the 3 is out there, he's volleyball (line) 3 and he can make'em. And he can take you off the bounce (too). And, he's a great passer. He really makes some phenomenal passes. We're just going to hope that our schedule, and us being a bigger school and us being a little quicker than they are, that we can bother them, but we'll see. I don't know that. We'll find out Tuesday night."
CREEK REMAINS NO. 8
Following its 77-67 victory over Jeffersonville, Silver Creek remained eighth in the new Indiana Basketball Coaches Association all-class Top 20 poll released Sunday night.
The Dragons (4-2), who were also No. 8 in last week's rankings, received 232 points in the voting of 20 panelists. Silver Creek is idle until hosting its annual holiday tournament next week.
Meanwhile Carmel (6-0) remained No. 1. The Greyhounds, who defeated North Central and New Albany over the weekend, received 16 of the 20 first-place votes.
Despite their loss to the Greyhounds, the Bulldogs moved into a tie for 15th in the IBCA poll after checking in at No. 18 last week.
Jeffersonville (0-1), which will visit Indianapolis Washington at 4:30 p.m. today, was among the others receiving votes in the poll.
IBCA TOP 20The Top 20 teams in the Indiana Basketball Coaches Association boys' poll, with first-place votes in parentheses, records and total voting points.
1. Carmel (16) 6-0 395
2. Lawrence North (2) 4-0 379
3. FW Blackhawk 5-0 331
4. Homestead (1) 7-0 325
5. Indpls Attucks (1) 8-1 307
6. Cathedral 5-1 297
7. Westfield 5-0 279
8. Silver Creek 4-2 232
9. Lafayette Jeff 6-0 214
10. SB Adams 5-0 213
11. Barr-Reeve 6-0 201
12. FW Carroll 5-0 153
13. Hammond 3-1 132
14. Warren Central 2-2 117
15 (tie). New Albany 4-2 64
15 (tie). Zionsville 5-2 64
17. Fishers 2-1 51
18. Lawrence Central 3-3 50
19. Brownsburg 3-3 48
20. Gary West 5-1 45
Others receiving votes: Bloomington North, Bloomington South, Center Grove, Chesterton, Columbus North, Crown Point, Delta, Greenwood, Hamilton Southeastern, WL Harrison, Heritage Hills, Jeffersonville, Kouts, Leo, Linton-Stockton, Michigan City, Munster, North Central, Pike, Plainfield, Shenandoah, South Bend Riley, South Bend St. Joseph, South Spencer, Sullivan.