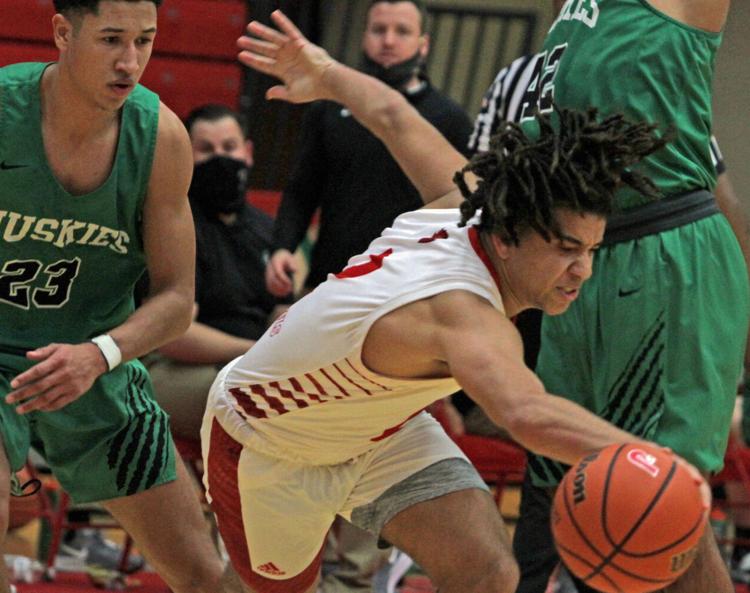 JEFFERSONVILLE — In the long and storied history of Jeffersonville basketball, the Red Devils did something Tuesday night that may have never been done before and may never be done again — playing their first home game in January.
The Red Devils notched a 73-57 win over visiting Evansville North in their home debut at Johnson Arena.
Jeff shot 52 percent from the floor and placed three players in double digits, led by Will Lovings-Watts' 26. Fellow juniors Brandon Rayzer-Moore and Kobe Stroudemire added 18 and 16, respectively, to lead the Red Devils (2-2).
"When those three guys get in double figures, I think we're going to be very tough to beat," first-year Jeff head coach Andrew Grantz said. "All three of them can score inside, and out, and I'm very proud of how they focused today. We've had some tough practices of late and I challenged them and they responded."
The game consisted of big runs by both teams, but Jeff had the final say. The Red Devils put together a 12-1 spurt to open the fourth quarter that broke open a close game and propelled the hosts to victory over the Huskies (6-2), who had won six of their first seven games.
"We talked at halftime about staying focused and I think we did that in the second half," Lovings-Watts said. "I thought our ball movement was really good in the first quarter, so we just needed to get back to that."
Jeff, playing the Huskies for the first time since 2012, started the game on fire, shooting 64 percent in the first period en route to a 25-16 lead. North responded in the second stanza, shutting down the Red Devils' offense, and tying the game 30-all at intermission.
"We just weren't able to get anything going in that second quarter, but the guys kept their poise, stayed focus and came out and made the proper adjustments in the second half," Grantz said. "I told them after the game that I thought the second quarter was where we could have really folded, but I was proud of them at how they came back and battled."
The third quarter was back-and-forth as Lovings-Watts almost did it all for Jeff. The 6-5 junior tallied 12 of his team's 15 third-period points as the Red Devils edged ahead of the Huskies 45-42.
With all of the many, and deserved, praises of Jeff's offensive performance, it was a simple change at the defensive end that may have decided the game. North, which saw its four-game win streak stopped, scorched the Johnson Arena nets in the first half by hitting seven 3-pointers. However in the second half, the Red Devils held the visitors to just 3 of 14 shooting from beyond the arc.
"We did a better job of containing the drive and once we did that we didn't have to help off their shooters as much," Grantz said of his team's defense over the last two quarters. "I thought we probably over-helped in the first half. It was a simple adjustment, but our guys did a good job with it and it worked for us."
Jeff has now won 25 of its last 31 games at Johnson Arena, while the victory over North marked the first for coach Grantz there. It was also his 90th win in six years coaching high school basketball.
"It means a lot to me to get my first win here," he said of the gymnasium. "There have been so many big-time coaches and players here at Jeff. So many good basketball people have been here in this gym. To get my name in the record books with a win at Johnson Arena is special and means a lot to me."
The Red Devils are back in action Friday night, when they host archrival New Albany (5-3) at 7:30 p.m.