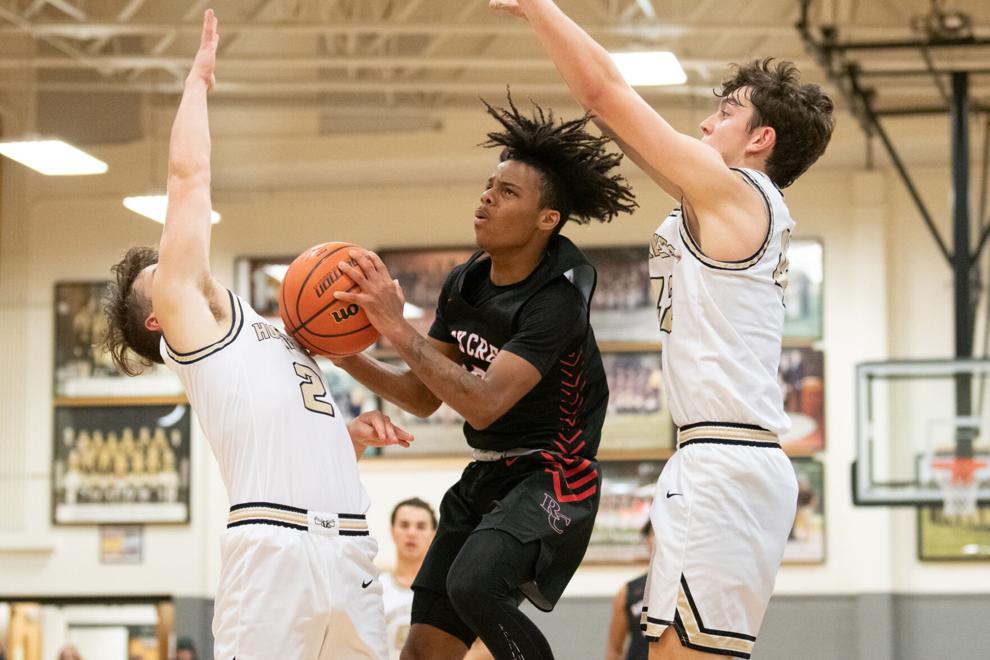 HENRYVILLE — Rock Creek kicked off a promising season with a big road win, as the Lions knocked off host Henryville 57-38 Tuesday night.
"Our guards were able to stick with them a little bit better than they have in the past. We've been concentrating on our defense, and we were able to push them into the middle and let our trees go to work on the baseline," Lions coach Chris Brown said. "Henryville's a tough place to win. It was a great atmosphere, and it was fun."
The "trees" Brown referenced are 6-foot-11 junior center Marial Diper and 6-foot-7 junior forward Jaleb Treat, who helped limit the Hornets' potent frontcourt duo of Layton Walton and Sam Guernsey to just 16 points combined.
"We will never see height like that the rest of the season unless we get to the state finals," Henryville head coach Jared Hill said. "I think our bigs will be successful, but when people are five to eight inches taller in the post, it makes it really tough on what you're trying to do."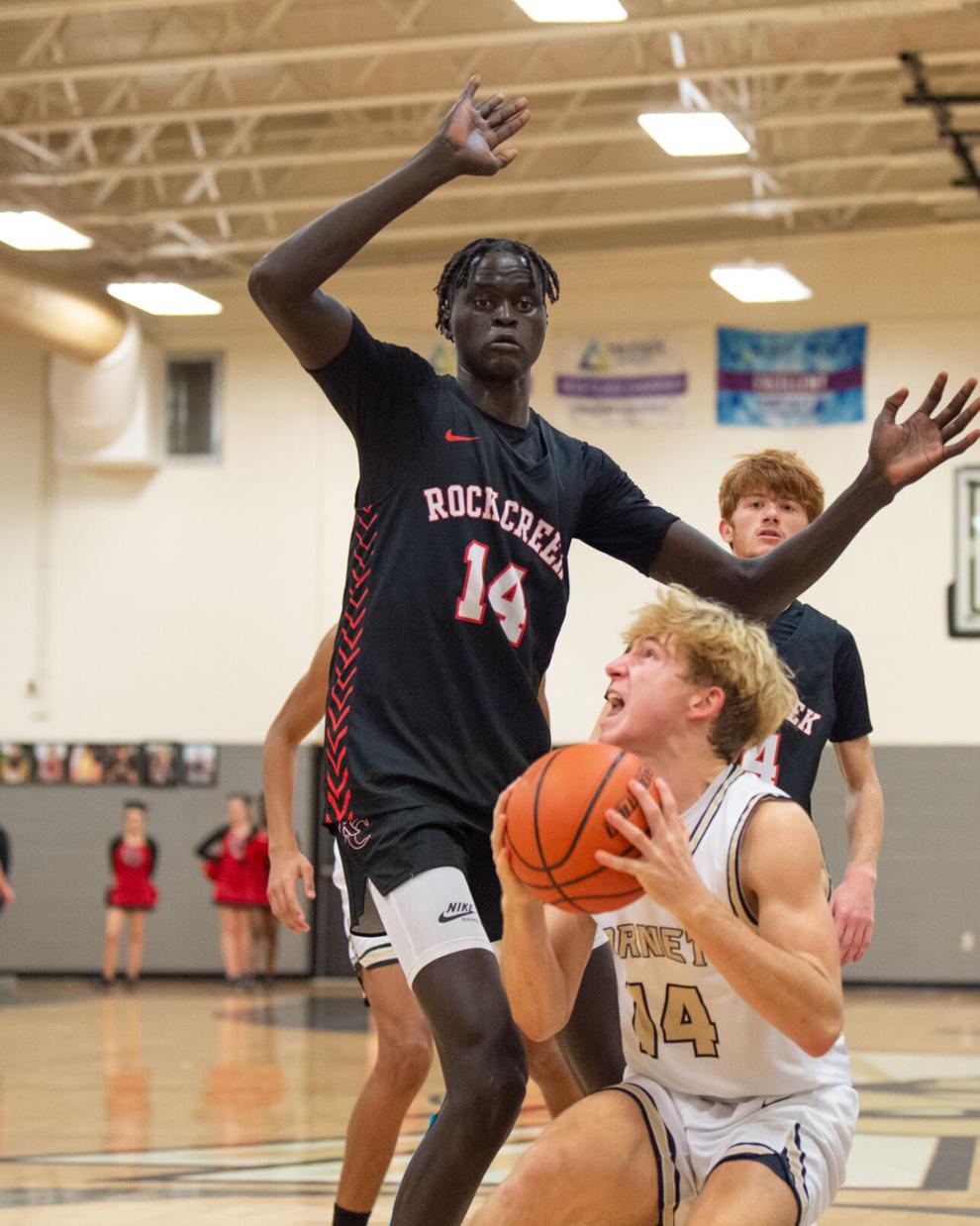 After nearly three minutes of scoreless action to start the game, Diper hit a floater in transition to give Rock Creek a 2-0 lead with 5 minutes, 4 seconds left in the first quarter.
The Hornets snapped a more than 4-minute drought to start the game when Eli Kleinert drew a foul in transition and knocked down a free throw to put Henryville on the board and cut its early deficit to 4-1.
The Hornets' shooting woes continued throughout the quarter, as the Lions took an 11-6 advantage into the second period.
Henryville came out hot to start the second quarter and tied the game at 16-all on an Aydan Head lay-in with just under five minutes left in the half.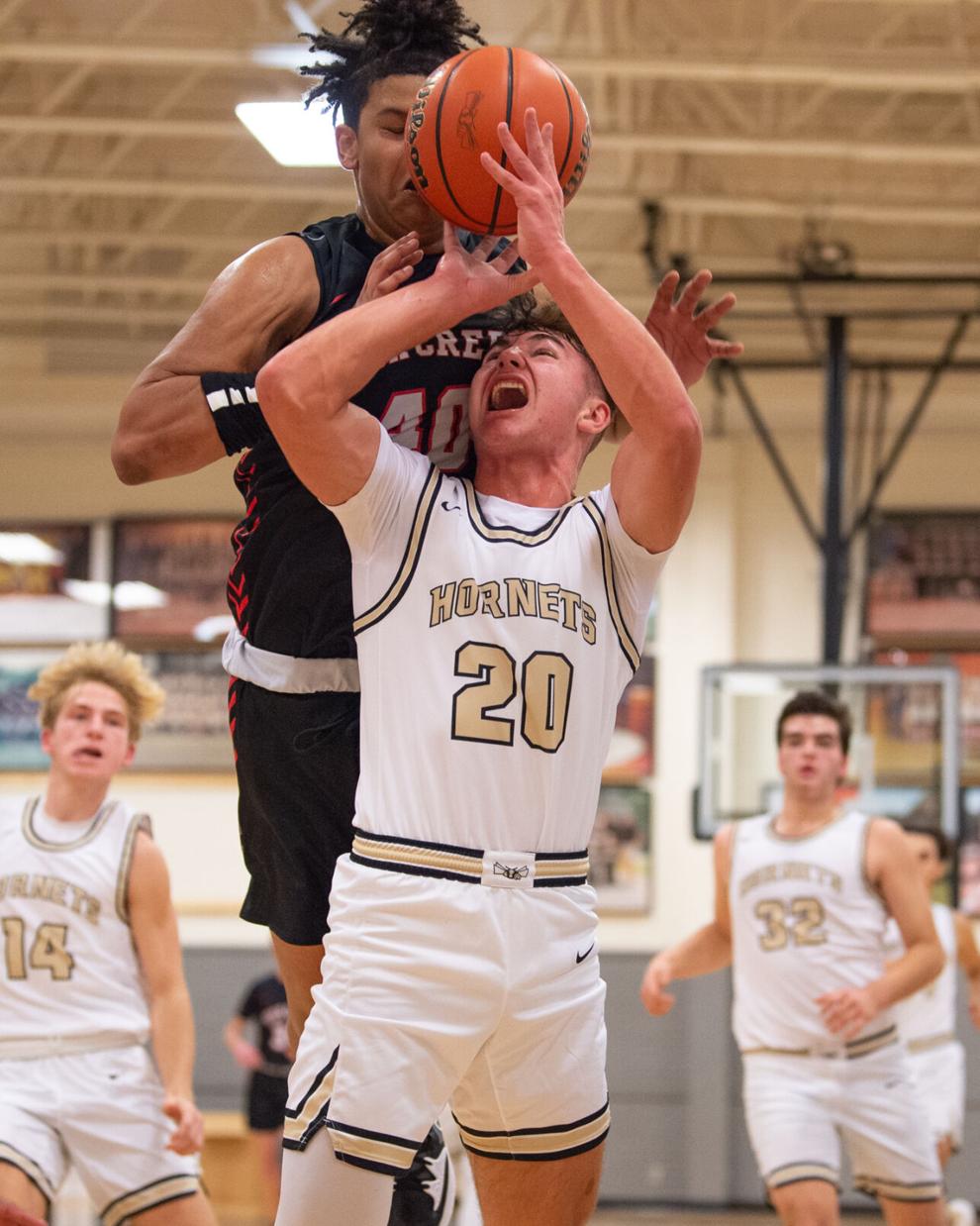 After Rock Creek regained the lead, Walton flushed home a dunk with 1:34 left in the period to knot the game at 21.
Rock Creek's Isaiah Ball scored in the final seconds of the half to give the Lions a slim 23-21 edge heading into the locker room.
Walton and Rock Creek's Ladarius Wallace led all scorers with six first-half points each.
After the Hornets got back into the game in the second quarter, the Lions used a big third period to put the game away.
Back-to-back Treat buckets gave Creek a 29-21 advantage just over a minute into the period.
"They ran it up to 29-21, and I guess we were fouling too much and we just kind of lost control of the game," Hill said.
Gavin Gullion's second basket of the quarter extended the Lions' lead to 33-23 and forced a Henryville timeout with 4:42 left in the period.
It made little difference, as Wallace rattled off five straight points to give Rock Creek a 40-25 lead.
The Lions ultimately carried a 45-29 lead into the fourth quarter after Diper cleaned up a missed free throw and put it back in.
The Lions' third-quarter output of 22 points — which was largely fueled by transition buckets — nearly matched the 23 points they scored in the entire first half.
"We pressured up and had active hands in passing lanes. That allowed us to get out and run a little bit," Brown said.
The game never got closer as Rock Creek secured the 19-point triumph.
Wallace scored a game-high 19 points in the win while keying the offense.
"He hit some big shots. He's streaky outside, but he can get hot. He's a hard matchup when he's going rim to rim, and he's quick and crafty," Brown said. "He's good to have as our floor general."
Diper added 11 points and seven blocked shots. 
Walton led the Hornets with 10 points, but he had to work hard to reach double digits.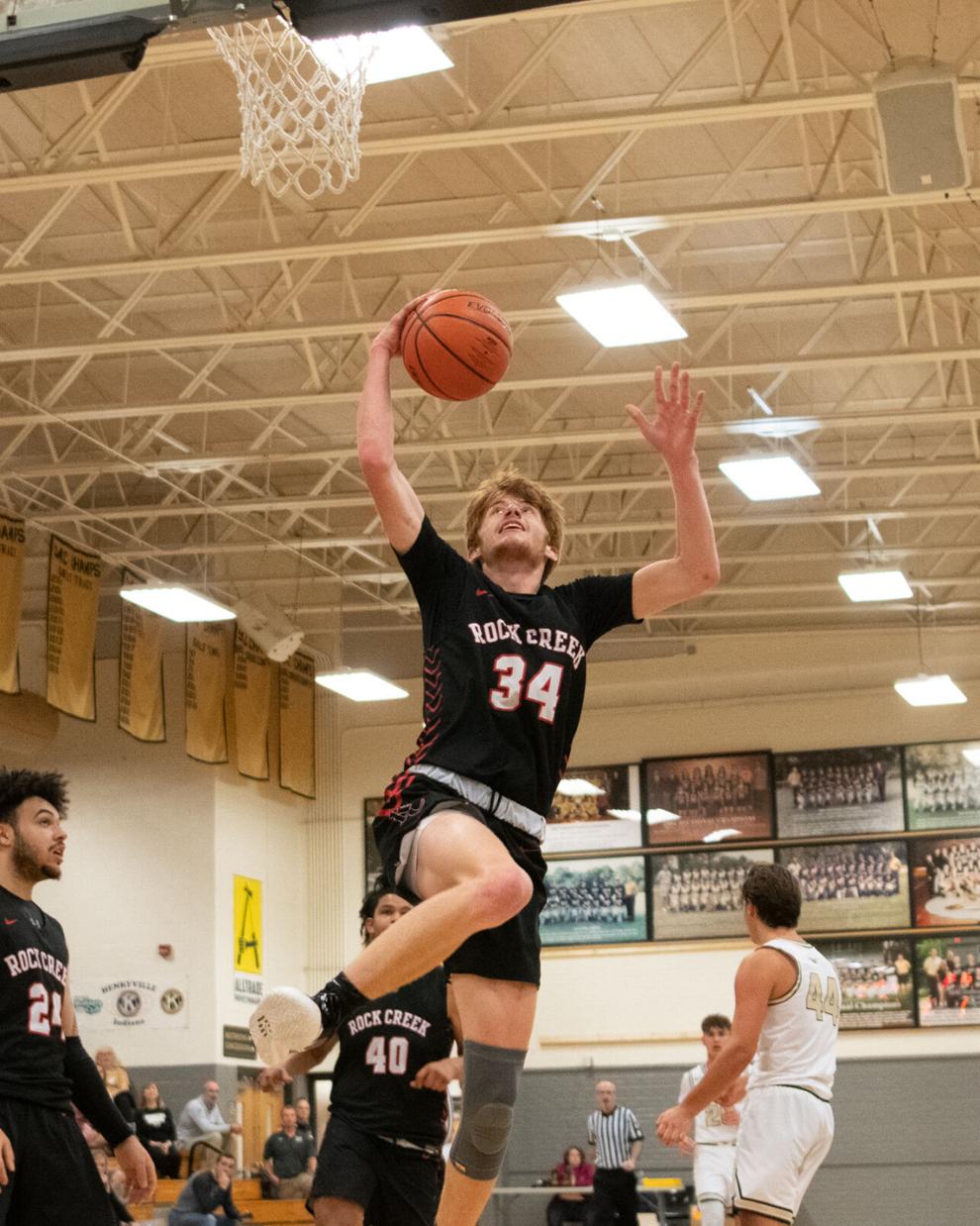 Both teams will be back in action on Dec. 3, as Rock Creek travels to New Washington and Henryville hosts Paoli.
"The road doesn't get any easier," Hill said. "We'll find out a lot about ourselves the next couple weeks."
.
ROCK CREEK 57, HENRYVILLE 38
Rock Creek  11  12  22  12 – 57
Henryville     6   15   8    9 – 38
    Rock Creek (1-0): Ladarius Wallace 19, Marial Diper 11, Jaleb Treat 9, Isaiah Ball 7, Gavin Gullion 7, Memphis Jackson 2, Johnathon Boggs 2
    Henryville (0-1): Layton Walton 10, Tyler Oberson 8, Sam Guernsey 6, Carson Conrey 5, Ayden Head 3, Caleb Lehaceanu 3, Eli Kleinert 1, Braydon Dobbs 1
    3-point field goals: Rock Creek 3 (Wallace 2, Ball); Henryville 4 (Oberson 2, Lehaceanu, Conrey).