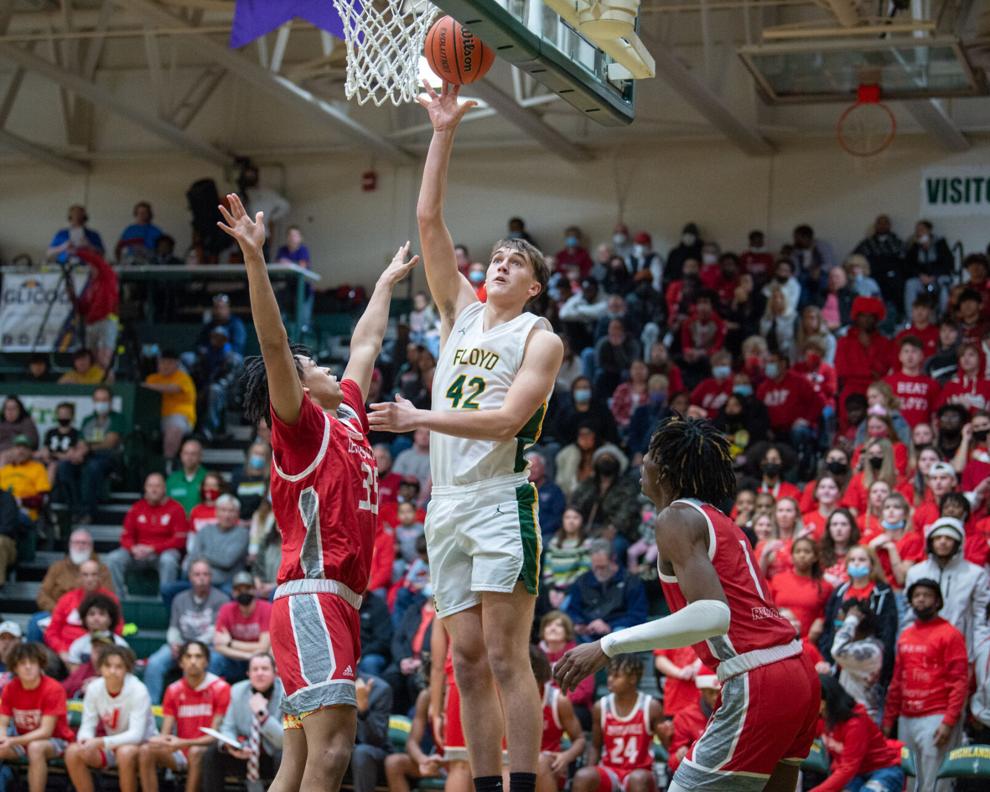 FLOYDS KNOBS — On a night when Floyd Central honored its 1971 Final Four team — a.k.a. the "Super Hicks" — the Highlanders gave their best impression of a super team.
Thanks to a mind-boggling 39-6 surge to start the second half, they rolled to a 58-34 thumping of Hoosier Hills Conference-rival Jeffersonville on Friday.
"Brady (Moore) got us jump-started in the second half and our defense got us a few (easy) baskets," Floyd Central head coach Todd Sturgeon said.
The Highlanders (8-2, 2-0) looked like mere mortals in the first half, when they trailed by as many as eight points and were behind 25-19 at the break.
After intermission, though, Floyd rolled.
"I was thrilled with our defense, and Wes (Celichowski) kept us in the game in the first half when we didn't have much cooking," Sturgeon said.
Celichowski, a 7-foot senior, scored nine of his game-high 17 points in the first half to keep the Highlanders close to the talented Red Devils.
"I think this is one of my best games," said the soft-spoken Celichowski.
Moore then took matters into his own hands to start the third quarter.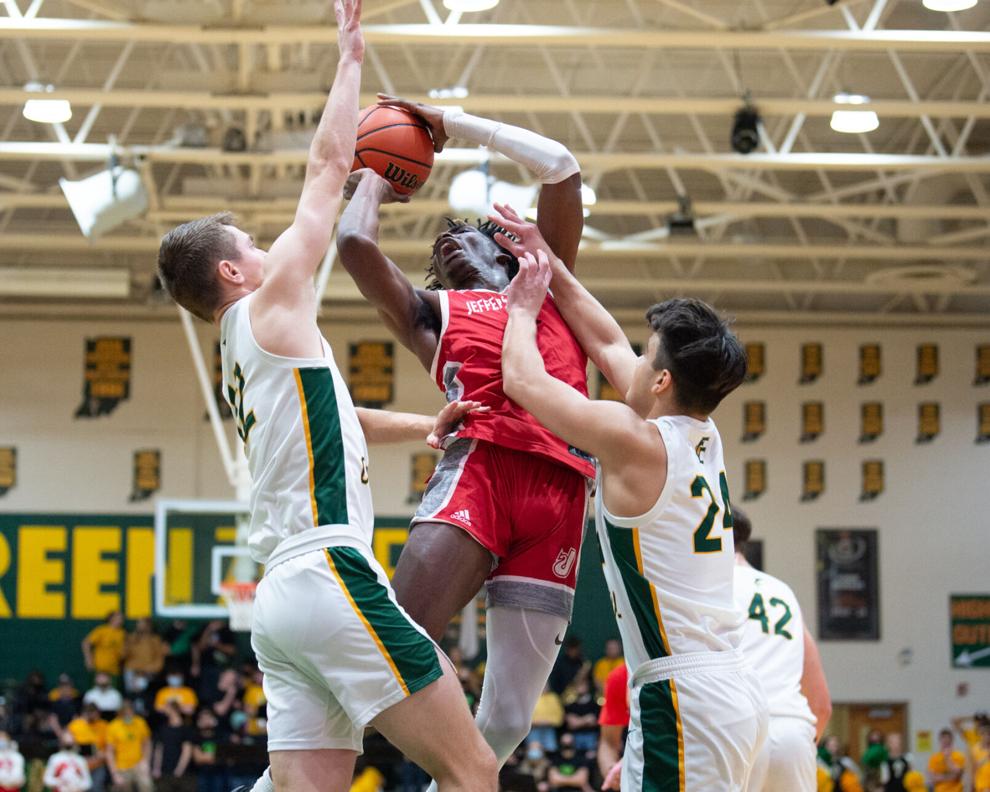 The senior forward quickly hit two 10-footers to begin the period to spark Floyd's turnaround.
By the time Moore drilled a 3-pointer at the top of the key, after a scoop pass from Celichowski, the Highlanders had the lead for good, 28-25, with 5 minutes, 40 seconds to play in the quarter.
"It started on the defensive end," Moore said. "We dug in on defense. Then we played with a lot of energy on offense and a lot of movement."
Moore scored 11 of his 15 points in the decisive period, in which Floyd outscored Jeff 24-6.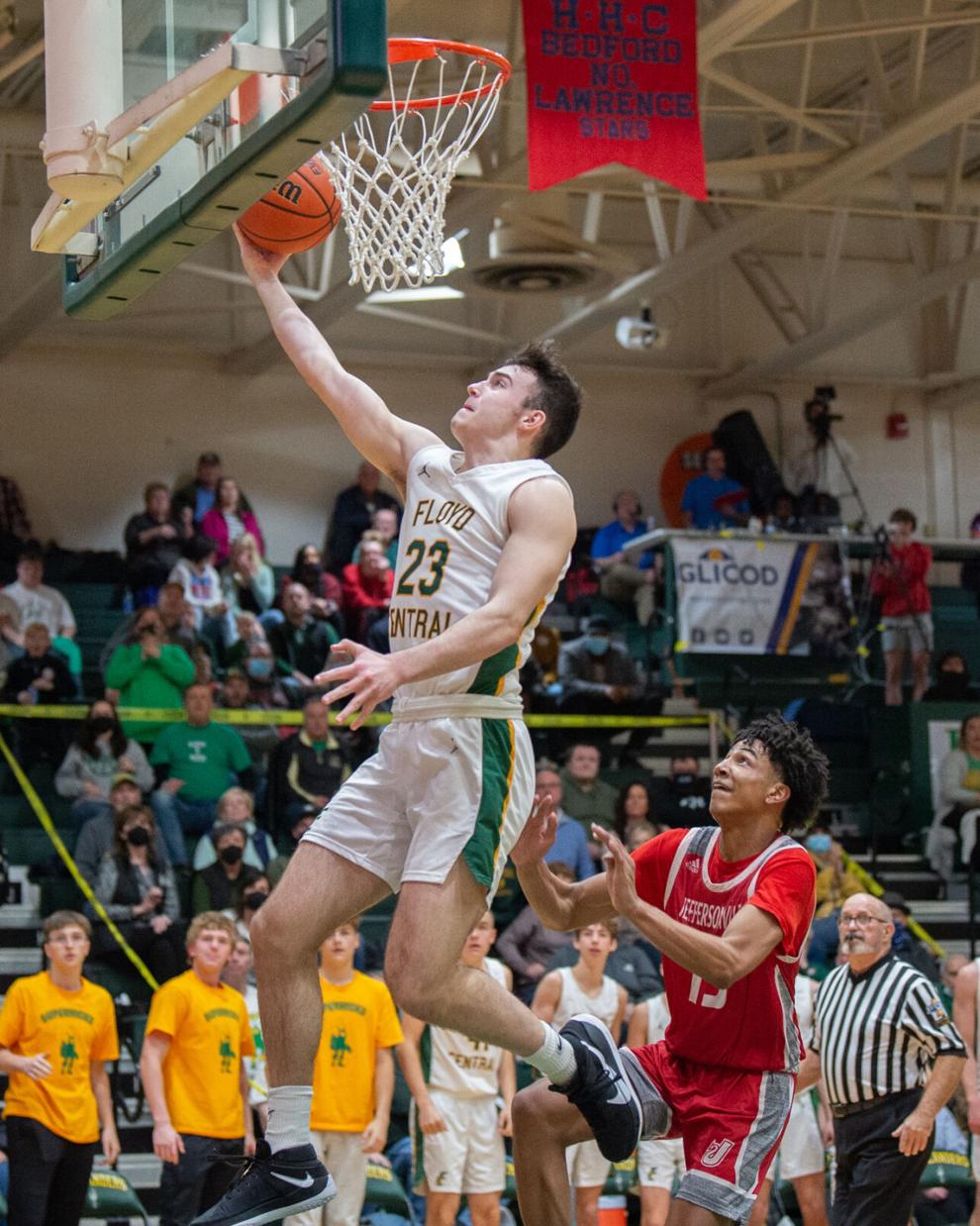 "I just thought I had to come out more aggressive in the second half," he said. "I had to make plays."
Meanwhile, the Red Devils (2-6, 0-2) were mired in a second-half scoring drought. They tallied only 13 points after intermission.
When Moore hit two free throws with 1:59 left in the third, the Highlanders were up 39-27, thanks to a 20-2 run to start the half.
The lead grew to as many as 27 in the fourth quarter.
Jeff coach Andrew Grantz said he thought a 22-day layoff caught up to the Red Devils in the second half. Because of COVID issues and snow days, Jeff didn't practice for more than two weeks in December and early January.
"Really, this last week we've been back to practice for the first time in three weeks," the Jeff coach said. "Maybe that had something to do with it. We're kind of treating this like an opening game.
"The main thing is we need more vocal leadership on the floor. I think the first half is who we can be. The second half, right now, is more of who we are."
For the Red Devils, the good news is there's plenty of season left.
"I know our guys are capable of (playing better) and they will do it," Grantz said.
The Red Devils were led by Brandon Rayzer-Moore, who hit three from beyond the 3-point arc and scored 11 points, all in the first half. Fellow senior Will Lovings-Watts tallied 10.
Both teams are back in action tonight. Jeffersonville will play host to Providence while Floyd Central visits North Harrison. Both are slated to start at 7:30 p.m.
.
FLOYD CENTRAL 58, JEFFERSONVILLE 34
Jeffersonville   12  13   6    3 — 34
Floyd Central    11   8  24  15 — 58
    Jeffersonville (2-6, 0-2): Will Lovings-Watts 10, Kobe Stoudemire 2, Brandon Rayner-Moore 11, PJ Douglas 4, Brenton Moore 6, Shawn Boyd 1.
    Floyd Central (8-2, 2-0): Kyle Poates 4, Max Tripure 2, Brady Moore 15, Tevi Ali 6, Cole Harritt 5, Caleb Washington 7, Wes Celichowski 17.
    3-point field goals: Jeffersonville 5 (Rayzer-Moore 3, B. Moore 2); Floyd Central 2 (Harritt, Moore).