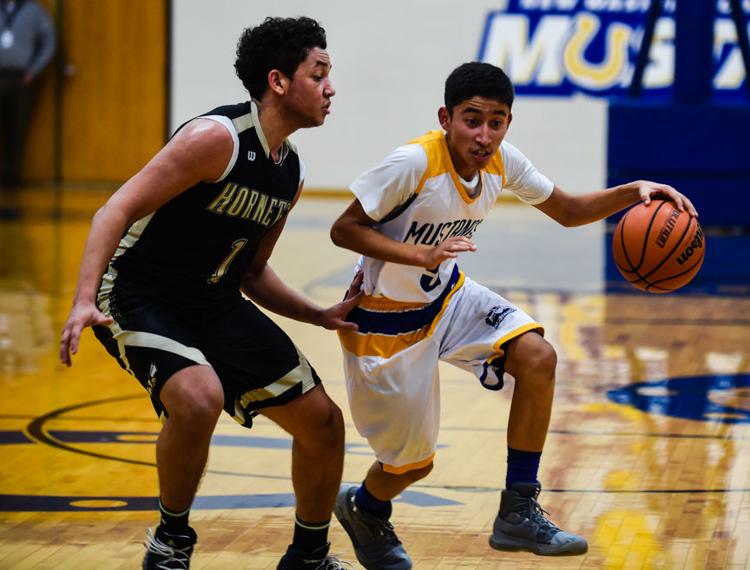 20. JESUS DIAZ, NEW WASHINGTON
The 5-9 senior guard averaged a team-high 13.6 points, three assists and 2.3 rebounds per game last season for the Mustangs. He shot 52.3 percent from the field, including 35.9 percent from 3-point range (where he made 2.2 treys per game), and a team-best 81.7 percent from the free throw line.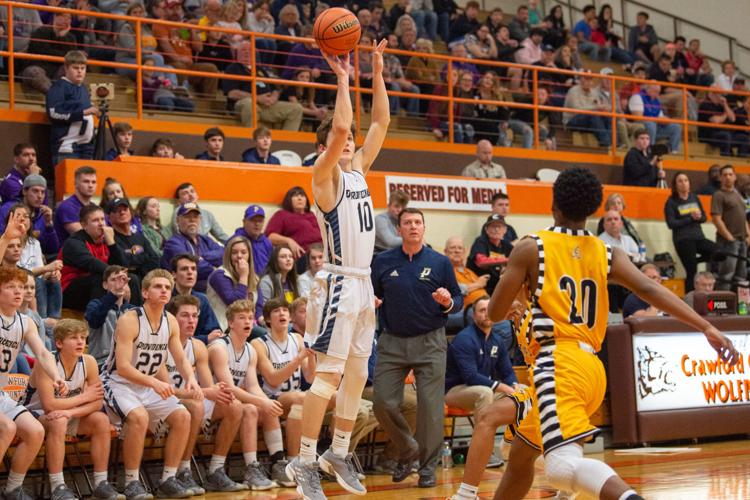 #19 STERLING HUBER, PROVIDENCE
Huber scored 12 points-per-game last season, lighting up the nets at times from 3-point range. Look for Huber to look for that shot plenty for new coach Ryan Miller, whose also looking for the senior for leadership.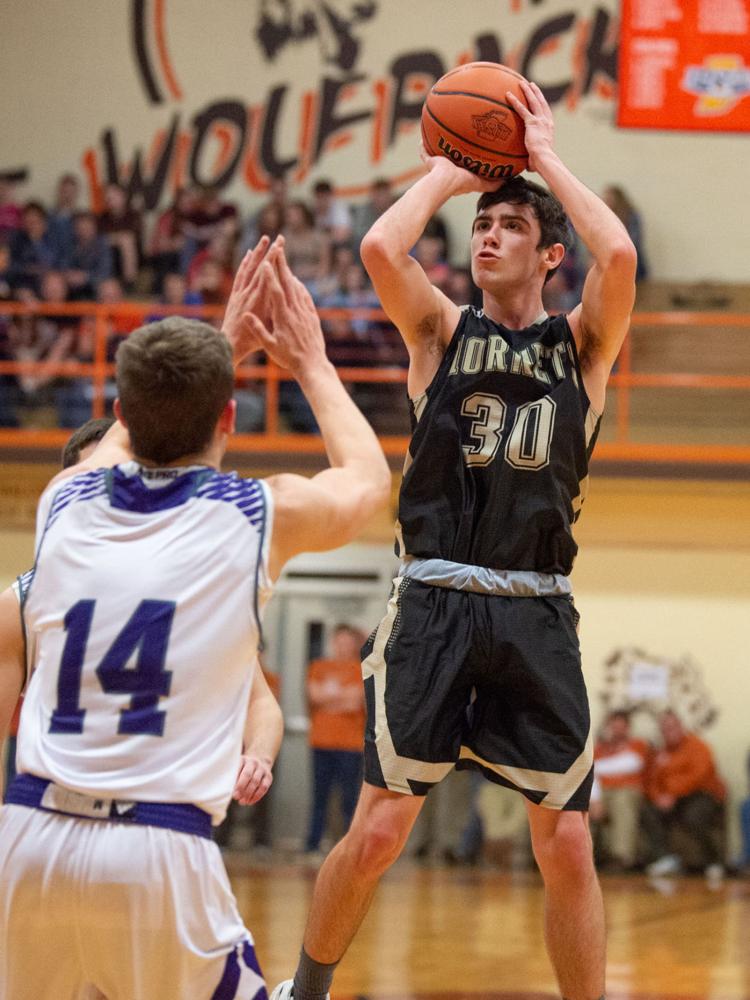 # 18 WESTIN ALLEN, HENRYVILLE
The 6-0 junior wing averaged 8.8 points, 3.3 rebounds, 1.7 assists and 1.2 steals per game last season for the Hornets. He'll likely after a much larger role this season after the graduation of do-it-all player Kade Badger.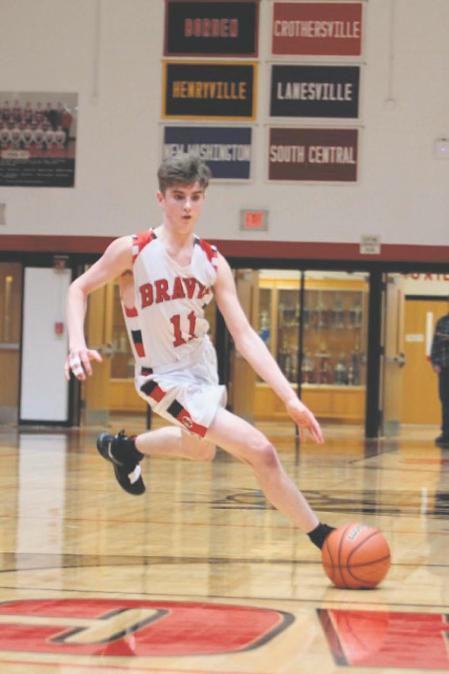 #17 STERLING MIKEL, BORDEN 
Mikel scored 19 and 14 in two sectional games as a freshman for Borden. With growth and added strength — and some newcomers such as freshman Tommy Devine to help the offense — Mikel has potential to become one of the area's rising talents.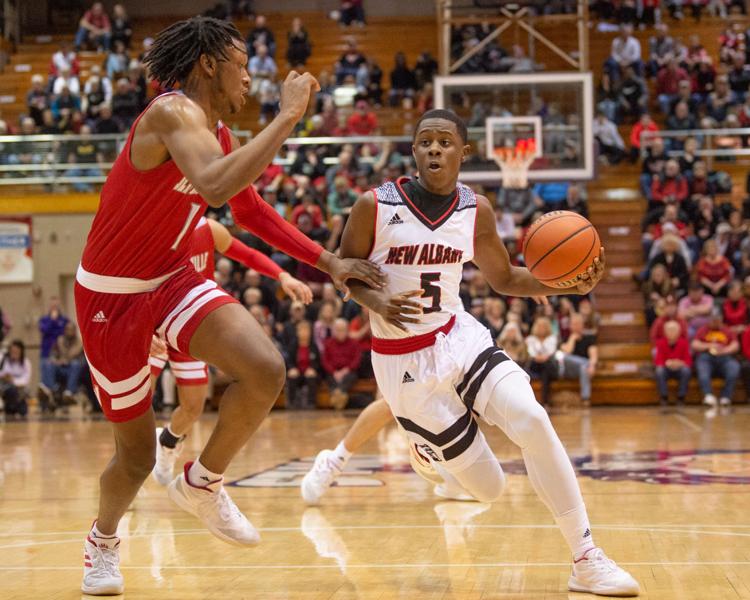 #16 KADEN STANTON, NEW ALBANY 
The sophomore point guard averaged 4.8 points and 2.3 assists per game in limited action last season for the Bulldogs. He'll play a much larger role this season and could easily be a Top 10 player going into the 2020-21 season. "He's gotten bigger, faster, stronger, quicker," New Albany coach Jim Shannon said.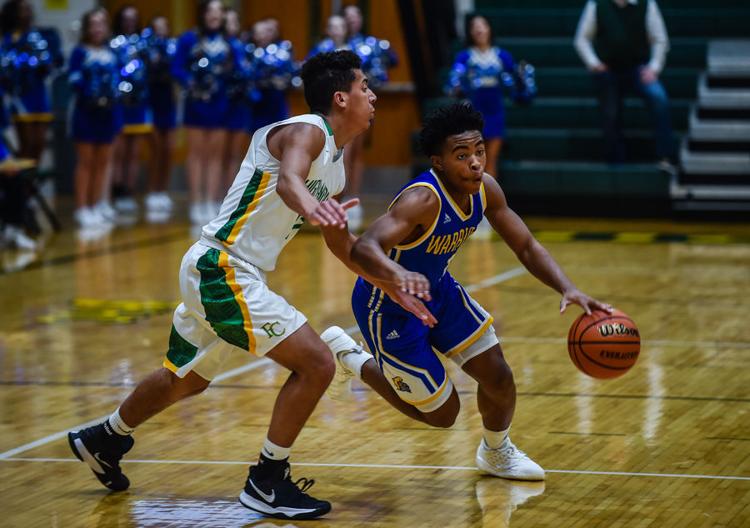 #15 T.J. PROCTOR CHRISTIAN ACADEMY
Proctor averaged 15 points last season, stepping up big when Bailey Conrad was out. That opportunity could benefit him this season as the two form a strong duo.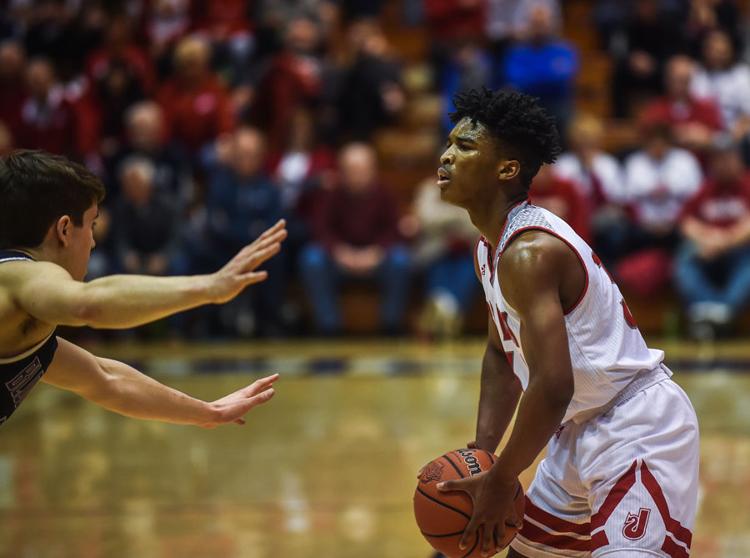 #14 DARIN STARKS, JEFFERSONVILLE 
The 5-9 senior guard averaged 12.2 points, 1.7 assists, 1.1 rebounds and one steal per game last season for the Red Devils. He shot 52 percent from the field, including 46 percent from 3-point range (where he hit a team-high 59 trifectas), and 78 percent from the free throw line.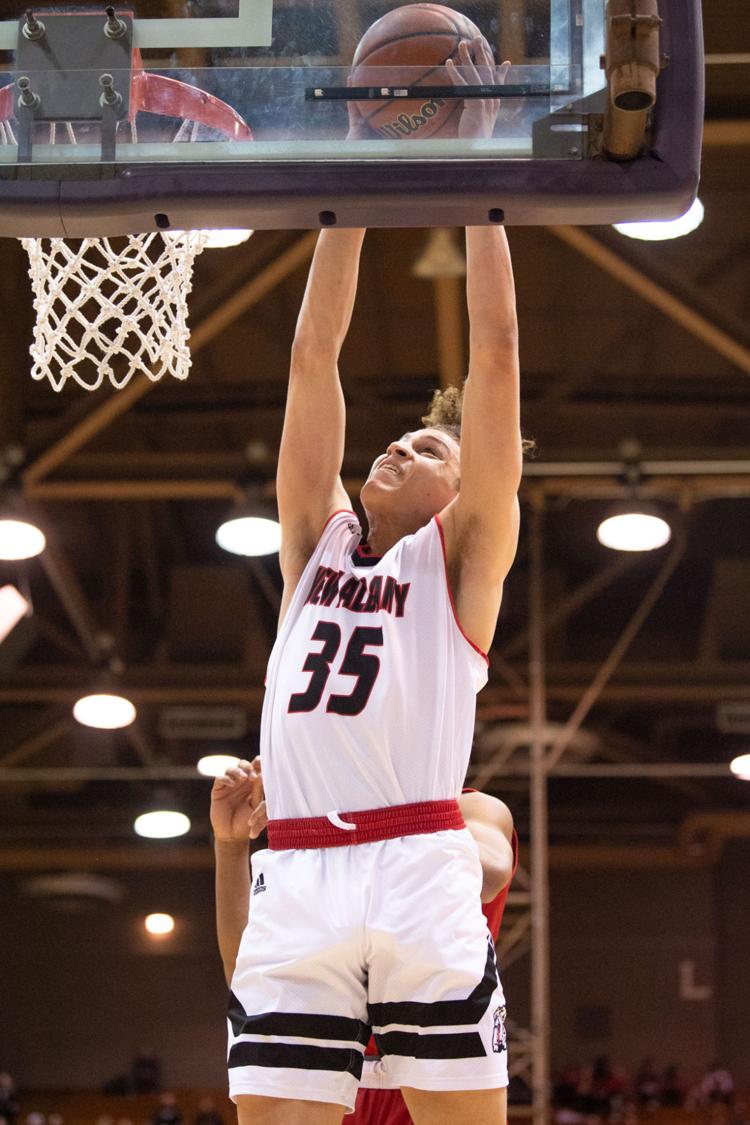 #13 JORDAN THOMAS, NEW ALBANY 
As teammate Trey Hourigan points out, Thomas' upside is big. At 6-foot-7, his athleticism helps him play even bigger, especially on the glass and the defensive end. As his offensive game develops, watch out.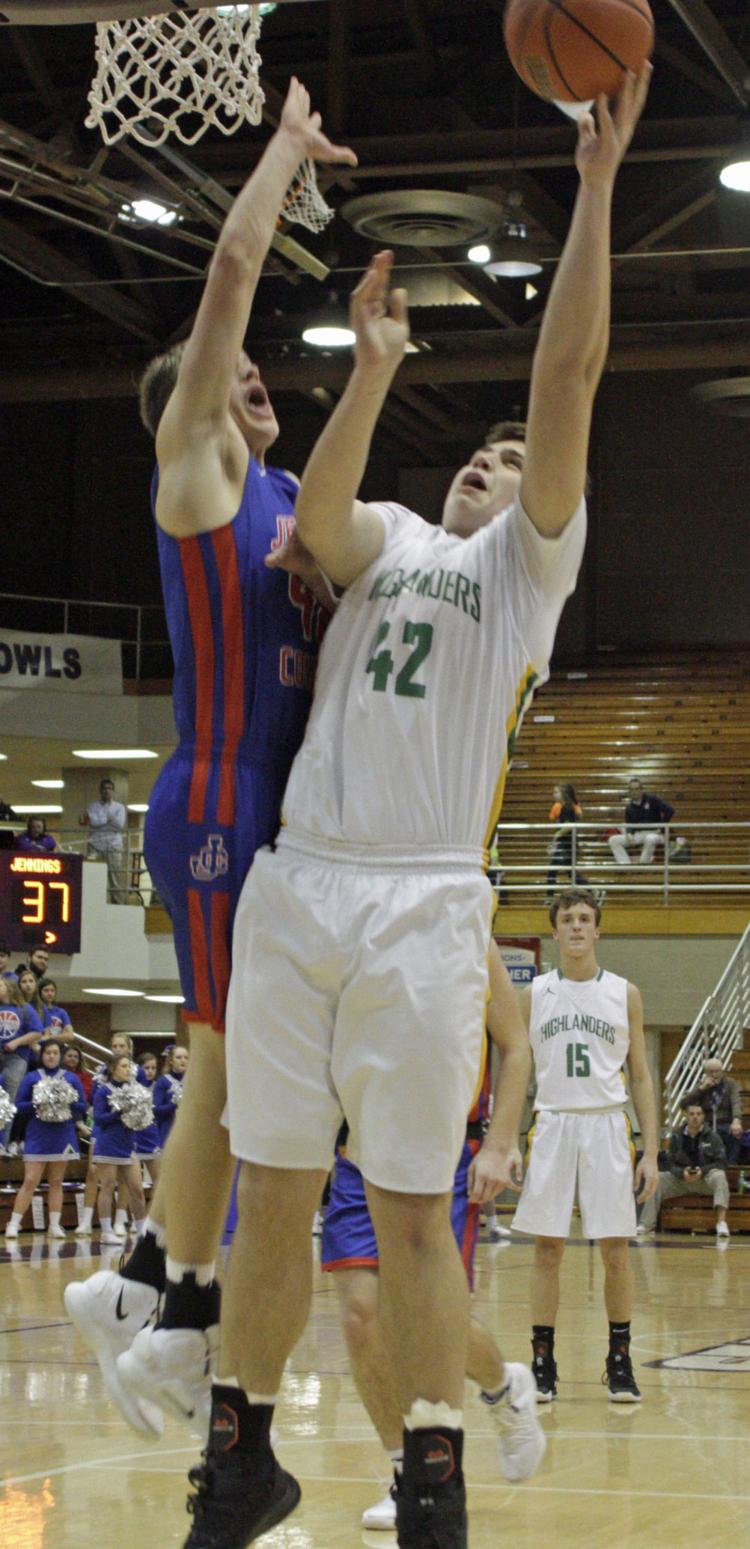 #12 GRANT GOHMANN, FLOYD CENTRAL
The 6-6 senior forward was plagued by injuries last season. He enters this season healthy and — if his performance in August's Battle of the Bridges was any indication — ready to make a much larger contribution to the Highlanders.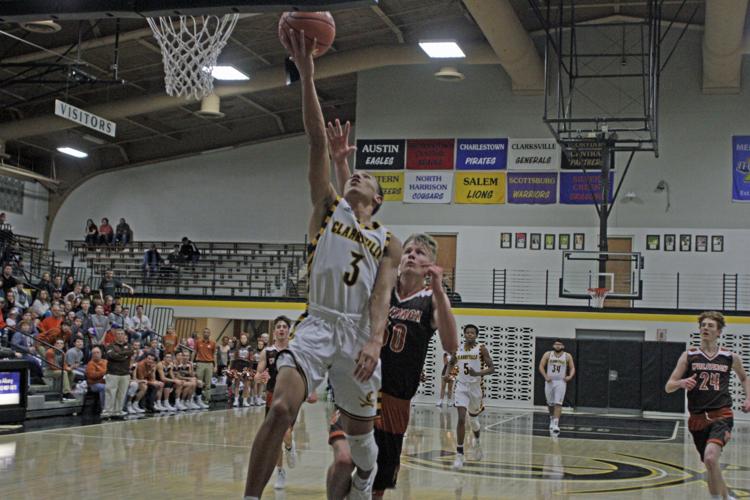 11. DAE'VON FUQUA, CLARKSVILLE 
Fuqua, as Mid-Southern Conference football defenses have found, is an explosive athlete who can make things happen in the open court.
"He actually shot some pretty good percentages and defenses are going to make him shoot the ball. He's been working pretty hard. If you get the game in transition, he's the best one around," coach Brian McEwen said. "He should have a really good year. He's got to step up and lead a little bit more. He's about winning."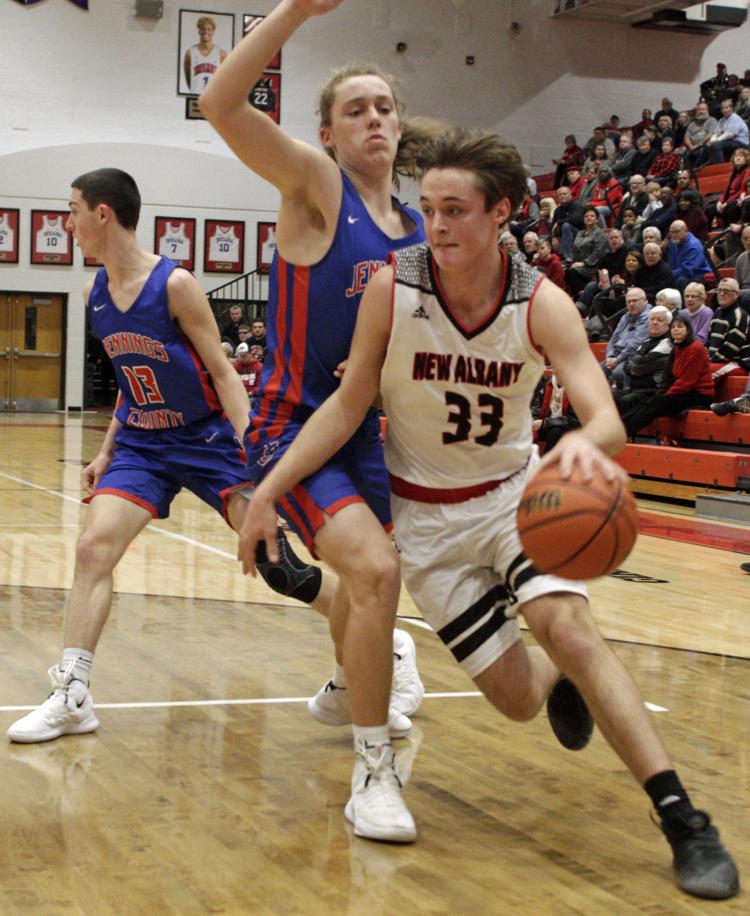 #10 TREY HOURIGAN, NEW ALBANY
Hourigan's 2018-19 stats are not going to jump off the page at the casual fan, but the 6-foot-5 forward does everything well.
Averaging seven points and 5.2 rebounds last season, Hourigan enters his third year as a starter for New Albany looking to get up more shots.
He shot over 40 percent from 3-point range, so there's certainly logic to back that idea up.
"We're all going to have a bigger role. I'm just looking forward to making more of the plays myself and not being as much of a role player," Hourigan said. "I was a shoot when I'm open player. Rebound, shoot the 3, set a lot of screens."
Hourigan also averaged one blocked shot per game and one steal.
He has put in work through this off-season to become a more explosive athlete.
"I've worked on my ball handles, my defensive ability and try to be quicker of the jump through improving my athleticism," Hourigan said.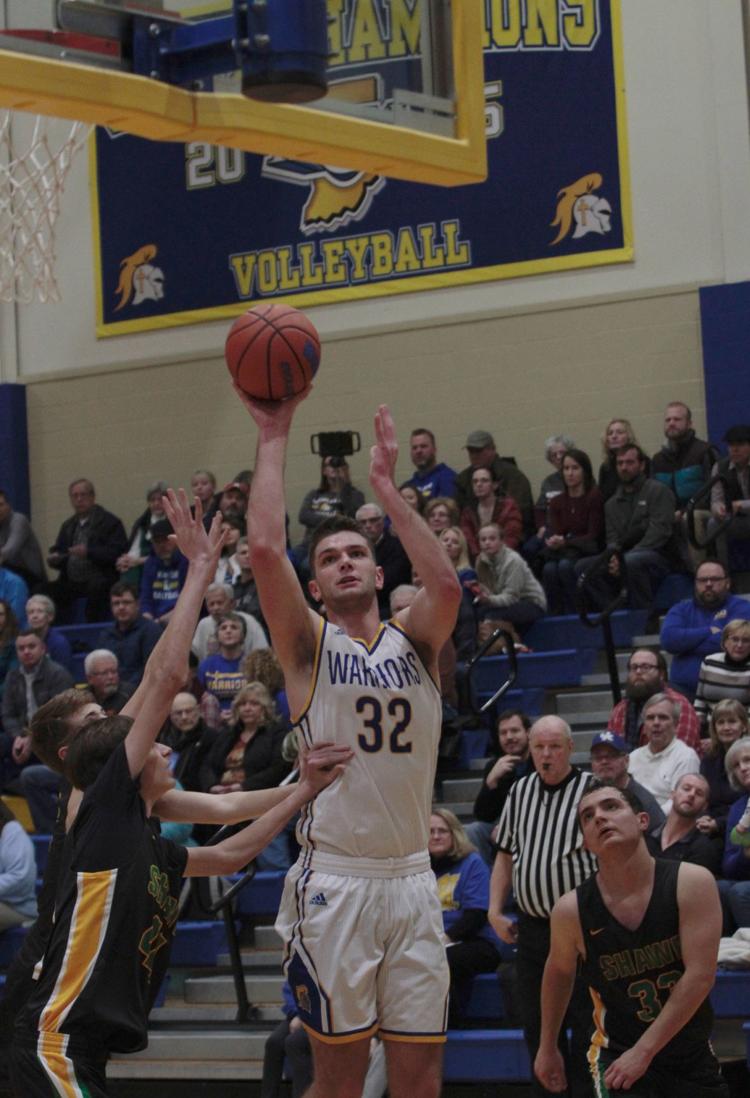 #9 BAILEY CONRAD, CHRISTIAN ACADEMY
Conrad offers another guy with size and versatility. He can step out and knock down 3-pointers or be an impact player in the paint.
Conrad missed a large chunk of the 2018-19 season but he's confident and prepared for a big senior year for Christian Academy.
"We played well together this summer and a lot of conditioning that has helped everyone," Conrad said, saying his focus was on continued improvement as an outside shooter. "I worked on a lot of guard skill, a lot of shooting the 3. It really showed, a lot of our guys did."
Conrad has an offer from Division II Ohio Dominican and hopes to draw even more interest this season.
"Just a lot of interest right now. It hurts I didn't play a whole season, but I'm ready to play with my team," Conrad said.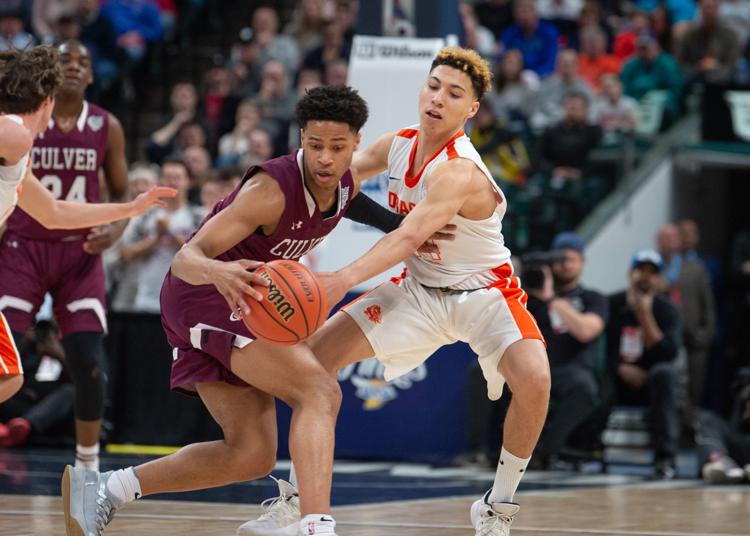 #8 BRANDEN NORTHERN, SILVER CREEK
The 5-foot-10 sophomore point guard will play a much, much larger role for the reigning Class 3A state champion Dragons this season after averaging 2.2 points, 1.8 assists and 1.1 rebounds per game in limited action as a freshman.
"Last year I just came in a couple minutes, did my job," said Northern, who had season-highs of seven points (three times) and five assists (twice) while playing behind Ty Kessinger. "But this year I have a bigger role — to score more and play better defense — but really I just have to get Trey [Kaufman] and Koop[er Jacobi] the ball and let them do their thing."
Northern's strong summer earned him a Division I offer from Alabama A&M.
Silver Creek coach Brandon Hoffman believes Northern, whose father, Bryant, starred at Jeffersonville before playing at the University of Louisville, is up for the challenge.
"We're throwing Branden the keys to the car," Hoffman said. "This is his time to run the show."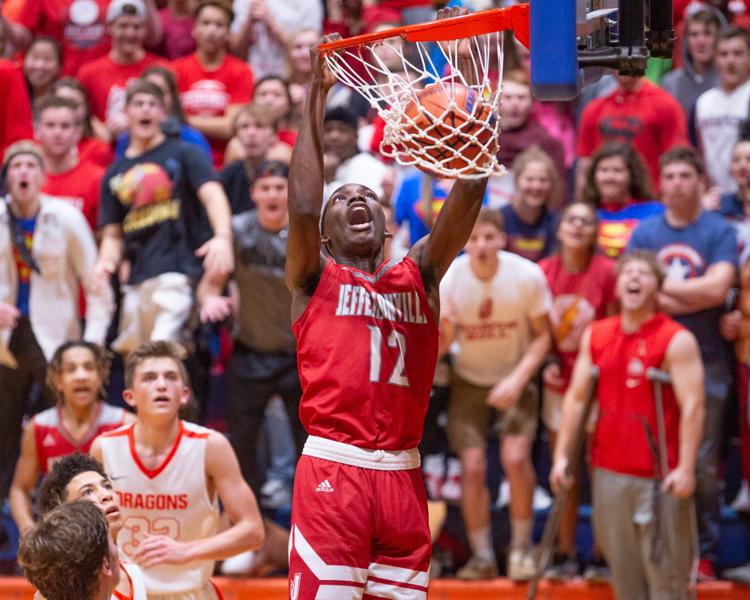 #7 WILL LOVINGS-WATTS
The 6-foot-5 sophomore has added a couple of inches — and some muscle — to his frame after a solid freshman campaign for Jeffersonville.
Lovings-Watts is one of the more sought after sophomores in Indiana.
He took only eight 3-point attempts last season, spending much of his time in the lane and looking to knock down mid-range shots. He looks to be a scorer from all three levels this winter.
"I just tried to get in the gym a lot and get up as many shots as possible. I didn't take many 3s last year so I'm looking to get up more shots out there this year," Lovings-Watts said.
That work in the post against bigger players helped him improve.
"Going to the post helps my footwork improve,"he said.
The soft-spoken young player lets his game speak for itself and he's hoping the Red Devils do the same as a team.
"We're just going to play together and try to get wins. Just keep growing as a player and get my shot better," he said.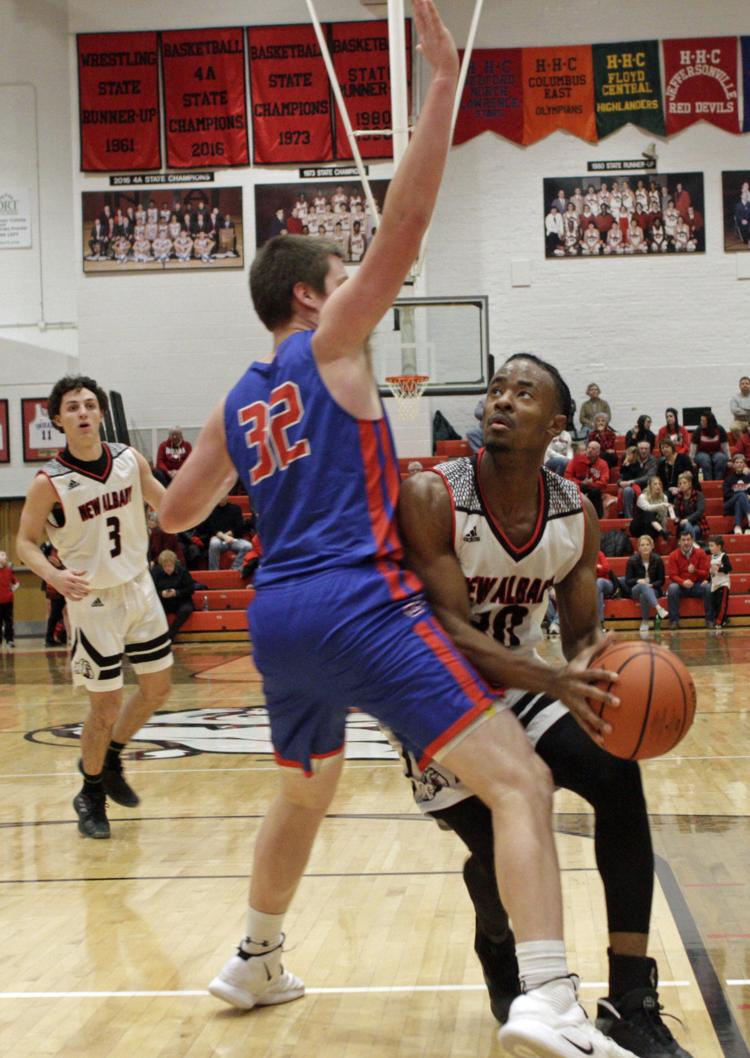 #6 JULIEN HUNTER, NEW ALBANY
The 6-foot-5 senior forward is coming off a solid junior season that came to a premature end due to injury. He averaged 12.9 points, 6.7 rebounds and 1.1 assists per game last season for the Bulldogs, who went 18-7 and advanced to their seventh straight sectional final.
Hunter, however, wasn't on the court for New Albany's 60-42 loss to archrival Jeffersonville in the Class 4A Seymour Sectional final after suffering a broken bone in his leg five games earlier. Then, after that injury healed, Hunter was sidelined part of the summer by a stress reaction in his foot.
He enters this season — knock on wood — healthy.
"I feel like I'm getting back to the old me pretty much," Hunter said. "I feel my handles and my jump shot are getting a lot better. The confidence and the mental aspect of the game is coming back and I feel like I'm one of the best players out there any time I step on the court."
He has spent the offseason honing his skills.
"My game is developing a lot," Hunter said. "I don't want to sound cocky or anything, but I can tell when the coaches see me doing new things and they'll look at each other like, 'I can't believe he did this,' or 'I can't believe he decided to try this out in a practice.' I can feel my athleticism coming back. I feel like I'm jumping higher this year than I was last year."
Hunter, who missed the summertime evaluation period due to his stress reaction, has received lukewarm college interest so far. However, he's hoping a strong senior season will help attract attention. For his part, New Albany coach Jim Shannon believes Hunter is primed for his best season yet.
"He's healthy now — he's a beast," Shannon said. "He's strong, he goes hard in the weight room, his vertical's improved, his strength's improved, his shooting's improving, I look for big things out of him."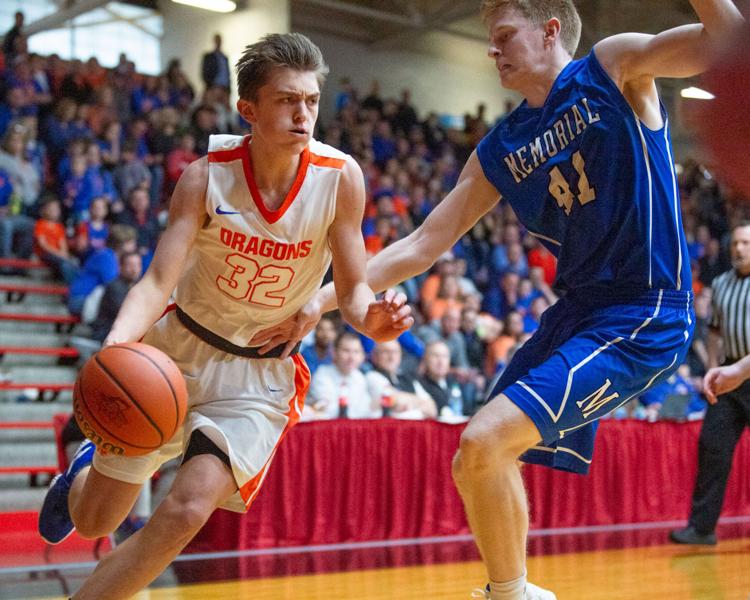 #5 KOOPER JACOBI, SILVER CREEK
The 6-foot-6 junior forward had a breakout sophomore season that saw him average 13.9 points, 7.1 rebounds and 2.5 assists per game for the Dragons, who won their first-ever state championship.
Jacobi followed that up with a strong summer that saw him receive several Division I scholarship offers. So far he has ones from Indiana State, Akron, IUPUI, Miami (Ohio), LaSalle and Bellarmine, which will transition to D-I next year.
"I think this summer was a good recruiting season," Jacobi said. "It was a cool, new experience. Now I just want to play as hard as I can in the high school year and AAU season and just see if other opportunities happen."
In the meantime he's preparing for his junior campaign.
"I'd say I'll be more of a leader than last year," said Jacobi, who along with classmate Trey Kaufman is one of two returning starters for the Dragons. "Last year I didn't have to be, we had more seniors so we were more experienced. But this year I think, being one of the more experienced guys, just leading the guys that don't have as much experience is the biggest thing. [My goals are just] being a leader on the court, more than last year, and just playing hard every game and being an example when I'm on the court."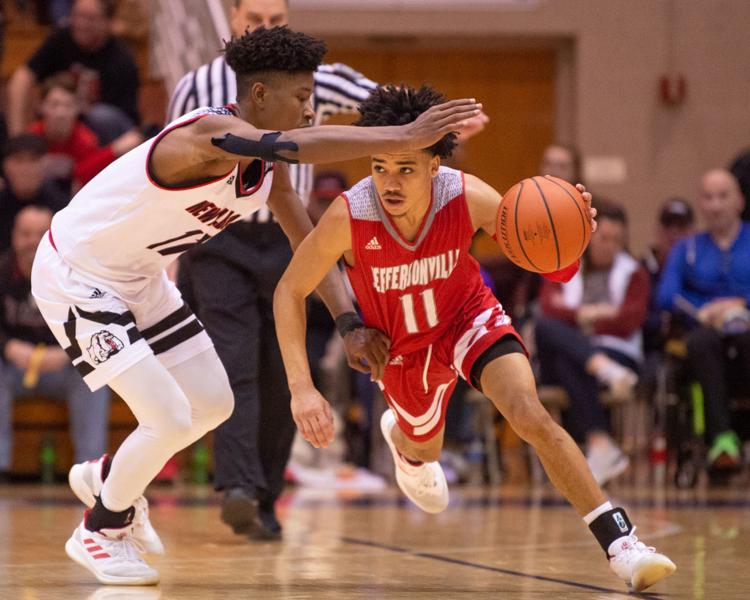 #4 JACOB JONES, JEFFERSONVILLE
The 5-foot-10 senior point guard averaged 11.4 points, 7.5 assists, 2.9 rebounds and 1.9 steals per game last season for the Red Devils, who captured their first sectional title since 2013 before losing in the regional semifinals.
Jones, who also shot a team-best 43 percent from 3-point range and 79 percent from the free throw line while ranking second on the squad in steals (46), helped key Jeff's late-season 10-game winning streak that ended with its 68-52 loss to Bloomington South in the Class 4A Seymour Regional semifinals.
Jones said the Red Devils are aiming for a second straight sectional title — and more — this season.
"We're focused on winning a championship, making it all the way," he said.
In addition to continuing to run the team at a high efficiency rate — he finished last season with a 4.5-to-1 assist-to-turnover ratio — Jones also hopes to improve his leadership skills.
"I've got to lead the younger guys off the bench and just be a leader," he said.
Jones signed to play at Wisconsin Green Bay earlier this week.
"It was a perfect fit for me," he said. "They want me to run the team, I'm not sure whether it will be my sophomore year, junior year, or freshman year, but they want me to run the team."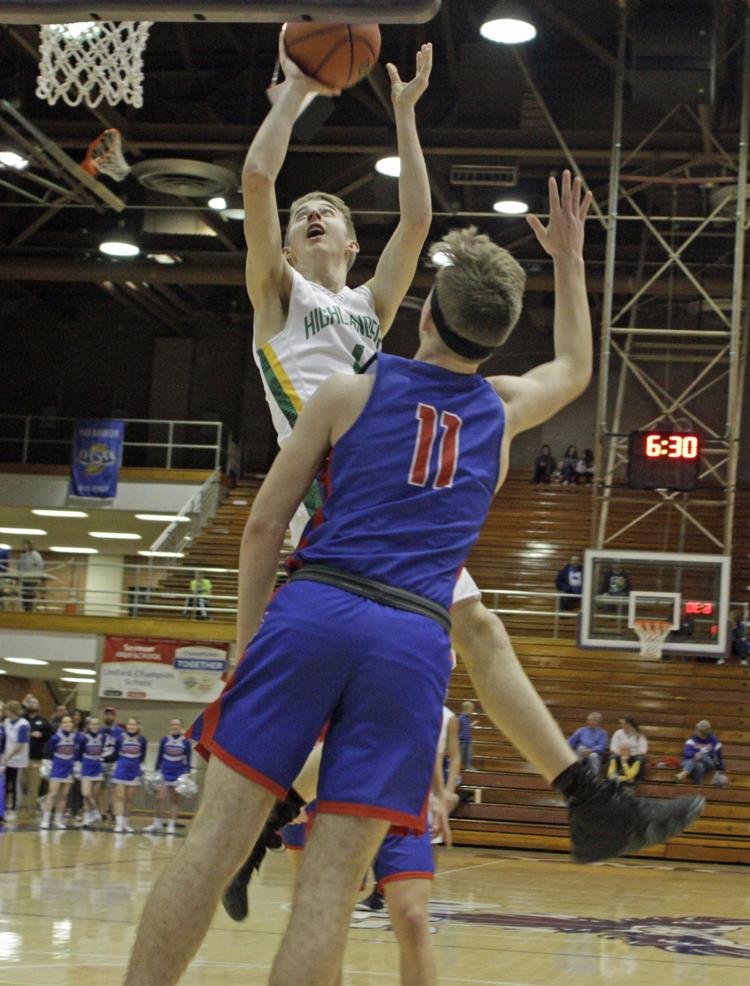 #3 JAKE HEIDBREDER
Heidbreder was the Highlanders' No. 2 scoring option in 2018-19 behind Indiana All-Star Cobie Barnes.
With Barnes now at Indiana State, Heidbreder will have the opportunity to lead the area in scoring.
The 6-foot-4 combo guard had a big summer for the Highlanders, carrying the team offensively. He also got his first Division I offer from Indiana State. Heidbreder also has an offer from Furman. Expect more interest to come.
"A scoring guard who can handle the ball against pressure is the most valuable commodity in modern basketball and Jake gives us all of that," coach Todd Sturgeon said. "He can really put the ball in the hoop and in a variety of ways. We're going to need some guys to step up and make some shots so other teams just can't double-team Jake every night."
Heidbreder said his spring and summer AAU seasons helped him take a big step as a player.
"Playing against the top talent in AAU helped me a lot," Heidbreder said. "It was a lot faster this year than last year. The speed of the game helped me."
Heidbreder looks forward to getting the best from opposing defenses. He enjoys studying film to prepare.
"I do enjoy watching," he said. "I'll be sitting in class watching film. I watch myself from last year. I had some bad shooting games. I need to be more consistent this year. I'll just keep getting in the gym more."
---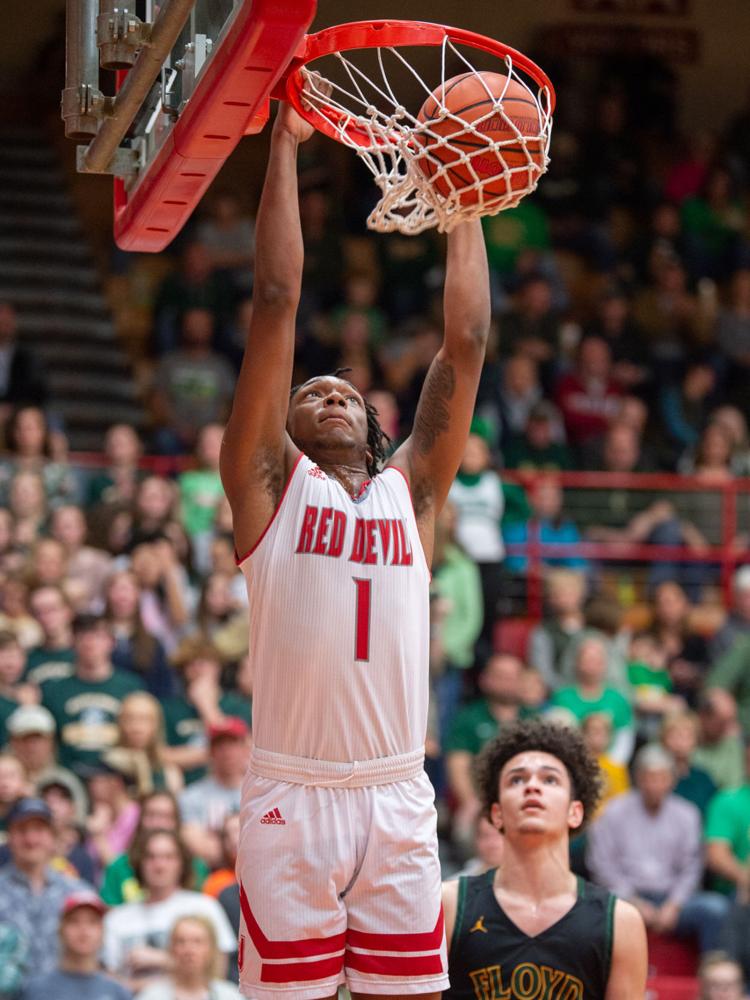 #2 TRE COLEMAN, JEFFERSONVILLE
The athletic 6-foot-6 senior forward is coming off a big junior season that saw him average 16 points, 6.4 rebounds, 2.5 assists, 2.4 steals and 2.1 blocks per game for the Red Devils, who won their first sectional title since 2013 before falling to Bloomington South in the Class 4A Seymour Regional semifinals.
He backed that up with a solid summer that included him playing with the Indiana Junior All-Stars, as well as his AAU team.
"Personally I've just been working on my handle mostly, just trying to get that first step more explosive so I get to the rim real easy," Coleman said.
Meanwhile, he and the Red Devils enter this season with some unfinished business.
"We thought we didn't go into that regional game prepared enough, so we've really got a chip on our shoulder going into it this year," Coleman said.
It's a season that Coleman, and his teammates, hope to end in Bankers Life Fieldhouse.
"Our goal is a state title," he said.
What's it going to take to get it?
"Hard work and dedication for sure," Coleman said. "It's easy to say, but you've got to get down to it and grind the whole season. Then once tournament time comes we've just all got to lock in, stay together, play well and like we know how."
One thing Coleman doesn't have to worry about is where he will play next year. He signed with the University of Nevada earlier this week.
---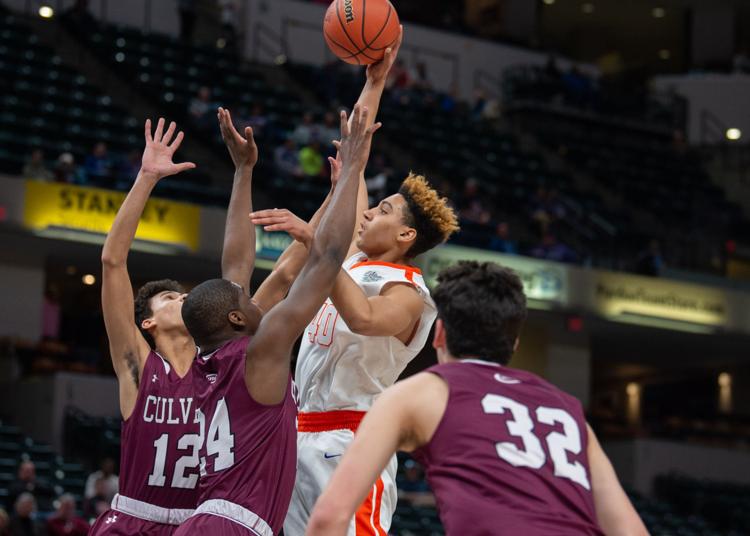 #1 TREY KAUFMAN, SILVER CREEK
Kaufman has taken his development to a new level this off-season, ramping up his strength and conditioning work. He looks the part of the top-50 2021 prospect in the nation that he is. Future150.com ranks him No. 48 in his class.
Kaufman has offers from Indiana, Purdue, Louisville, Xavier, Evansville, Indiana State and Wichita State, with some level of interest from Kentucky.
The 6-foot-8 junior forward is no doubt preparing to become a great college player and high school basketball fans around the state are going to see a different player this year.
"This year the shifting of my goals toward working out. I played a lot more basketball, instead of strength training, just to let my body fill in," Kaufman said. "I got a trainer and did a lot more ball-handling so I can be a forward at the next level.
"Last year, I was more of a back-to-the-basket type of player. I think it's going to be surprising this year. I'm more of a face-up, guard type of player or can be, depending on who's guarding me.
With Kaufman an even bigger force, the Dragons are looking to repeat for a Class 3A state title.
"Talent-wise, I think we have it. But we lost a lot of seniors last year, so getting everybody to execute every possession is important," Kaufman said.