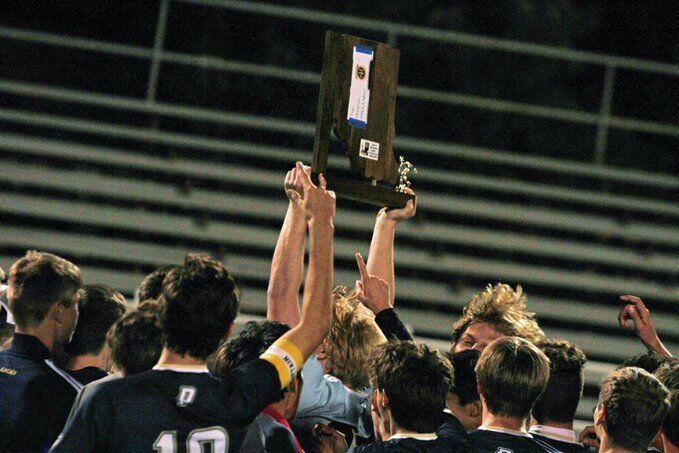 CLARKSVILLE — Providence avenged last year's season-ending loss while capturing its fourth regional title in five years Saturday night. 
Billy Hoke's goal, off a free kick with 13 minutes, 34 seconds to play lifted the Pioneers to a 3-2 victory over Jac-Cen-Del in the Class A Providence Regional final at Murphy Stadium. 
The second-ranked Pioneers (15-3) will face No. 8 Indianapolis Lutheran (12-7) at 4 p.m. ET next Saturday at the Evansville North Semistate. Providence beat the Saints 3-1 Sept. 19 in Indianapolis. 
"It was a tough win against a good Jac-Cen-Del team. They made it really difficult on us," Pioneers coach Jake Stengel said. "They had a lot of guys behind the ball and made it difficult to score. When we found opportunities — they were few and far between — their keeper made good saves. But our guys persevered through the difficult times and created enough opportunities to win." 
Providence advanced to the final with a 7-2 triumph over Forest Park in the semifinals Saturday afternoon. Luke Hesse and Edward Bobkoskie had two goals apiece, while Evan Scott dished out four assists, in that victory. The fifth-ranked Eagles ousted No. 6 South Knox 3-2 in the other semi. 
In the rematch of last year's regional final, which Jac-Cen-Del won 3-0, the Pioneers struck first when Hesse converted a penalty kick 21st minute. 
The Eagles (16-4-1) netted the equalizer a little more than five minutes later when Jacob Jines scored off a free kick. 
Providence nearly had an immediate answer, but Hesse's second PK was stopped by goalie Nathan Hoffman. 
It was just a matter of time, however, for the Pioneers. With just under eight minutes left in the first half, freshman Quentin Hesse punched in the go-ahead goal. 
"Evan got it and he was doing touches in the box and there was like three people on him, and the ball just slipped out. I think they tried to kick it, or clear it away. It hit off Evan's shin, bounced over to me and I was like, on the 6-yard box. I just made sure I finished it, put it in the side of the net," Hesse said. 
Providence led 2-1 at halftime. That advantage, however, didn't last long. 
In the third minute of the second half, Jac-Cen-Del's Jordan Meyer knocked in a rebound off of a throw-in to tie it at 2-all. 
It remained that way until less than 14 minutes remained. That's when Hoke took a free kick from near the 18. 
"I had a free kick and Evan Scott, I saw him in the middle, so I tried to hit it low so it would go to Evan. It went right to Evan and he left it and let it go in," the junior midfielder explained. "Just good placement I guess and enough power to make it through everyone." 
Providence's Billy Hoke talks about the @ProvidenceBSOC capturing the regional title & his game-winning goal. @GOphsPIONEERS pic.twitter.com/OTqGUZLkab

— Josh Cook (@joshcooknewstri) October 18, 2020
"That was just a dummy. There's a guy in the middle and he just lets the ball run through his legs. They do that kind of stuff (all the time), it's hard to defend against," Stengel said. "It was great thinking, credit goes to those guys 100 percent on that one. I can not tell them to do that, that's all on them." 
The Pioneers held on from there, but it wasn't easy. Senior goalie Jacob Braswell was issued a yellow card with 6:39 left, so freshman keeper Charlie Scott replaced him briefly. 
"We struggled the whole game. We had to fight hard, we knew it would be a struggle going in, but I didn't expect it to be that hard," Hoke said. "I know we left everything out here, the whole team. Everyone played good team ball and we just played good soccer." 
"We've got a large group of players and they were hungry for this one, but Jac-Cen-Del certainly made us earn it, that's for sure," Stengel added.  
The regional title was the 11th all-time for the Pioneers, who will try for their third semistate title next Saturday. 
"We're looking to win the next one and make it to the state championship," Hoke said. "We've been looking forward to the revenge and making it further than we did last year all season long, and that's what we've worked towards. We're excited. We've got something special here." 
The @ProvidenceBSOC shows off its new hardware. @GOphsPIONEERS @newstribscores pic.twitter.com/AdrOhsfDxu

— Josh Cook (@joshcooknewstri) October 18, 2020