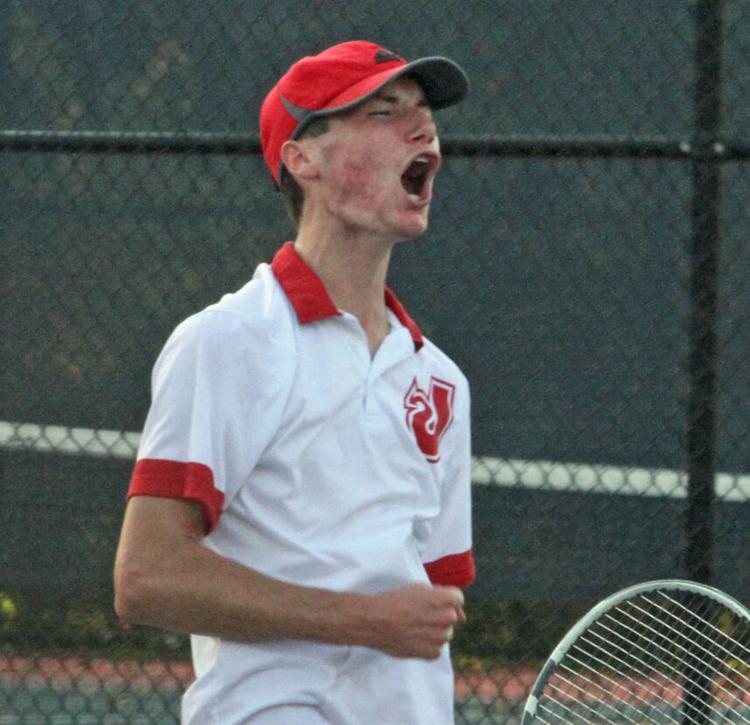 SELLERSBURG — Grant Paradowski gutted it out Wednesday.
Down a set and trailing 4-3 in the second, the Jeffersonville senior realized that the outcome of his No. 1 singles match would decide the Silver Creek Regional final. If that pressure wasn't enough, it was around that time that his lower back began seizing up. For several games he winced in pain and struggled to bend over to pick up a tennis ball.
Paradowski, however, fought through the misery and fought back, outlasting Floyd Central's Gabe Cora 6-7 (5-7), 7-6 (7-2), 6-2 to give the Red Devils the 3-2 win and their first regional title since 2017.
"I was very excited that I was able to do that for my team and for my coaches, I knew they wanted it really bad," Paradowski said. "It was pretty crazy. I saw we lost No.2 singles and No.2 doubles about the same time, so I knew they had two points. Then I was down, 4-3, in the second when it was down to me. So I said, I wasn't going to let my team down and we were going to keep going."
The victory, which avenged Jeff's 4-1 loss to Floyd in last month's Hoosier Hills Conference Tournament final, earned the Red Devils a spot in Saturday's Jasper Semistate. Jeffersonville will face 13th-ranked Columbus North, which edged Bloomington South 3-2 Wednesday in the Bloomington North Regional final, at noon.
"That was an incredibly tough match," Red Devils coach Curt Roehm said of the No. 1 singles showdown. "It was not exactly the ending that we were hoping for with Gabe cramping up there (in the third set), and I know Grant had issues with his back, so it wasn't necessarily the highest quality of tennis, but it was true grit by both the competitors. They're seniors, they both played their hearts out, so from that standpoint you've got to respect it. It's not the way we wanted to see it end, but at the end of the day we got the win and we get to bring a regional trophy back for the first time since 2017, so it's pretty sweet."
The match was tied 2-all after the completion of the first four matches.
For Jeff, Jaden Wells downed Benjamin Lammert 6-1, 6-4 at No. 3 singles while Charley Williams and Alex Kelley clipped Colin Jacobi and Landon Hodges 6-2, 6-3 at No. 1 doubles.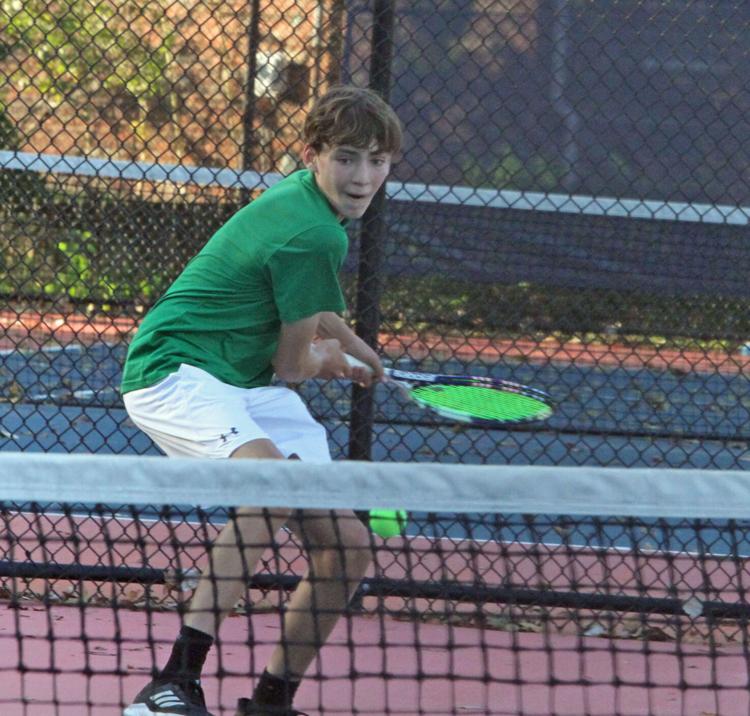 For Floyd, Isaac Anderton topped Max Fisher 6-1, 6-4 at No. 2 singles while Cole Anderton and Braden Poe defeated Jordan Wells and J.J. Boyles 6-4, 6-4 at No. 2 doubles.
That meant the team title would come down to the No. 1 singles match. Cora, who beat Paradowski 4-6, 6-3, 6-4 in the HHC final, started slow. He fell behind 4-0 in the first set before rallying to force a tiebreaker. Then in that, he trailed 5-1 before scoring the last six points to take the first set.
"I got a little frustrated there at the beginning, because I should've won the first set, but I told myself just to stick in it no matter what," Paradowski said.
Even in spite of lower back pain, something he traced to a pulled muscle "a couple weeks ago," that resulted in a trainer being called to the court late in the second set. He carried on and changed tactics, hitting high-arching shots to keep Cora back along the baseline.
"(My coaches) told me to play 'eighth-grade Grant tennis,' so that's what I did, because that's what I used to do," Paradowski said. "But it got me through it and that's all that matters I guess."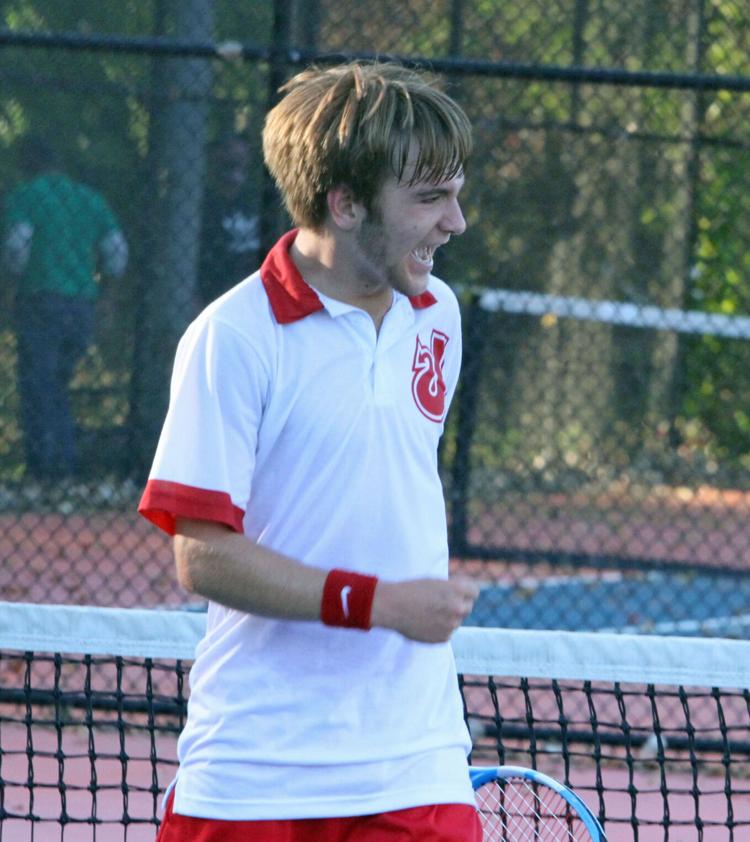 He eventually forced another tiebreaker, which he won 7-2.
"I was in a lot of pain there for a little bit. But I felt pretty good in the third set, I guess it was pure adrenaline," Paradowski said.
"He was really, really in pain," Roehm added. "He had been struggling for awhile with a little lower back issue, but this is the most pain I've seen him in. He was struggling to bend over to pick up a ball, and we got the medical timeout and basically just (told him), 'Hey man, you've got to suck it up. You've got to fight through it. This is what you've waited your whole life for, all the attention's on you. Anybody who gets into sports dreams of being at the free throw line with no time left with one shot to win it. I said, it's 2-2 and it's on your racket to win it.'"
In the third set, Paradowski fell behind 2-1 before taking the final five games, as Cora began dealing with some muscle cramps of his own.
"Unfortunately he got hurt, which stinks for him, but I just decided to keep the ball in," Paradowski said. "I knew he couldn't play long points because of his injury."
"It was tough for Gabe when Grant was playing hurt with a back (injury), because it's tough to play a wounded opponent. There's that line of it being a gentleman's sport, so he struggled with it. We saw a lot of balls going back to the middle of the court for Grant and then when Gabe was having issues, I had to tell Grant, 'We've got to keep playing. We can't adapt the way we're playing right now, your back could lock up at any minute. We've just got to keep the ball in play and stay true to the gameplan. And he did it."