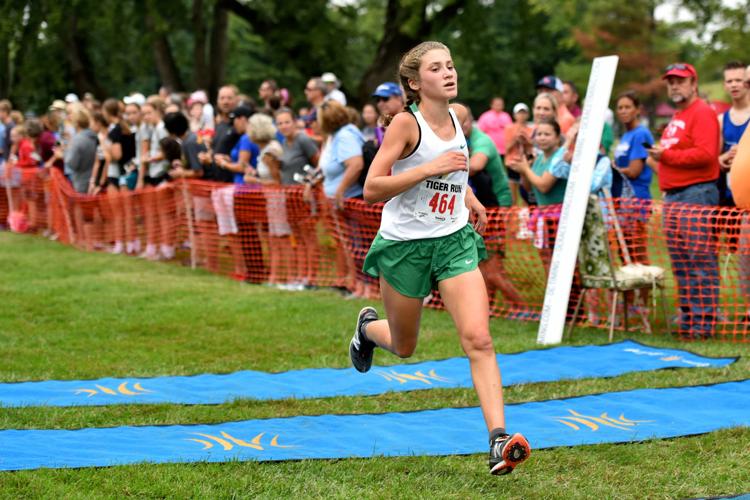 FLOYDS KNOBS — Sydney Liddle goes the extra mile. Quite literally.
Following Floyd Central practices it's a common occurrence, while her teammates complete their cool-downs, to see the senior standout keep going. And going. And going.
"Here we are, we're all about done and she'll tack on an extra mile or two," Highlanders head coach Carl Hook said at the conclusion of Tuesday's workout. "Those are the kind of things that add up."
Those are also the kind of things that have made Liddle one of the top runners in the state. She looks to cap off her career in fine fashion in Saturday's IHSAA State Finals at the LaVern Gibson Championship Cross Country Course in Terre Haute.
"Obviously she's a talented kid. We all understand that you've got to have talent in any sport, but especially in our sport. But along with that she works really hard, pays close attention to her diet and hydration," Hook said. "She takes care of business in every way she should and gets great results from it. And she's a hard-nosed runner and racer too."
RUNNING'S IN HER BLOOD
Running is in Sydney Liddle's genes.
Her dad, Jeff, and his twin brother, Jason, helped the Highlanders to their one — and only — boys' state championship in the fall of 1991. Oh, by the way, the family is distantly related to Eric Liddell, who won the gold medal in the 400-meter dash (and the bronze in the 200) for Great Britain at the 1924 Summer Olympics in Pairs.
But Jeff and his wife, Nicole, a former Floyd swimmer who swam one year at the University of Louisville, didn't push their two daughters — Sydney's younger sister, Savanna, is a freshman runner for the Highlanders — into any specific sport.
"Our daughters, both of them, we put them in every sport that exists and we let them actually decide," Jeff Liddle said. "We did softball, swimming, track, cross country, soccer … gymnastics …we've done everything under the sun that they could do around here. I think it just slowly evolved, running was what they were best at."
It didn't hurt that the elder one had some success right away.
"I ran on the little elementary [school] running team and then started running in middle school," said Sydney, who attended Christian Academy early on. "In my first cross country race I think I was in the Top 10 for middle school. And I was like, 'Wow!'"
She hasn't stopped running since then.
"For one, I just love the team aspect of cross country — being able to not only compete individually, but also with your team and practicing with your team, running with them every day, pushing each other to get our goals," Sydney said. "[Two], I love to race, it's probably one of my favorite things about cross country, [so is running] the different courses every week. And, I've just been blessed with the ability to run and I'm just really thankful."
Sydney ran her freshman year at CAI. She finished fourth in the sectional — breaking 20 minutes for the first time; third in the regional and 21st in the semistate, missing out on a trip to the state meet by less than 2 seconds.
She transferred to Floyd Central her sophomore year. That fall she finished third at the regional, 19th at the semistate and 41st at the IHSAA State Finals, where she helped the Highlanders to a ninth-place finish.
Last year Liddle continued her improvement, winning her first sectional and regional titles before taking third at the semistate. She finished 14th at state — earning All-State honors — for Floyd, which took 11th.
"Being all-state, that was my goal, my dream for my whole high school running career, so that was pretty cool," Sydney said.
SENIOR YEAR
She started her senior season with a victory in the Austin Invitational, then finished second to her first cousin, Ashlyn (Jason's oldest daughter) in Louisville St. Xavier's Tiger Run — one of the area's biggest, and best, early-season meets.
In September, Sydney set a personal-best — and broke the 29-year-old school record set by Jill Schuler, the program's only individual state champion — when she finished the 5,000-meter Brown County Eagle Classic in 18 minutes, 14.3 seconds.
This fall she repeated as sectional and regional champion before taking second at last Saturday's Brown County Semistate on a cold and rainy day at Nashville's Eagle Park.
"It was difficult conditions," Sydney said. "It was kind of hard just to get through it. There were ginormous puddles! I would have to go around them, the long way around them, so that slowed it down a lot I think."
This Saturday she has big goals for the State Finals.
"My goal, individually, I would really like to be top five, but I would be happy with Top 10 as well and being All-State," Sydney said. "Our team goal, our goal is probably to place in the Top 10, but we would like to place top five because that's [on the] podium."
THE FUTURE
"My goal this year is to break 18 [minutes]," Sydney said. "If I don't do that at state, I'm doing some races after state."
She plans to run in the Nike and Foot Locker Midwest meets, and possibly one other, before taking a break prior to the start of track workouts.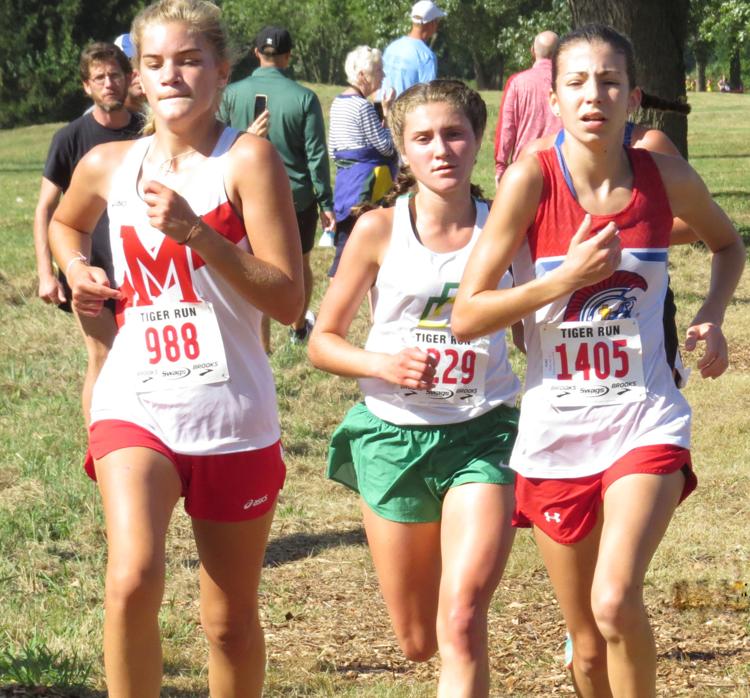 In the meantime, she has a big decision ahead of her.
"I'm definitely running in college. I'm supposed to be deciding very soon. I'm looking at Indiana State and Lipscomb, those are my top two," said Sydney, who will likely run with her cousin, Ashlyn, in college.
But first comes Saturday's state meet.
"I'm really happy with how [this season's] gone so far," she said. "We had tough conditions last week, but I've been improving my times in pretty much all my races, so I'm happy about that. ... I'm looking forward to it."