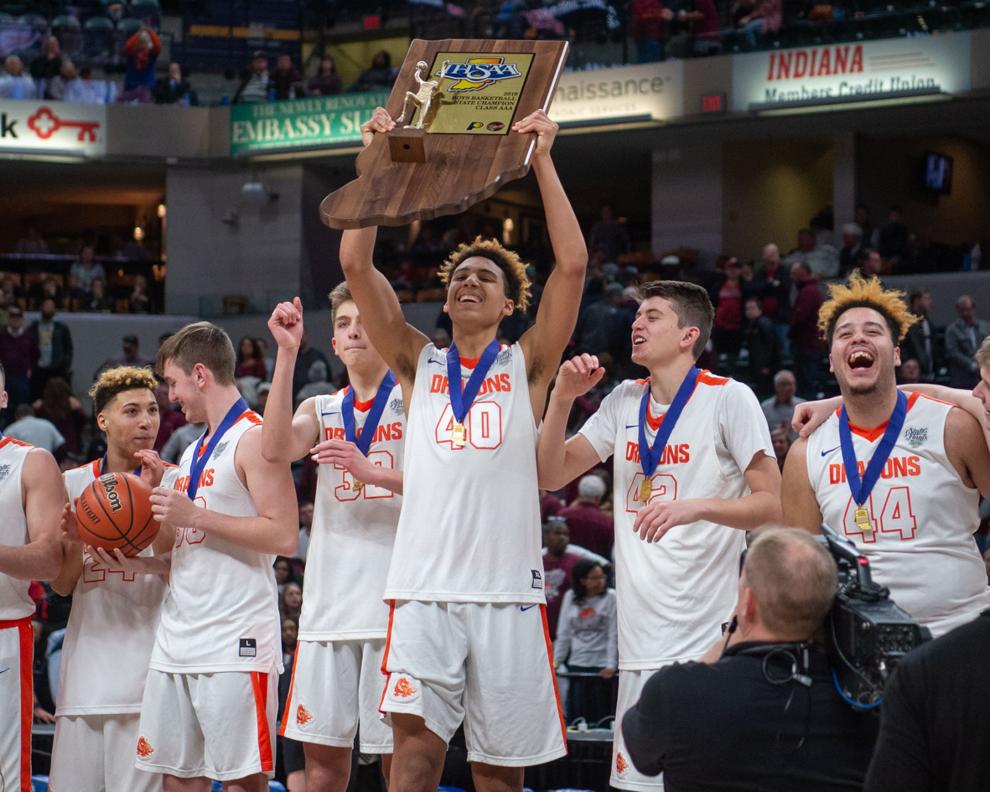 SELLERSBURG — Unfinished business.
That has been a theme for Silver Creek this entire season.
After winning the Class 3A state title in 2019, the Dragons appeared to be on their way to a second straight IHSAA championship last season. They were ranked No. 1 in the state, 25-2 and fresh off a sectional title when the state tournament was halted, and eventually canceled, by the coronavirus pandemic.
Today, Silver Creek will be back at Bankers Life Fieldhouse, site of the state finals. At 5 p.m. this afternoon the second-ranked Dragons (24-4) will try for a second consecutive state title when they face No. 9 Leo (24-4) on the Indiana Pacers' homecourt.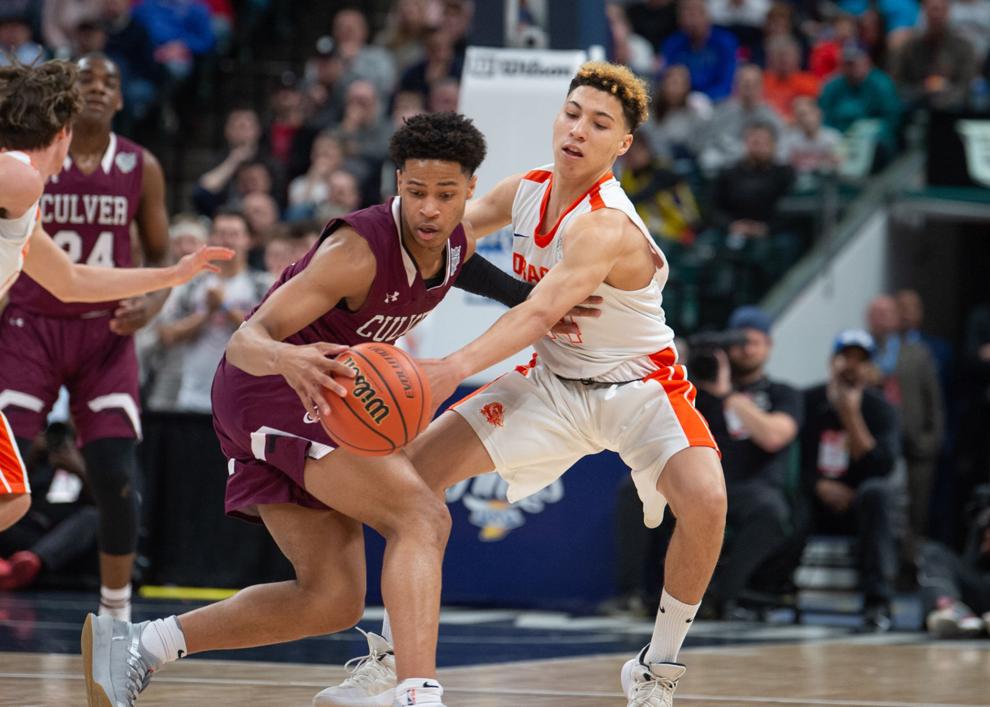 "These guys want to finish what we were on pace to do," Creek head coach Brandon Hoffman said before the start of the state tournament. "With this group, they've done so much, they don't need any kind of gimmick or motto or hashtag, I think everybody is on the same page as to what needs to get done. The seniors, they want to put the icing on the cake."
If the Dragons can beat the Lions they will also make history, on several levels. In the 100-plus years of high school basketball in Indiana, only 16 schools have won consecutive state titles. Ironically, they are one of three teams (along with Fort Wayne Blackhawk Christian in 2A and Carmel in 4A) who will try to join that club today.
Silver Creek also will try to become the third school to achieve the girls-boys state title sweep (after the SCHS girls' team captured its first title five weeks ago) in the same year, joining Class A Oregon-Davis in 2007 and 4A Warren Central in 2018.
"Of course the ultimate goal is to leave here with two. That would be awesome to have the school's second state championship," Dragons senior forward Kooper Jacobi said last month. "But a lot of hard work's got to go in to get to that point."
Creek will have to continue to put in hard work today, when it faces Leo.
"They're obviously really good," Hoffman said of the Lions. "It's a tough group of kids. What stands out with me is how many close games they've won. They've won a lot of close games, which means their kids are mentally-tough, they're used to winning, they're finding ways and they're well-coached. ... Physically they're impressive. They've got 6-(foot-)7 and 6-6 (up front) and their guards are big. I know they had a lot of success in football this year and they've got a lot of multi-sport athletes. So those kids, like I said, are just good athletes that are used to winning."
Leo is led by guard Blake Davison. The 6-1 senior averages 16.8 points, 4.8 rebounds and 3.2 assists per game while shooting 44.6 percent from the field and 80 percent from the free throw line.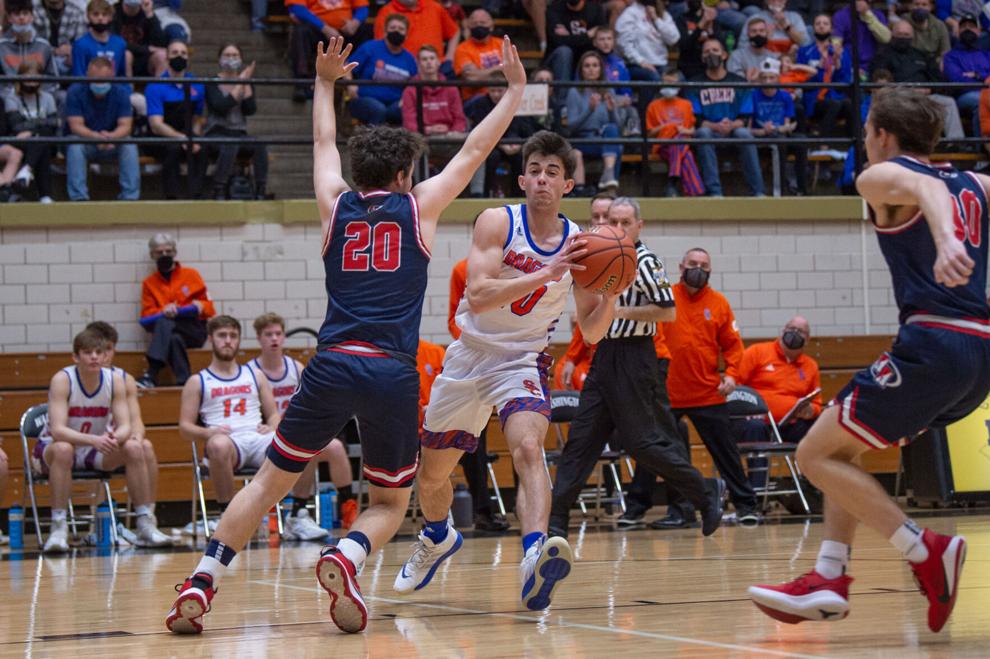 "Their best player, their guard, Davison, is really good. He's really good when it counts too. He made some big plays in semistate and the regional games and sectional," Hoffman said. "He's a really good high school player in terms of hitting big shots and carrying his team to victory, so controlling him is going to be important."
The Lions also feature a formidable frontcourt duo in 6-7 junior forward Demetrious Allen (13 ppg, 7.7 rpg) and 6-6 senior forward Zack Troyer (11.3 ppg, 7.6 rpg).
"They match up well with us," Hoffman said. "Controlling the lane, in terms of rebounding, us being physical and getting the ball inside against them (will be key)."
Leo won its first 11 games of the season before losing 72-68 at Fort Wayne North on Jan. 25. The Lions then won six straight before dropping three of the last four regular-season games. In between a 60-56 loss at Fort Wayne Dwenger and a 46-43 setback at Woodlan, Leo lost 74-42 to 2A No. 1 Fort Wayne Blackhawk.
"It was actually 26-24 at one point, then I think Blackhawk hit like eight 3s in the third quarter," said Hoffman, whose team lost 94-84 to the Braves in double-overtime while playing without senior standout Trey Kaufman-Renn on Dec. 12. "It's such a long season, every team goes through a little stumbling block. We had a couple of those, and they had a couple of those in February. They're hot right now, that's all that matters."
But so are the Dragons, who have won 13 straight games heading into today.
"I think our guys have done really good in the past of playing in the moment and not taking anything for granted," Hoffman said. "We're not looking to hang banners for the regular season. It's can we make some noise in March and April? I think that's what's important to all our players."
As is adding another state title to the school's trophy case.