CLARKSVILLE — The battle of Clarksville Part II had the opportunity to be much more interesting than the original. Providence cruised to a 35-8 triumph in Part 1, but the host Generals have proven to themselves in recent weeks — averaging 42 points-per-game the past three games — they were a much better team than the one that took the field six weeks ago.
The Generals did prove tougher but the Pioneers held on for a 14-8 victory to open Class 2A Sectional 39. Providence recovered four Clarksville fumbles and two touchdowns for the Providence rushing attack were enough thanks to the stellar effort of the defense.
"We stepped it up tonight," said Providence quarterback and linebacker Bishop Edwards, who was limited in practice with a knee injury throughout the week. "We've got guys banged up and we just decided we were going to play through it. Everybody did their job. Ya'll saw the results."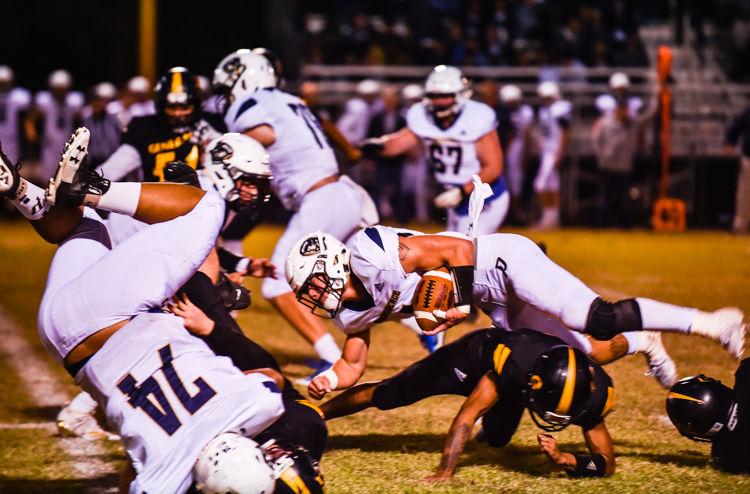 With Edwards among the leaders, the Pioneers did not allow a touchdown until the fourth quarter following their third lost fumble of the night.
The turnover set up Clarksville for first-and-goal and Dae'von Fuqua — in at quarterback after Keyshawn Minor left with an injury late in the third quarter — threw a five-yard touchdown pass to freshman Robert Lamar. Fuqua hit Lamar for the two-point conversion and the Generals had some hope with a little over two minutes remaining.
The onside kick gave the Generals a chance but a Clarksville player ran out of green grass along the sideline.
"We sort of drew up an offense in the dirt with Dae'von at quarterback," Clarksville coach Justin Boser said. "He made some plays. Onside kick, it's a game of inches, that bounces just a little bit the other way and we're on it and trying to make that last drive."
But the Generals' lost opportunities came throughout the game.
Clayton Aranda picked up a fumble and rumbled near midfield late in the first quarter, setting up the offense with solid field position. Clarksville quarterback Keyshawn Minor found a running lane after dodging Pioneers' pass rushers and went 28 yards — but coughed up the ball fighting multiple defenders.
Later in the second quarter, a 12-yard run by Edwards and a first-down carry for Andrew Henderson were key plays to set up Henderson for the game's first score — a one-yard plunge by Henderson.
Providence nearly scored again before halftime when Alec Fougerousse recovered a squib kick to give the Pioneers the ball at the Clarksville 36-yard line. Colin Flake ran nine yards but penalties forced Providence into a Hail Mary attempt before the half that was unsuccessful.
In the third quarter, the Providence defense continued to keep the ball out of Fuqua's hands and force Minor into scramble situations.
But Boser called for a fake punt on 4th-and-5 in his own territory and Aranda executed well, running nine yards for a first down. But a big sack for the Pioneers for a loss of 13 yards and then a Minor fumble set up the Pioneers' second score. Edwards powered into the end zone from eight yards out.
"Defensively, we played very well," Providence coach Larry Denison said. "We knew coming in they were a very dangerous team. They've got some really talented skill position players and can score at any time. We kept them in front of us and got lots of hat to the ball. Very proud of the defense. The kids did a great job in some cases ripping the ball out of there and forcing it out of there in some key situations."
Offensively, Colin Flake had 87 yards on 11 carries to lead the way.
"Offensively, we moved the ball well, but we get in our own way," Denison said. "We created problems with some holding penalties and had one bad snap. We missed some assignments. We weren't blocking correctly."
Denison was complimentary of the Generals' effort.
"Hat's off to Clarksville and coach Boser. They've done a great job with their program. Their future's bright. I've got a lot of respect for him and what he's done there," Denison said.
For Boser, it was a season that showed some promise. Fuqua, Minor and Lamar will be three key returnees in the fall of 2020.
"We just couldn't get ahead of the sticks. We tried to take a couple shots. We knew what they were keying on. We had some guys open. Couple balls off our finger tips. Unbelievable heart for our guys. We had a kid get injured during the week so we were down an offensive lineman and had three more get injured during the game," Boser said. "We asked a lot of [Fuqua] tonight. We put him at middle linebacker tonight. They were keying on him in the backfield so we moved him to receiver in the second half. I just can't say enough about the seniors, especially the six seniors who were with me last year. They gave it all. They changed the culture of this team."