CHARLESTOWN — To get a rematch with top-ranked Salem, No. 5 Silver Creek had to survive a scare in the Class 3A Charlestown Sectional semifinals Friday night. Then, the Lions had to do the same.
The Dragons used a 21-3 run in the second half to rally past pesky Madison 62-46 in the first semi. Salem, meanwhile, held off the host Pirates 42-34 in the nightcap.
Silver Creek (21-3) will face the Lions (21-3) at 7:30 p.m. Saturday night in the sectional final. It will be a rematch of a regular-season meeting that Salem won 48-44 in Sellersburg on Jan. 11.
SILVER CREEK-MADISON
The Dragons trailed 35-25 midway through the third quarter, then junior Jaclyn Emly jump-started the comeback with back-to-back 3-pointers
"That's who she is, she's our steady rock," Silver Creek coach Scott Schoen said of Emly. "She can play like that. She's one of the leaders of the team because we have no seniors."
Emly finished with 18 points.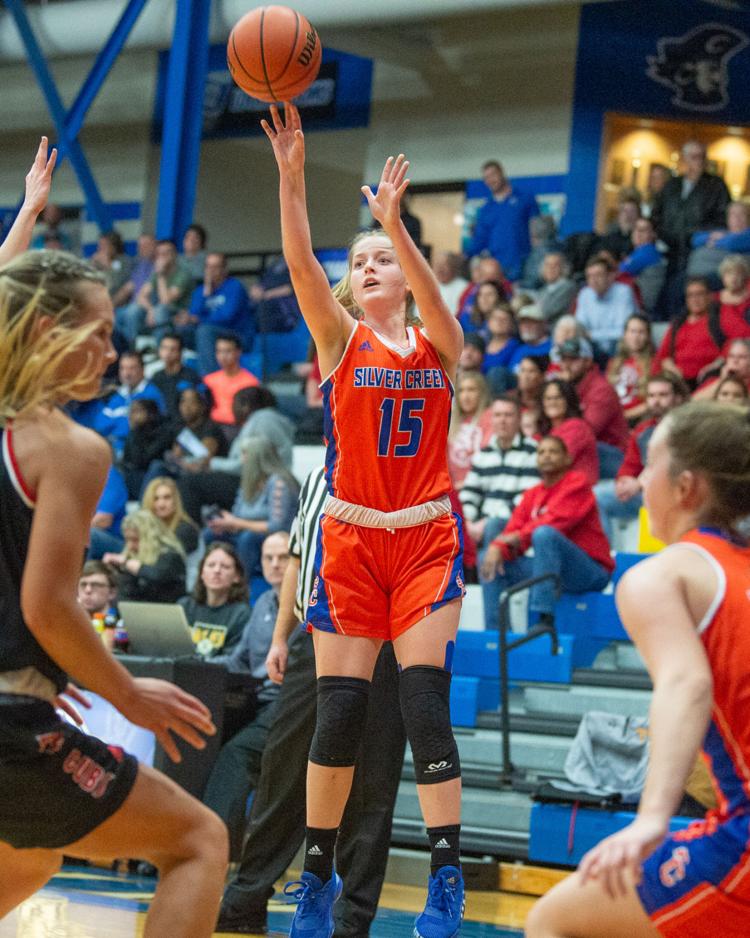 Then junior Alana Striverson went into another gear, put her head down and headed to the basket, time and time again.
"I wasn't nervous," said Striverson, who led the Dragons with 26 points. "We just knew we had to rebound against this team to win. We had to get them off the boards.
"They gave me a window in the second half and I tried to take advantage of it. That's what I did."
Schoen said he urged Striverson to attack the basket.
"She's so strong," the Silver Creek coach said. "She can take the ball like a bull into the gap. I thought she did a great job of that."
When the 21-3 run ended on a putback by Emme Rooney, the Dragons led 46-38 with 5:07 to play.
From there, the Cubs (14-9) never got closer than four and Silver Creek pulled away in the final two minutes. The Dragons finished with 41 points in the second half after trailing 26-21 at intermission.
Jade Nutley, Madison's skilled junior center, led the Cubs with 17 points and 11 rebounds.
SALEM-CHARLESTOWN
After falling behind by 17 points early in the second half, the Pirates (14-11) rallied behind senior guards Peyton Crace and Jackie Biscardi.
When Crace hit two free throws with 2:50 to play, Charlestown closed the gap to 40-34. The Pirates, however, wouldn't score again.
Crace scored 11 of her game-high 17 points in the second half.
"That was our gameplan with Salem's 2-3 zone defense, we wanted her to attack," Charlestown coach Scott Matthews said. "She's real comfortable there and does a great job."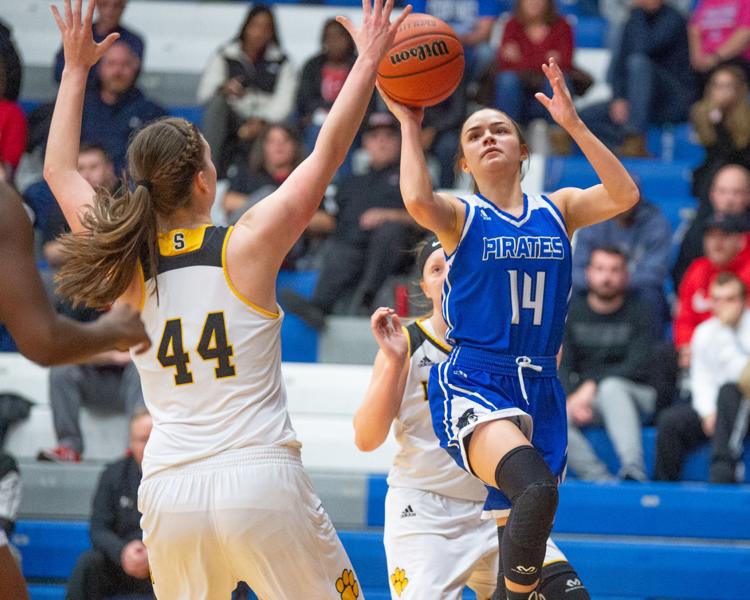 Biscardi, who hit a couple of 3-pointers in the fourth quarter, added nine points.
This year, Matthews said he asked Biscardi to play point for the first time in her life.
"She has become a terrific point guard," he said. "That's going to help her at the next level."
Natalie Noel scored 12 points to pace the Lions, who previously beat Charlestown on its homecourt 20-16 on Jan. 23.
"I'd like to play them again," Matthews said. "I don't think they'd like to play us again."
For Charlestown, the problem came in the first half when the Lions charged to a 29-13 halftime lead.
"We got a little out of sync," Matthews said.