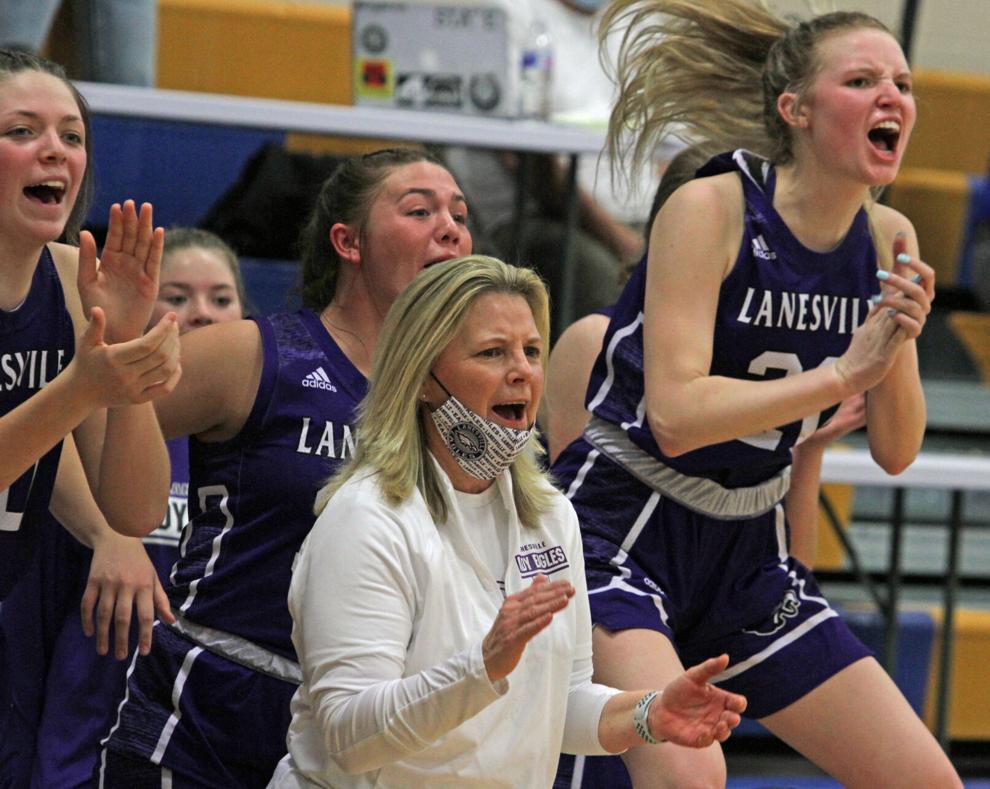 LANESVILLE — The Hintons know how to win basketball games, that's for sure.
Angie and Joe Hinton have combined for more than 800 victories in their storied careers. Angie, the third-year head coach at Lanesville, hopes to add a couple more to her total today — as the No. 2 Eagles take part in the Class A Springs Valley Regional — with her husband, Joe, assisting her.
Joe Hinton, who coached 31 years at Floyd Central and also had stops at Providence and Paoli, won 594 games, 15 sectional titles, six regional championships and two semistates crowns (guiding the Highlanders to Final Fours in 1971 and 1989) in his career. He was inducted into the Indiana Basketball Hall of Fame in 2011.
Angie, meanwhile, has racked up 235 wins in 14 seasons. In that time she's won nine sectionals and one state title — guiding New Albany to a perfect 26-0 record and the Class 4A championship in 1999.
After several years away from the game, Angie and Joe got back into coaching as assistants at North Harrison, where they helped Missy Voyles and got the chance to coach their daughter, Hallie.
The Hintons helped the Lady Cats reach a couple of Class 3A state title games, and go 93-19, during that stint.
After Hallie graduated, the Hintons took a brief break before then-Lanesville athletic director Mark Lambertus lured them back into coaching.
Angie said she's glad she listened to Lambertus' offer, even though at first she wasn't sure what she and Joe had gotten into. Lanesville had never won a sectional and had 12 consecutive losing seasons before the Hintons arrived.
There were plenty of positives, though, including strong community support from the town and parents.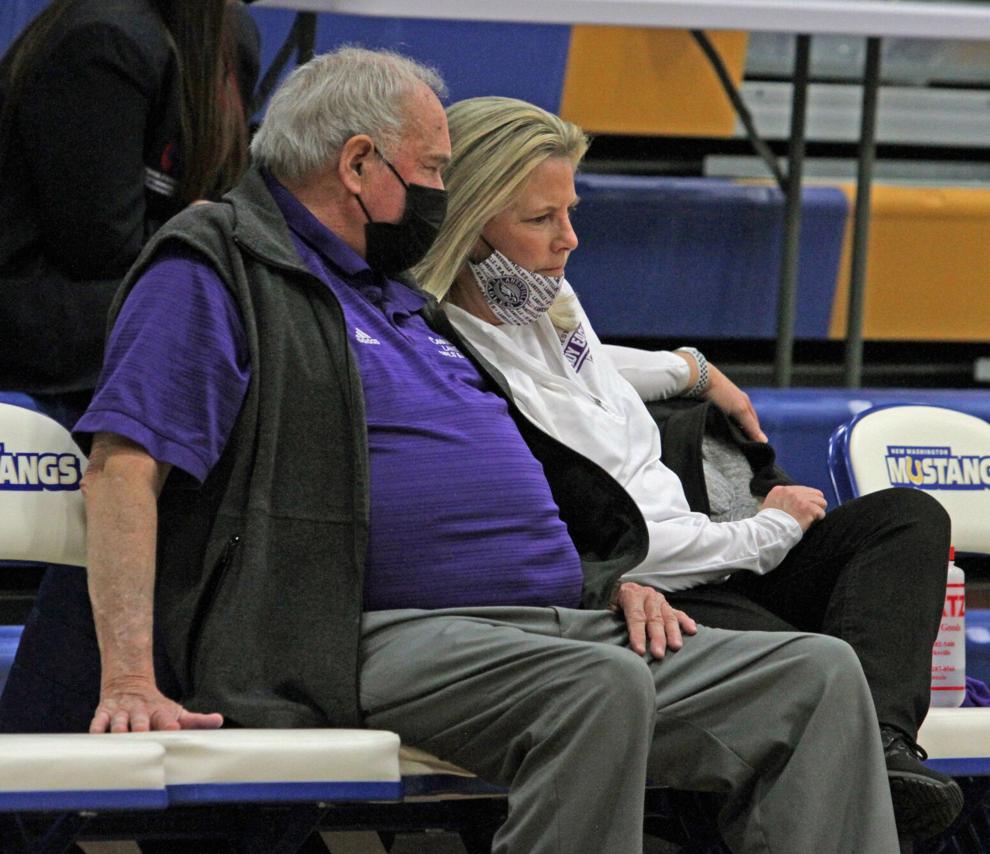 "But we had a lot of work to do," admitted Angie, who has guided the Eagles to a 62-14 record and a trio of sectional titles in her first three years on the job. "We had to teach the kids how to practice hard and play hard."
That's one thing the Hintons demand of their players.
"They say teams take the personality of their coaches, Joe and I are fighters," said Angie, who led the Eagles to their first-ever sectional title in 2019 and another one last season. "You've got to be able to fight on the floor and play hard."
Angie said she came to Lanesville with a "day-to-day" mantra. That hasn't changed.
"It has been fun," she said. "It's been a unique experience. We got into this to make them better than they were."
Angie said she expects to send a competitive team into today's regional as Lanesville looks for its first title at that level of the state tournament. The Eagles (21-3) face fifth-ranked Tecumseh (14-6) at 10 a.m. in the first semi before top-ranked Trinity Lutheran (20-4) takes on No. 4 Loogootee (17-4) in the second semifinal. The championship game is slated for 7:30 p.m. tonight.
Of that quartet Lanesville will, easily, have the most-experienced bench, thanks to the Hintons.
"Joe, he's got a great basketball mind, and that helps," Angie said of her husband, who is in his early 80's.
She said she'll keep coaching "as long as Joe is healthy and as long as my family stays healthy. I don't have plans of not (coaching)."
Still, she says, it's day-to-day.