Former Jeffersonville star, Indiana Miss Basketball and University of Louisville standout Sara Nord was named the new coach at Rock Creek earlier this week.
It's the first head-coaching job for Nord, who has spent the past nine seasons — the last seven under Mike Warren, who resigned in February — as an assistant coach for the Red Devils.
"It's going to be weird going from my alma mater to a completely different transition of the Rock Creek Lions. I'm like, 'Oh my gosh I've got to get in my head, I'm the head coach of Rock Creek!'" the 38-year-old said.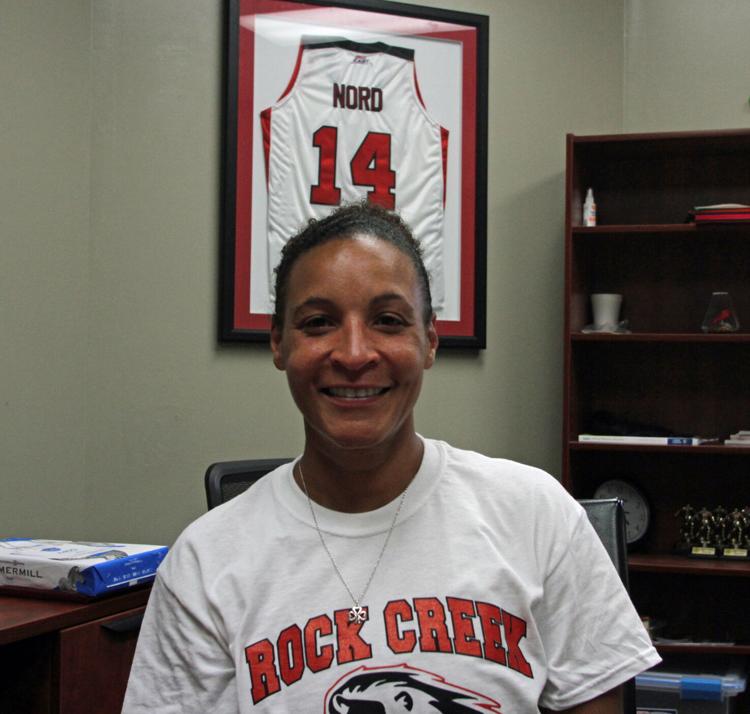 The former hard-nosed point guard, who is still the all-time assists leader at Jeff and Louisville, becomes the Lions' third coach in three years and takes over a program that hasn't had a winning season since 2004-05.
News and Tribune sports editor Josh Cook caught up with Nord in her office at the Spring Hill Envision Center, where she works for the City of Jeffersonville Parks Department, on Thursday. Here are a few of the highlights from that interview.
Q: WHAT DOES IT MEAN TO YOU TO GET THIS JOB?
A: It's really exciting. It's a good opportunity to try to build my own program and a winning culture. I know they haven't won a lot of games in the past, over the years, but I'm looking forward to building and competing. Win or lose we're going to leave the floor knowing that we competed and gave it our all. I'm looking forward to building the program, because the school's building, so we might as well try to build a program with the school.
Q: HOW DID THIS COME ABOUT?
A: I was going to coach River Valley (Middle School) eighth grade this year, then (Rock Creek boys' assistant) Robbie Gullion called and asked if I would be interested. I kind of choked, I was like 'Let me give it some thought.' I was out of high school coaching, I was going to take a break from it. Then, they called and I thought about it — I really, really thought about it — and met with (Rock Creek athletic director) Chris Brown and toured the school with him. They've got 85 acres out there that they're going to build on. I just think it's a good opportunity and a great school.
Q: HAVE YOU HAD A CHANCE TO MEET ANY OF YOUR FUTURE PLAYERS YET?
A: I have not seen any of the girls. I'm excited to meet them and kind of see what they can do, what they look like, what their personalities are like and if they're willing to work hard. ... That's going to be the hard part, instilling the hard work. I don't know how much they're used to because they haven't really won a lot of games. (But) we're not going to have that mentality. We're going to go in and get after it and win some games in the process.
Q: BASKETBALL HAS ALWAYS BEEN A HUGE PART OF YOUR LIFE, RIGHT?
A: From the time that I was 5 years old. I started playing with my brother (Terrence) on a crate, nailing a crate to a tree. Then, we upgraded to grocery carts in the streets. I just fell in love with it. I wasn't into Barbie dolls, it was always basketball. … I feel like if basketball wasn't a part of my life there's no telling where and what I would be doing.
Q: WAS YOUR TWIN SISTER, SHANNON, INTO BASKETBALL WHEN SHE WAS THAT AGE TOO?
A: She was like, 'I'm going to play with the Barbies. I'm going to cook on the Easy-Bake Oven.' And I was always going outside, 'Bro, I'm going with you.' And then they would see a girl out there on the basketball court out at Wyandotte (Park in Louisville) and I would never get picked up, so my brother would start picking me up.
Q: YOU MOVED TO JEFFERSONVILLE WHEN YOU WERE IN ELEMENTARY SCHOOL AND EVEN THEN YOU HAD A DREAM OF PLAYING COLLEGE BASKETBALL, RIGHT?
A: It was always a dream, ever since I went to Spring Hill (Elementary) and sat in the desk in fourth grade and said, 'I'm going to go to UofL and play basketball.' ... Hard work and determination got me there. It was a dream come true.
Q: THEN AFTER YOUR COLLEGE CAREER YOU HAD A TRYOUT WITH THE WNBA'S WASHINGTON MYSTICS, CORRECT?
A: I went to the training camp and did all I could do, they just said I was too short. There was nothing I could do about that. They said, 'We really like you, you're just too short.' Then I went overseas and played in Portugal for four months. I got detained my first stop in port, that was my first time being away from Kentuckiana, it was an experience. It was a good experience once I got released. I got to go play for four months. But I spent all my money on phone cards. When I came home for Christmas I was like, 'This is not for me.' Then I went and played for the Birmingham Power of the NWBL (National Women's Basketball League), it was kind of like the developmental league for the women, for (former Louisville coach) Martin Clapp. Then I went and coached at Tiffin University (in Ohio) for one year as an assistant coach. Then I've been back ever since.
Q: WHAT DID YOU LEARN FROM YOUR TIME AS AN ASSISTANT COACH IN COLLEGE AND HIGH SCHOOL?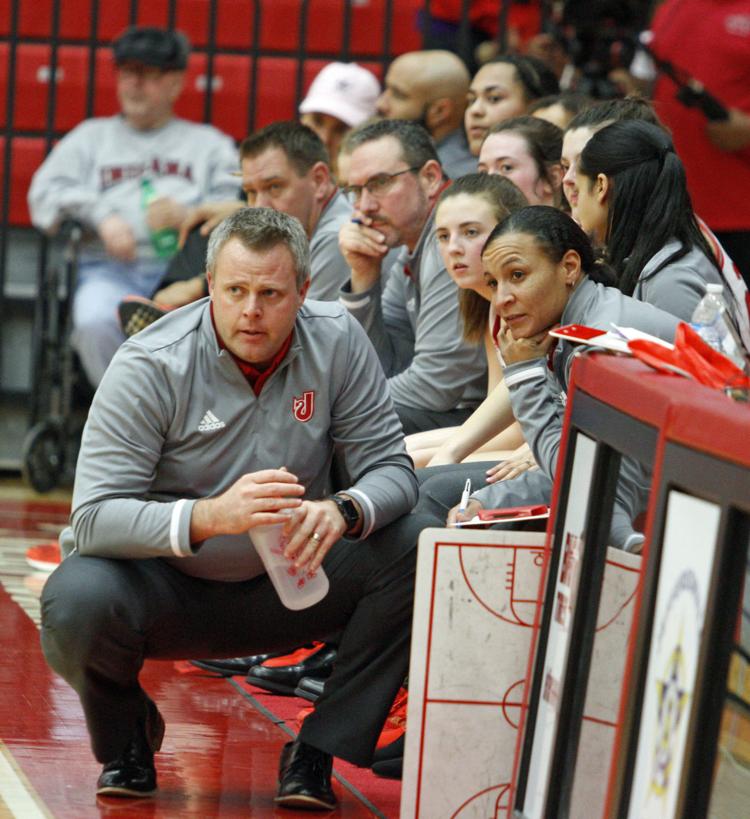 A: I learned the ins and outs, and actually how to put things together, because everything kind of came natural for me (as a player). Even though I practiced and stuff it was always natural, so to try to explain to a kid pivoting, (it was hard). ... Warren helped. He was great to coach under because he's been coaching basketball for half my life. Being under him and seeing how he does things, the plays he ran, just kind of like the strategy behind the game, I learned a lot because I would just go play it. I've always heard that usually good players aren't good coaches, so I want to be the good player and the good coach. I don't want it to be, 'Man she could play, but she sure can't coach.' We're going to work on fundamentals, the fundamentals of the game, step-by-step. And we're going to be good at defense, that's for sure.
Q: SPEAKING OF WHICH, DO YOU HAVE AN IDEA OF HOW YOUR TEAM WILL PLAY?
A: I don't really know what my system is going to be because I have to see the players and what they can do. Some people go in and they have a system and that's what they're going to do. Sometimes you have to adjust to what you have. So I don't know, we might play a slow-down game, we might pick' em up (full court), we might go helter-skelter, where they don't know what we're doing and we don't know what we're doing either. But, we're just going to go balls to the wall.
Q: DO YOU KNOW WHO'S GOING TO BE ON YOUR COACHING STAFF?
A: Bob Manor's going to help coach with me. He coached me from the time I started playing at Spring Hill all the way until I graduated high school. He started an AAU program called Jabokis that I played on. Then my little sister, Jasmine (Barnes), is going to coach too, so I'm excited.
Q: WITH COVID-19 DO YOU THINK YOU'LL HAVE A SEASON?
A: Hopefully we do. Even if we were able to get in 10 to 15 games, or whatever, that will at least show me what we need to work on or what we need to build on.
Q: DO YOU SEE YOURSELF BEING HERE A LONG TIME?
A: I could see it. Hopefully, I can get my nieces up there to play for me. That's at least 16 years (away), so if Chris Brown gives me 16 to 20 years we're golden [laughing]. If you build it they will come. So I'm just going to have to keep it positive, make sure they're having fun and learning on top of that. Because I feel like when you're having fun you learn, and you learn more. Hopefully that could bring some wins.