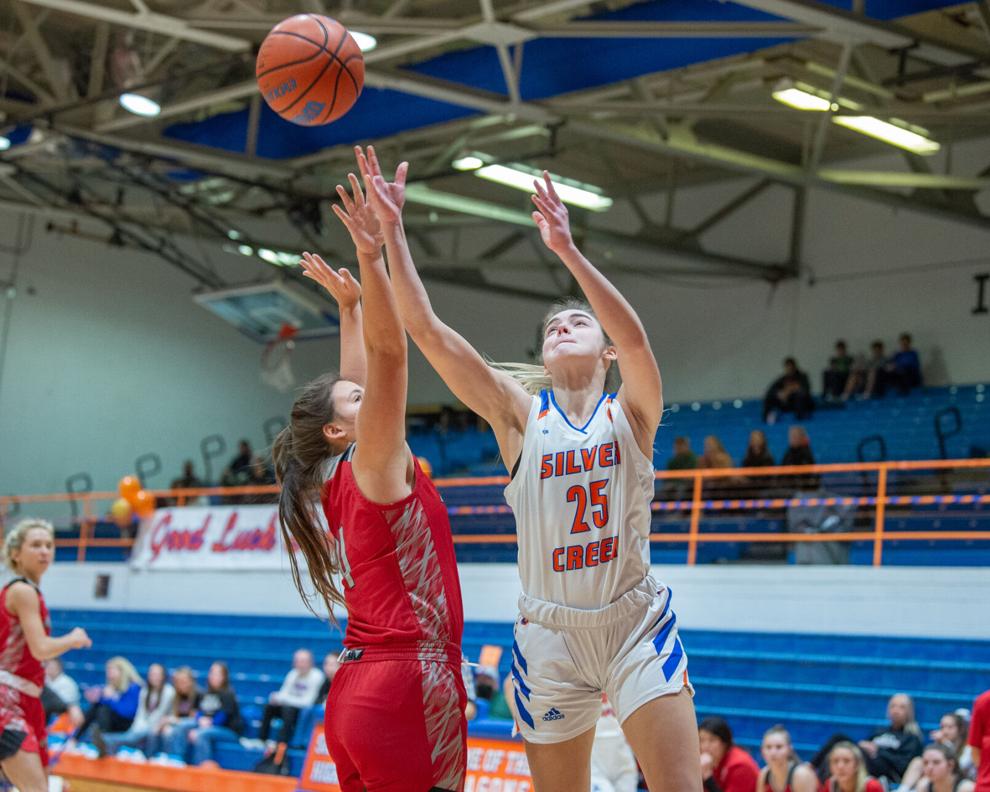 SELLERSBURG — Defending Class 3A state champion Silver Creek put one more notch in its belt Tuesday night in Sellersburg with a 76-43 win over Madison.
It was Senior Night for the fourth-ranked Dragons, and the elder statesmen showed out. Creek's five seniors totaled 61 points as the home team knocked off the Cubs for the fifth straight time.
"We always talk about just getting better everyday," Silver Creek head coach Scott Schoen said. "When we come out here and put four kids in double figures, and another one knocking on the door, then we're a hard team to beat. That's a big reason we're 17-1, we don't have just one kid that you have to prepare for. We have a group that really trusts each other and doesn't care who scores."
Seniors Kynidi Mason-Striverson and Emme Rooney led the Dragons with 17 points apiece. Classmates Sydney Sierota added 15 and Lacey Tingle 12 while Merideth Wilkinson netted nine.
"This was a special win being Senior Night," said Sierota, whose team is now 27-2 at home since the start of the 2019-20 season. "We always want to come out early and impose our will on teams and try to carry that throughout the game."
The win improved Creek (17-1) to a perfect 6-0 this season against teams in its sectional.
"One of our goals is obviously to win sectional, so we always want to play well against a possible sectional opponent to make sure teams know they have to go through us," said Sierota, whose team has won five in a row.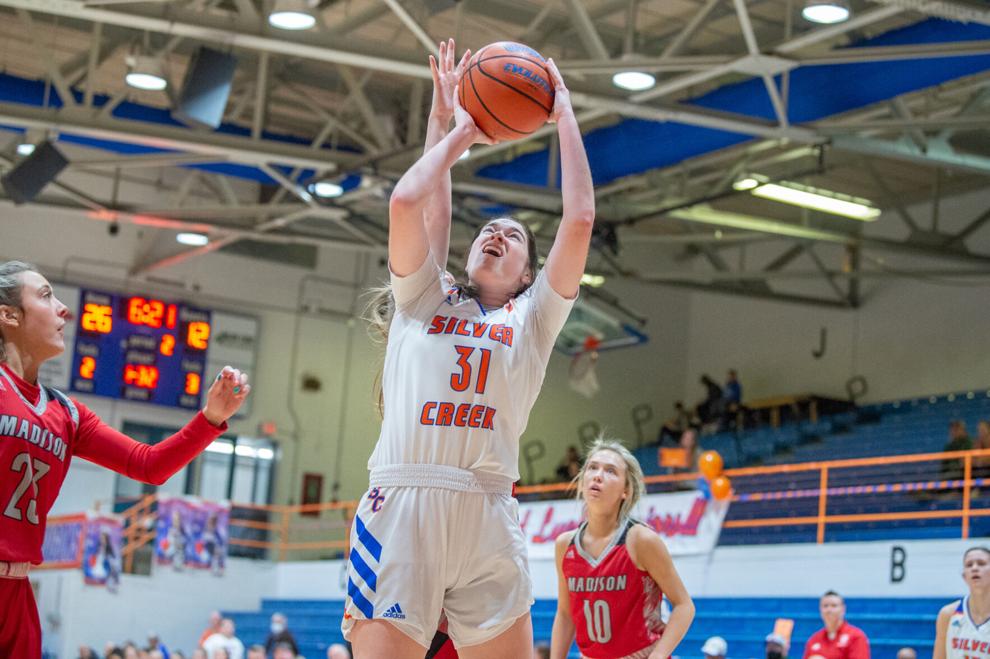 The Dragons came out on fire, shooting 61 percent in the first period, and led 26-12 at the first stop. Madison (10-7) settled down in the second quarter as Cameron Cahall scored eight of her team-high 16, but Creek still led 35-22 at intermission.
"I thought the first half our defense was a 'C' at best because we weren't rotating that well and Madison was taking advantage of that," Schoen said.
The third quarter, like it has been almost every game this season, belonged to the Dragons. The hosts hit their first eight shots out of the locker room and forced eight Cub errors en route to a commanding 59-34 lead at the end of the third quarter.
"We talked at halftime about how on Saturday against Salem that we didn't really come out like we wanted in the second half, so we really wanted to stay mentally-focused and keep our foot on the pedal tonight," Schoen said. "Fortunately we took it to another level shooting and sharing the ball and grabbed control of the game. We just played really well tonight."
The Dragons held the Cubs to just 37 percent shooting, dominated the glass to a 35-26 tune and had almost a two-to-one advantage in turnovers.
"I'd definitely grade our defense an 'A' in the second half," Schoen said. "I thought we were touching a lot of passes and really forcing them to make quicker decisions than they wanted to."
Both teams will be back in action Saturday. Madison will host Corydon Central (16-2) at 1:30 p.m. while Creek will visit Mid-Southern Conference foe Austin an hour later.
.
SILVER CREEK 76, MADISON 43
Madison      12  10  12    9 — 43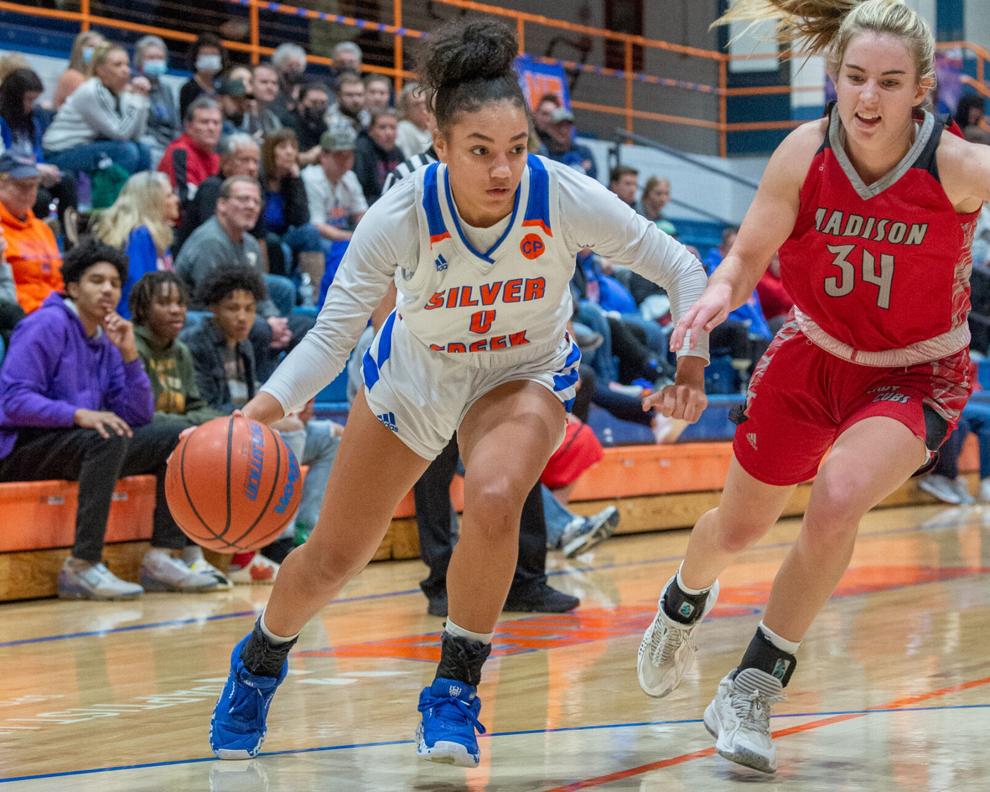 Silver Creek 26   9  24  17 — 76
Madison (10-7): Casey Dyer 7, Cameron Cahall 16, Cadence Traylor 6, Alaina Kelley 3, Mary Johnson 6, Taylor Lynch 5.
Silver Creek (17-1): Kyndid Mason-Striverson 17, Hallie Foley 5, Katy Rooney 1, Sydney Sierota 15, Lacey Tingle 12, Emme Rooney 17, Merideth Wilkinson 9.
3-point field goals: Madison 4 for 17 (Dyer, Cahall, Traylor 2), Silver Creek 7 for 20 (Mason-Striverson 3, E. Rooney 3, Sierota).
Rebounds: Madison 26, Silver Creek 35.
Turnovers: Madison 15, Silver Creek 7.
Field-goal shooting: Madison 17 of 46, Silver Creek 29 of 57.
Free-throw shooting: Madison 5 of 10, Silver Creek 11 of 17.