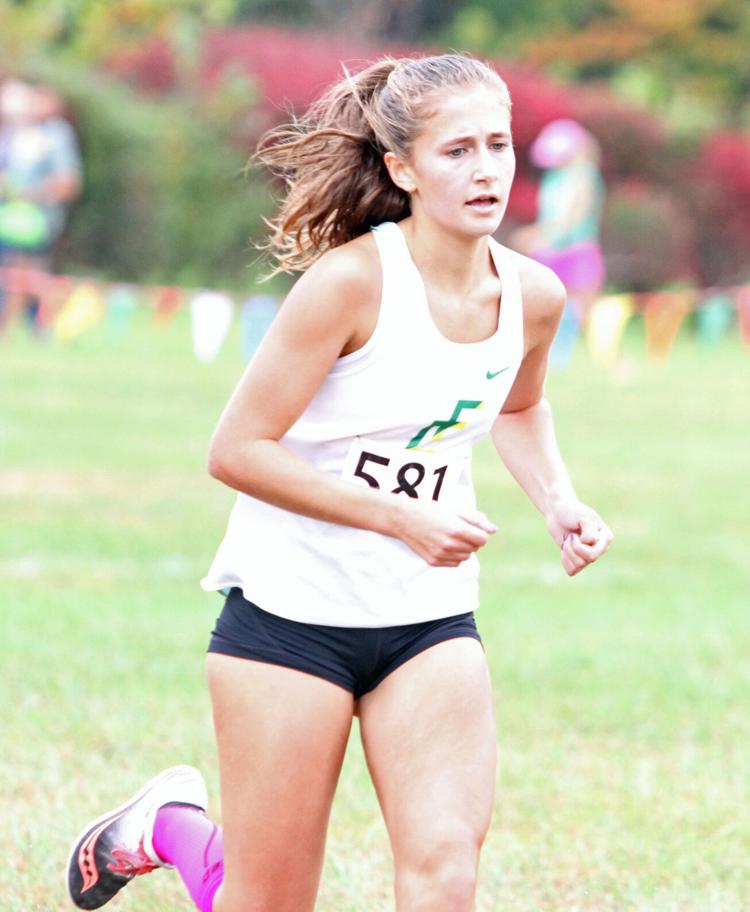 MARENGO — As Jaydon Cirincione neared the finish line of last year's Valkyrie Invitational at E.P. "Tom" Sawyer State Park in Louisville, she began to feel weak. Then everything went dark.
"It was really scary," the Floyd Central junior recalled of her brief loss of consciousness.
Shortly thereafter Cirincione was diagnosed with vasovagal syncope, which is a sudden drop in heart rate and blood pressure that leads to fainting.
"It's where you don't have enough salt and sodium to pump the blood, so then at a certain point you just get to the top and you drop pretty much," Cirincione explained.
In Cirincione's case, she said, it was traced to her diet.
"I take supplements and I do all that stuff, so now it's not even an issue, it doesn't cross my mind ever anymore. So, it's not really a problem for me," she said. "I was able to see it as like, 'Oh my body needs more of something,' so it's kind of beneficial. So now I have the most of that, so I can perform to my best."
Cirincione has certainly appeared to be at her best this season.
She started it by winning Gibson Southern's Titan Invitational. Cirincione followed that up with a fourth-place finish in the Class AA race at Columbus North's Rick Weinheimer Classic, where she ran a season-best 18 minutes, 42.60 seconds. Then there was an 11th in the elite race at Brown County's Eagle Classic, a seventh in the Valkyrie Invitational and a third in Bedford North Lawrence's Ted Fox Invitational before she won the Hoosier Hills Conference meet Oct. 3.
Last Saturday, Cirincione won the Crawford County Sectional, covering the 3.1-mile course in 19:08.2.
"Jaydon wanted to push for a fast time, which she did today, right around 19-flat, which I think is fantastic on this difficult course," interim Floyd Central coach Jeff Liddle said.
Led by Cirincione, the Highlanders had five of the top six finishers — Providence sophomore Maci Hoskins placed fourth — en route to a perfect 15 points and their ninth consecutive title.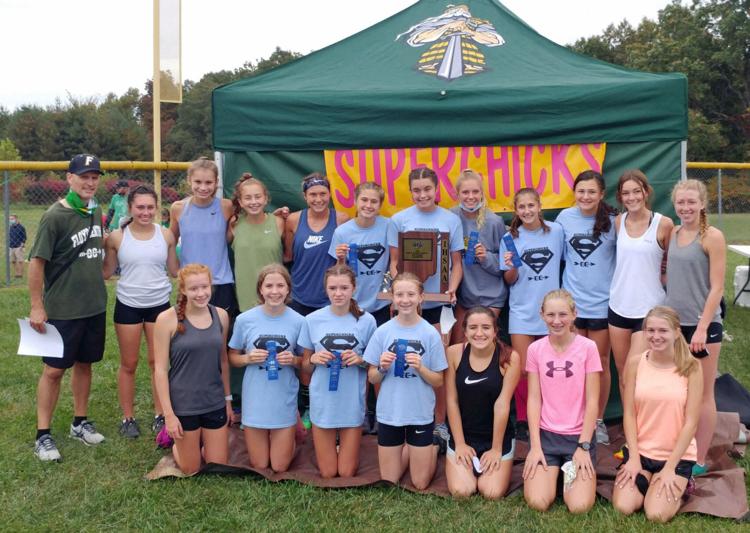 "My season's gone really good. Up until this race I've been under 19, so I was really happy about that," Cirincione said Saturday. "The races, each one that came on (this season), and I was still going under 19, I was like, 'It's not a fluke, I'm all good, no more passing out, no more this and that, we're A-OK.' So it was good."
"Last year she had an issue with some electrolytes. A couple of her races she wobbled into the finish line, so it was kind of a nutrition issue, but she's gotten that under control. She's eating well and she's running spectacular," said Liddle, whose daughter, Savanna, was second (in 19:50.7) at the sectional. "She's phenomenal. She's close to my (oldest) daughter, Sydney, in my opinion. She has another year, so next year it'll be exciting to see what she does."
Cirincione should be one of the favorites at this Saturday's Crawford County Regional, and could be among the top contenders at the Brown County Semistate on Oct. 24. The IHSAA State Finals will be Oct. 31 at the LaVern Gibson Championship Cross Country Course in Terre Haute.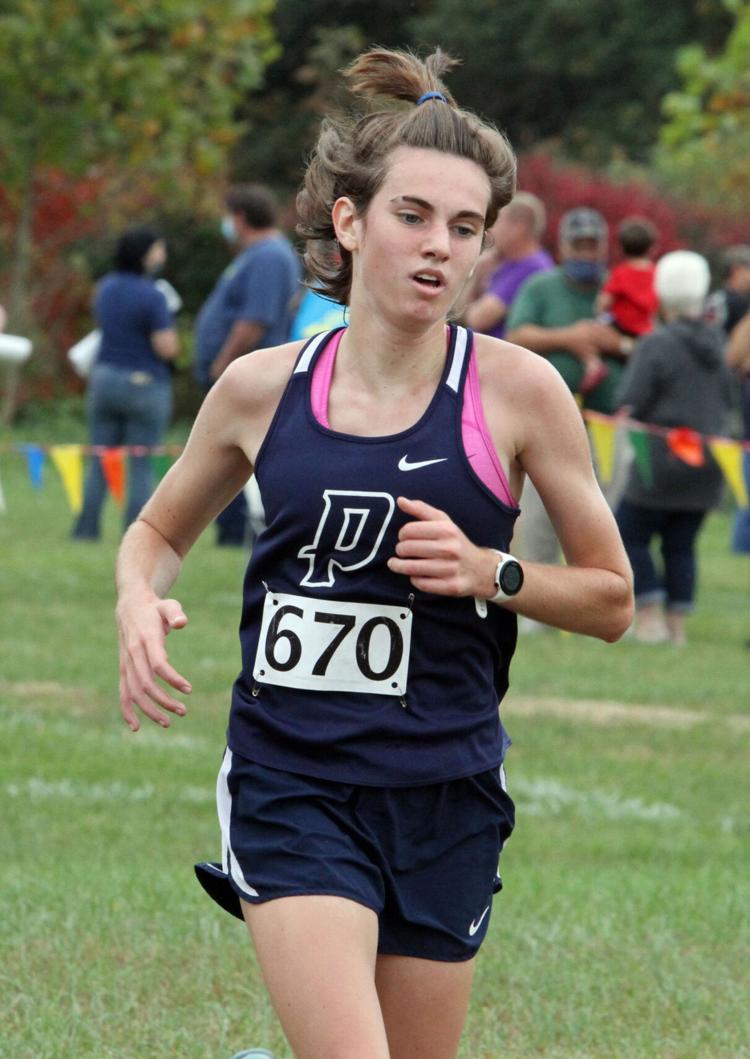 "The goal is to keep PR'ing in the next three races and to hopefully be podium, or top 25 at state and be on the wall at our school. That would be the best!" she said. "My dream right now is to be up there. My coach is up there, my coach's brother, he's a twin, so they're both up there. There's a lot of cross (country) girls, a lot of people that I know, that are up there. It's just kind of like a symbol of the great competitor/athletes of our school, so it's kind of like an honor to be up there, and you're there forever. My coach, who graduated however long ago is still up there. I pass the hallway and I just see him in his youngster years, so it's pretty cool."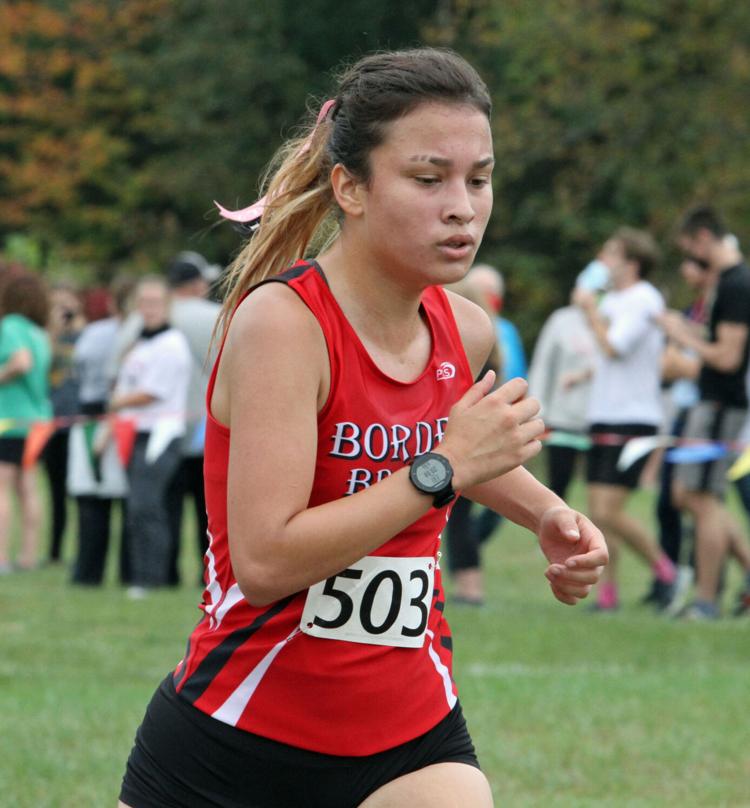 Borden, which took third at the sectional, also earned a spot at this Saturday's regional. The Highlanders and Braves will be joined by Hoskins and her Pioneer teammates Sarah Boehm and Erica Voelker. Additionally, Christian Academy freshman Madison Smith and New Albany's Caroline Barbieri and Lila Endres will also compete.
PIRATES TAKE SECOND
AUSTIN — Reigning champion Charlestown finished second in last Saturday's Austin Sectional at Hardy Lake.
With No. 1 runner Skylar Cochran slowed by injury, the Pirates were still able to finish within 22 points of victorious Madison. The Cubs, who had the fifth-, sixth- and seventh-place finishers, amassed 38 points. Silver Creek finished fourth with 75 points.
The top five teams and the top 10 individuals from non-advancing teams qualified for this Saturday's Columbus North Regional at Ceraland Park.
Shawe Memorial sophomore Calli Alderman won the 5,000-meter race in 19 minutes, 56.5 seconds.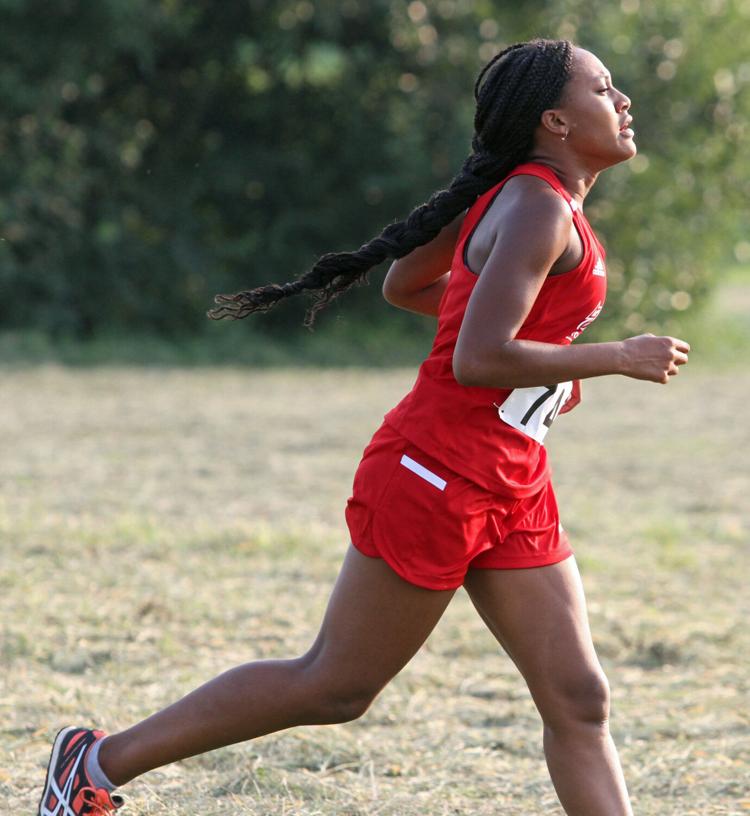 Jeffersonville sophomore Arielle Phillips was the top area finisher, placing eighth in 22:26.6. Charlestown sophomore Laney Hawkins was one spot back in ninth (22:34.6) while Silver Creek sophomore Kenzie Wesley took 11th (22.42.1).
Joining the Pirates, Dragons and Phillips at the regional will be Henryville sophomore Hannah Ramsey, who took 22nd (23:37.0) in the sectional.
.
CRAWFORD COUNTY SECTIONAL
Saturday at Marengo
Top five teams and Top 10 individuals from non-advancing teams qualified for Crawford County Regional.
Girls
Team scores: 1. Floyd Central 15, 2. Corydon Central 48, 3. Borden 75, 4. North Harrison 132, 5. Lanesville 149, 6. Crawford County 163, 7. Paoli 166.
Top 10 individuals: 1. Jaydon Cirincione (FC) 19:08.2; 2. Savanna Liddle (FC) 19:50.7; 3. Kaitlyn Stewart (FC) 20:18.8; 4. x-Maci Hoskins (PHS) 20:20.5; 5. Natalie Clare (FC) 20:41.0; 6. Sydney Baxter (FC) 20:46.3; 7. Addison Applegate (CC) 20:51.1; 8. Kaylie Magallanes (Borden) 21:04.5; 9. Emily Armstrong (CC) 21:15.0; 10. Emily Gunther (CC) 21:52.0.
Other Floyd Central finishers: 11. Claudia Pearce 21:58.1; 14. Elliott Emerson 22:24.6.
Other Borden finishers: 13. Joy Coffman 22:12.6; 17. Lexi Rose 22:45.8; 21. Kaela Rose 23:34.9; 30. Delaney Smith 25:05.5; 45. Grace Hall 28:54.2.
Other Providence finishers: 26. x-Sarah Boehm 24:27.4; 39. x-Erica Voelker 27:21.3.
New Albany finishers: 20. x-Lila Endres 23:32.0; 33. x-Caroline Barbieri 25:58.3.
CAI finisher: 27. x-Madison Smith 24:33.7.
.
AUSTIN SECTIONAL
Last Saturday at Hardy Lake
Top five teams and Top 10 individuals from non-advancing teams qualified for Columbus North Regional.
Girls
Team scores: 1. Madison 38, 2. Charlestown 60, 3. Jennings County 64, 4. Silver Creek 75, 5. Southwestern 119, 6. Scottsburg 138.
Top 10 individuals: 1. Cali Alderman (Shawe Memorial) 19:56.5; 2. Kaylyn Holman (Crothersville) 20:01.0; 3. Eliza Weston (Shawe) 21:23.2; 4. Halle Franks (JC) 21:30.2; 5. Ava Spencer (Madison) 22:14.2; 6. Cadence Traylor (Madison) 22:15.5; 7. Brett Cahall (Madison) 22:16.3; 8. x-Arielle Phillips (Jeff) 22:26.6; 9. Laney Hawkins (Charlestown) 22:34.6; 10. Gracie White (Switzerland County) 22:39.6.
Other Charlestown finishers: 14. Jackie McCoy 22:45.7; 15. Kaylee Kinser 22:47.0; 23. Jessica McCoy 23:40.0; 32. Emma Faulkner 24:58.6; 33. Skylar Cochran 25:04.8; 46. Macie Rhoten 27:52.8.
Other Silver Creek finishers: 11. Kenzie Wesley 22:42.1; 17. Isabel Odle 23:00.7; 19. Alexius 23:20.6; 28. Madison Allen 24:17.9; 37. Meg Miller 25:20.1.
Henryville finishers: 22. x-Hannah Ramsey 23:37.0.
Other Jeffersonville finishers: 39. Laura Gillenwater 25:36.7; 41. Jaleigh Brown 26:05.4; 52. Abby Napper 34:47.4.
x — advances to regional.