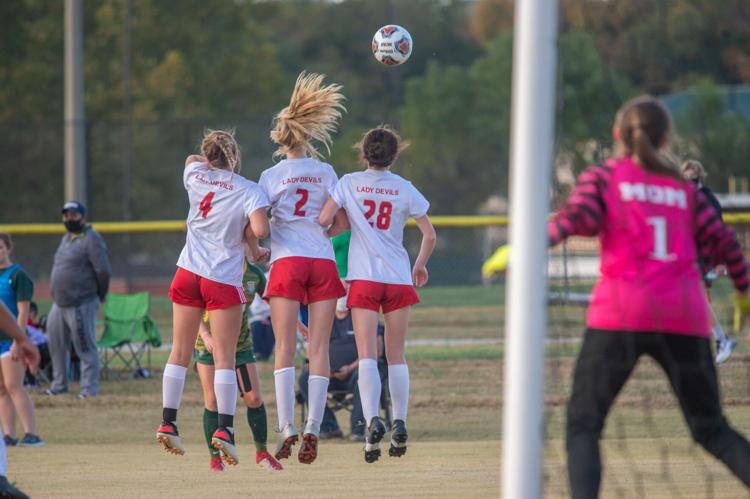 FLOYDS KNOBS — Floyd Central's defense led the way as the Highlanders beat Jeffersonville 2-0 in the semifinals of the Class 3A Floyd Central Sectional on Thursday night.
In the other semi, senior midfielder Emma Lopp scored three goals to lead New Albany to a 3-2 win over Jennings County.
The four-time defending champion Highlanders (7-8) and the Bulldogs (9-5-1) will face off at 2 p.m. Saturday in the sectional final. New Albany beat Floyd 4-3 Sept. 17 on its new home field.
FLOYD 2, JEFF 0
Leading 1-0 early in the second half, the Highlanders had a free kick by junior midfielder Dakota Bramer. Bramer put the ball in front of the goal, where it bounced off a Jeff defender and into the net. The own goal made it 2-0 with 31 minutes, 8 seconds to play. The Highlanders' defense took it from there.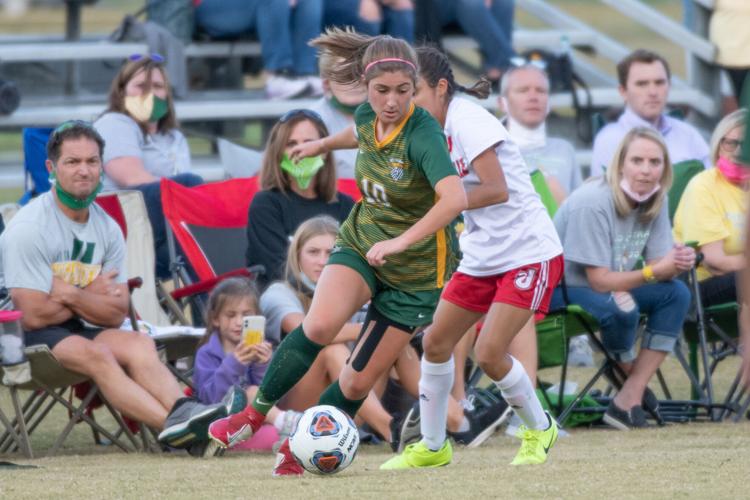 "Our defense was very solid, I was happy with them," Floyd Central coach Lewie Stevens said.
The Highlanders' D was challenged late, but maintained the shutout.
"We had a couple of chances late in the second half," Jeff coach Jason Crane said.
Both teams threatened early in the first half and had shots on goal in the opening 10 minutes.
A free kick by Floyd Central junior defender Ava Bandy at the 27-minute mark led to a shot on goal by sophomore midfielder Kendyl Rumple.
The Highlanders would have another shot on goal moments later when Bramer's effort was stopped by Red Devils junior goalkeeper Addison Duran.
Jeff countered and had a pair of free kicks, but couldn't capitalize at the 13-minute mark.
Floyd Central set the tone after that.
A Highlanders' counterattack led to a corner kick. A shot on goal by junior midfielder Hannah Sakamaki was stopped by Duran, but the Highlanders kept pushing.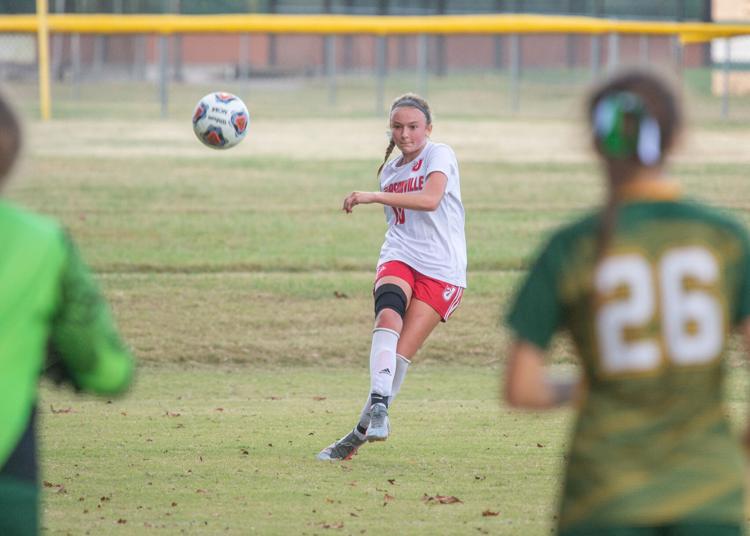 With 10:11 left in the half, junior midfielder Madelynn Baker took a pass from junior forward Corrina Hohl 25 yards in front of the goal. From there, Baker arched a shot into the net past Duran.
The Highlanders closed out the half on the attack, but couldn't add to their lead.
Jeff finishes at 9-4-1.
"I couldn't ask any more of these girls," said Crane.
For Floyd Central, it wasn't quite as big of an effort as its first-round win over Seymour.
"I didn't think either team played well, but I'm happy with the outcome," Stevens said. "I was looking for bigger and better after the Seymour game."
NEW ALBANY 3, JENNINGS 2
New Albany (9-5-1) looked to be in control as the second half started, but a goal by Jennings County senior midfielder MaKenna Maschino tied it at 1-1.
That woke up the Bulldogs, who answered with a pair of shots on goal by senior forward Grace Barber and junior forward Taylor Treat over the next seven minutes. At 25:06, Barber assisted on a goal by Lopp and New Albany was back on top for good.
"Anytime it's a sectional match it's going to be tough," New Albany coach Drew Stein said. "I'm glad that we responded. I think we played well defensively."
Lopp added her third goal, again assisted by Barber, at 20:25 and New Albany led 3-1.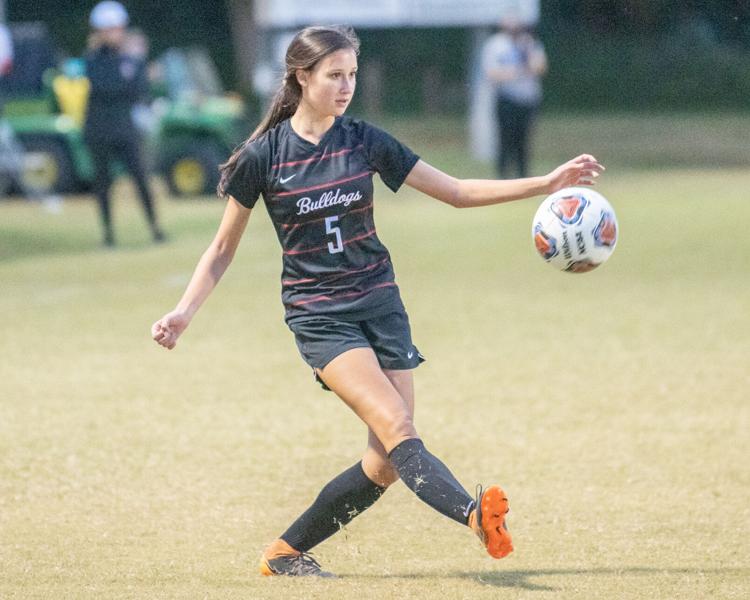 "I just had to trust my team in that moment," Lopp said of the opportunities that led her to score. "I have faith in my team."
But the Bulldogs couldn't make plans for Saturday just yet. Maschino notched her second goal with 13:20 left to make it 3-2. In the waning minutes, New Albany had a chance to ice it and Jennings County (4-9) had its opportunities to knot it up, but the defenses held and the Bulldogs advanced.
New Albany was the aggressor for much of the first half. At the 29-minute mark, Barber had a breakaway that led to a point-blank shot on goal that was stopped by Jennings goalkeeper Victoria Lee.
New Albany's work in front of the Panthers goal paid off a few minutes later. A 22:43, Jennings County was called for a hand ball in the box. Lopp got the penalty kick and pushed it past Lee for a 1-0 Bulldogs' lead.
New Albany would have two more shots on goal in the final 15 minutes of the half, by sophomore midfielder Alaina Walker and Treat, but the score remained 1-0 at halftime.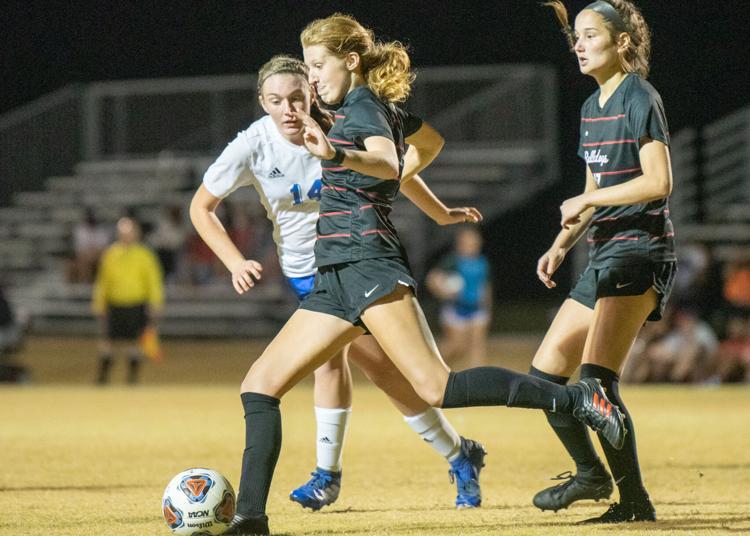 CLASS 3A FLOYD CENTRAL
Match 1: Jeffersonville 1, Bedford NL 0, Tuesday
Match 2: Floyd Central 2, Seymour 1, Tuesday
Match 3: Floyd Central 2, Jeffersonville 0, Thursday
Match 4: New Albany 3, Jennings County 2, Thursday
Final: Floyd Central (7-8) vs. New Albany (9-5-1), 2 p.m. Saturday