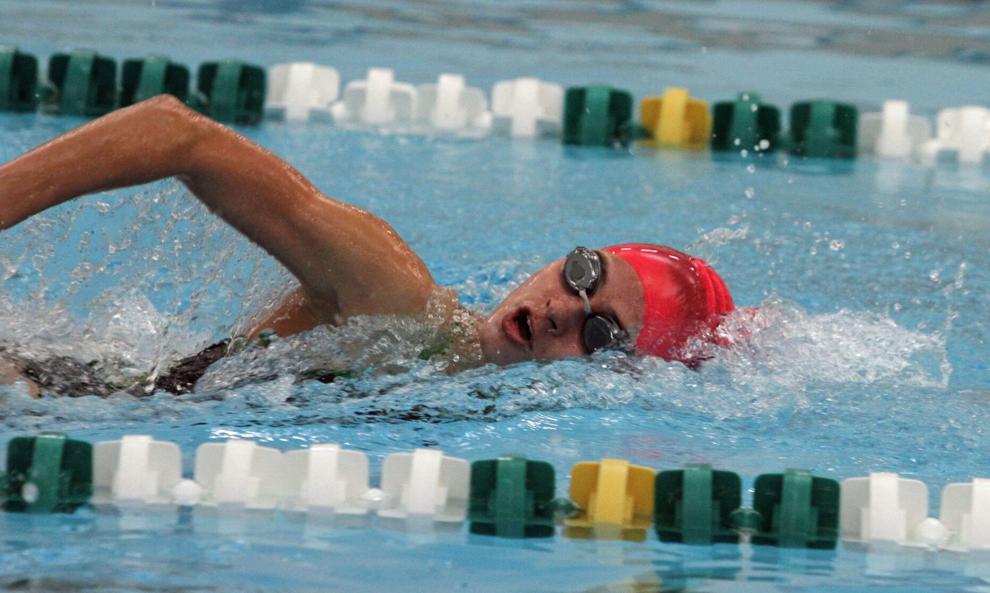 FLOYDS KNOBS — Floyd Central captured its fourth straight Hoosier Hills Conference title Saturday.
The host Highlanders won four of the 12 events en route to 386 points — 145 more than runner-up Jeffersonville — at Highland Hills. Seymour took third (151) while Columbus East (151) and Bedford North Lawrence (129) rounded out the top five. New Albany finished sixth with 107.
"A great depth-day for us today," said Floyd Central coach Joe Perkins, whose team had a trio of runner-up finishes and four third-places in addition to its four victories. "Every swim scored in the top eight, a lot of them in the top six, and we won two relays and got second in (another). Savanna Liddle was fantastic today in the 50 and 100 free, for sure. Just overall, it was everything we look for at this point and time in the season."
Liddle led the way for Floyd. The sophomore won both the 50- and 100-yard freestyle events in personal-best times of 24.70 and 55.36 seconds, respectively. She also was the anchor leg on the Highlanders' victorious 200 medley and 400 freestyle relay teams.
"It was really good," Liddle said of the meet. "I PR'd in my 50 and 100. It's the best I've done and I also felt really strong."
In the 200 medley, Liddle teamed with classmate Kylie McDonald and freshmen Lucy Owens and Morgan Schoen for the victory. In the 400 free relay, she combined with three frosh — Claire Jones, Ella Robbeloth and Owens — for the win in 3:54.46.
The Red Devils also won a quartet of events.
"The girls came in pretty tired, we're still training pretty hard. So they were a little nervous from the standpoint that they did feel awfully tired, even this morning when we were warming up," Jeff coach Mike Pepa said. "But despite that, we came out swimming really fast. Over half of our swims were best times of the whole season. We won four events, we really swam well and I couldn't be more happy."
Junior Katie Case captured the 200 freestyle (2:01.61), then finished second to sophomore teammate Emily Miller in the 500 free (5:26.88). Senior Mairin Klaus triumphed in the 100 backstroke (1:02.62). Case and Klaus combined with senior Sydney Flora and sophomore Samantha Elsner to win the 200 free relay.
"Mairin Klaus was on the 200 free relay and then turned right around in the next event and wins the 100 backstroke. That was really impressive too, for a senior captain," Pepa said.
In the 1-meter diving competition, New Albany junior Lanie Scharlow was victorious for the third straight year. She scored 382.95 points.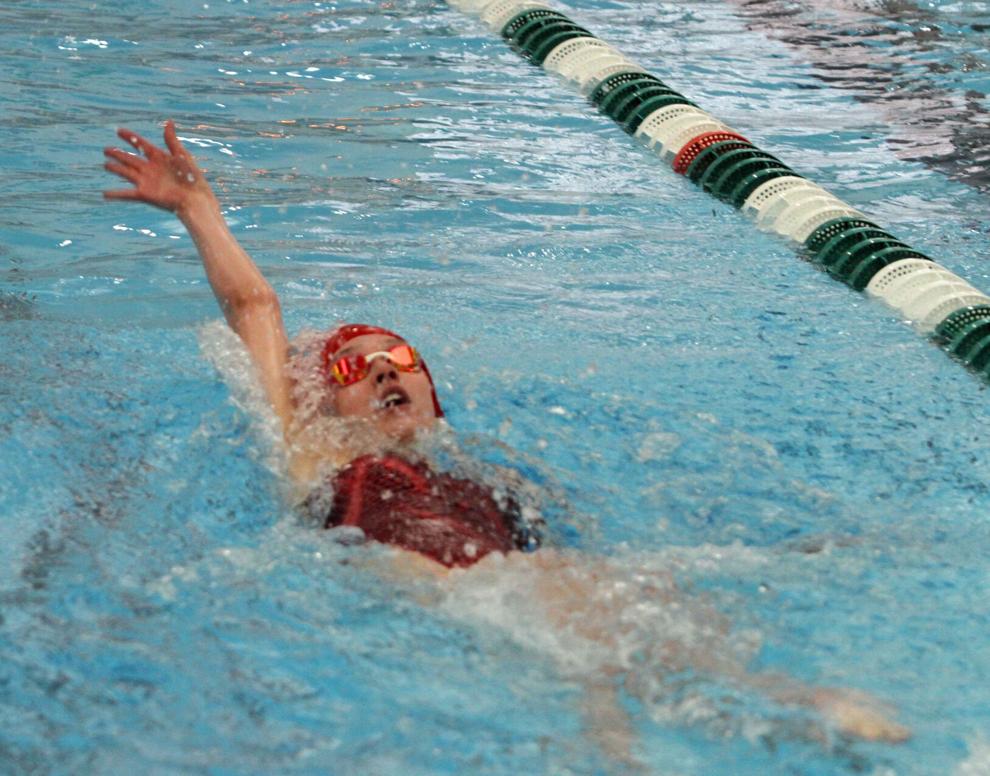 .
HOOSIER HILLS CONFERENCE CHAMPIONSHIPS
Saturday at Highland Hills
Team scores: 1. Floyd Central 386, 2. Jeffersonville 241, 3. Seymour 153, 4. Columbus East 151, 5. Bedford North Lawrence 129, 6. New Albany 107, 7. Jennings County 90, 8. Madison 62.
200 medley relay: 1. Floyd Central (Lucy Owens, Kylie McDonald, Morgan Schoen, Savanna Liddle) 1:56.12; 2. Jeffersonville (Mairin Klaus, Sydney Flora, Rileigh Dethy, Katie Case) 1:58.65; 3. Columbus East 1:58.95.
200 freestyle: 1. Case (J) 2:01.61; 2. Erin Perkins (FC) 2:05.27; 3. Flora (J) 2:06.97.
200 individual medley: 1. Emma Gabhart (BNL) 2:12.80; 2. Elizabeth Proffitt (CE) 2:20.09; 3. Maren McClure (S) 2:21.00.
50 freestyle: 1. Liddle (FC) 24.70; 2. Klaus (J) 25.43; 3. Marin Wieneke (CE) 25.72.
Diving: 1. Lanie Scharlow (NA) 382.95; 2. Gabriel Meier (CE) 364.05; 3. Kaleigh Schuler (FC) 341.35.
100 butterfly: 1. Proffitt (CE) 1:01.32; 2. McClure (S) 1:03.01; 3. Schoen (FC) 1:05.28.
100 freestyle: 1. Liddle (FC) 55.36; 2. Sandy Cerino Rico (S) 57.05; 3. Ella Robbeloth (FC) 57.66.
500 freestyle: 1. Emily Miller (J) 5:26.88; 2. Case (J) 5:27.92; 3. Perkins (FC) 5:32.34.
200 freestyle relay: 1. Jeffersonville A (Flora, Klaus, Samantha Elsner, Case) 1:45.29; 2. Floyd Central (McDonald, Claire Jones, Schoen, Robbeloth) 1:45.36; 3. Columbus East 1:48.51.
100 backstroke: 1. Klaus (J) 1:02.62; 2. Owens (FC) 1:02.90; 3. Katya Cox (S) 1:03.98.
100 breaststroke: 1. Gabhart (BNL) 1:08.68; 2. Reagan Brown (JC) 1:11.76; 3. Wieneke (CE) 1:12.24.
400 freestyle relay: 1. Floyd Central (Jones, Robbeloth, Owens, Liddle) 3:54.46; 2. Bedford NL 4:00.67; 3. Jeffersonville (Miller, Avery Dethy, Elsner, R. Dethy) 4:07.78.