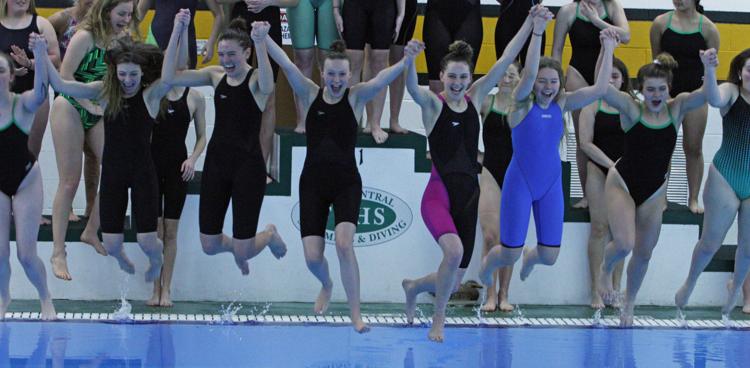 FLOYDS KNOBS — Jeffersonville won many of the battles, but Floyd Central won the war of attrition Saturday afternoon.
The Highlanders finished first in only three of the 12 events, but their depth helped offset the Red Devils' seven victories en route to their third straight Floyd Central Sectional title. Floyd finished with 513 points, 51 ahead of Jeff, at Highland Hills.
"Jeffersonville swam lights-out today, period," Highlanders head coach Joe Perkins said. "We had some very good swims throughout the day, some nice stuff at the end of the meet to finish it up with the 100[-yard] breaststroke and the 400 free[style] relay. Those girls going first and second in the 100 breast was definitely a boost for the morale going into that last relay. That really spurred those four on to do well at the end of that. ... Like the [Hoosier Hills] Conference meet our depth paid off, and that's what we've done all year."
The second-place finish did little to dampen the enthusiasm of the Red Devils, who lost to Floyd Central by 41 points last month in the HHC meet.
"We swam great, I couldn't be happier," Jeff coach Mike Pepa said. "Seven out of the 11 swimming events we won with 100 percent best times, in baseball vernacular we pitched a perfect game today, we're really, really happy. We're taking a bunch of kids to state, a bunch of kids are going individually who've never won before, I couldn't be happier."
Each event winner, as well as others who achieve time standards, advance to this weekend's IHSAA State Finals.
Seymour took third with 331 points while New Albany, led by double-event winner Greer Manger, finished fourth with 196.
The Highlanders' victories came from sophomore Kaleigh Schuler in the 1-meter diving competition, sophomore Kylie McDonald in the 100 breaststroke and their 400 freestyle relay team.
Schuler's finish, coupled with classmate Abigail Ryan's second and junior Ahna Cobb's fourth, helped springboard the Highlanders into first place after Jeff had won three of the first four events.
"That was definitely a big deal," Perkins said. "Our coach, Linda, has done a very good job with them and those three were very good. Those were their highest point-totals this year, so that really helped."
The Highlanders finished strong, winning the final two events.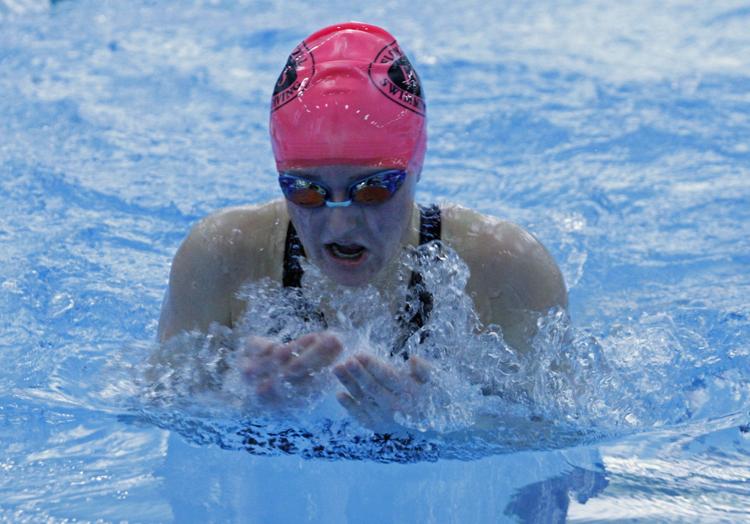 McDonald and freshman Riley Loftus went 1-2 in the 100 breaststroke.
McDonald then hopped back into the pool and helped the 400 free relay team, which also included Bernadette Mueller, Grace Allen and Erin Perkins, to victory.
"It was very exciting," McDonald said. "I loved coming together with my team to cheer for each other, and just the energy in the pool was really great."
The Red Devils brought plenty of energy early. The foursome of Bonnie Dixon, Corinne Dilger, Megan McEwen and Mairin Klaus started things off by winning the 200 medley relay in a sectional-record time of 1 minute, 48.75 seconds.
"I feel like we came in with high energy, we were ready to race," McEwen said. "We tapered really, really well. We were just here to win."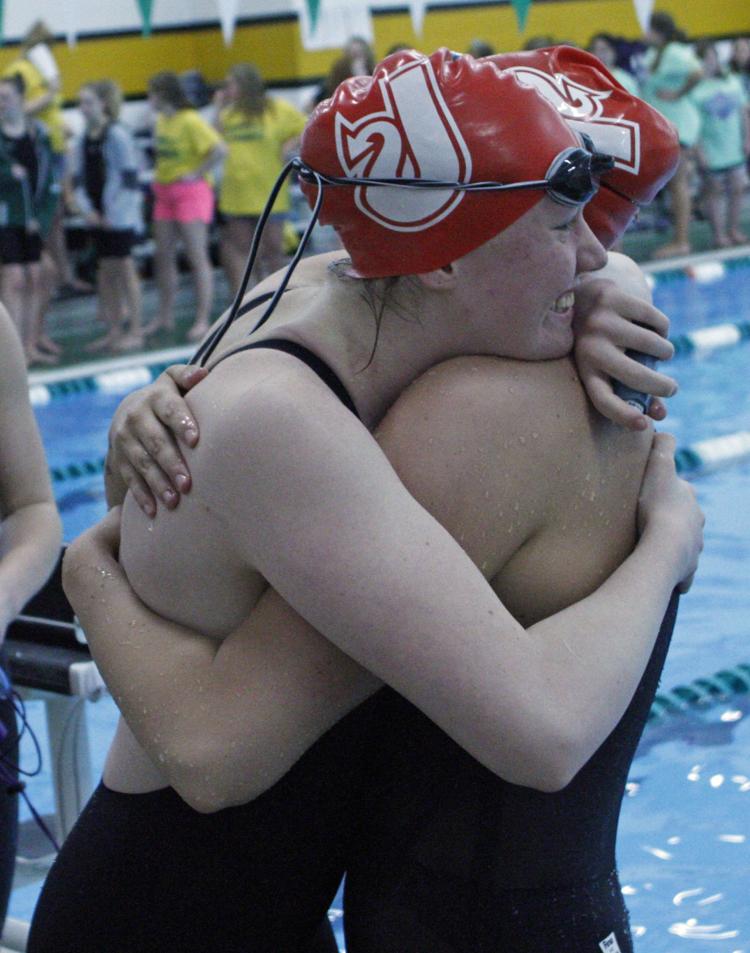 Later, McEwen clipped Klaus to win the 50 free.
"I didn't think I was really going to win the 50, it was up in the air," said McEwen, who also won the 100 butterfly. "All of us were really, really close and I knew my competition was tight. I just had to get ready and stay focused on what I had to do."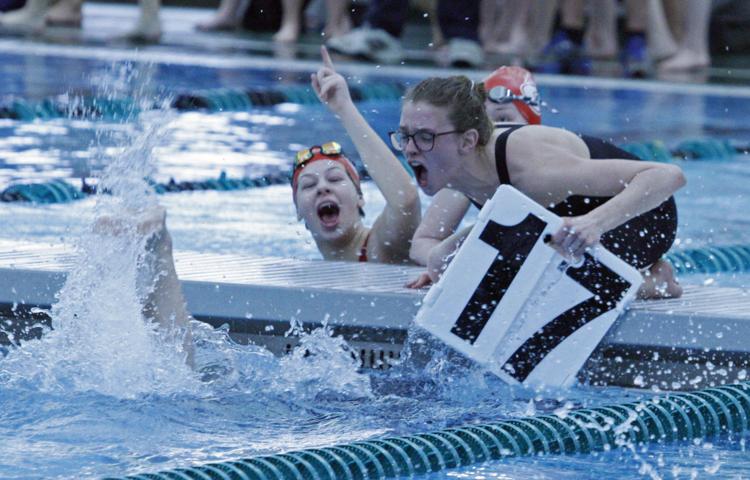 Dixon, meanwhile, won the 200 individual medley and the 100 backstroke, while fellow senior Alyssa Miller captured the 500 freestyle.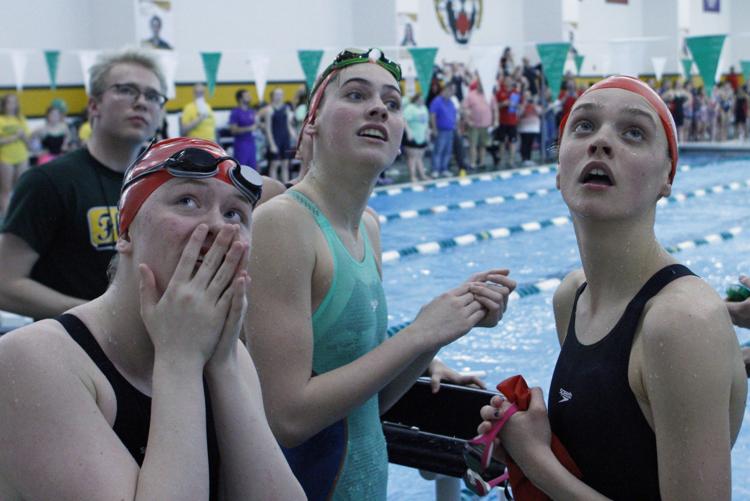 McEwen, Dixon, Klaus and Miller also combined to capture the 200 free relay in record-time (1:37.68).
Manger, meanwhile, won the 100 and 200 freestyle events.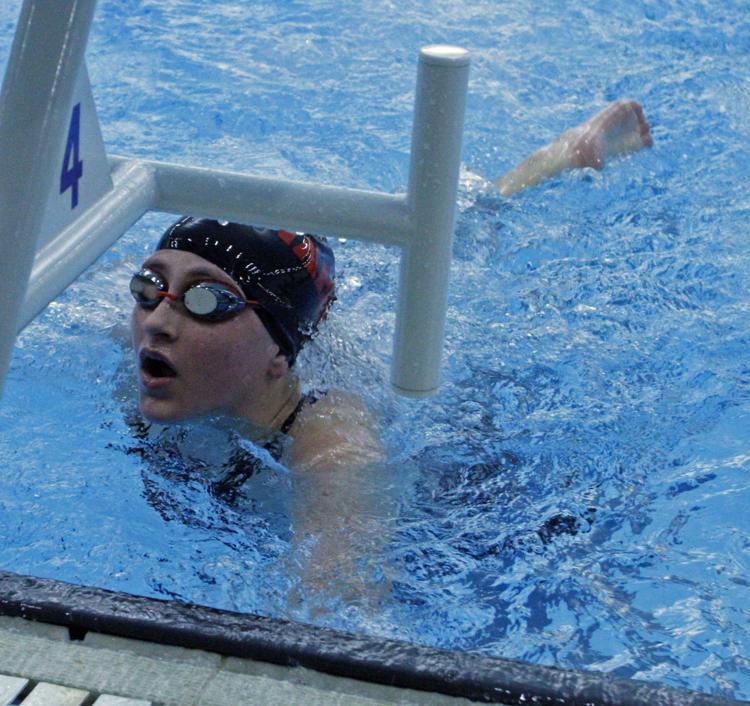 "I trained for the 200 free all season, but I only swam it in one dual meet, it was kind of supposed to be a surprise," she said. "From prelims to finals I dropped another two seconds, which was really good. I'm going to finish my taper this coming week. In state hopefully I can drop more [time]."
FLOYD CENTRAL SECTIONAL
Saturday at Highland Hills
Team scores: 1. Floyd Central 513, 2. Jeffersonville 462, 3. Seymour 331, 4. New Albany 196, 5. Madison 138, 6. Jennings County 119, 7. Scottsburg 104, 8. Southwestern 92, 9. Switzerland County 86, 10. Charlestown 50, 11. Salem 47, 12. Providence 36, 13. Henryville 22, 14. Silver Creek 1.
200 medley relay: 1. Jeffersonville (Bonnie Dixon, Corinne Dilger, Megan McEwen, Mairin Klaus) 1:48.75; 2. Floyd Central (Sydney Moeller, Kylie McDonald, Sydney Baxter, Savanna Liddle) 1:54.41; 3. Seymour 1:58.55.
200 freestyle: 1. Greer Manger (NA) 1:56.71; 2. Alyssa Miller (J) 1:58.50; 3. Katelyn Case (J) 1:59.40.
200 individual medley: 1. B. Dixon (J) 2:11.79; 2. Grace Allen (FC) 2:14.78; 3. McDonald (FC) 2:17.11.
50 freestyle: 1. McEwen (J) 24.14; 2. Klaus (J) 25.18; 3. Liddle (FC) 25.33.
Diving: 1. Kaleigh Schuler (FC) 356.60; 2. Abigail Ryan (FC) 309.65; 3. Etta Greathouse (JC) 287.65.
100 butterfly: 1. McEwen (J) 57.36; 2. Allen (FC) 1:01.16; 3. Maren McClure (S) 1:03.26.
100 freestyle: 1. Manger (NA) 53.27; 2. Mueller (FC) 55.30; 3. Liddle (FC) 55.52.
500 freestyle: 1. A. Miller (J) 5:15.68; 2. Case (J) 5:18.31; 3. Erin Perkins (FC) 5:25.27.
200 freestyle relay: 1. Jeffersonville (McEwen, Dixon, Klaus, A. Miller) 1:37.68; 2. Floyd Central (Liddle, Baxter, Allen, Mueller) 1:43.54; 3. New Albany (Lauren Lopp, Emery Jackson, Andrea Butcher, Manger) 1:48.60.
100 backstroke: 1. B. Dixon (J) 57.47; 2. Klaus (J) 1:02.16; 3. Moeller (FC) 1:02.60.
100 breaststroke: 1. McDonald (FC) 1:08.41; 2. Riley Loftus (FC) 1:10.19; 3. Reagan Brown (JC) 1:10.28.
400 freestyle relay: 1. Floyd Central (Mueller, Allen, Perkins, McDonald) 3:42.49; 2. Jeffersonville (A. Miller, Case, Emily Miller, Sydney Flora) 3:45.01; 3. Seymour 3:55.99.