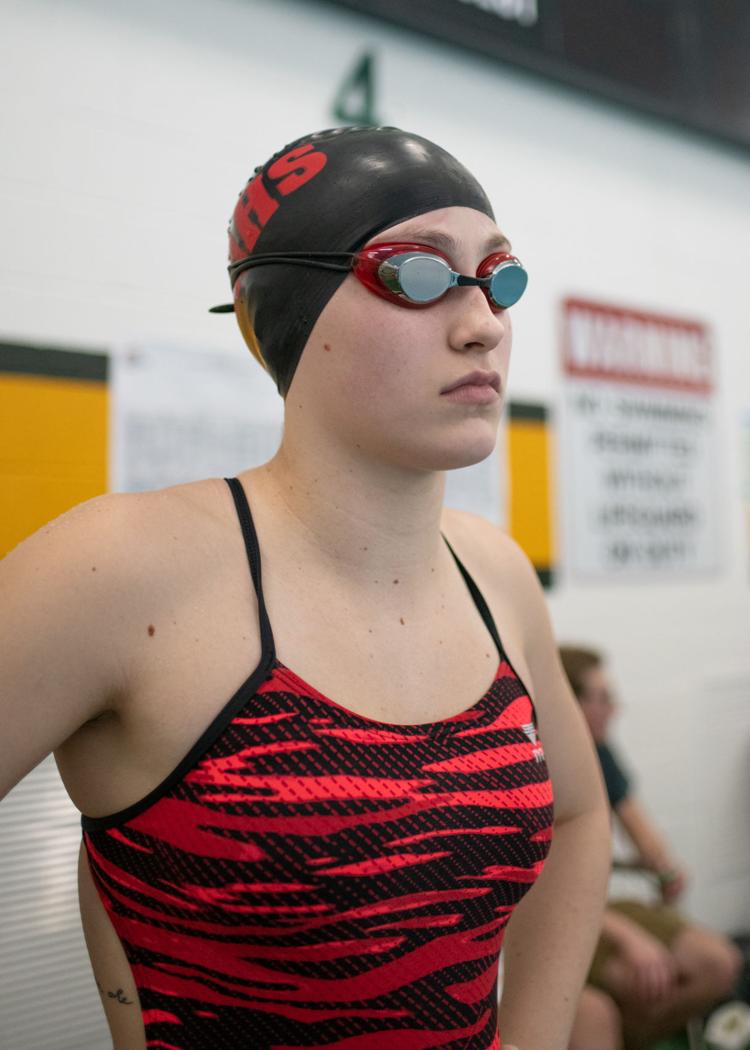 NEW ALBANY — It may be hard to believe now, but there was a time when Greer Manger didn't like to be splashed.
"I didn't like my face to get wet," the New Albany senior recently recalled. "I don't know how it worked out, but it did. I was afraid to go underwater for a really long time because I didn't know how to blow my bubbles out. But once I learned how to blow my bubbles out it wasn't the issue."
But then there was another issue, a familial one.
"I have an older brother who liked to torment me, so he would splash me all the time. Or, he would grab my ankles and pull me under," Manger said.
Manger hopes to make a big splash at this weekend's IHSAA State Finals, which begin at 6 p.m. Friday night at the IUPUI Natatorium in Indianapolis.
Swimming is in Manger's blood. She grew up in the wake of older sister Hannah and older brother Duncan.
"Swimming kind of runs in my family," said Manger, who is six years younger than her sister and two years younger than her brother. "When I was about 4 or 5, my mom signed me up for our club team and I've just been kind of swimming ever since."
"She never took a lesson, nothing, she just kind of hopped in one day and started, and here we are," added Ashley Manger, Greer's mother and a New Albany assistant coach.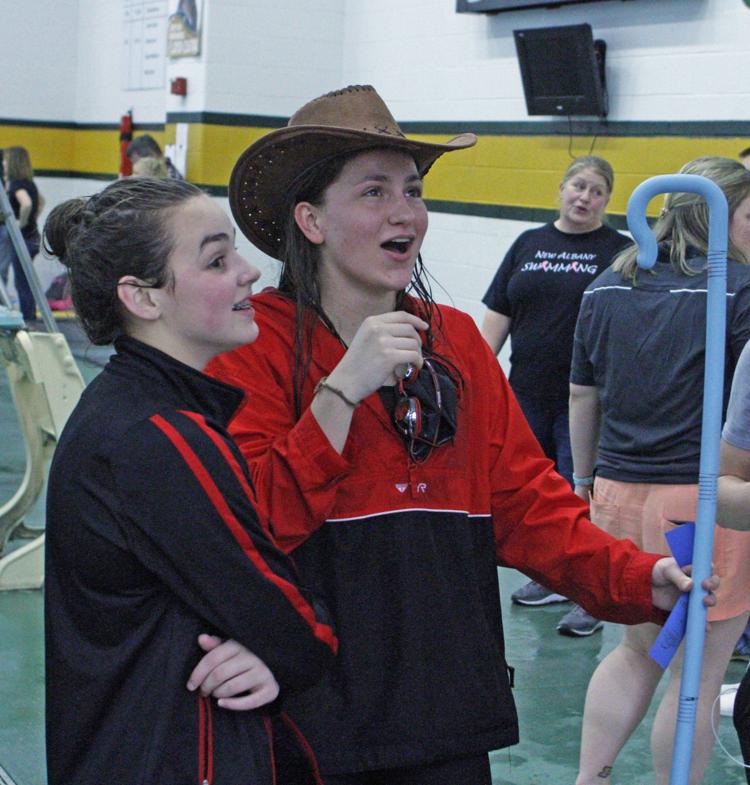 Both of Manger's siblings swam at NAHS, and her sister went on to do the same at Purdue University as well.
"She's got a lot of natural ability. Probably of the three [kids], she's the most naturally inclined for the sport," Ashley Manger said of her youngest. "The body type, everything from her muscles, her musculature, her stature, to her long legs. The other two were not blessed with real long legs. They had powerful legs, but she's got nice, long legs and really just a good feel for the water.
"And she's a pretty serious competitor. She frets a little, she worries a little, she gets nervous, but she probably has the best game-face of any of them, in all my years of coaching swimming and, of course, with three kids swimming.
Manger had her game-face on at last Saturday's Floyd Central Sectional, where she won the 100- and 200-yard freestyle events. The former has been one of her specialities. The latter was one she just started training for this season, and only swam in one meet prior to the sectional.
"I've never been a 200 person, I swim the IM [individual medley], but that's a little different because that's just a 50 of each stroke," said Greer Manger, who has five individual sectional titles to her credit. "I've never swam the 200 freestyle, it's never been my event, but we were looking at the sectional times from last year at the beginning of the season, way back in October and we thought, 'Hey, you have a shot to win that, so why don't you just go for it.'"
Saturday, she won the 200 in 1 minute, 56.71 seconds — almost two full seconds ahead of runner-up Alyssa Miller of Jeffersonville.
"It might be my new favorite event," Manger said of the 200 Saturday. "It's definitely challenging, which I like. I've never liked easy races because I think there's no point in doing them. It was different having to train for a sprint that was that long, if that makes sense. I've always been a sprint freestyler at heart, that's what I started my high school career doing, which was the 100 and the 50. The 200 is a sprint event, but it feels a lot longer when you're actually doing it. So it was different, but I'm really glad I did it."
Something else Manger wants to do this weekend is break the school records in both of her events. In the 100, she'll try to top the New Albany-record of 52.71 seconds set by Rachel Klein in 2013. In the 200, she'll try to eclipse the school-mark of 1:55.27 set by — drumroll please — her sister, Hannah.
"I don't really know how I'll feel if it doesn't happen. It's what I'm hoping for, but I'm proud of the work that I've put in for those two events so far this year," Manger said.
While Manger is undecided if she will continue swimming in college, she just hopes to enjoy the final weekend of her high school career.
"I have some goal times [set]," she said. "Really we're just focusing on getting through this last week of tapering and then hopefully the prospect of the top 16 in the 100 is there, but I'm not counting on anything just yet. I'm looking forward to it, it's one more chance to kind of compete in the races that I like that I've been wanting to swim."