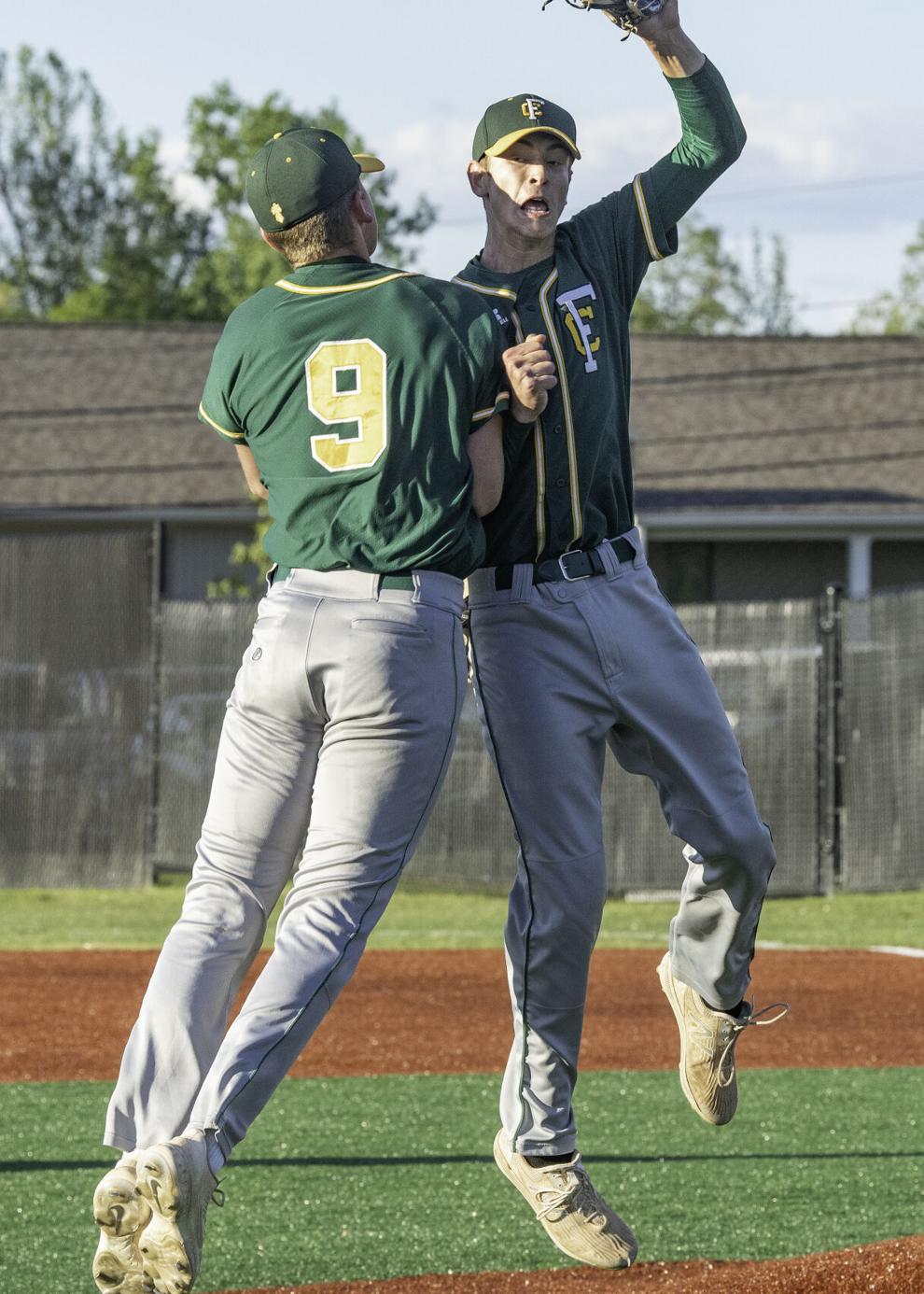 NEW ALBANY — Bishop Letson came through in the clutch for Floyd Central on Wednesday evening.
The sophomore doubled, then scored the eventual winning run in the top of the seventh before taking to the mound and closing the door on Class 4A No. 6 New Albany, as the Highlanders outlasted the host Bulldogs 5-3 in a Hoosier Hills Conference Tournament semifinal at Mt. Tabor Field.
Floyd Central (16-5) will visit three-time defending champion Jeffersonville (15-8) at 6 p.m. Friday night in the HHC final. In spite of being no-hit, the Red Devils advanced with a 1-0 victory over visiting Madison in the other semi Wednesday at Don Poole Field.
The Highlanders, who tallied two runs in the first inning and one in the fourth, were in control most of the game behind the pitching of Tristan Polk. Polk allowed two pokes — a first-inning RBI-double by Andrew Clements and a single by his counterpart Landon Tiesing — through the first 5 1/3 innings before Tucker Biven hit a two-run homer to tie the game in the bottom of the sixth.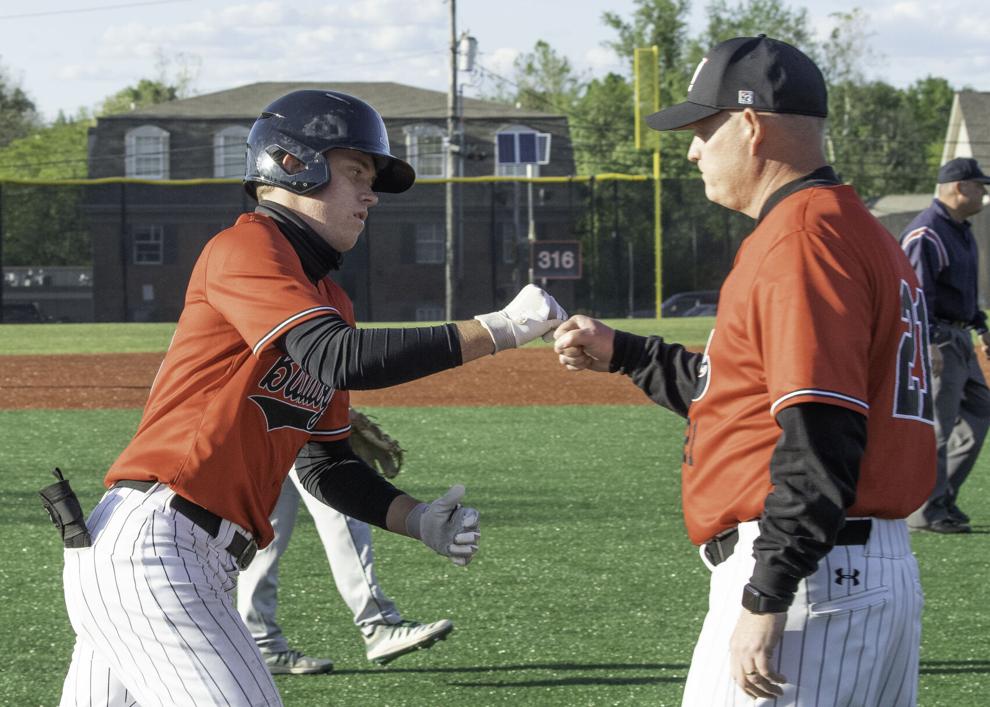 Biven's blast seemed to give the Bulldogs the momentum. However, it was short-lived.
Letson led off the seventh with a double to the gap in right-centerfield. He advanced to third on a passed ball, then scored when Tiesing couldn't cleanly bare-hand a bunt off the bat of Jake Thompson.
"I knew I wanted to hit something on the right side of the field in the top of the seventh. It felt great off the bat and I ended up getting a double out of it, I was really happy," Letson said. "Then there was a passed ball and I ended up at third. I felt like after that all the momentum had switched right back."
Caleb Slaughter's sacrifice fly to deep center field later scored Thompson with an insurance run.
In the bottom of the seventh, Letson struck out the first two hitters he faced before walking Mitchell Meyer. The game ended moments later when Garrett Jones' grounder led to a force out at second base.
"He's been a great find about midway through the season for us on the mound, and he can hit it a little bit," Floyd Central coach Casey LaDuke said of Letson. "He's still young, he's still learning, but that was a big leadoff hit, just getting on base, just getting your leadoff on base, now you can bunt, you can steal, there's a lot of options there and he did a great job."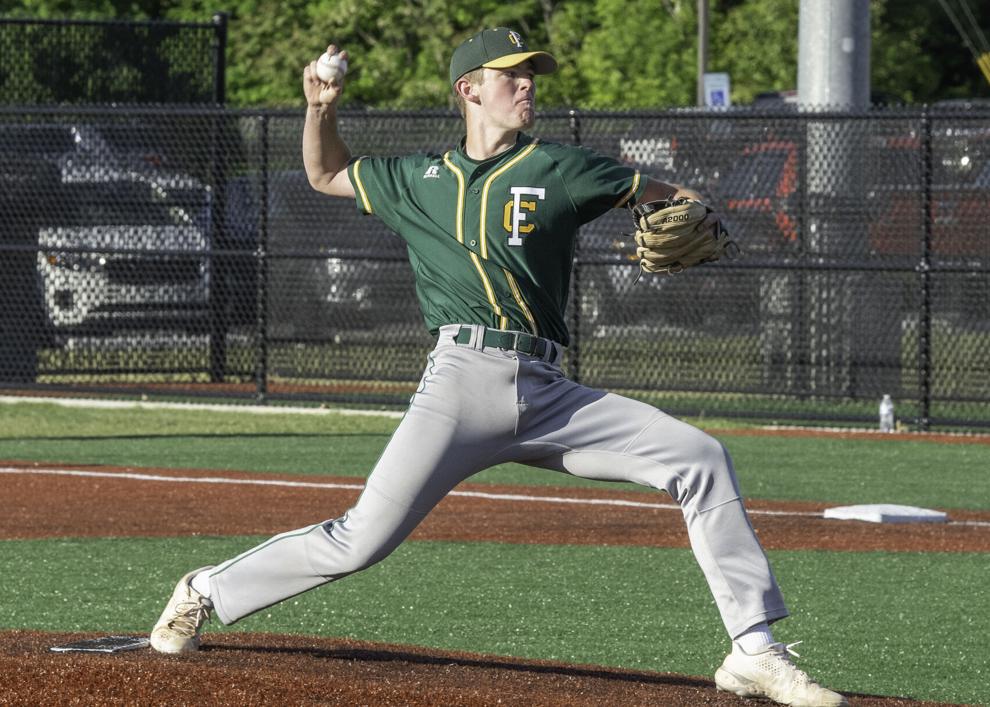 Polk picked up the victory on the mound, allowing three earned runs on three hits while walking two and striking out six. Letson secured the save by walking one and striking out two.
Tiesing took the loss, allowing five runs (three earned) on six hits while walking two and striking out six in a complete-game effort.
"I think Landon threw 108 pitches and 107 of'em he had perfect control. We wanted that ball outside a little bit, and I know he wanted it outside too, on that leadoff double (in the seventh)," New Albany coach Chris McIntyre said. "He deserved a better fate. We really let him down defensively today. He just pitched a tremendous game. I told him if he took a test he got a 99 percent. He really just pitched outstanding."
The Bulldogs (17-5), who'll visit Madison on Friday evening in the third-place game, finished with as many hits as errors (three) in the loss.
"I'm really disappointed in the way we played defense today, because we've been a decent defensive team all year," McIntyre said. "We played just terrible defense. Even on some balls that go in as hits they should be caught. And offensively, we had some wild swings. I thought we were very undisciplined at the plate."
HOOSIER HILLS CONFERENCE TOURNAMENT
Wednesday's semifinal at Mt. Tabor Field
FLOYD CENTRAL 5, NEW ALBANY 3
Floyd Central 200 100 2 — 5 6 0
New Albany   100 002 0 — 3 3 3
W — Tristan Polk (5-0). L — Landon Tiesing (6-1). SV — Bishop Letson. 2B — Andrew Clements (NA), Jake Thompson (FC), Max Tripure (FC), Letson (FC). HR — Tucker Biven (NA). Records — Floyd Central 16-5, New Albany 17-5.