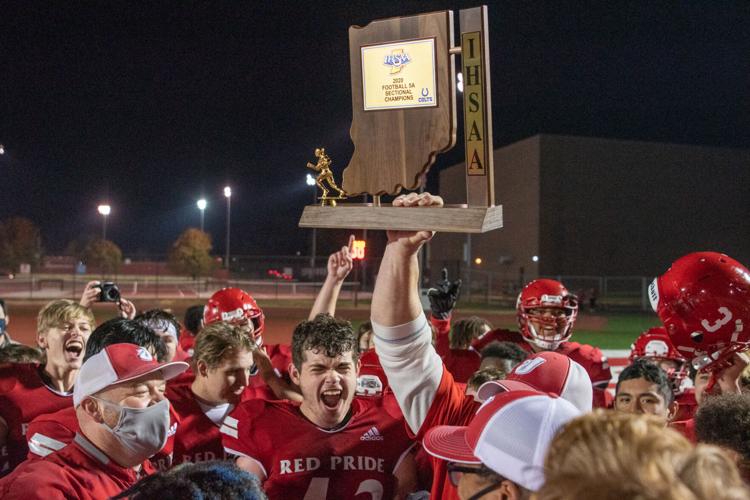 Down! Set! Hut! Welcome back to the Southern Indiana Tuesday Morning Quarterback, where we look back at the news, notes and quotes from the local high school weekend that was. This is the final installment of the 2020 season.
Surprisingly Jeffersonville was the last local team standing, but it was a memorable season not just for the Red Devils. Several area squads had accomplished campaigns.
With that in mind, let's take a quick look back — and ahead — for the eight area teams in Clark and Floyd counties.
CLARKSVILLE (3-7)
The Generals started off the season strong, winning three of their first four games (and if not for a couple of key plays in a loss to Charlestown they could've been 4-0).
Clarksville struggled down the stretch, though, losing its final five regular-season games — against the top five teams in the Mid-Southern Conference — before falling 62-38 to Paoli in a first-round sectional game.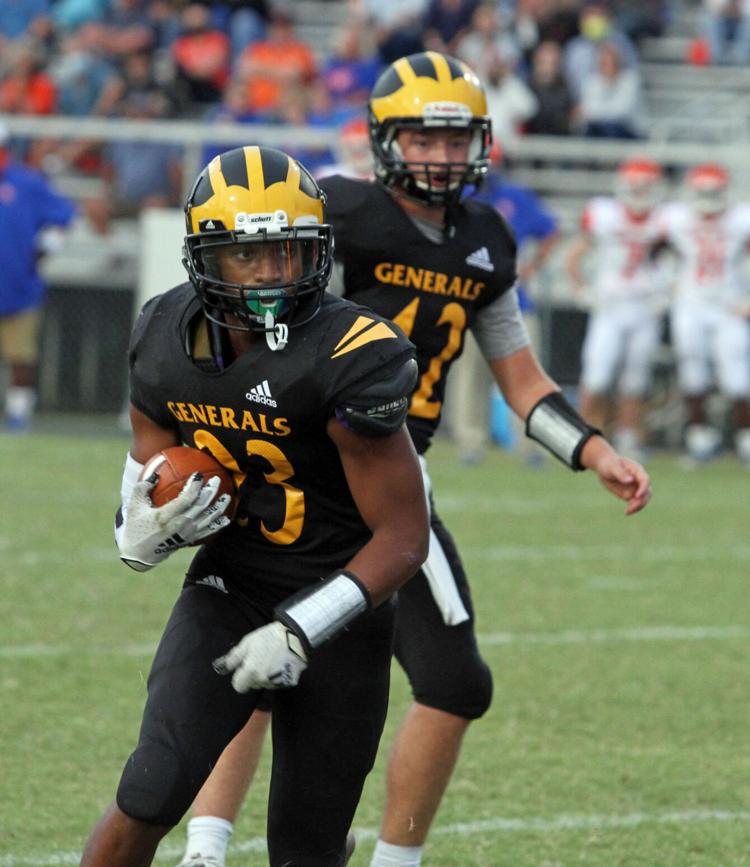 "This season really was split into two halves," Generals coach Justin Boser said. "The first half we started 3-1 and were doing good things offensively and defensively. The second half we struggled playing the top five teams in the conference. We struggled to come up with stops on defense and we were hot-and-cold on offense. Overall, I still believe we took another step forward as a program.
"We faced a lot of adversity this season. From personal loss, to key injuries and a six-game losing streak to end the season. All that being said I believe our last week of practice was one of our best of the entire season and it felt like we were going to be able to compete and win in the first round. Unfortunately, we committed too many turnovers and fell short. I want to thank our seniors who have been the cornerstone of this program. There is still work to be done, but I believe we have many pieces returning that can lead us to more improvements next season."
Clarksville is slated to lose eight seniors to graduation. Included among those are quarterback Keyshawn Minor (1,268 passing yards and 11 touchdowns), leading receiver Dae'von Fuqua (26 receptions for 589 yards and six TDs) and No. 3 receiver Marquis Forward (11 catches for 216 yards and three TDs), as well as six of their top eight tacklers — Austin Hattabaugh (73 stops), Fuqua (70), Sam Stewart (55), Forward (44), Jake Cummings (42) and Larry Spaulding (30).
The Generals, though, should return leading rusher Robert Lamar (1,149 yards, nine TDs), who was also the team's No. 4 tackler (51 stops), as well as No. 5 tackler Bryan Ramirez (47 tackles).
CHARLESTOWN (3-7)
The Pirates split their first four games, losing at Silver Creek and Brownstown before winning at Clarksville and outlasting North Harrison in their first game on new-and-improved Dutch Reis Field.
Charlestown, however, lost five of its final six, including a 36-0 setback to Greensburg in the first round of the sectional. In that stretch was a loss at Scottsburg in which the Pirates had less than 20 players mostly due to COVID-19.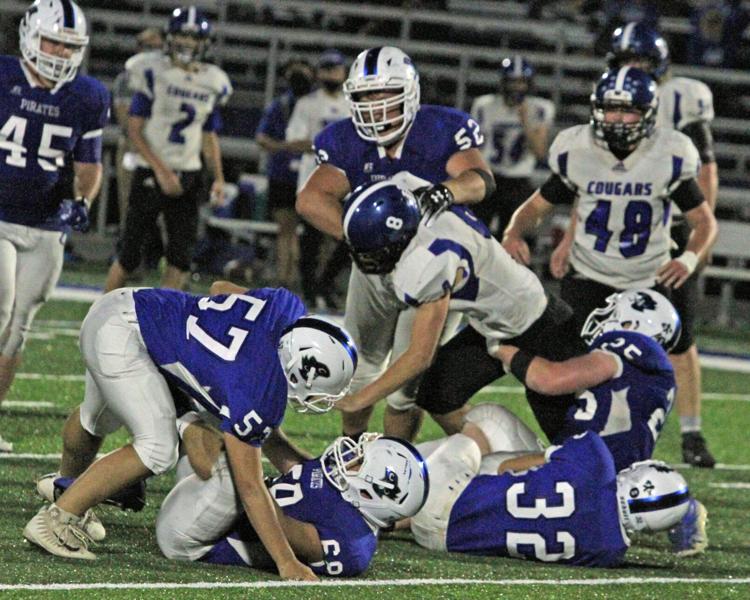 "This year was a tough year all around with being young and having a few quarantines. We never really got in the groove that I thought we could," Charlestown coach Jason Hawkins said. "We are hoping for a more normal season in '21."
Hawkins will lose eight seniors to graduation, including leading receiver Matthew Henning (16 catches for 481 yards and six TDs), along with several key defensive players. Among those are tackle monster middle linebacker Deke Brown (129 stops), linebacker Brody Wagers (68 tackles), lineman Lucas Gagnon (50 stops) and defensive back Kyle Craig (two interceptions).
The Pirates, though, should return quite a bit, especially on offense. Included among those are junior offensive lineman Kiyaunta Goodwin (who is rated among the top players in the nation at his position), quarterbacks Chase Benner and Clay McClelland, as well as leading rushers Deven Lukes (543 rushing yards, five TDs) and Jaron Almeciga (325 rushing yards, two TDs).
FLOYD CENTRAL (7-3)
The Highlanders entered this season with high hopes and for the most part lived up to those expectations, in the regular season at least. The defending sectional champions, however, were upended by Jeffersonville in the sectional semifinals.
"I was very pleased with the young men's efforts all season long. With all the obstacles they had to overcome and put together 7-3 season was great. Although we were all disappointed the way it ended, it was still a very good season to hang your hat on," Floyd Central coach James Bragg said.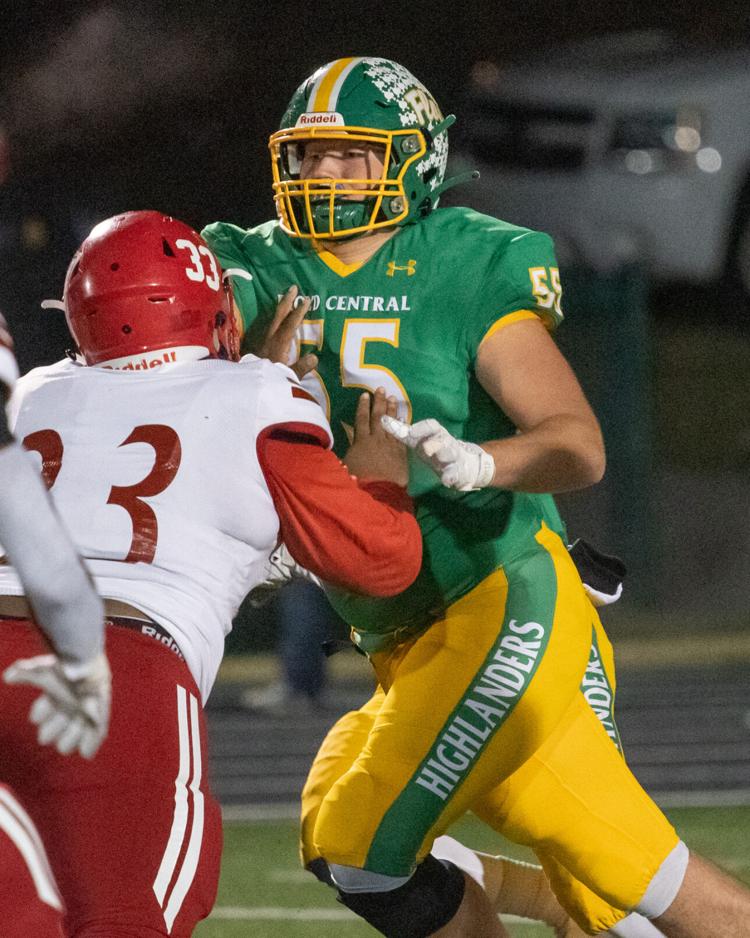 The Highlanders will be hit hard by graduation, as they're set to lose 20 seniors. They'll be most impacted on offense, where they'll lose quarterback Tristan Polk (1,585 yards, 19 TDs), leading rusher Wenkers Wright (nearly 1,300 yards, 16 TDs), leading receiver Kaleb Quenichet (25 receptions, 505 yards, 7 TDs in only five games) and nearly the entire offensive line anchored by tackle Zen Michalski, who is planning on enrolling early at Ohio State. On defense, they'll lose their top four tacklers — Colin Cummins (55 stops), Trace Richards (46), Andrew Spurgeon (41) and Caleb Slaughter (38).
On the bright side, Floyd will return second-leading receiver Eli Branham (17 catches, 403 yards, two TDs), lineman Brandon Fessel, wide receiver/free safety Zac Hutslar (31 tackles) and kicker Max Grangier in 2021.
JEFFERSONVILLE (5-6)
The Red Devils had a season to remember, especially the latter half of it. Jeff lost five of its first six games, including two at Floyd Central. The last of those losses was a first-ever on-field defeat to Madison on the night the Red Devils made their debut at revamped Blair Field.
What followed was a remarkable run. It included a 41-14 win at Jennings County and a 20-19 come-from-behind victory at Bedford North Lawrence to close the regular season. Next came an upset of seventh-ranked Floyd in the sectional semifinals, then a 35-25 triumph over archrival New Albany for the program's first sectional title in 13 years. Jeffersonville's surprising surge came to an end last Friday night with a 49-7 loss at Castle in the regional championship.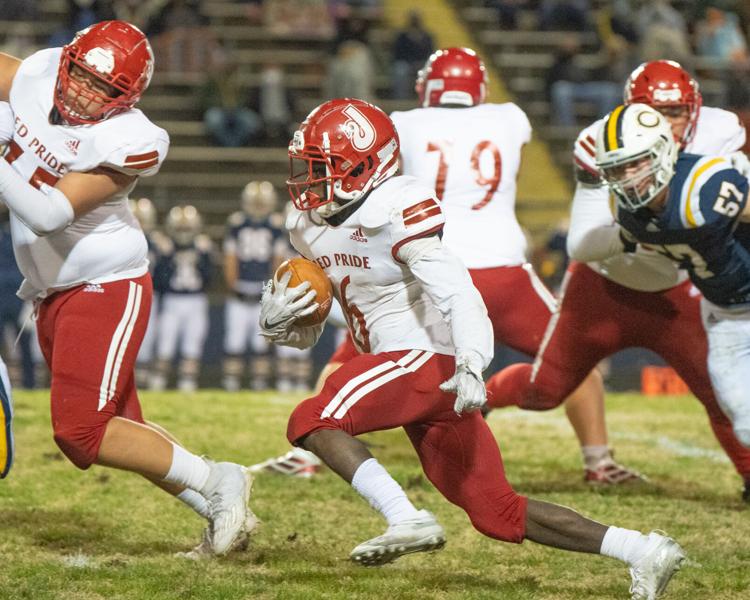 "I couldn't be more of them," Red Devils coach Isaac Parker told WLKY-TV after the game. "My heart's full. I love'em to death. They're part of something special and I'm glad I got to be part of something special in their life too. We'll be alright. They'll be OK too."
Jeff is slated to graduate nearly 20 seniors from this season's squad. Included among those are leading rusher Jordan Ferguson (more than 1,500 yards), playmaker Deydrian "Dey Dey" Hughes, receiver Jadehn Debnam and four starting offensive linemen — Matt Munoz, Cameron VanCleve, Tyson Mimms and Jacob Griffin. Defensive standouts Jordan Wagner, Jalon Cobbs, Dave Pratt and Michael O'Brien are also set to depart, as is kicker Gafred Altamirano.
The Red Devils' returning cupboard won't be bare. They should bring back quarterback Cole Phillips, receiver Caleb Thomas, offensive lineman Colin Corbin, playmaker Tyson Maddox, defensive end Isaiah Martin, linebackers Evan Clayton and Wesley Jones, as well as defensive back Davarhy Julian.
NEW ALBANY (6-3)
The Bulldogs started strong, winning their first three games, before loses to Floyd Central and at Columbus East. They then had a game at Bloomington North canceled due to COVID-19 before they closed the regular season with three more wins. After Bedford decided to end its season early, New Albany received a bye into the sectional final, where it lost a halftime lead and the game to Jeff.
"Working through a pandemic, our kids did a great job," Bulldogs coach Steve Cooley said. "To end up 6-3 and to have two games canceled due to COVID (was difficult). The team fought through the challenges of the season and did everything we asked of them to stay healthy and make smart decisions in order to play a season.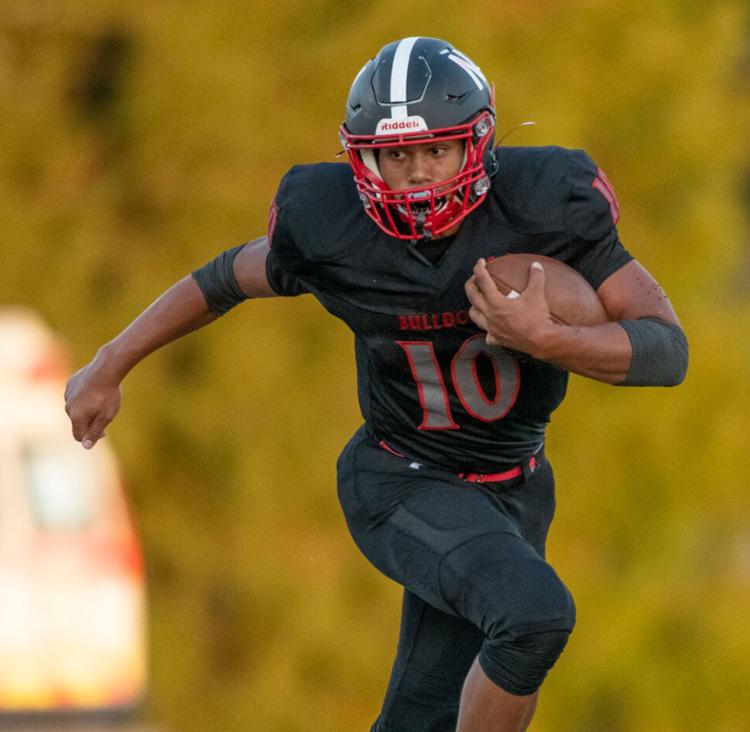 "I was proud of our senior leadership that came through for the team many times throughout the season."
New Albany will lose eight seniors to graduation. Included among those are center Nick Wood, offensive tackle Chris Cosby, tight end/defensive lineman Kaiden Calloway and linebacker Brendon Sandven, who was injured early in the season.
On the flip side, the Bulldogs are slated to return 18 starters next season. Among those are quarterback Derell Simmons, leading rushers Myles Johnson and Kyondre Winford, leading receivers Ja'raylan Johnson and Dejon Winburn, as well as top tacklers Avarion Chambers and Darrius Lewis Hickenbottom.
With that in mind, New Albany should be the top team in the area in 2021.
PROVIDENCE (4-6)
The Pioneers got off to a slow start in Daniel McDonald's debut season, losing to Floyd Central and Silver Creek before a narrow defeat to Clarksville.
After that, though, Providence turned the corner. The Pioneers won four of their next six games, including a 42-7 triumph at Union County in the first round of the sectional. Providence then earned its fourth straight berth into the sectional final after Mitchell withdrew from the semis due to COVID-19. In the championship game the Pioneers fell to fifth-ranked, one-loss Triton Central on the road.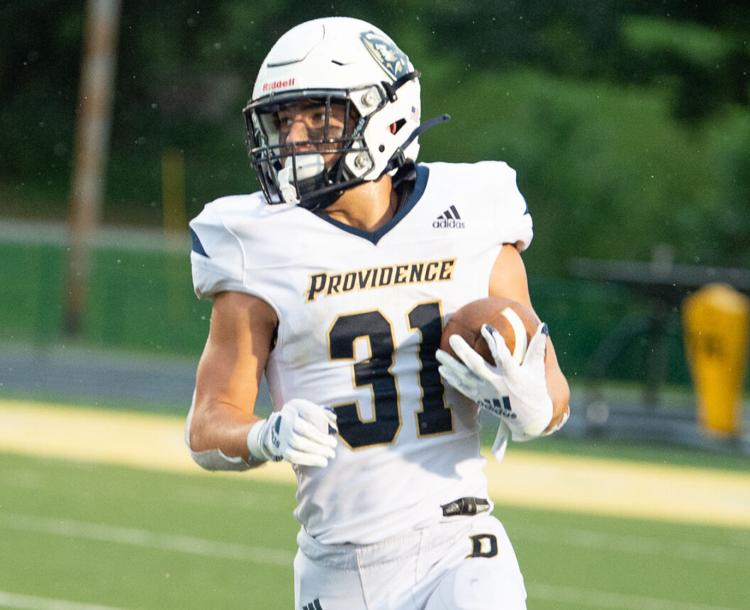 "The 2020 season was overshadowed by the constant presence of COVID-19. The team dealt with a barrage of quarantines, game cancellations and schedule changes, but never allowed the virus to deter them from their goals of always giving relentless effort, demonstrating character first and placing the team's needs before their individual desires," McDonald said. "In the years to come, we will look back on these nine seniors: Carson Heldman, Jaxon Murphy, Isaac Ohlmann, Weston Kaiser, Jeremy Gettelfinger, Kole Krininger, Nathan Striby, David Wall and Michael Vaughn, as the class that laid the foundation for our future success. They could have allowed the adversity and uncertainty that encompassed the entire year as an excuse to go through the motions and not lead our young team in a positive manner, but they chose to give relentless effort, and set the stage for future Pioneer football players to enjoy much success."
Gettelfinger topped the team in rushing (1,118 yards) and tackles (66), while Murphy compiled over 1,000 all-purpose yards, 51 total tackles and had five consecutive games with a forced fumble. Wall recorded five sacks, Heldman had 44 total tackles and was the team's leading receiver while Striby missed only one extra-point kick all season.
Replacing those aforementioned seniors won't be easy, but McDonald has several younger players who earned valuable varsity experience this season. Included among those are second-leading tackler Craig Bratcher (53 stops), offensive lineman Grayson Abel and a handful of freshmen, including Brian Wall, who started every game on offense and defense.
ROCK CREEK (0-6)
It was a rough season for the Lions, who went winless and were outscored by an average of 40.3 points per game to 6.5.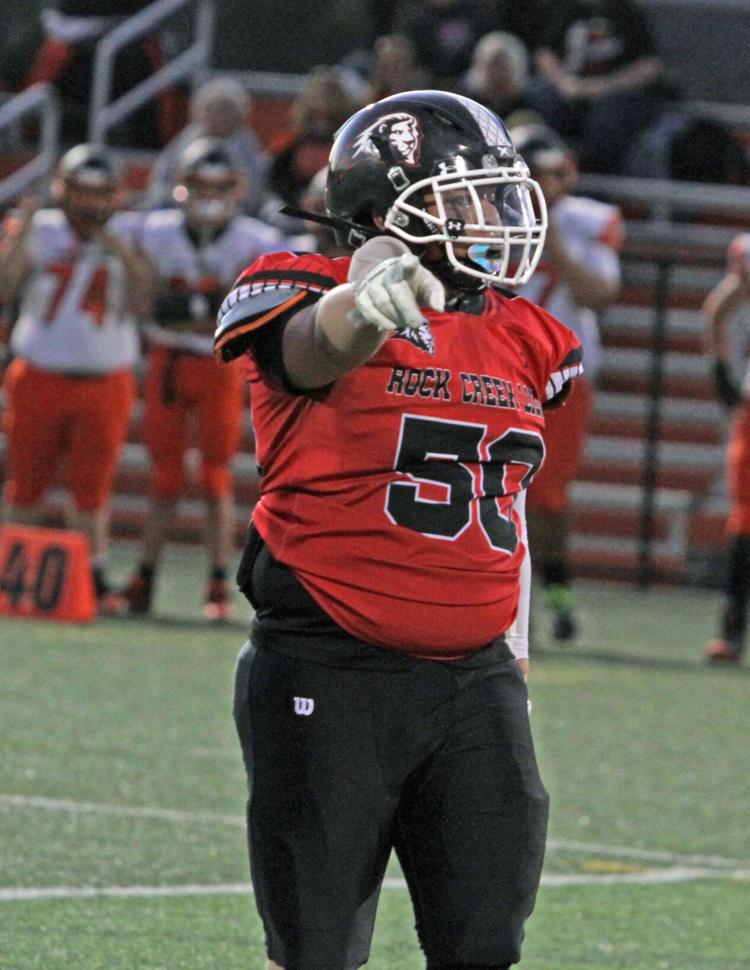 "This year was one to remember to say the least," Rock Creek coach Josh Caldwell said. "It was very frustrating at times, I don't know that we played with the same team — as far as our players — more than once during the season. We had some games, that I thought were momentum-builders for us, get canceled, which changed the course of the rest of the season. Our guys never seemed to be able to get into a rhythm. I know that our team was better than our 0-6 record, possibly the best team we've had here at RC. I'm confident that we can make Rock Creek football a force in 1-A football, and I look forward to being able to make that happen. We currently only have three seniors in next year's class but we look for Kendrick Peyton, Samuel Alcorta and Dakota Nichols to have big senior campaigns for us. I wish we would have had a better season for the seniors that we are losing. I can't thank those six enough for their contributions to our program, especially Joshua Muhammad, a four-year starter."
In addition to Muhammad, the Lions will also lose Keelan Payne. However, they're slated to return Peyton, Alcorta, Nichols, Ashton Mozee, Jaleb Treat, Seth Sleepe and Chris Graham.
SILVER CREEK (9-1)
It was a benchmark season for the Dragons. They went undefeated during the regular season and also won their first-ever Mid-Southern Conference title thanks, in part, to their first victory over Brownstown Central. Creek's season, though, came to an unceremonious end with a 35-0 loss to fourth-ranked East Central in the first round of the sectional.
"The season that we had was special as a whole for several reasons," Dragons coach Dave Papenhaus said. "First with everything going on with the pandemic, I feel that football gave our kids a much-needed release. There was so much uncertainty with everything in their lives, this season gave the kids some stability and structure. Going undefeated in the regular season and winning the conference allowed the kids to be a part of something that had never been done at this school before. I am very proud of the way that the kids, and coaching staff, were able to navigate all of the procedures and protocol associated with a pandemic, and yet be successful each week and still make the season fun."
Creek is slated to lose 16 seniors to graduation. Included among those are starters Logan Myers, Drake Spears, Dane Logwood, Tim Clark, Jack Slater, Ben Landers, Dylan Meyers, Jake Lucas, Bryson Gatlin, Cole Knox, Ryley Gunther and Jonathan McIntyre. Landers ran for a team-best 1,167 yards and 17 TDs while Meyers completed 61.6 percent of his passes for 829 yards and 13 touchdowns.
"This group of seniors was a really special bunch of kids," Papenhaus said. "They will go down as the winningest class that has come through the program to this point. This group has been a part of 31 wins in their four years. For a program that has only been in existence for 10 seasons, they have definitely been a driver of our success. We have very high expectations for the football program here at Silver Creek, and this group of seniors set the standard for all of the classes behind them. We have a lot of work to do this offseason, but the foundation was laid and I have no doubt that our kids will put in the work that is required."
The Dragons will look to build off this season in 2021 with the return of several key contributors. Included among those expected back are running back LaShun Mays Jr. (680 rushing yards, 12 TDs), playmaker Trey Schoen (1,176 all-purpose yards, 13 TDs) and tight end/defensive end Myles Rountree.