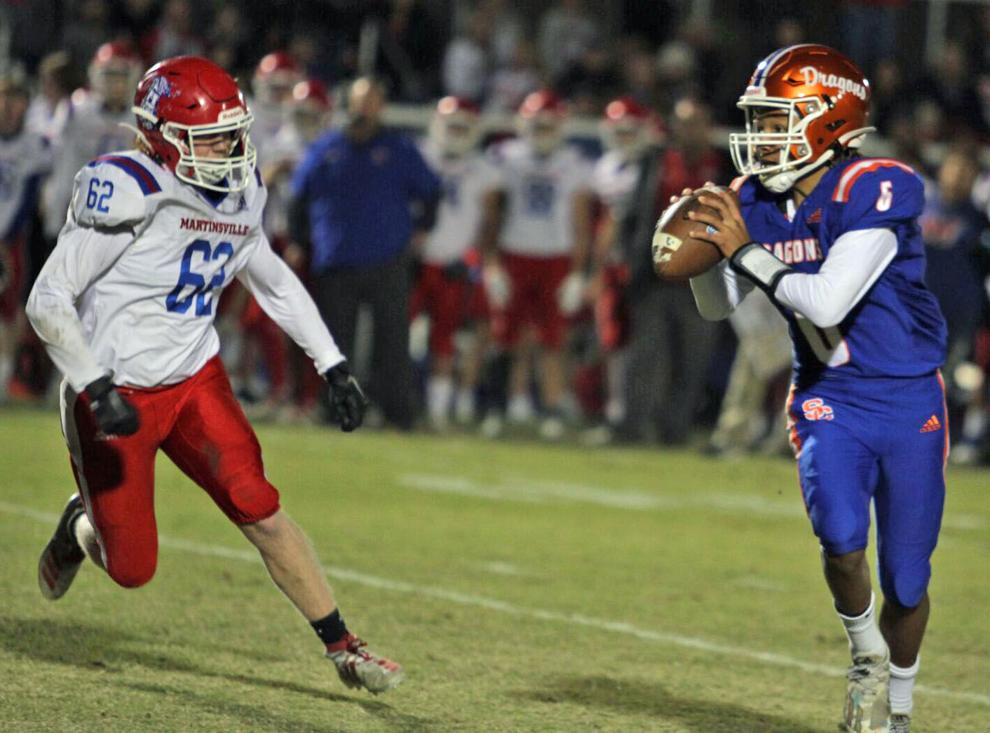 SELLERSBURG — Silver Creek picked the wrong time to have a subpar performance.
Martinsville took advantage of some mistakes by the Dragons in a 33-13 win in a Class 4A, Sectional 23 first-round game Friday night.
"Bad night to have a flat night," Silver Creek coach Dave Papenhaus said. "We turned the ball over early and gave them a short field."
The game didn't start off well for the Dragons (5-4). On their first possession freshman quarterback Darius Gray couldn't handle the snap from center and the ball rolled deep into Creek territory before it was recovered by the Artesians at the 9.
On Martinsville's second play, Brayden Shrake went around left end for a 9-yard touchdown. Ethan Haenlein's kick gave the Artesians a 7-0 lead with 7 minutes, 8 seconds left in the first quarter.
"It's not a good way to start off the game to give them their first score," senior Trey Schoen said. "It seems like we punished ourselves there."
Silver Creek then had what appeared to be a promising drive that started at its own 25. The Dragons drove to the Martinsville 16, but were stopped on fourth down.
The Artesians responded with a long scoring drive that started at their own 11. Martinsville went 89 yards in 16 plays as Shrake scored from the 5. The extra-point kick hit the left upright, but the visitors still lead 13-0. That was the score at intermission.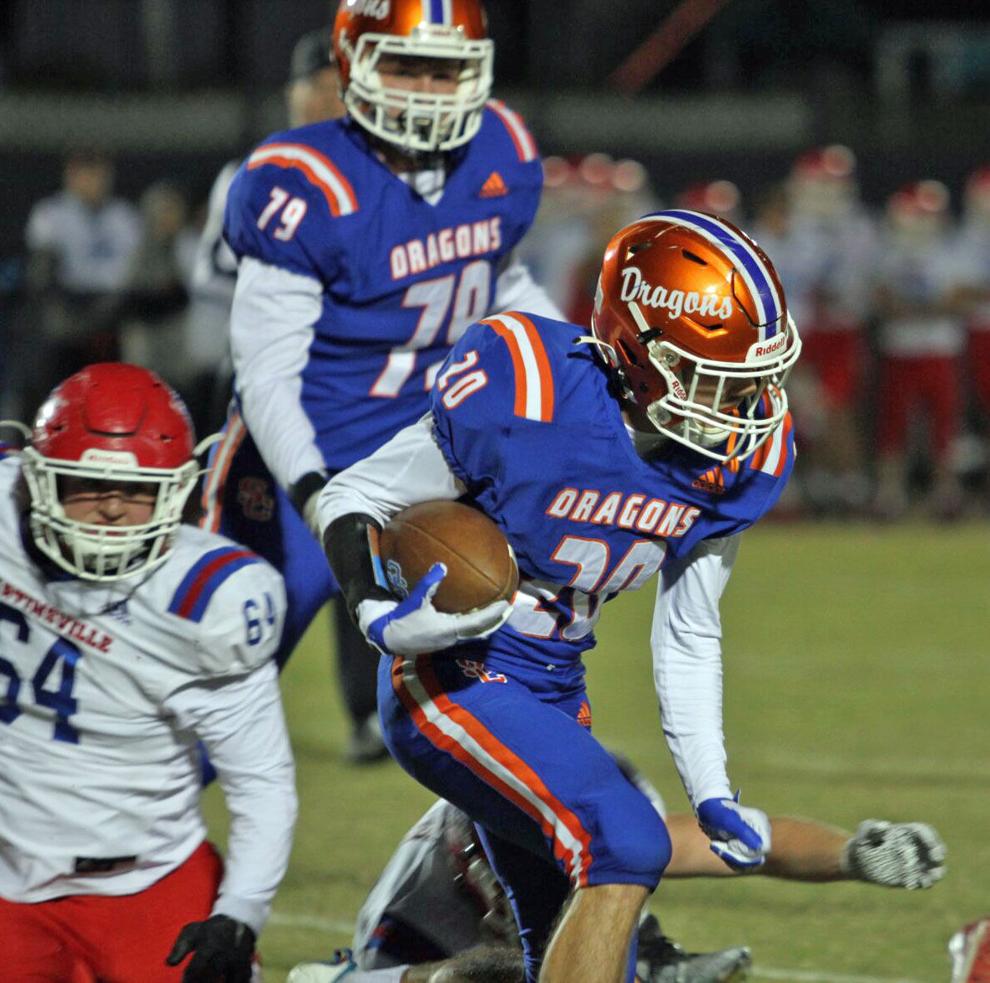 Silver Creek showed some spark to begin the second half as Schoen returned the kickoff 85 yards for a touchdown. He was then stopped on a two-point conversion run, but the Dragons trailed only 13-6.
Martinsville (6-4) then imposed its will on Silver Creek with a strong running game. Shrake, a sophomore, scored three touchdowns and ran for 150 yards on 22 carries.
"We were so focused on their passing game," Schoen said. "I wouldn't say we overlooked their running game, but they came out and did both. They showed they are a good team."
Shrake also blocked a Ben Bluehs punt and returned it for a touchdown late in the third quarter to put the Artesians up 19-6.
"We've been running that punt (play) 15 years and that's the first one that's been blocked," Papenhaus said.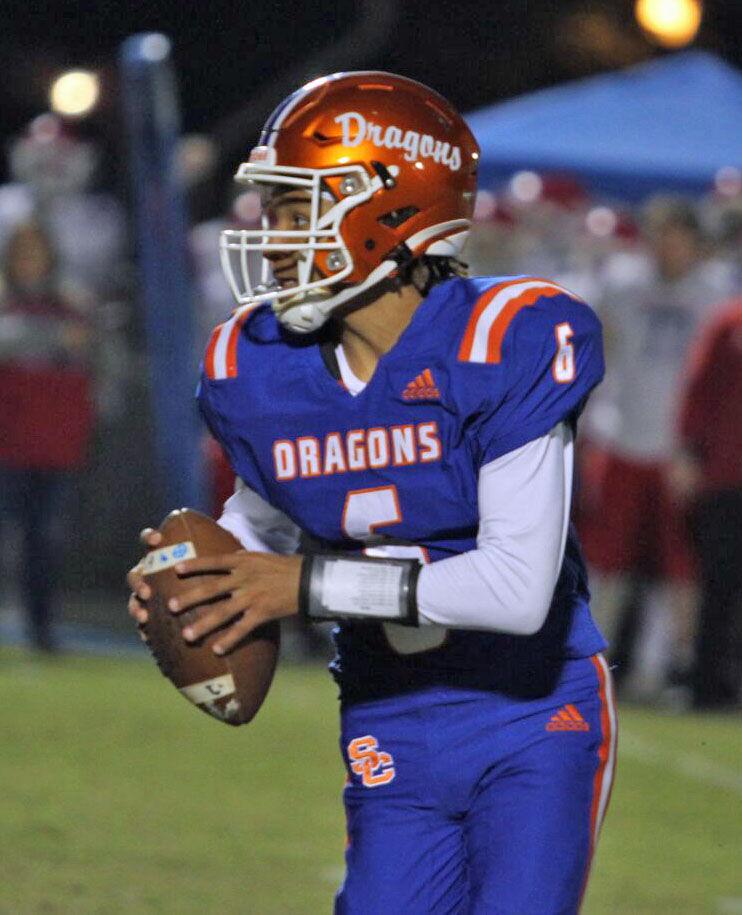 Martinsville scored again early in the fourth quarter when Philip Herbert made a leaping catch in the right corner of the end zone with 11:46 to play. Later, Chase Mabry's 2-yard TD run, and Haenlein's kick, gave the visitors a 33-6 lead.
The Dragons tacked on a late TD as Schoen ran 29 yards for a score. He finished with 99 rushing yards on 17 carries in his final game.
"I hate it for these seniors. I felt we had a good game plan," Papenhaus said. "We marched the ball up and down the field, but that team has an explosive offense."
.
CLASS 4A, SECTIONAL 23
First-round game at Sellersburg
MARTINSVILLE 33, SILVER CREEK 13
Martinsville     7     6     6     14 — 33
Silver Creek     0     0     6     7 — 13
SCORING SUMMARY
First quarter
     M — Brayden Shrake 9-yard run (Ethan Haenlein kick), 7:08. 
Second quarter
     M — Shrake 5 run (kick failed), 4:58. 
Third quarter
     SC — Trey Schoen 85 kickoff return (run failed), 11:48.
     M — Shrake 20 blocked punt return (kick failed), 2:31.
Fourth quarter
     M — Philip Herbert 24 pass from Tyler Adkins (Haenlein kick), 11:46.
     M — Chase Mabry 2 run (Haenlein kick), 4:43.
     SC — Schoen 29 run (Carley Troutman kick), 3:13. 
INDIVIDUAL STATISTICS
Rushing
     Martinsville: Brayden Shrake 22-150, Tyler Adkins 3-17. 
     Silver Creek: Trey Schoen 18-125, LaShun Mays Jr. 14-49, Darius Gray 7-16, K.D. Powell 4-6, Wyatt Hoffman 1-(-1).
Passing
     Martinsville (12-20-0-108): Adkins 12-20-0-108.
     Silver Creek (4-11-0-17): Gray 4-11-0-17. 
Receiving 
     Martinsville: Chase Mabry 3-35, L. Cheatham 6-26, Herbert 1-24, G. Skaggs 1-16, B. Dilley 1-7. 
     Silver Creek: Powell 1-8, Myles Rountree 1-6, Nate Davidson 1-3.