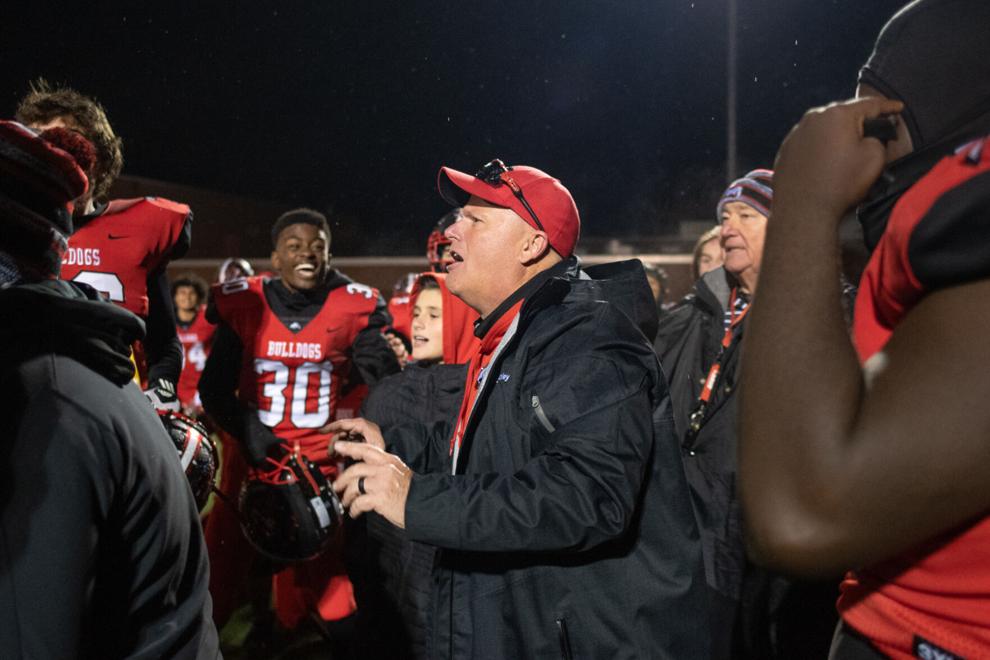 NEW ALBANY — There's no doubt that the New Albany Bulldogs will be the underdogs in tonight's Class 5A south semistate game against Indianapolis Cathedral.
But that's just fine with them.
"It's good playing a team coming in as the underdog," 'Dogs senior quarterback Derell Simmons said. "Them overlooking us, all we've got to do is just come over there and smack'em in the mouth. We've got nothing to lose.
"We've made so much history already. It's just a blessing playing here."
Indeed tonight's New Albany (9-3) at Cathedral (12-1) contest, which is slated to kickoff at 7:30 p.m. at Arsenal Tech's Howard Longshore Stadium in Indianapolis has all the makings of a David vs. Goliath matchup.
The Bulldogs enter the game unranked while the Fighting Irish, the reigning state champs, come in as No. 1.
New Albany is coming off its first-ever regional title while Cathedral captured its 20th regional championship last Friday night.
Oh by the way, the Fighting Irish have won 13 state titles while the Bulldogs have never even appeared in a championship game.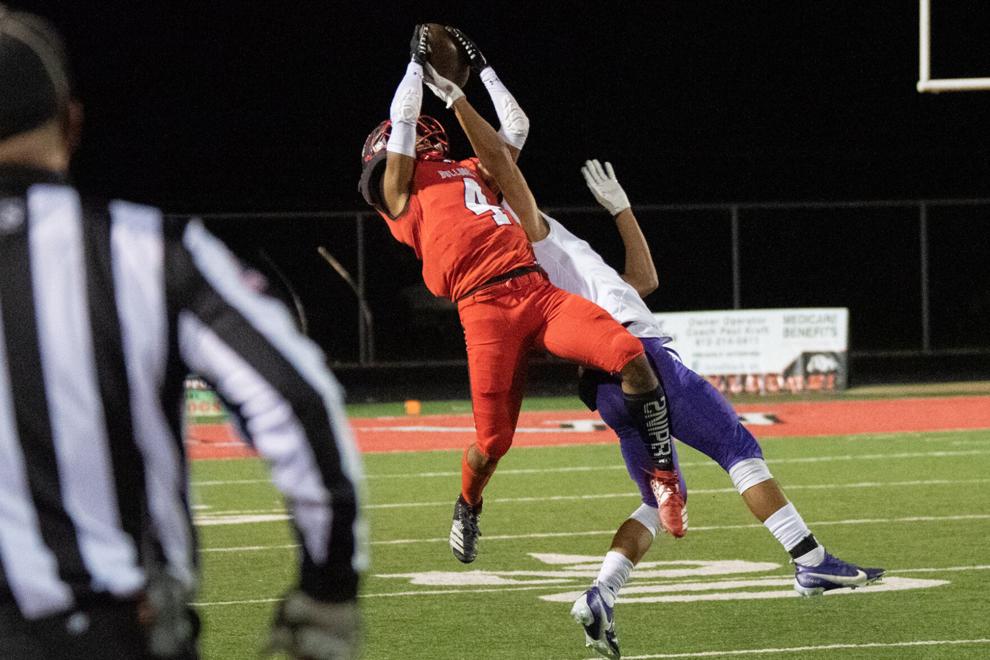 "It looks like we're playing the Fighting Irish of Notre Dame, but you know what, we're going to give everything we can," New Albany coach Steve Cooley quipped earlier this week.
The winner of tonight's clash will advance to the 5A state final, which is scheduled for 7 p.m. next Friday night at Lucas Oil Stadium.
Cathedral and New Albany are two of the oldest programs in the state. They've met 11 times since 1923. The Fighting Irish, who have the most victories (759) in state history, won the last matchup, 21-15, on Oct. 21, 1933 at Buerk Field.
Cathedral won its first state championship 53 years later in Class 3A. Since then the Fighting Irish have hoisted the trophy 12 more times, including six over the last 11 years. Cathedral outscored Zionsville 46-28 in last season's 5A final.
The Fighting Irish return several key players from that team. Many of them have stepped into much larger roles this season.
New Albany (35.4 points per game) and Cathedral (34.4 ppg) rank 40th and 47th, respectively, in scoring this season.
Six-foot-1 sophomore quarterback Danny O'Neil, who has completed 195 of 316 passes (61.7 percent) for 27 touchdowns against only two interceptions so far this season, triggers the Fighting Irish's offense. O'Neil recently took an unofficial visit to Purdue.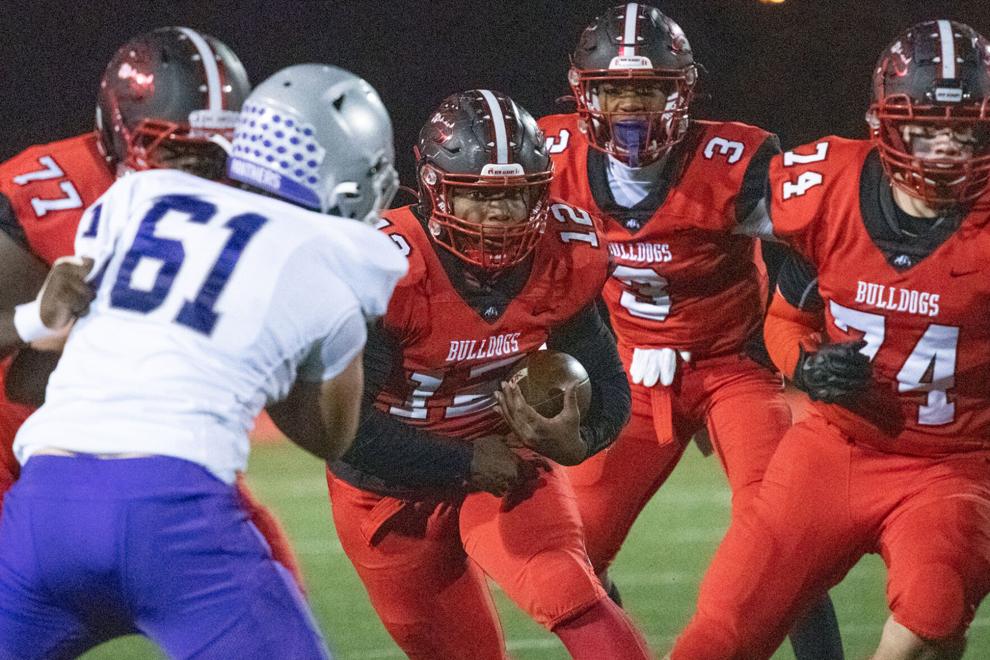 His top target is 6-3 junior wide receiver Jaron Tibbs (54 receptions for 860 yards and six TDs). He has plenty of other options, though. Among those are 5-10 senior wideout Michael Page (38 catches for 399 yards and nine TDs), 5-8 senior receiver Tazz Garrett (37 receptions for 450 yards and four TDs) and 6-3, 235-pound junior tight end Brennan Wooten (22 catches for 329 yards and four TDs).
When O'Neil hands off it's usually to 6-0,185-pound senior running back Seth Mencer, who has rushed for 968 yards and 11 TDs.
On the other side of the ball, the Bulldogs give up 29.3 points a game while Cathedral is allowing only eight, which ranks fourth in the state.
The Fighting Irish is led by 6-0, 200-pound senior free safety Bryce Llewellyn, who has a team-high 64 total tackles and eight interceptions. Cathedral also boasts 6-0, 215-pound senior inside linebacker Hudson Miller (60 total tackles, including 21 for losses and nine quarterback sacks) and 6-3, 215-pound senior outside linebacker Jeff Utzinger (57 total tackles, 11.5 TFL, three interceptions).
The Fighting Irish also have a very potent kicking game, led by senior Ben Gomez, who is 49 of 50 on point-after-touchdown kicks and is 15 for 22 on field-goal attempts.
"They do a lot of stuff on defense, with a lot of blitzes. We've got to handle their pressure early, try to get some first downs," Cooley said.
Cathedral's lone loss this season was a 21-6 setback to 6A No. 1 Center Grove, which is generally regarded as one of the top teams in the country.
So Cooley knows his team has a tall task in front of it. But he believes the Bulldogs are ready.
"The kids have had a great week of practice so far, we're focused," the New Albany coach said. "We've got a solid game plan, we've just got to execute. They've got really good players, we've got good players. You get this far everybody's good right now.
"We can't turn the ball over, we've got to get off to a good start and our defense has to play well. ... We're just going to do what we do, and have fun doing it. We'll come out and play as hard as we can."