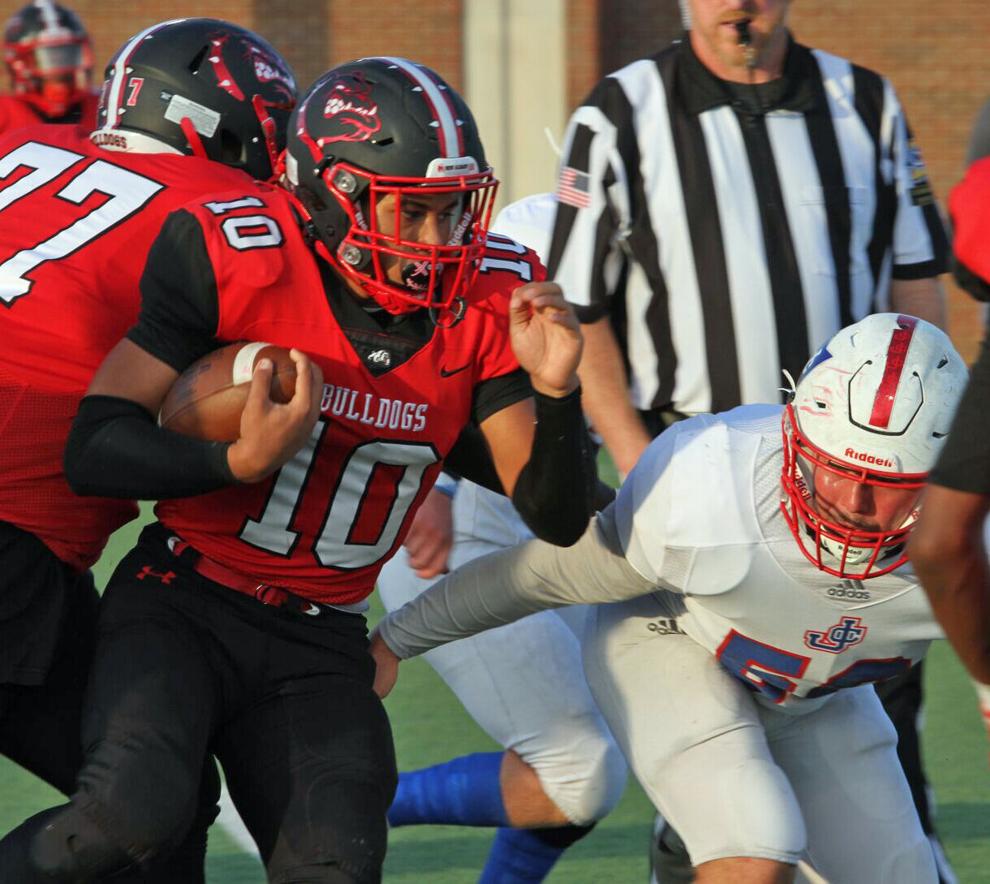 NEW ALBANY — The New Albany team that lost by 30 points at Bloomington South almost three months ago may not look a lot like the squad that takes the field against the Panthers tonight.
That's because the Bulldogs played without seven starters in that 50-20 setback on Aug. 20 in the season-opener for both.
"It was about 97 degrees and we were on a two-hour bus ride and we were missing a whole bunch of players. It was one of those games you could've easily COVID'd out (of)," New Albany coach Steve Cooley recalled. "But I wanted to play. We needed to play. They were better than us that night. They made more plays than we did. It was a close game for awhile."
Indeed, it was a one-score game after Derell Simmons' touchdown pass to Kaden Watson pulled the Bulldogs within 20-13 early in the third quarter. However, it was pretty much all Panthers after that.
"We held them for most of the game, but stuff just slipped and we made a couple of mistakes," New Albany senior offensive lineman Blake Osborne said. "This time it'll be different."
One thing that will be different this time is that the Bulldogs should be at full strength.
Two of those players who missed the first meeting (due to injuries), but will be back for the second are seniors Myles Johnson and DeJon Winburn. Johnson is the team's second-leading rusher (600 yards and 66.7 per game) and its third-leading tackler (102 stops) despite playing in only nine games.
Winburn, meanwhile, is New Albany's second-leading receiver (50 catches for 887 yards and 13 touchdowns) who also has picked off a team-high four interceptions at his defensive back position.
"I didn't get to play the last game, because I got hurt. But I feel great about this game and I feel we can come out with the W," he said.
It certainly won't be easy for the Bulldogs.
South won its first six games before dropping back-to-back games (34-10 at Columbus North and 42-7 at Chatard) to close the regular season. The Panthers have bounced back in the postseason, though. They won 16-14 at Castle in the Sectional 15 semifinals before beating rival Bloomington North 24-17 in the championship game last Friday night.
The South running attack is led by 5-foot-8, 180-pound senior Che Hogue. He ran 16 times for 143 yards and two touchdowns in the win over the Bulldogs back in August.
Meanwhile junior quarterback Zach David triggers the offense. He completed 9 of 18 passes for 141 yards and three TDs, while also rushing five times for 67 yards and another touchdown, in the season-opening victory.
"South's big and physical. They're the same team we played early," Cooley said. "We've got to do a good job of stopping the run. They've got good, hard running backs. Their quarterbacks, they have two of'em that played last week, both of them run the ball well. The passing game is solid. Their defense hasn't given up very many points all year, so we've got to find a way to score some points and control things up front."
On defense the Panthers boast the McCullough brothers, the sons of Indiana University associate head coach/running backs coach Deland McCullough. Six-foot-five, 225-pound senior linebacker Dasan McCullough is a Top 50 recruit nationally who decommitted from Ohio State and committed to the Hoosiers after his dad was hired in February. Daeh McCullough is a 6-2, 190-pound cornerback who has also committed to IU.
"It's going to be a good football game. You get this far, everybody's good," Cooley said.
The game will also be the swan song for New Albany's seniors at Buerk Field.
"Like I told the kids, 'This is the last time you're going to play at New Albany, make your community proud, leave everything on the field and have fun and enjoy the experience,'" Cooley said. "We're on the road next week if we're fortunate to win. For us it's going to be a fun experience and we're going to enjoy it, but we're going to play as hard as we can and see what happens."