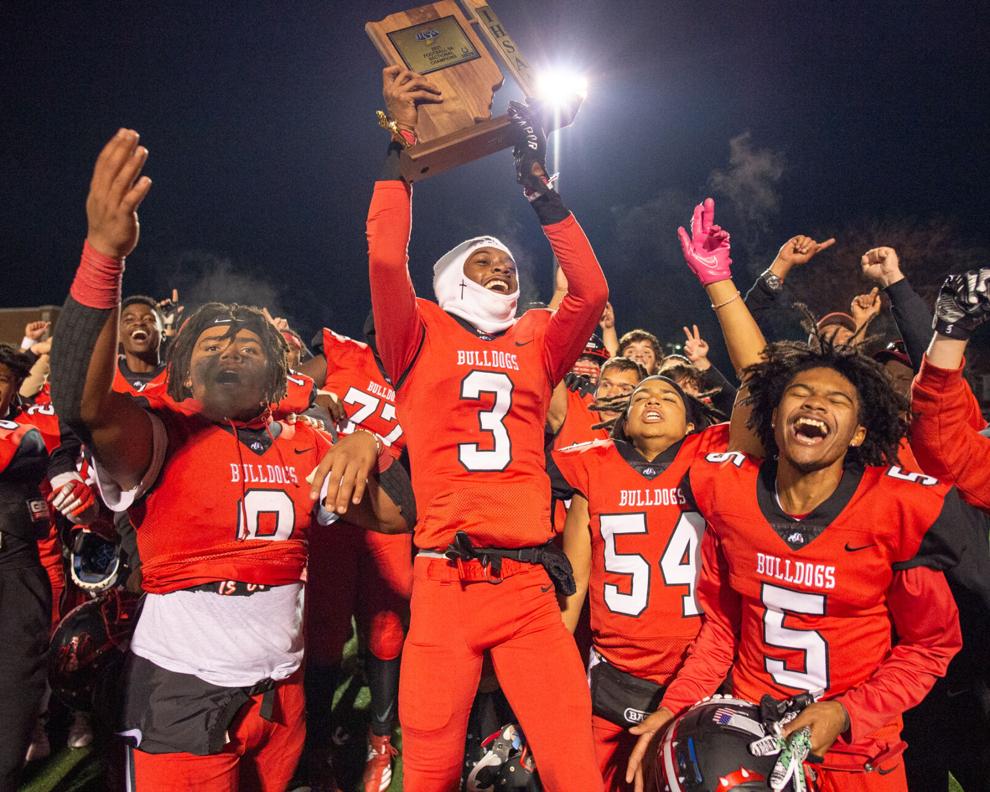 NEW ALBANY — New Albany scored 14 points in the final three minutes and rallied past Seymour 34-27 in dramatic fashion Friday night to claim its first sectional title in 19 years. 
Derell Simmons' 5-yard touchdown pass to Kyondre Winford with 4 seconds left capped the Bulldogs' comeback in the Class 5A, Sectional 16 championship game at Buerk Field. 
"Hats off to our kids, they gave a great effort," New Albany coach Steve Cooley said amid the on-field celebration after the game. 
The Bulldogs (8-3) will host eighth-ranked Bloomington South (8-2) next Friday night in a regional game. The Panthers beat rival Bloomington North 24-17 in the Sectional 15 final. South beat New Albany 50-20 in the season-opener for both back on Aug. 20 in Bloomington. 
The Bulldogs earned a rematch with the Panthers thanks to a heart-stopping victory. 
After Seymour sophomore quarterback Bret Perry scored on a 1-yard plunge with 4:18 to play, New Albany trailed 27-20. 
The Bulldogs quickly answered, though. 
Daquan High took the ball on a reverse, found some daylight on the left side and darted toward the end zone for a 27-yard touchdown run with 2:59 left to get within one.
New Albany then elected to go for the two-point conversion, but Simmons was stopped short of the right-side of the end zone. 
The Bulldogs' defense then came up with an interception of Perry.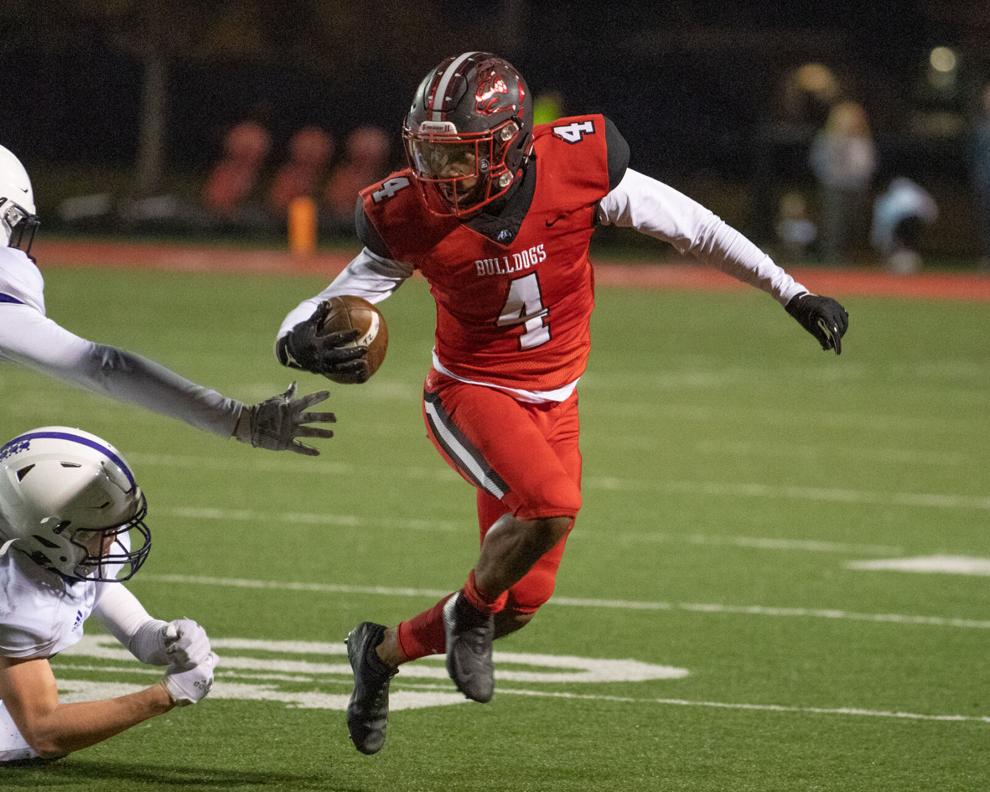 Nine plays later, New Albany had the ball at the Seymour 5 with 10 seconds left.
"Our kids didn't panic," Cooley said. "They took their time. We did what we had to do. ... It was a good finish."
With the clock winding down, Simmons rolled to his left and found Winford in the end zone. 
"I believe in my team," Winford said. "I never had a doubt."
Winford said the play was designed for a sprint out and a possible pass to him. 
"We've got great chemistry and we made eye contact," Winford said. "(The pass) was right on my chest. If I didn't catch that, no one could."
"Me and my receivers — we've got such good chemistry," Simmons added. "It feels great because we've worked so hard."
For New Albany, it was a first half of missed opportunities.
The Bulldogs went 69 yards on their first possession as Simmons scored on a 6-yard keeper with 8:52 left in the first quarter.
After the Owls went ahead 8-7 on a couple of short runs by fullback Cameron Klakamp, the problems started for New Albany.
The Bulldogs twice marched inside the Seymour 10-yard line before running out of downs.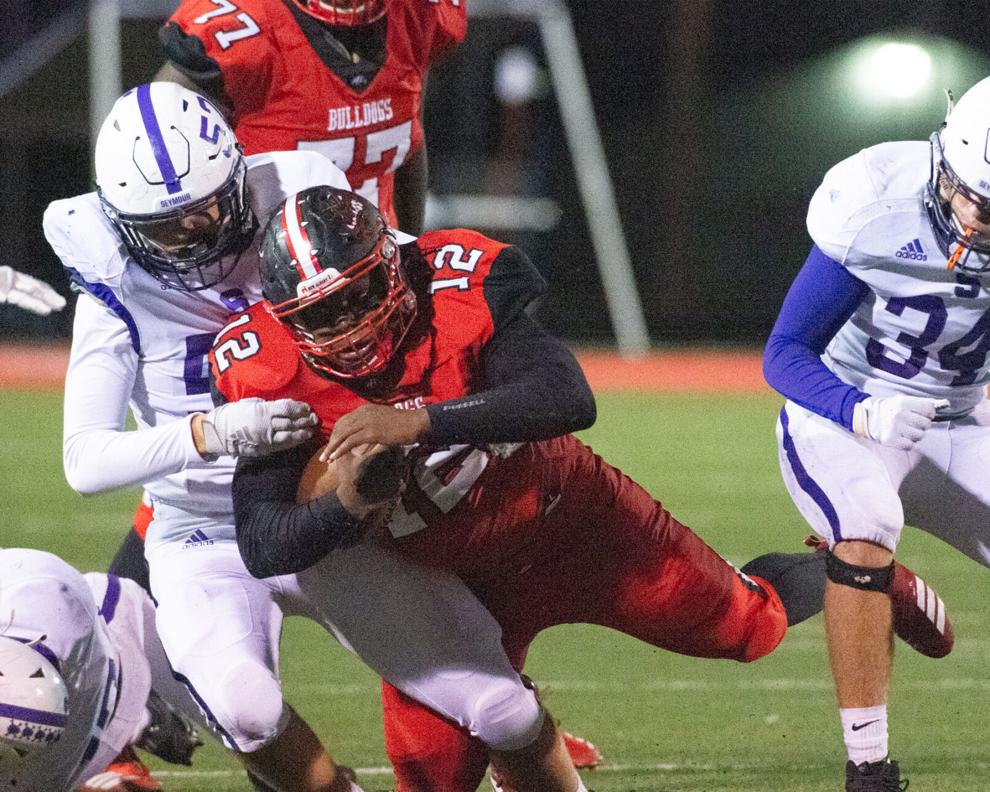 On the first one, New Albany faced a fourth-and-1 at the 6 and Myles Johnson was stuffed right at the line of scrimmage.
Then on New Albany's next possession at the Seymour 3, Simmons threw into the end zone and the ball was knocked away before it reached High.
Seymour went ahead 14-7 on a 6-yard, fourth-down pass from Perry to a wide-open Logan Shelly, who is a freshman.
The win was Cooley's 150th in his career. 
"It's not about me," he said afterward. "It just means I've been around a long time."
.
CLASS 5A, SECTIONAL 16 
Friday night's final at Buerk Field
NEW ALBANY 34, SEYMOUR 27
Seymour          8     6     0     13 — 27
New Albany     7     0     7     20 — 34
SCORING SUMMARY
First quarter
     NA — Derell Simmons 6 run (Zachary Fleming kick), 8:52.
     S — Cameron Klakamp 1 run (Javier Perez Bravo kick), 4:56.
Second quarter
     S — Logan Shelly 6 pass from Bret Perry (pass failed), 7:43.
Third quarter
     NA — Dejon Winburn 25 pass from Simmons (Fleming kick), 4:16.
Fourth quarter
     S — Perry 1 run (Perez Bravo kick), 11:57
     NA — Kyondre Winford 51 run (kick failed), 9:54.
     S — Perry 1 run (pass failed), 4:18.
     NA — Daquan High 27 run (run failed), 2:59.
     NA — Winford 5 pass from Simmons (Winburn pass from Simmons), :04.
.
INDIVIDUAL STATISTICS
Rushing
     Seymour (44-268): Samual Allman 15-121, Cameron Klakamp 7-25, Bret Perry 22-122.
     NA (48-350): Myles Johnson 27-133, Derell Simmons 10-92, Kyondre Winford 10-98, Daquan High 1-27. 
Passing
     Seymour (6-11-1-99): Perry 6-11-1-99.
     NA (10-17-0-94): Simmons 11-18-0-100.
Receiving
     Seymour: Samuel Allman 1-18, Jaylan Johnson 3-40, Dylan Fields 1-35, Logan Shelly 1-6. 
     NA: Ja'raylan Johnson 5-52, Kaden Watson 2-28, DeJon Winburn 3-14, Winford 1-5.