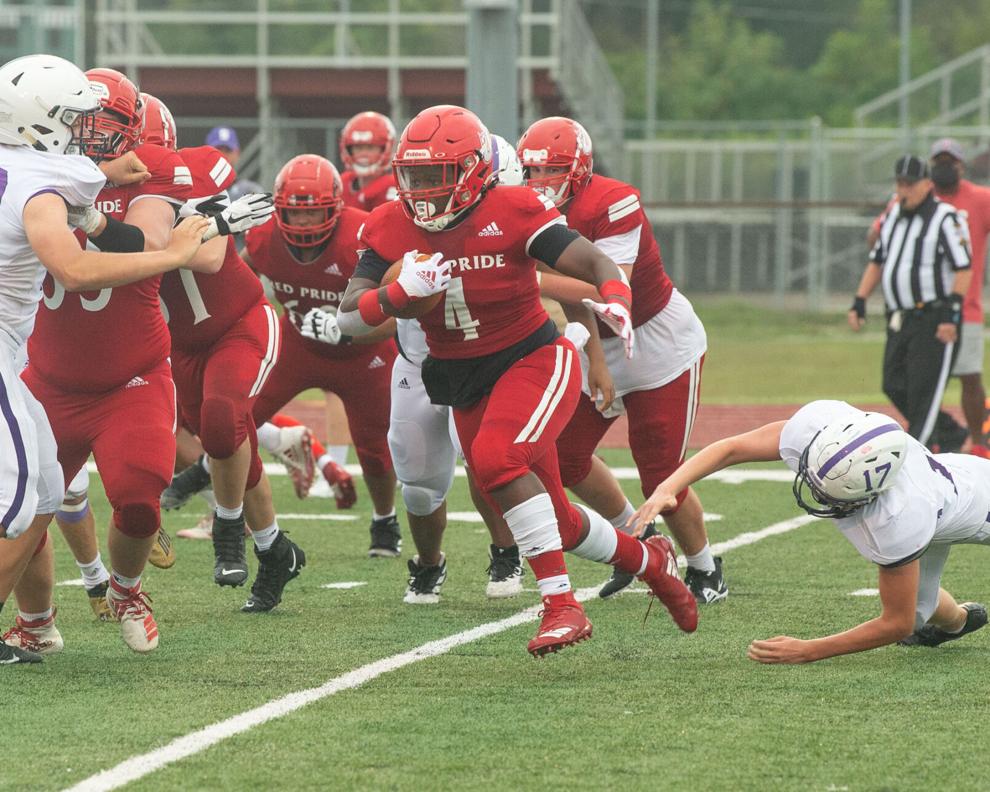 Week 6 of the season kicks off tonight with several intriguing matchups.
Below is a quick look at all of the games involving our area teams.
JEFFERSONVILLE (1-3) AT SILVER CREEK (3-1), 7 P.M.
The first matchup between these two programs (the Red Devils from Class 5A and the Dragons from 4A), who are separated by only nine miles, has the makeup of a very entertaining game.
"Jeff will be the biggest and fastest team that we have seen all season," said Silver Creek head coach Dave Papenhaus, a former Red Devils assistant coach. "We will have our hands full with their passing game and the big running back (Zion Mansfield) will test our run defense. We are going to have to have a great night defensively and we must establish the run in order to put together long drives. We also must be able to finish drives. We have to come up with points every time that we get the chance to score. I'm excited to see how our kids face this challenge."
The game will also pit two teams with female kickers, who also play soccer, against each other. It's junior Carley Troutman for the Dragons and sophomore Hannah Magruder for the Red Devils.
"It's been really exciting," said Magruder, whose soccer teammate Addison Duran is a backup kicker for Jeff.
SCOTTSBURG (4-1, 2-1) AT CHARLESTOWN (3-2, 1-2), 7 P.M.
The Warriors won last year's meeting 24-14 when the Pirates were extremely short-handed due to COVID-19.
Charlestown, which has won three straight since losing its first two games, should have plenty of motivation heading into tonight's rematch.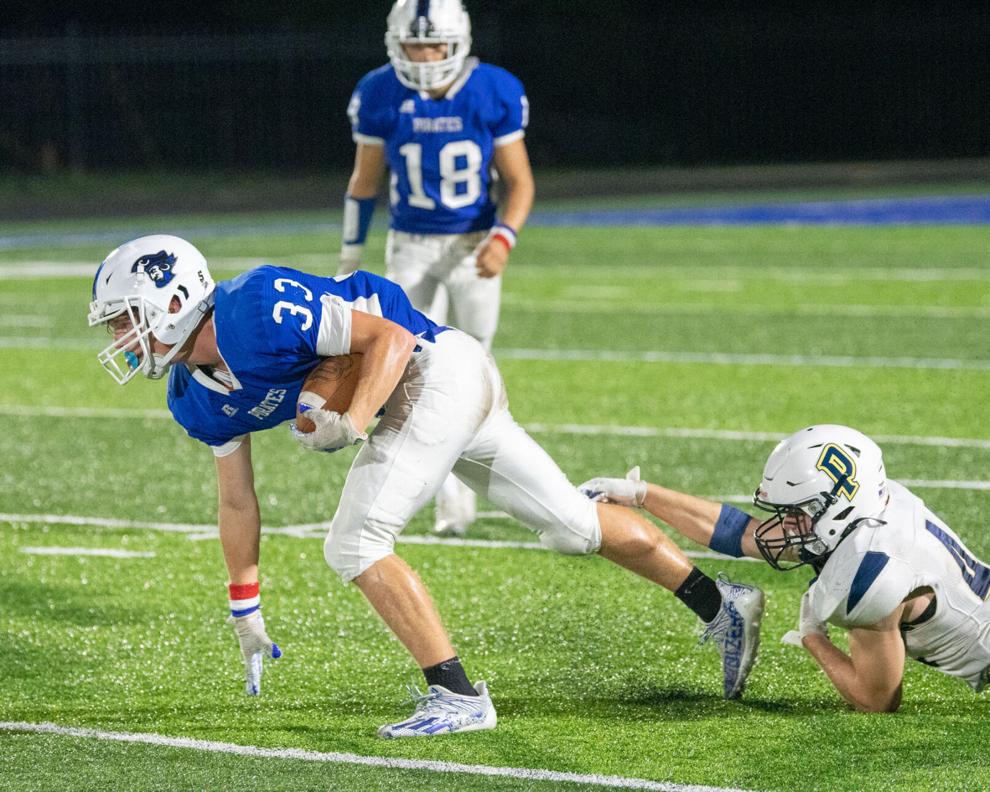 "It's Homecoming, we should be ready to play. We will have to be, playing a good Scottsburg team," said Pirates coach Jason Hawkins, whose team won the three previous matchups against the Warriors by 29.7 points before losing last season.
FLOYD CENTRAL (1-4, 1-0) AT COLUMBUS EAST (1-4, 1-2), 7 P.M.
The Highlanders try to carry over the momentum from last week's 20-13 win — their first of the season — at Jeff.
The Olympians have dominated this series in recent years, winning the last 18 games by an average of 35.5 points.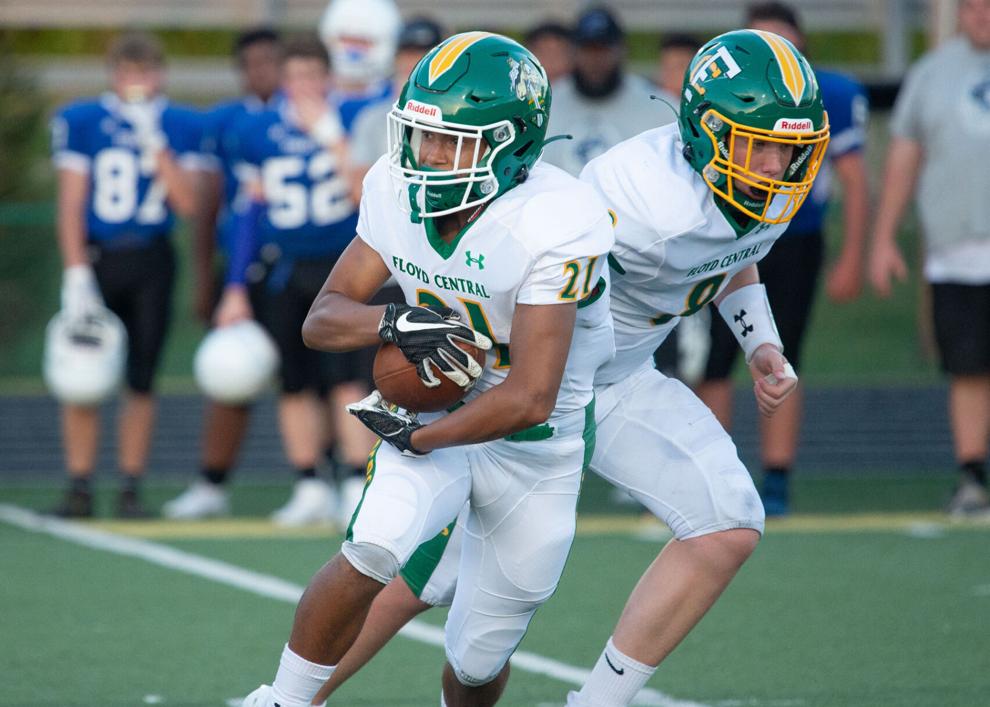 "Offensively we must control the line of scrimmage and wide receivers must win their one-on-one matchups," said Floyd Central coach James Bragg, whose team last won at Stafford Field on Sept. 26, 2003. "Defensively we must keep our gap integrity. No fatalities in the passing game."
BLOOMINGTON NORTH (4-1) AT NEW ALBANY (3-2), 7 P.M.
The Bulldogs have been rolling since losing their first two games to very formidable foes, winning three straight — capped off by their first victory at Columbus East in 23 years last Friday.
Tonight, though, New Albany will face a very tough test in the 5A No. 10 Cougars, whose lone loss was a 28-14 setback to Bloomington South, which blasted the Bulldogs 50-20 in Week 1. North, which beat New Albany 55-27 in 2019 at Buerk Field and 24-13 in 2018, is led by quarterback Reece Lozano. The senior has completed 46 of 71 passes (64.8 percent) for 770 yards and nine touchdowns against only one interception while rushing 51 times for 301 yards (5.9 per carry) and six TDs.
The Cougars also feature junior running back Cody Mikulich, who is averaging 6.2 yards a carry and 93.8 per game while rushing for eight TDs. He also tops the team with 16 receptions for 265 yards and four touchdowns.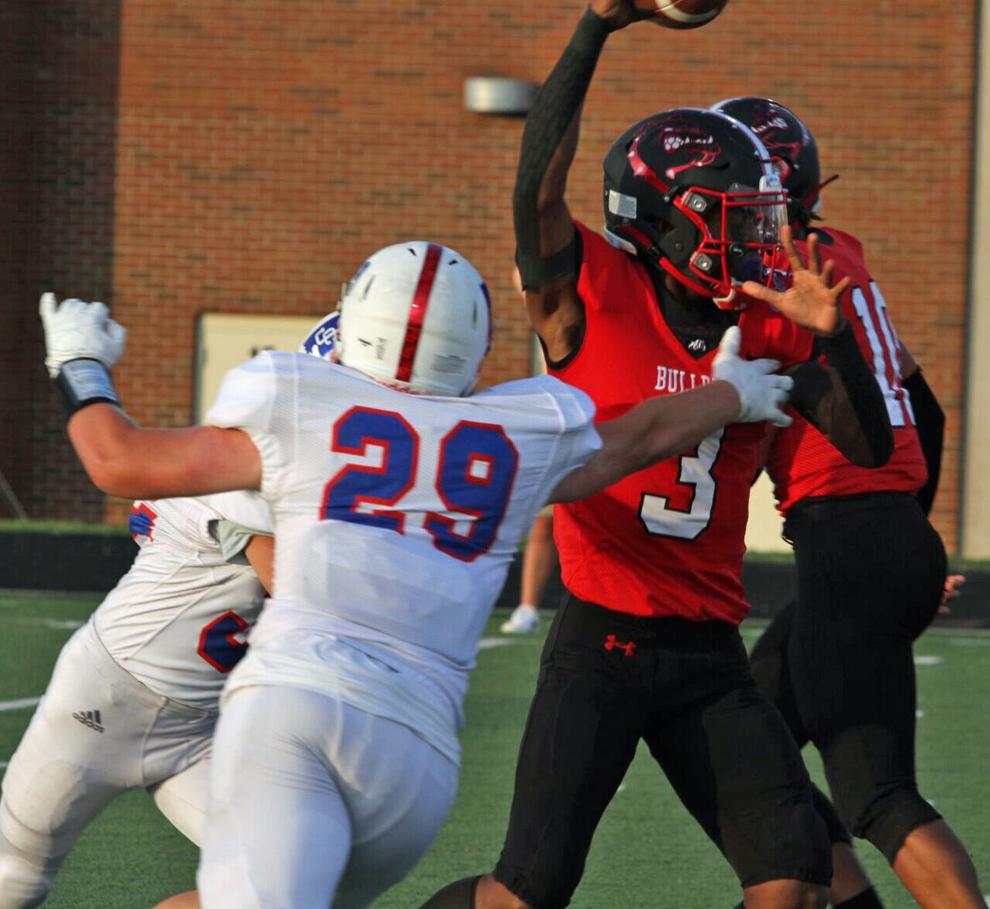 "We have a great opportunity this Friday to take on another Top 10-ranked opponent," New Albany coach Steve Cooley said. "North returns a four-year starter at QB, who is very talented, and also a great RB that they get the ball to in a variety of ways. We will have to contain their QB and not give up the big play and tackle well this week. On offense, we will have to continue to execute at a high tempo and take shots down the field when the defense allows it. This will be a tough non-conference game to go out and execute to get us ready for our last three games in order to finish the season strong."
LOUISVILLE HOLY CROSS (3-2) AT PROVIDENCE (2-3), 7 P.M.
This matchup has become a very nice rivalry over the past 10 years with the Cougars winning six times and the Pioneers four. Cross has won the last two, including 35-28 last year in Louisville.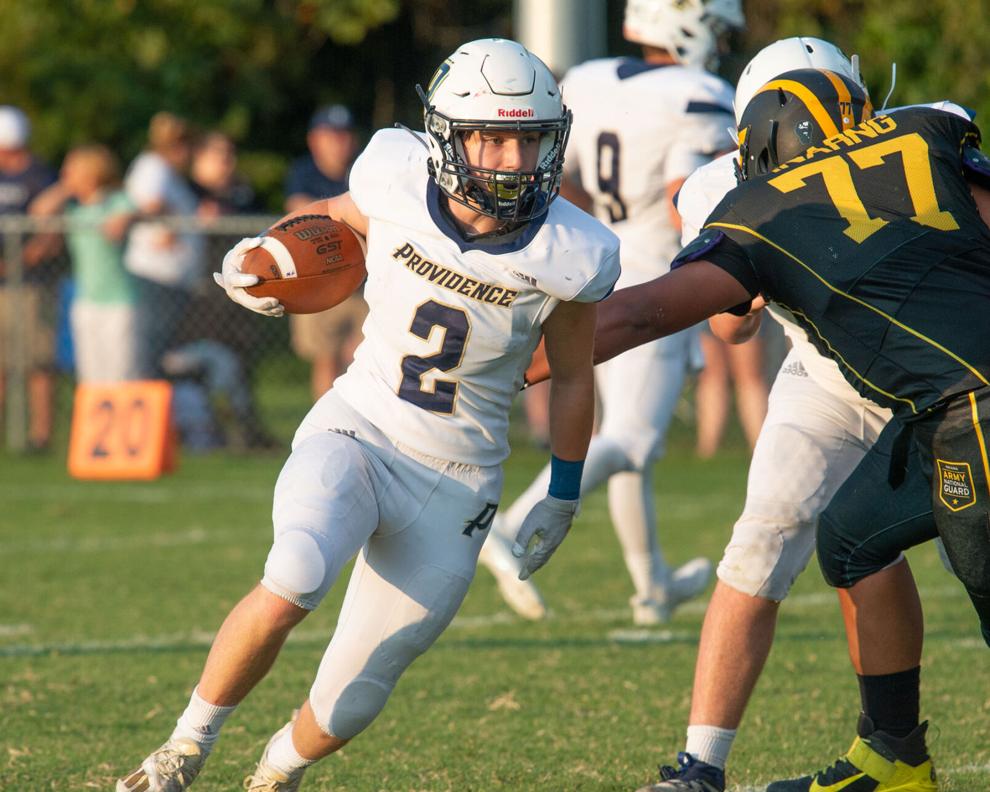 The Cougars are led by junior quarterback Chris Perry, who has completed 33 of 57 passes (57.9 percent) for 509 yards (127.2 per game) and six TDs against three interceptions while rushing 56 times for 292 yards (73 per game) and four TDs. His top targets are Nathan Siegrist (12 catches for 282 yards and five TDs) and Joey Foushee (13 receptions for 137 yards and one TD).
Junior linebacker Tyler Ballard leads the defense. He has 41 total tackles, including 11 for losses and four sacks.
"Holy Cross is a well-coached, tough team," said Providence coach Daniel McDonald, whose team will try to bounce back from last week's 37-21 loss at Charlestown. "Defensively, their linebackers are an exceptional unit. They get downhill and fill gaps at the line of scrimmage. On offense, I really like their line — they seem to be well-coached and they play hard."
ROCK CREEK (1-3) AT WEST WASHINGTON (1-2), 7 P.M.
Both teams enter this game coming off back-to-back losses.
Since edging Indiana Deaf 28-26 on Sept. 3, the Lions have lost 15-14 to Crawford County and 72-0 at North Daviess.
Meanwhile the Senators, who beat Eastern 20-16 in their season-opener before taking two weeks off due to COVID, have been outscored 111-44 by Springs Valley and Paoli over their past two weeks.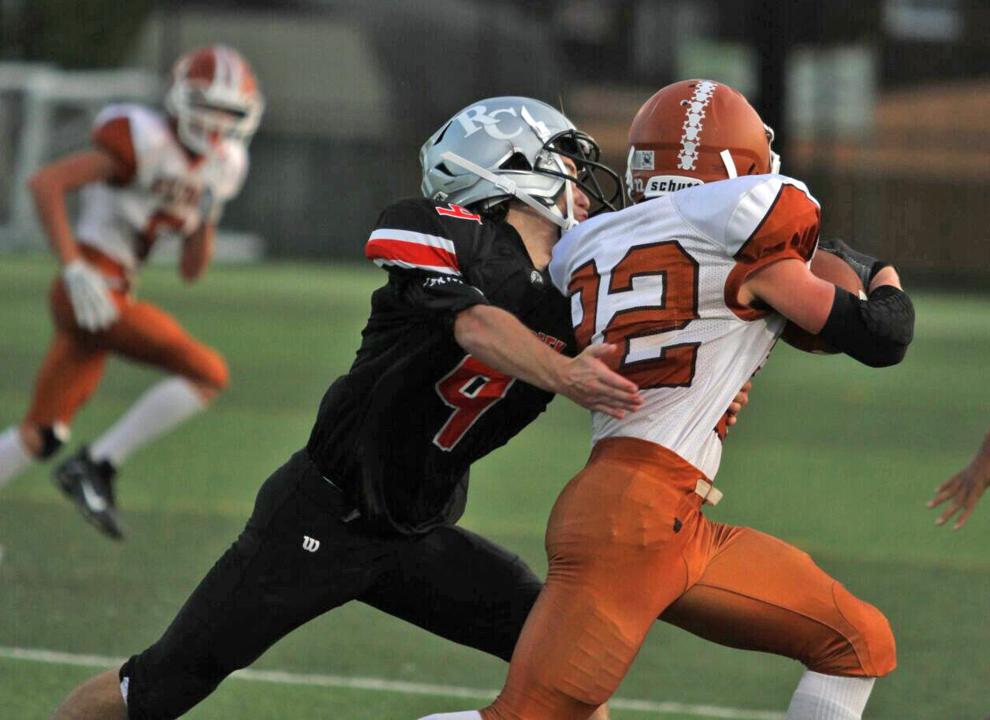 "West Washington will be an extremely tough task," Rock Creek coach Josh Caldwell said. "They are a traditional power and it will be a great test to see how we are building. We will still be short some guys due to some injuries and what not. But we think if we play our game, and win the turnover margin, we will be in it at the end."
CLARKSVILLE (1-4) AT PERRY CENTRAL (4-1), 7:30 P.M.
This matchup will feature two of the top rushing attacks in Southern Indiana.
The Generals feature junior Robert Lamar, who ranks second in 2A in rushing (946 yards and 189.2 per game), according to MaxPreps. He's averaging 7.9 yards per carry and has run for 10 TDs.
The Commodores, meanwhile, will counter with two players averaging over 100 rushing yards per game. Sophomore Sawyer Guillaume has run 82 times for 615 yards (123 per game) and 10 touchdowns while senior Camiren Etienne has rushed 57 times for 525 yards (105 per game) and five TDs.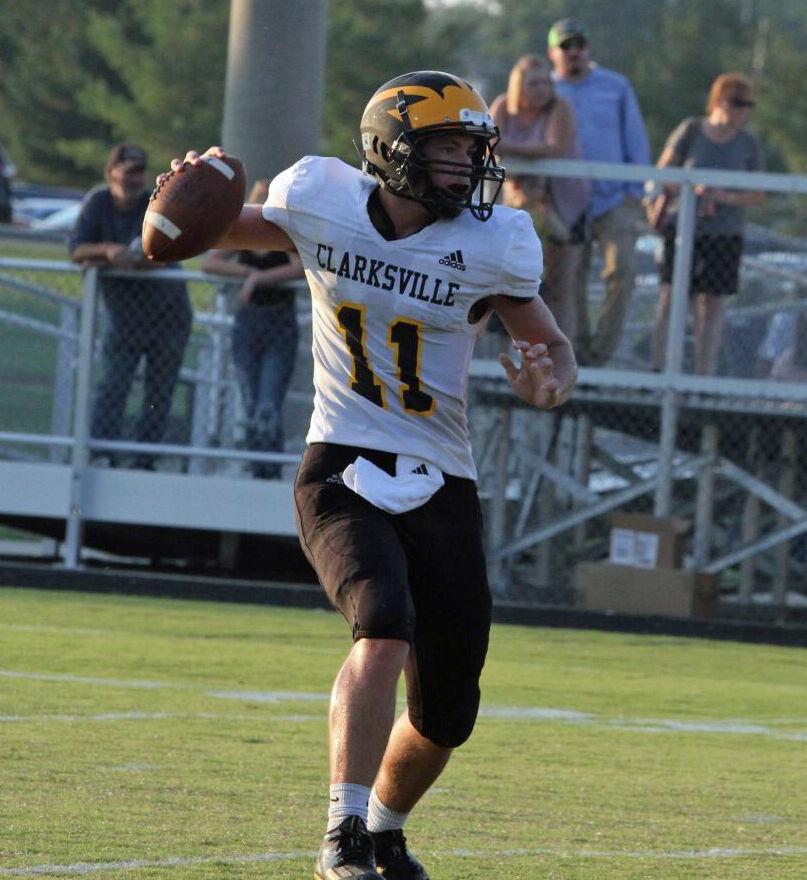 "We are looking forward to the second half of our season beginning this week. We have two tough 1-A opponents to start the second half of the season. Perry Central is a solid team and program," said Clarksville coach Justin Boser, whose team will host defending Class A state champion Covenant Christian next Friday. "They present many challenges with their run game and multiple formations. We are looking to get back to more of a balanced offense this week. Our run game has been solid all year with Robert Lamar and Max Scowden. We are expecting QB Caleb Cummings to spread the ball around to multiple receivers."