SELLERSBURG — Jeffersonville managed just 57 yards after halftime, but did just enough to slip past host Silver Creek 29-23 in overtime Friday night.
Quarterback Cole Phillips' 2-yard touchdown run in OT gave the Red Devils the win in the first-ever matchup between the Clark County schools.
"It was a great high school football game," Dragons coach Dave Papenhaus said. "It sucks someone had to lose. It really sucks that it was us. But everybody got their money's worth tonight."
The win ended a three-game losing streak for Jeff (2-3).
"The effort was there," Red Devils coach Isaac Parker said. "But we've got a lot to clean up."
After Jeffersonville used a late flourish in the first half to secure a 23-7 halftime cushion, the Dragons got to work in the third quarter.
Silver Creek (3-2) controlled the period, running for 118 yards and scoring twice — both on short touchdown runs by LaShun Mays Jr. — while adding two two-point conversions to tie the game at 23-all heading into the final frame, which was a scoreless standoff.
In OT the Red Devils kept the Dragons, who got the ball first, from scoring.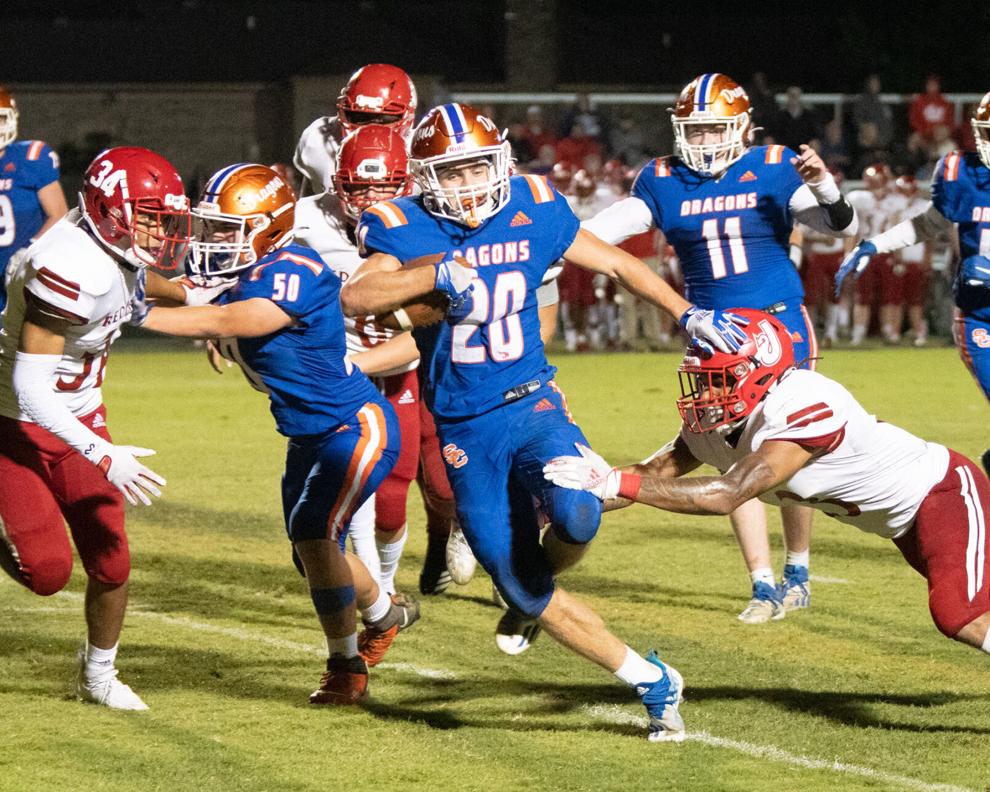 Jeff wasted little time in reaching pay dirt, though. A run by Zion Mansfield helped set up Phillips' game-winning TD.
The inaugural game between the Devils and Dragons was a memorable one.
Jeff exploded for 21 points in a matter of three minutes to end the first half.
Trailing 7-2, but deep in Creek territory, Phillips threw a fourth-down pass to Tyson Maddox near the right sideline. Maddox turned the corner and raced into the end zone, giving the Red Devils a 9-7 lead, with 3 minutes, 10 seconds left in the first half.
"That was a big play for us," Parker said.
On the Dragons' next possession, Creek sophomore quarterback Peyton Lacy fumbled the football at his own 31.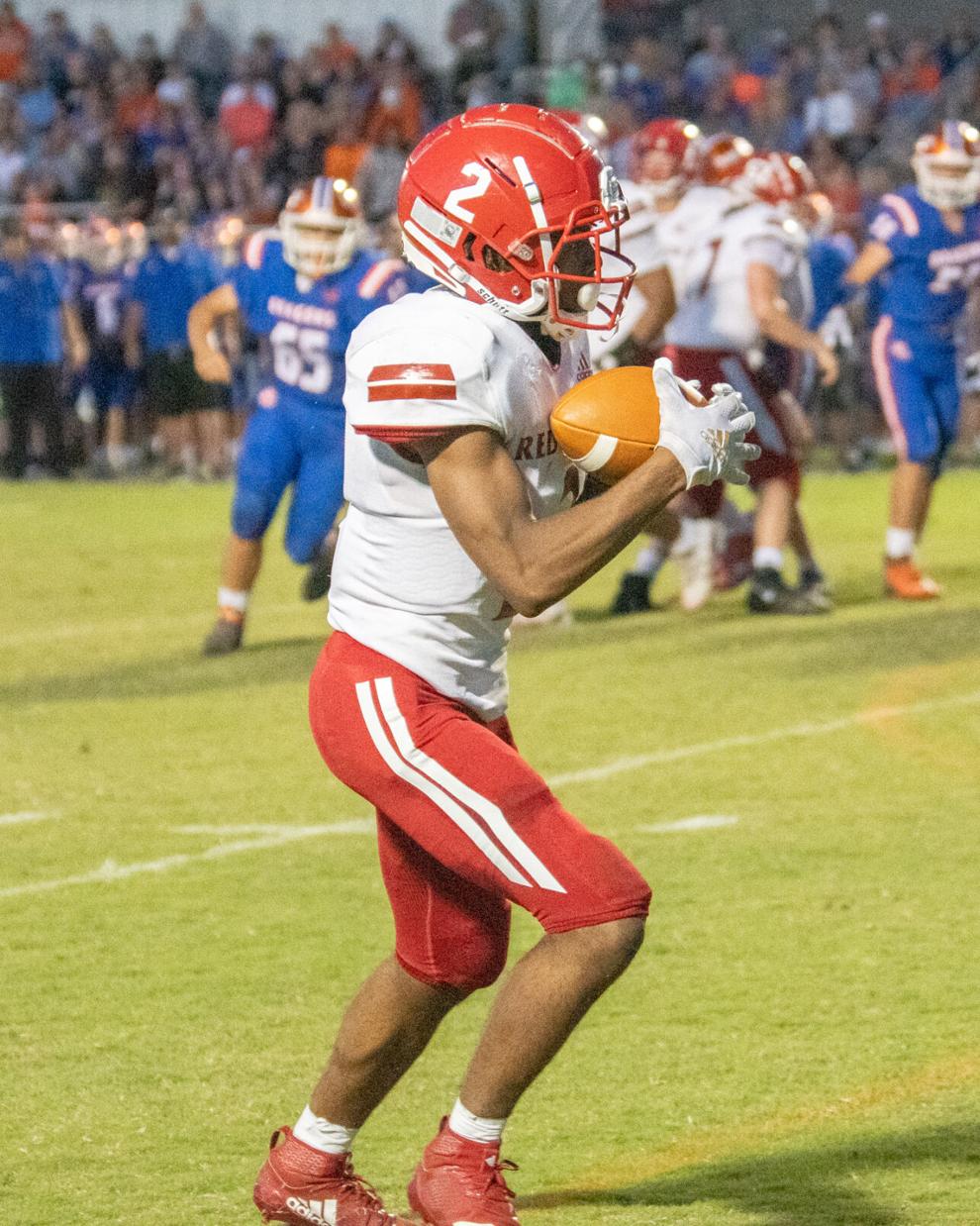 A few plays later, Mansfield bulled his way into the end zone with a 21-yard run. That made it 16-7.
With time winding down in the first half Silver Creek took the aggressive option on its ensuing possession and threw the ball near midfield.
It proved to be costly.
Maddox picked off Lacy's pass and ran down the Silver Creek sideline for a 70-yard interception return for a TD with only 9.4 seconds remaining in the half.
"As always, I just follow the eyes," Maddox said. "The eyes will show you the way. That's exactly what I did. I followed the eyes all the way."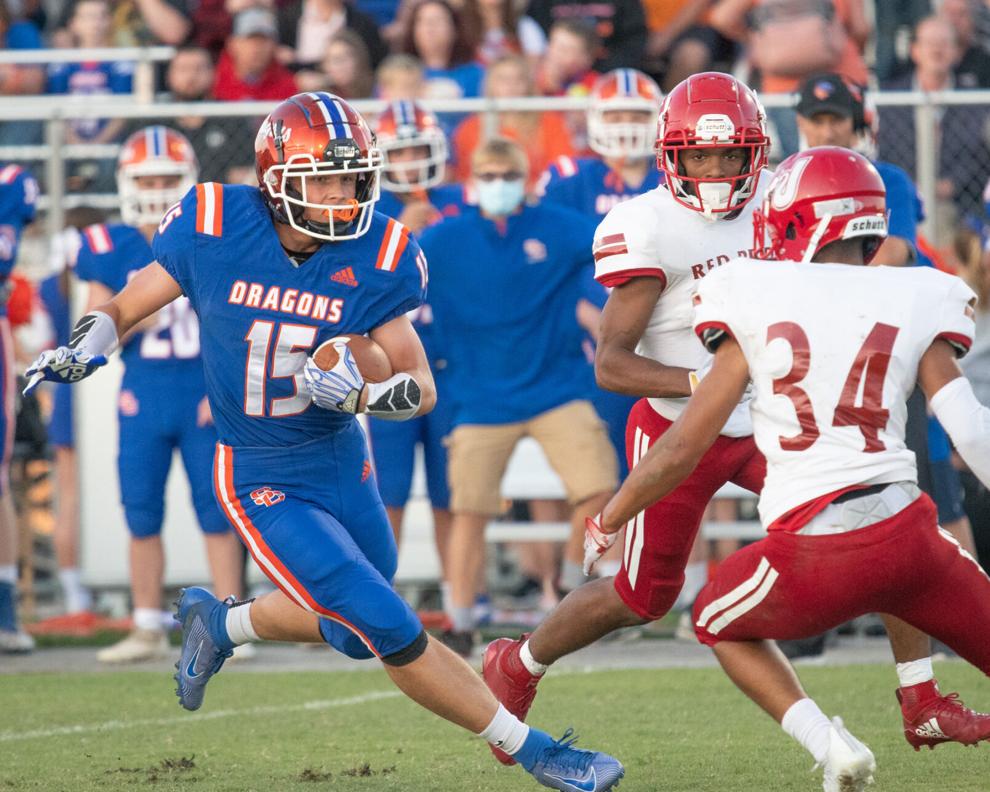 In the first half, the Dragons had a fumble, an interception, a snap over the punter's head that resulted in a safety and 75 yards worth of penalties.
"We made some uncharacteristic mistakes and they capitalized on it," Papenhaus said.
Still, the Dragons piled up 316 yards on the ground, led by Trey Schoen's 155 yards. Mays added 118 and three TDs.
.
JEFFERSONVILLE 29, SILVER CREEK 23
Jeffersonville  0 23   0  0  6 — 29
Silver Creek    7   0  16  0  0 — 23
SCORING SUMMARY
First quarter
SC — LaShun Mays 5 run (Carly Troutman kick), 2:40.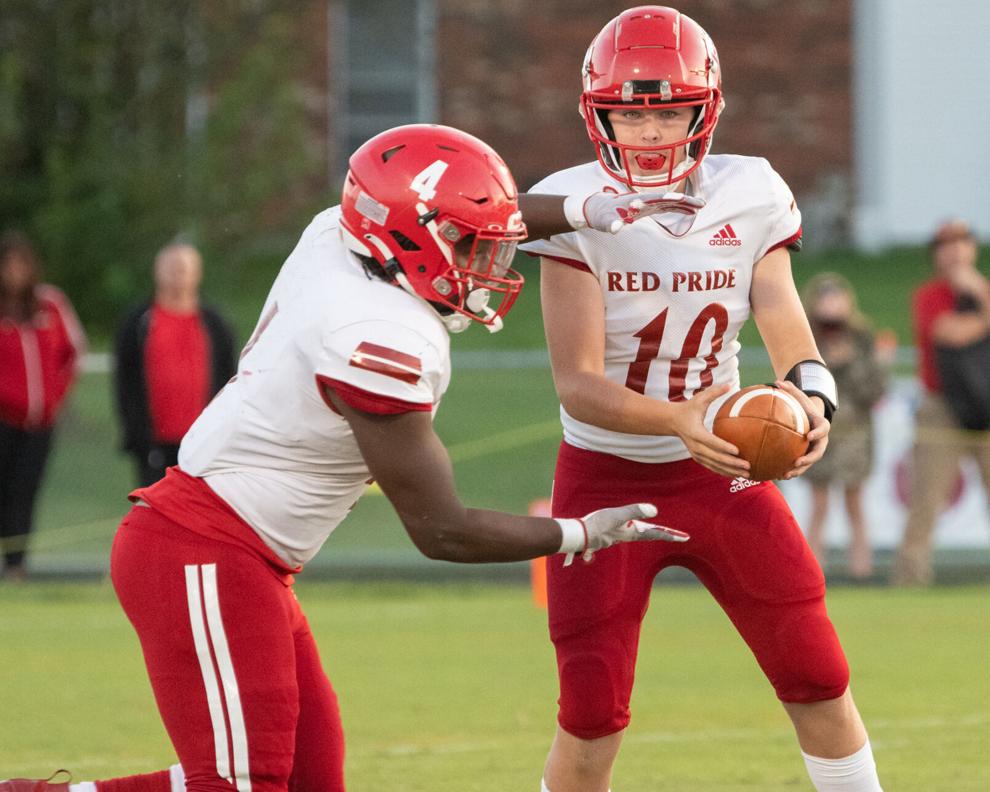 First quarter
     SC — LaShun Mays 5 run (Carley Troutman kick), 2:40.
Second quarter
     J — Safety. Silver Creek snapped the ball out of the end zone, 7:11.
     J — Tyson Maddox 10 pass from Cole Phillips (Hannah Magruder kick), 3:10.
     J — Zion Mansfield 21 run (Magruder kick), 1:54.
     J — Maddox 70 interception return (Magruder kick), 0:09.
Third quarter
     SC — Mays 2 run (Trey Schoen run), 7:13;
     SC — Mays 1 run (Mays run), 1:23;
Overtime
     J — Cole Phillips 2 run (no PAT). 
INDIVIDUAL STATISTICS
Rushing 
     Jeff (29-104): Zion Mansfield 22-95, Davarhy Julian 3-9, Tyson Maddox 1-7, Evan Clayton 1-(-3), Cole Phillips 2-(-4).
     Silver Creek (63-306): Trey Schoen 28-157, LaShun Mays 27-126, Wyatt Hoffman 2-23, KD Powell 2-6, Peyton Lacy 4-(-6). 
Passing
     Jeff (7-19-1-59): Nik Schindler 3-7-0-12, Phillips 4-12-1-47. 
     Silver Creek (3-6-1-4): Lacy 3-6-1-4.
Receiving
     Jeff (7-59): Maddox 4-22, Brandon Curl 1-19, Rafe Swearingen 1-11, Mansfield 1-7.
     Silver Creek (3-4): Schoen 2-2, Mays 1-2.