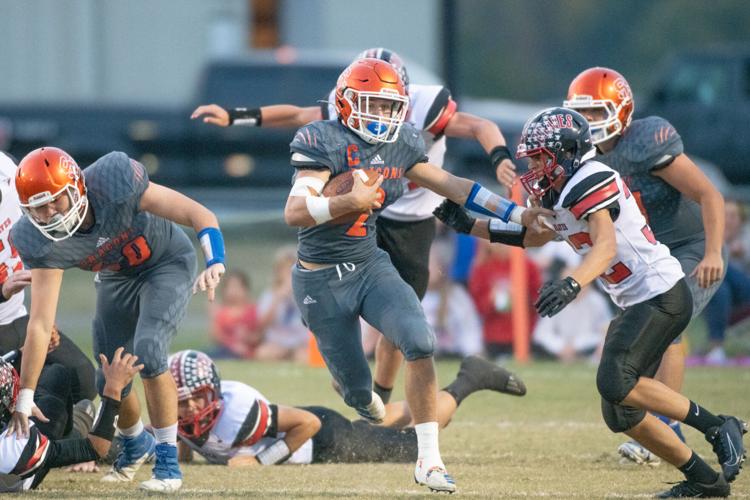 SELLERSBURG — It was quite the Friday night for the Silver Creek Dragons.
Dylan Meyers in particular.
The senior quarterback threw for 221 yards and accounted for four touchdowns — all before he was named Homecoming king at halftime — to lead Creek to a dominating 42-14 victory over Brownstown Central. The win, the Dragons' first over the Braves, clinched the program's first Mid-Southern Conference title.
"It's huge," second-year Silver Creek coach Dave Papenhaus said. "I told the kids earlier, 'There's very few opportunities in your life where you're going to get to do something that no one else has ever done.' I told them, 'This is your shot.'"
The Dragons (8-0, 7-0) came in 0-9 against Brownstown since reviving their program in 2010.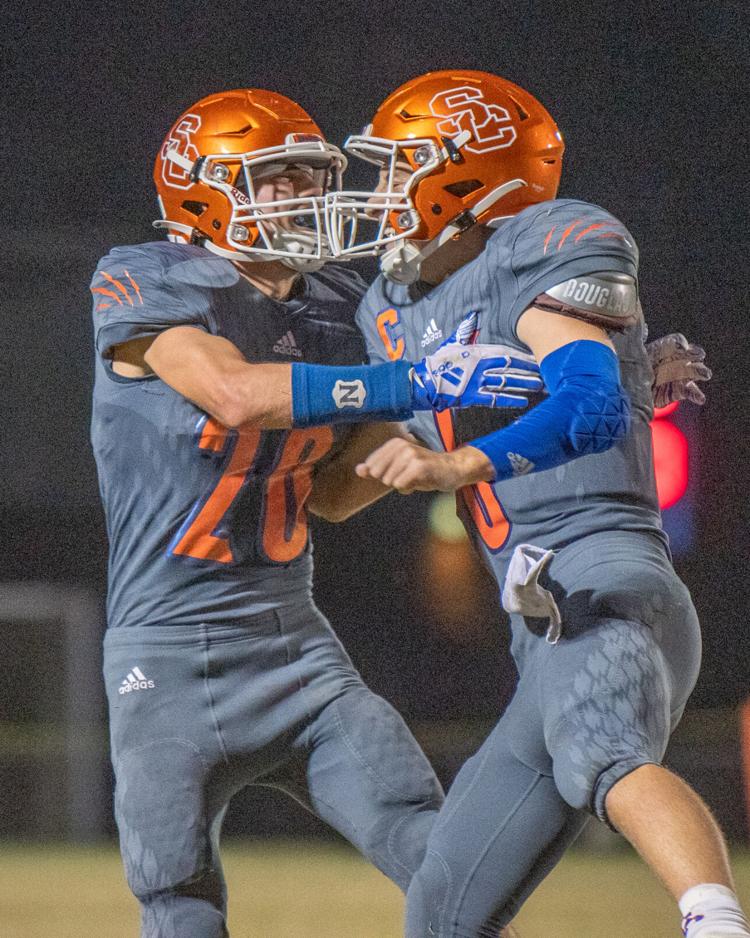 "It feels great, it feels so great," said Meyers, whose father Jeremy played for the Braves and coach Reed May in the 1990s. "I've been here for three years, never beat'em, we didn't even come close. To beat them now, it means everything."
"Coach May, what they do year-in, year-out, they were just as good tonight as any year. I feel like we just came out and decided we were going to be better for once, and we took care of business," Papenhaus said.
Creek rolled up 571 yards of total offense and scored touchdowns on its first six possessions of the game.
In addition to Meyers, who completed 8 of 9 passes (including touchdowns of 34, 62 and 64 yards) and also ran for 35 yards, there were plenty of stars for the Dragons.
Trey Schoen accounted for 270 yards (187 receiving, 83 rushing) of total offense and three touchdowns (two receiving, one rushing) while Ben Landers ran for 157 yards. LaShun Mays Jr. rushed for 75 yards and a score while Myles Rountree had a touchdown reception.
Meanwhile, the Dragons' defense limited the Braves to 271 total yards — 194 below their average.
"Our passing game worked well. Having Trey Schoen out there being a beast, that worked well. Everything was clicking on offense, everything was clicking on defense, it was just an overall great game," Meyers said.
"Our offensive line played lights out, Ben Landers ran the heck out of the ball and LaShun blocked great. Dylan, every time we asked him to throw the ball — we didn't throw it much — but he threw some strikes tonight. Then, Trey Schoen just keeps doing Trey Schoen things. ... Our defense played great tonight. I'm just proud of everybody tonight," Papenhaus added.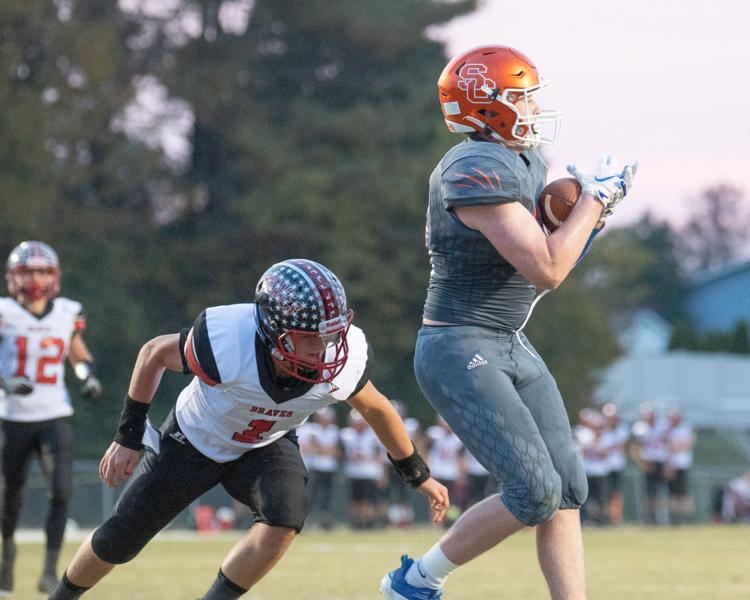 Creek's first possession ended with Meyers' 34-yard touchdown pass to Rountree. The Dragons' second was capped by Meyers' 62-yard TD toss to Schoen. Then, after Brownstown (6-1, 5-1) answered with a touchdown of its own, Meyers ran for an 8-yard score. On Creek's fourth possession, which came on the heels of a Braves' fumble, Meyers hit Schoen with a 64-yard TD pass on a flea flicker 3 minutes, 14 seconds before halftime.
"We've had that in for awhile, we tried to run it against Pekin Eastern and it didn't work. But we've been doing it all week in practice, and everything worked out," said Meyers, who also escorted the Homecoming queen (volleyball standout Bella Hinton) at halftime.
The hits kept on coming for Creek in the second half. 
The Dragons marched down the field on their first possession of the third quarter and went up 35-7 on Mays' 2-yard TD run. Then, after a Brownstown touchdown pass, Schoen broke loose for a 33-yard scoring run.
"That was a great game. We came out, we did what we needed to do and we picked up the W," Meyers said.
Silver Creek closes out its regular season next Friday night at Corydon Central (5-2, 4-2), which topped Clarksville 57-30 Friday.