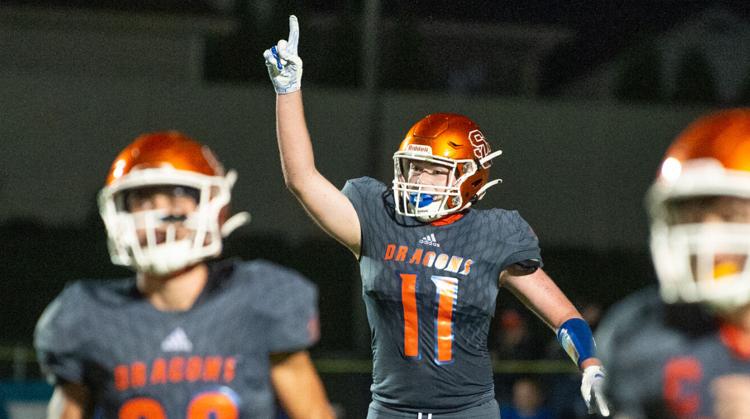 Down! Set! Hut! Welcome back to the Southern Indiana Tuesday Morning Quarterback, where we look back at the news, notes and quotes from the local high school weekend that was, as well as look ahead at what's to come.
Silver Creek is the last remaining unbeaten team in Clark and Floyd counties.
However the Dragons' 60-8 victory at Eastern this past Friday night wasn't just significant because it kept them undefeated. It also put Creek above the .500 mark for the first time since the program was resurrected in 2010.
The Dragons went 11-30 in their first five seasons and 35-19 in their last five, putting them at 46-49 entering 2020. Week 3's 42-7 victory over Providence made them even, Friday's win over the Musketeers improved them to 50-49.
Creek (4-0) has a good chance at keeping things on the positive side this Friday night, when they host winless Scottsburg at 7 p.m.
In fact we wouldn't be surprised to see the Dragons, who have outscored their first four foes by a combined score of 169-29, continue to get in the black over the remainder of the regular season.
PLAYER OF WEEK 4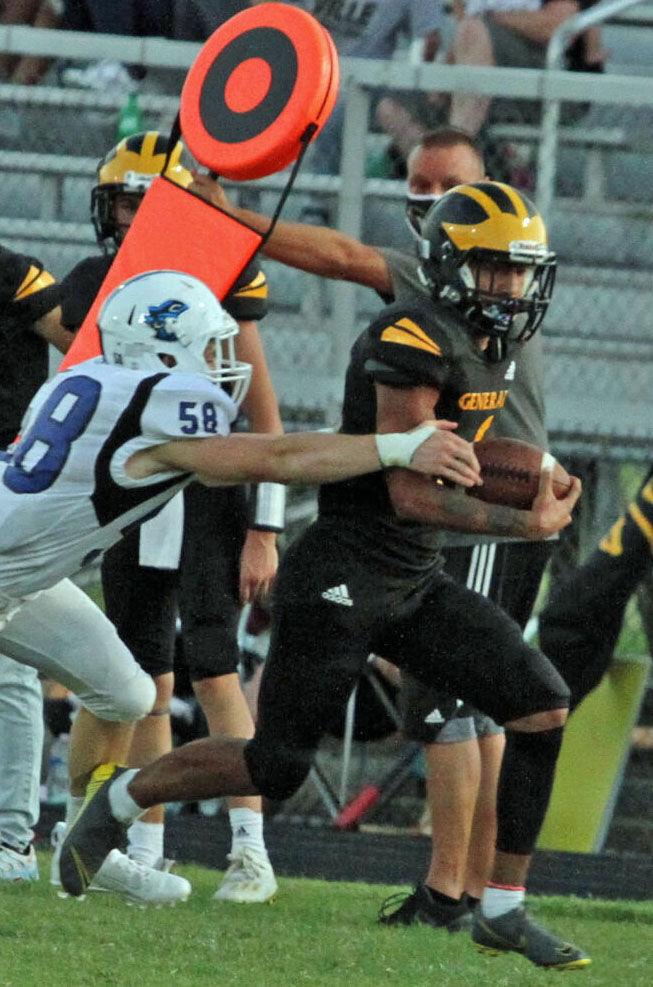 Dae'von Fuqua, Clarksville: The senior wide receiver-linebacker was a key performer on both sides of the ball for the Generals in their 20-14 win at Providence in Friday night's Town Championship game. On offense, Fuqua had five receptions for 112 yards and two touchdowns. The first of those scores was a 78-yard TD in which he caught a pass in the flat, then did the rest, evading Pioneers and sprinting down the sideline to the end zone. Then, with 11 minutes left, he came back to make a diving catch for the game-winning touchdown on fourth-and-6 from the Providence 16.
On defense, Fuqua tallied 10 tackles, including 6 1/2 for losses.
GAME BALLS
Deke Brown, Charlestown: The senior running back-linebacker ran for a touchdown on offense while recording a whopping 25 tackles (13 solo stops, 12 assists) on D in the Pirates' come-from-behind 43-26 victory over visiting North Harrison.
Jacob Cummings, Clarksville: The senior subbed for Keyshawn Minor at quarterback and completed 76.9 percent of his passes for 138 yards and two TDs in the Generals' first win over Providence since 2012.
Colin Cummins, Floyd Central: The senior linebacker tallied 10 tackles, including a sack, and had an interception in the Highlanders' decisive 56-19 win at New Albany.
Floyd Central offensive line: The Highlanders' O-line of Caleb Rodgers, Isaac Hatfield, Zen Michalski, Trent Hyatt and Brandon Fessel were big reasons why Floyd ran 35 times for 310 yards and five touchdowns against the Bulldogs.
"I give it to our offensive line there in the second half," Floyd coach James Bragg said afterward. "We're sputtering a little bit and offensively we put it on their shoulders and we went right down the field over and over again just running the football. We got back to kind of our old roots.
"When we needed a big yard, when we needed a big play, we turned to our offensive line and those five guys came up huge tonight."
Marquis Forward, Clarksville: The senior wide receiver-defensive end made some huge plays on D for the Generals in their win at Providence. First, he picked off a tipped pass, then eluded three would-be tackles before breaking away for a 65-yard interception return for a touchdown in the first quarter. Then, late in the game, he had a key sack — after the Pioneers had driven to the Generals' 25 — to help preserve the victory.
Deven Lukes, Charlestown: The junior running back ran 14 times for 141 yards — 10.1 yards per carry — and two touchdowns in the come-from-behind 43-26 victory over visiting North Harrison. He also pulled a page out of the playbook of his older brother, Marion, by pointing to a TV camera during his 82-yard TD run in the first quarter.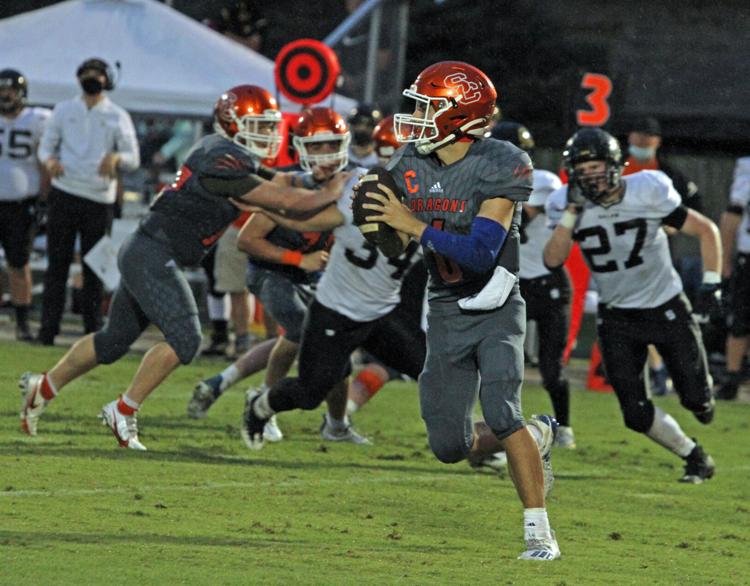 Dylan Meyers, Silver Creek: The senior quarterback completed 5 of 7 passes for 119 yards and three touchdowns in the Dragons' big win at Eastern.
Andrew Spurgeon, Floyd Central: The senior running back-linebacker ran 10 times for 93 yards — 9.3 per carry — and two TDs. On defense he had four tackles and a fumble recovery.
Brody Wagers, Charlestown: The senior linebacker tallied 15 tackles (seven solos, eight assists) in the win over the Cougars.
Wenkers Wright, Floyd Central: The senior running back ran for 91 yards and three touchdowns in the win over New Albany.
THE LAST WORDS
Here is what a few area coaches had to say after watching the films from their games this past Friday night.
• New Albany coach Steve Cooley lamented his team's ball security, or lack there of, during its 56-19 loss to rival Floyd Central.
"Friday we did a good job of running the ball at times, but we had five turnovers — three picks, one fumble and a blocked kick for a TD. We must eliminate the turnovers this week to play (Columbus) East," Cooley said.
• Clarksville coach Justin Boser was pleased with the contributions of several of his players in the Generals' 20-14 triumph over rival Providence.
"Dae'von had a great game on defense and made a few big plays on offense. Marquis Forward had a big game on defense with his interception return for a touchdown. Robert Lamar had a big-time game running the ball running behind our left side of the line — Larry Spaulding and Sam Stewart. Jake Cummings did a great job leading the offense with two TD passes with the last-minute scratch of Keyshawn Minor," Boser said.
• After watching his team lose by a combined score of 84-7 to larger schools Floyd Central and Silver Creek in its first two games, first-year Providence coach Daniel McDonald was encouraged by the Pioneers' performance in their narrow loss to Clarksville.
"We are very close to being a good football team. A few calls didn't go our way and a couple footballs didn't bounce our way. You watch the film, and you see our guys in the right position to make plays," McDonald said. "The passing game is getting better. Jaxon Murphy is starting to get comfortable with the offense and our route concepts. I'm looking forward to watching our guys compete this coming week."
WEEK 5 LOOK-AHEAD
Charlestown (2-2) at Providence (0-3), 7 p.m.: The Pirates look for their third win in a row while the Pioneers continue to try for their first.
Clarksville (3-1, 2-1) at Salem (2-2, 2-2), 7 p.m.: The Generals, who are off to their best start since 2007, try to end a five-game losing streak to the Lions, who are coming off a 14-12 victory over reigning Mid-Southern Conference champ Brownstown Central.
Scottsburg (0-4, 0-4) at Silver Creek (4-0, 3-0), 7 p.m.: The Dragons look to go 5-0 for the third time in four years.
Jeffersonville (1-3, 0-2) at Floyd Central (3-1, 1-0), 7 p.m.: The Red Devils try to rebound from their 49-0 loss at Columbus East while the Highlanders go for their second win of the season, and their eighth in a row over Jeff.
New Albany (3-1, 1-1) at Columbus East (2-2, 1-0), 7 p.m.: The Bulldogs look to bounce back from their 56-19 loss to Floyd while the Olympians aim for their 92nd Hoosier Hills Conference win in a row.
North Daviess (3-0) at Rock Creek (0-2), 7:30 p.m.: The Lions will try to avenge last year's 72-0 loss to the Cougars.