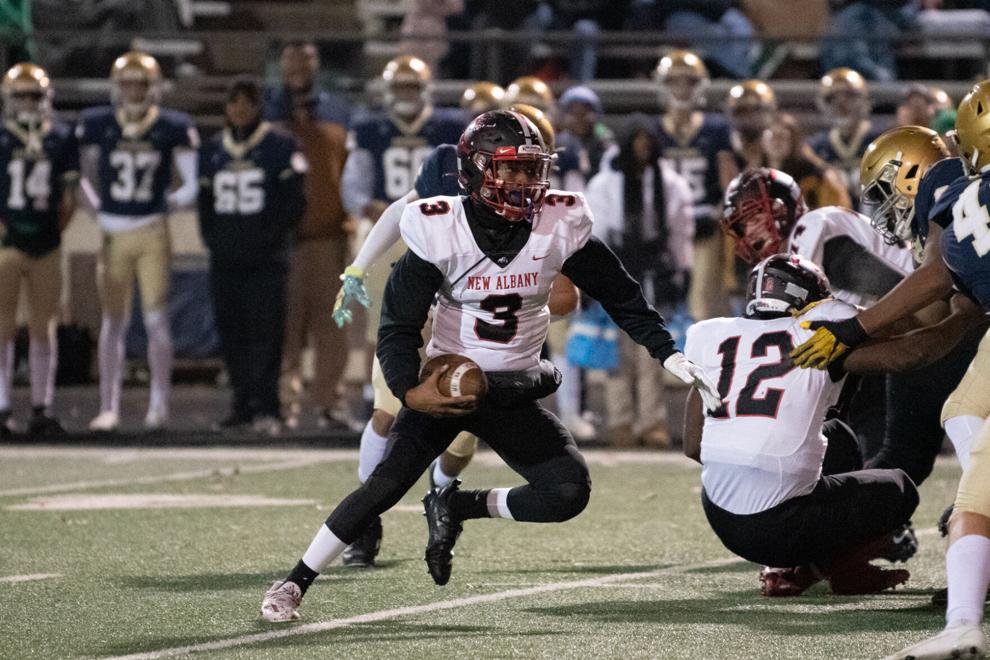 INDIANAPOLIS – New Albany's historic season came to an unceremonious end Friday night.
Top-ranked, and defending state champion, Cathedral amassed a 45-7 halftime lead en route to a 52-13 victory over the visiting Bulldogs in the Class 5A south semistate championship game at Arsenal Tech.
The Fighting Irish (13-1) will face Zionsville (9-5) at 7 p.m. next Friday night in the 5A state final at Lucas Oil Stadium. The Eagles blasted Michigan City 52-21 in the north semistate final. Cathedral beat Zionsville 46-28 last November to win its 13th state championship.
The Fighting Irish appeared well on its way to No. 14 Friday night.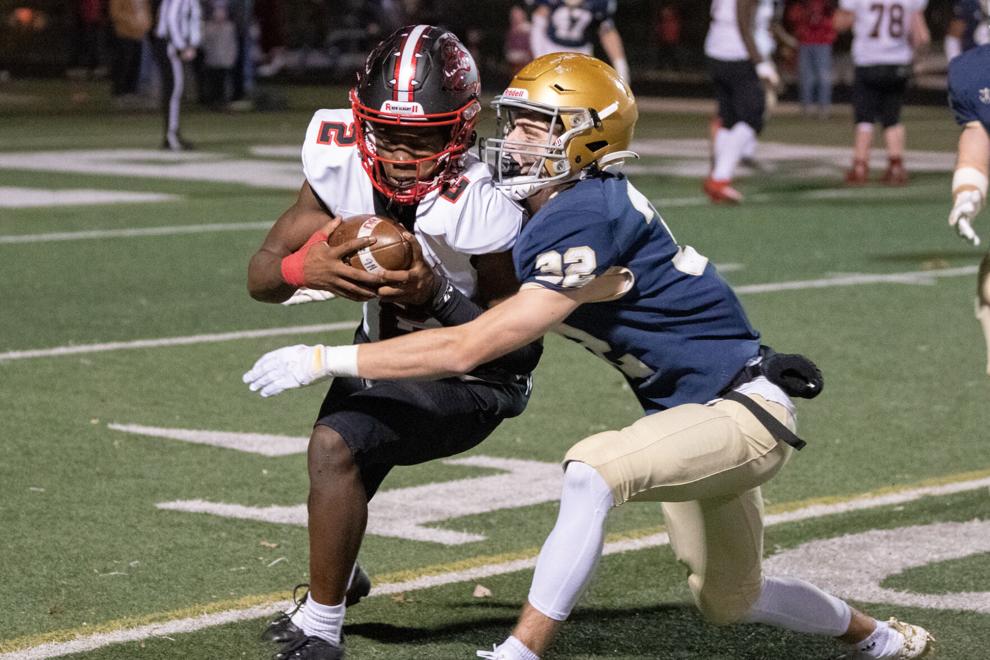 "They're a great football team," New Albany coach Steve Cooley said of Cathedral. "They've got 10 starters back on the defending state championship team. We knew going in we'd have to play really well to stay in the game. We thought we could do some things, but they made some plays. So hats off to them and good luck to them next week."
The game got off to a rough start for the Bulldogs, who were coming off the first regional title in program history.
After recovering Cathedral's onside kick, New Albany turned it over on its first play from scrimmage as quarterback Derell Simmons was intercepted in front of the Bulldogs' sideline.
Cathedral promptly marched down the field for the first touchdown of the game. Danny O'Neil's 11-yard scoring pass to Jaron Tibbs gave the Fighting Irish a lead it wouldn't relinquish.
On the second play of the Bulldogs' second series, Cathedral's Gavin Crooke picked off a Simmons pass that deflected off DeJon Winburn's hands and into his. Crooke returned the ball 25 yards to give the Irish a 14-0 lead a little over 3 minutes into the game.
New Albany responded, though.
The Bulldogs went 80 yards in 10 plays, including a fourth-down conversion. Simmons' 30-yard TD toss to Winburn got New Albany to within 14-7.
Unfortunately for the Bulldogs, it was pretty much all Irish after that.
Carson Johnson, who gouged New Albany for 232 yards in the first half, scored on an 11-yard run on Cathedral's next possession.
The Irish quickly got the ball back and added to its lead on O'Neil's 1-yard quarterback sneak with 56 seconds left in the first quarter.
"We got buried in a hole early there on the first couple drives and we couldn't recover," said Cooley, whose team trailed 28-7 at the end of the first period. "I thought we did a good job holding up front early, but we just had too many little bitty errors here and there."
"We came in and tried to do as much as we could. The line was trying to hold them the best they could, but I was running for my life most of the game," Simmons added.
O'Neil scored on another short TD run in the second quarter before Ben Gomez booted a 23-yard field goal. O'Neil's 4-yard touchdown pass to Tazz Garrett with 5 seconds to play in the first half boosted the Irish lead to 38 and resulted in a running clock in the second half.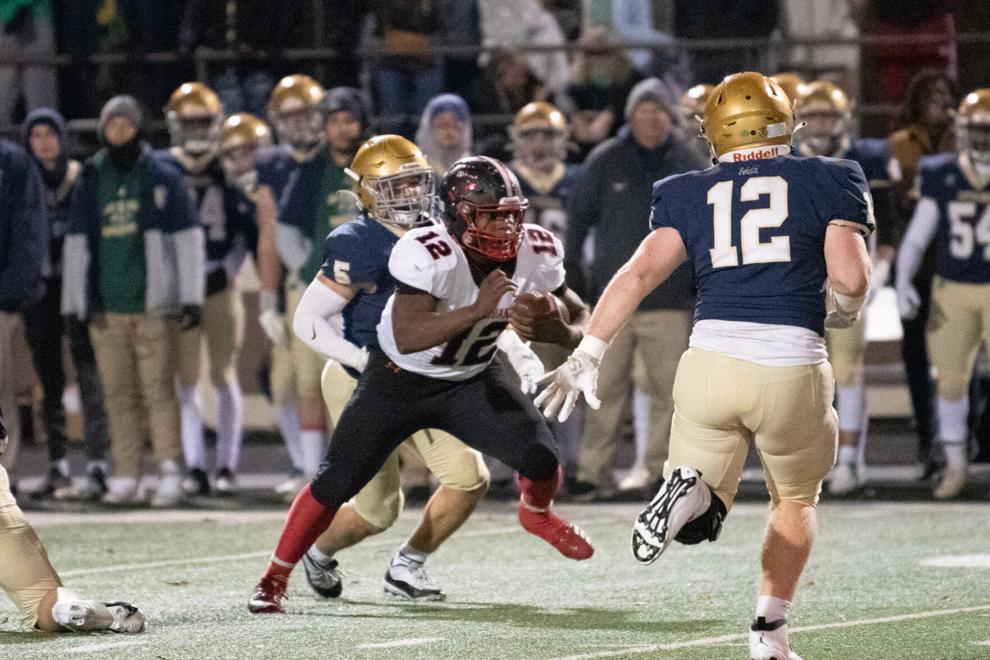 New Albany did get another touchdown, though. Simmons connected with Daquan High for a 30-yard score late in the third quarter.
"We still got some completions and moved the ball down the field and scored two touchdowns," Simmons said. "We were the only team to score more than one touchdown in the playoffs against them."
The loss ended the memorable season for the Bulldogs, as well as the careers of 13 seniors.
"This has been a great run, a helluva year," Simmons said. "We've had ups and downs, we played so good and got this far. We weren't even supposed to be here." 
"I'm proud of them, they've made history for New Albany," Cooley said. "It's something that nobody can ever take away from them and everything they've done. I'm proud of every one of those kids. They'll have a special place in the history of New Albany High School and my heart and our program. They've raised the bar for New Albany football."
.
CATHEDRAL 52, NEW ALBANY 13
New Albany 7   0   6   0 — 13
Cathedral   28  17  7  0 — 52
SCORING SUMMARY
First quarter
C — Jaron Tibbs 11-yard pass from Danny O'Neil (B. Gomez kick), 9:27.
C — Gavin Crooke 25 interception return (Gomez kick), 8:51.
NA — DeJon Winburn 30 pass from Derell Simmons (Zach Fleming kick), 5:37.
C — Carson Johnson 11 run (Gomez kick), 4:39.
C — O'Neil 1 run (Gomez kick), 0:56.
Second quarter
C — O'Neil 2 run (Gomez kick), 5:07.
C — Gomez 23 field goal, 1:57.
C — Jazz Garrett 4 pass from O'Neil (Gomez kick), :05.
Third quarter
C — A. Ditto 1 run (Gomez kick), 5:50.
NA — Daquan High 30 pass from Simmons (kick failed), :26.
.
INDIVIDUAL STATISTICS
Rushing
New Albany (20-42): Kyondre Winford 7-39, Myles Johnson 7-7, Derell Simmons 6-(-4).
Cathedral (49-319): Carson Johnson 23-232, Hosia Smith 8-64, Colin Ayers 6-24, Jacob Bourdenet 3-20.
Passing
New Albany (12-29-3-196): Simmons 12-28-2-196, DeJon Winburn 0-1-1-0.
Cathedral (13-19-0-151): Danny O'Neil 11-16-0-132, Ty Carroll 1-1-0-13.
Receiving
New Albany: DeJon Winburn 4-100, Ja'raylan Johnson 4-23, Daquan High 3-46, Winford 1-15.
Cathedral: Tazz Garrett 4-45, Michael Page 2-42, Jaron Tibbs 2-20, Daniel Hughes 2-19.