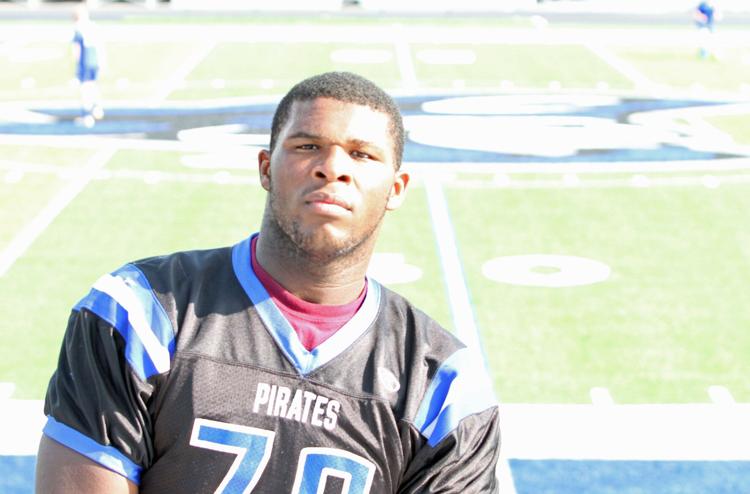 CHARLESTOWN — Kiyaunta Goodwin, the new — and literal — big man on Charlestown's campus, has big goals.
"(I want) to be the No. 1 player in the country, and prove that I am the No. 1 player in the country," the 6-foot-8, 290-pound offensive lineman said after the Pirates' practice Thursday.
Goodwin, who was well-known to college recruiters before he ever played a down of high school football, continues to draw interest from some of the nation's top programs. He has scholarship offers from Ohio State, Alabama and Georgia, to name a few. This week he added two more, from Michigan State and Virginia Tech.
Right now, however, the 16-year-old Goodwin said he's just focused on having a successful season for his new team.
After playing his first two years of high school in Louisville — his freshman year at Holy Cross and his sophomore season at Ballard — Goodwin transferred to Charlestown after moving in with his trainer, Chris Vaughn, who also trains former Pirate standout Marion Lukes and former Purdue University star, and New Albany native, Rondale Moore.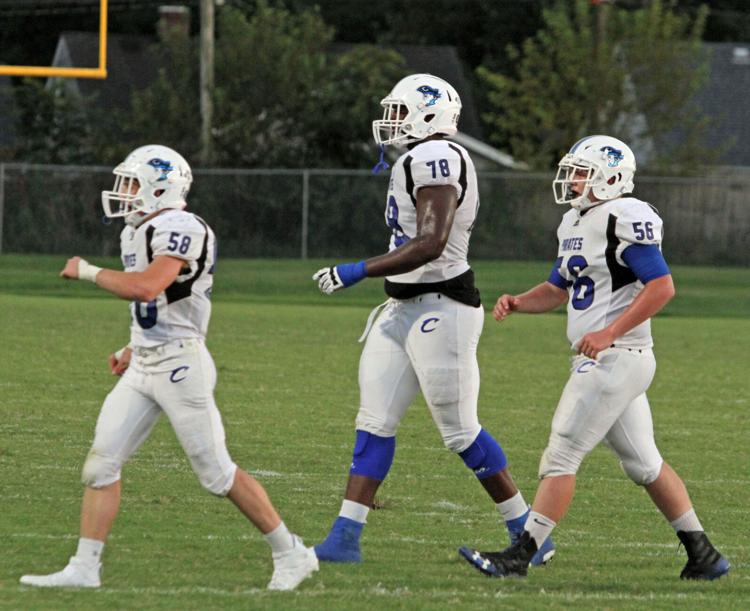 "Since he lives in the Charlestown area this is just the school that I ended up coming to," Goodwin said. "Marion let me know about the school and it was kind of a no-brainer."
Goodwin made his debut in the black and blue last Friday night, in the Pirates' come-from-behind 36-25 victory at Clarksville. Not coincidentally Charlestown, which was outscored 82-13 in its first two games, ran for 298 yards and three touchdowns against the Generals.
"We really ran the ball well," Pirates coach Jason Hawkins said. "The kids weren't getting touched for 4 or 5 yards. Compared to what it looked like the first two weeks, it was a lot better. We also had a couple other new starters in there, so we're thinking that we're going to be able to get better every week and continue to run the ball."
"It was amazing," Goodwin said of his debut. "It wasn't my best game, but just getting a chance to go out there and be able to play football again was very fun. This week I'm expecting to do a lot better."
Charlestown (1-2, 1-2) hosts North Harrison (3-0, 3-0) at 7 p.m. tonight in a Mid-Southern Conference showdown, as well as the Pirates' first game on completely redone Dutch Reis Field.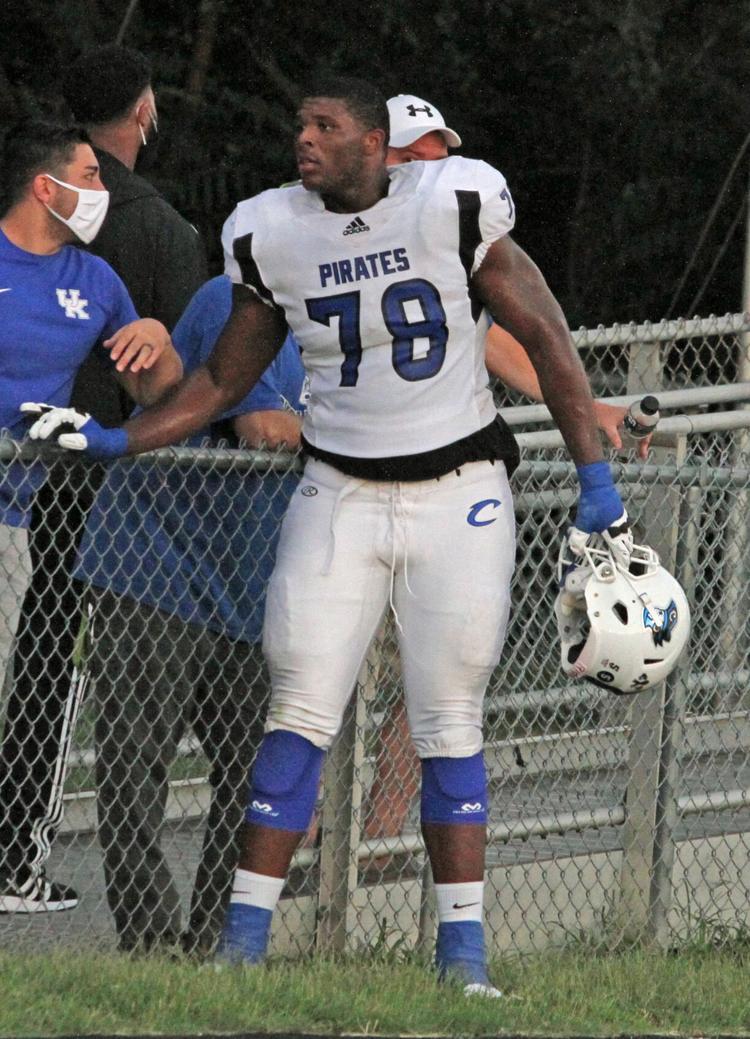 "It's going to be great," said Goodwin, a four-star recruit who is rated 223rd nationally in the Class of 2022 by Rivals.com and 280th by 247Sports.
That's also the word Hawkins uses to describe Goodwin's addition.
"So far it's been great. The attitude of him is nothing near what you would think somebody that good could be like. He's got a great attitude and he's fun to be around," Hawkins said. "His work ethic is really good. He practices hard and when he gets to the game he can move. ... He looks like a semi and runs like a Camaro.
"The good thing about him is he studies film as well as he works. He can come up with a gameplan from watching the film. I've not really seen a high school kid, who's only a junior, that's been able to do that. ... He'll come in my office every day and say, 'Hey I've got something to show you that I saw on film, see what you think.'"
Worrying about what other people thought about him was something that Goodwin admits weighed on him early in his high school career.
"When I was young it was a lot, especially because I felt like I had to be great because people were putting that type of expectation on me," he said. "But I just stopped thinking about, stopped carrying about the media, or whatever, what they think and how many articles and stuff come out. I don't even read those really. I just worry about myself and what I can do to better myself and change my future and help my friends and help my teammates. That's really all I care about now."
Even though he knows college is not too far off.
"My main focus is just going to a place that would be the right fit for me," he said. "Offers are nice and getting a chance to talk to the coaches is really what I care about and knowing that they actually, genuinely care about me and it's not just a whole bunch of bullcrap. That's the main thing I'm focused on is actually connecting with the coaches and figuring out the best place for me.
"But right now I'm just focused on my junior year and trying to win a championship with the team that I have."