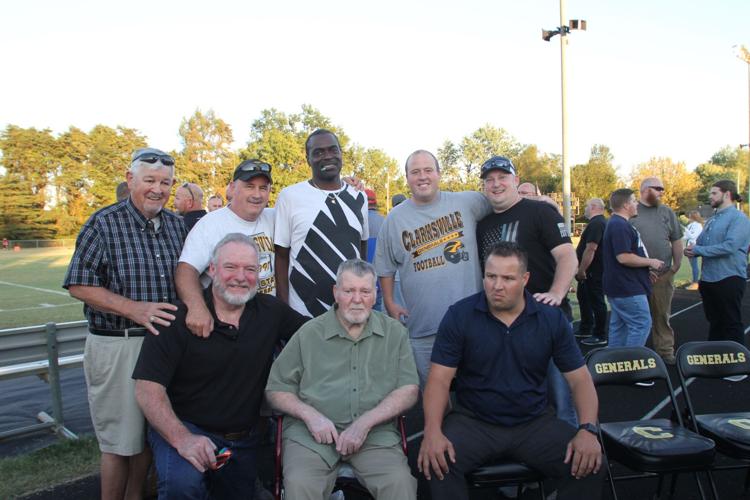 CLARKSVILLE — Back when he was a football player at Clarksville in the mid-1990s, Billy Troutman remembers walking into the weight room one afternoon and seeing then-Generals coach Dennis Hawkins bench-press 300 pounds.
"As a young kid you're going, 'OK, I'm not messing with him,'" Troutman recalled. "He was a tough guy."
Hawkins' teams exhibited that same type of toughness during his 25 years as the Clarksville head coach. In that time, the Generals won multiple Mid-Southern Conference championships, three sectional titles and made the only state finals appearance in program history.
For those closest to him, though, that memory of his strongman days made the last few years of Hawkins' life hard to watch as he battled Parkinson's disease.
"To see your dad — who could do all these things and make all these things and bench press 300 pounds and beat up just about anybody — then you have to help him move around, or help him up after he fell. It was rough on me to watch it," his son, Jason Hawkins, said. "But he put up a heck of a fight."
Dennis Hawkins lost that fight when he passed away early Tuesday morning. He was 72.
Born and raised in Louisville, Hawkins graduated from Butler High School and Murray State University before coming across the Ohio River to join the staff of legendary Clarksville coach Guy Newcom as an assistant.
Mac Spainhour, a 1979 Clarksville graduate, remembered Hawkins, then the team's defensive coordinator, as an intense, hard-nosed disciplinarian.
"He put the fear of God in me, but I was glad because it kept me on the straight and narrow," Spainhour said. "Kids couldn't take it today. They would just curl up in the fetal position and cry."
He also remembered Hawkins' energy and enthusiasm, especially during one instance from his career. It occurred after Spainhour, a wide receiver, caught a pass during a game, then lowered his shoulder and ran over an opposing defensive back before being brought down. The hit left him slightly dazed and confused.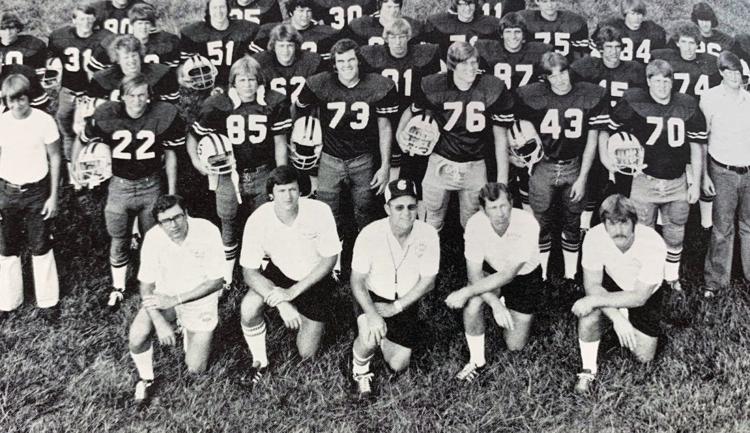 "When I got up my head was buzzing," Spainhour recalled. "Then all of the sudden Hawk runs down the sideline and hits me on the head and yells, 'That was a great hit!' After that I staggered back to the huddle because he had hit me harder than the guy, and the guy rang my bell!"
Later, Spainhour got to know a kinder, gentler Hawkins when he coached under him on a staff that also included the late Butch Troutman.
"We were extremely close," Spainhour said. "All the coaches that I coached with, all of our kids came through the system. Our kids went from being ball boys to managers to (recovering kicking) tees to water boys. Then, they were players."
One of those, along with Jason Hawkins, was Billy Troutman.
"My dad and (Dennis), they went to work, did their job and did it with unbelievable passion," Troutman said. "(Dennis) was like a second father to me. He was a great husband and a great dad. He was unbelievable."
Hawkins, who took over for Newcom in 1979, helmed the Clarksville program in a formative time in Southern Indiana football. During those years old-school, tough-minded coaches like Gene Sartini at Providence, Ron Weigleb at Floyd Central and Bill Ware at Jeffersonville stalked the area sidelines.
"It was just kind of how it was, the good ones, and their programs, were built on toughness," Troutman said. "Everybody that played us, they said they felt it the next day. … We were known for football and that was pretty cool. For a long, extended period of time we were a football school. When we played you the games were competitive and always close."
"His teams didn't quit," Jason Hawkins added. "They would always play hard, and they'd hit you. Back in the day, people were scared. They knew they were going to play a hard-fought game when they came to Clarksville."
The younger Hawkins got that experience first-hand when he played for his father.
"I got to play for him, which was a great thing for me to be able to do," Jason Hawkins said. "I learned a lot from him. There were good moments and there were bad moments, but I think our relationship got stronger and we became better friends."
A couple of years after he graduated high school, Jason Hawkins joined his father's coaching staff.
"He gave me an opportunity to start out coaching with him, that time was well spent. I owe him what I've been able to accomplish in my career so far, it is a direct correlation to him," said Jason Hawkins, who has won 101 games and two sectional titles in his coaching career. "He gave me the opportunity to call the plays, probably before I was ready to, but it helped me to become a better coach."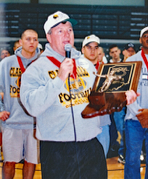 The two were on the sideline together for the Generals' most successful season, 1997. That team won the program's second sectional championship, as well as its first regional and semistate titles before losing to Jimtown in the Class 2A state final. Two years later a Clarksville team that won only two regular-season games, reeled off three wins in a row in the postseason to capture the program's third sectional title.
Hawkins' final season was 2004. After that he assisted his son at Louisville Shawnee for a year before the younger Hawkins got the head-coaching job at Charlestown.
"I could always count on him to tell me what I was doing right and what I was doing wrong," Jason Hawkins said.
It was also around that time that the elder Hawkins took on a new role, grandfather. After having coached Jason and his sister, Wendy, when they were younger, Dennis Hawkins became a fan, watching his grandchildren in their activities.
"He was at all their games when he was healthy," Troutman recalled.
Three years ago Hawkins was diagnosed with Parkinson's disease, the central nervous system disorder that felled former boxing great Muhammad Ali, and his health began deteriorating. Last year Jason Hawkins feared his father was close to death.
"But he fought back because he wanted to watch his grandkids grow up and play sports," Jason Hawkins said.
Last October, Clarksville honored Hawkins and Newcom before a game. The football field was renamed in Newcom's honor while the locker room facilities were renamed for Hawkins.
"I was at Clarksville for 34 years. Coach (Newcom) gave me a chance to be a coach, and work hard. The best thing about Clarksville, they like football. That got me right there. Good people. I met a lot of really nice people, a lot of good coaches and the kids played hard," Dennis Hawkins told the News and Tribune then.
However, that was a rare outing for the elder Hawkins.
"It was rough the last couple of years because he hasn't been able to come to the games," Jason Hawkins said.
Still there were sometimes that even when he wasn't there, he was. One such case, according to Jason Hawkins, was last October when the Pirates faced then-No. 3 Brownstown Central in the first round of the Class 3A sectional. Late in that game, with Charlestown clinging to a 7-6 lead and facing a fourth-and-3 from its own 20-yard line with a little over 2 minutes to play, Hawkins called a fake punt. Surprisingly it worked, preserving the victory.
"That was more of my dad, of his nature," Jason Hawkins said. "He was always trying a fake punt or an onside kick. He was known to do stuff like that."
Hawkins is survived by his wife of 52 years, Pam, as well as his son, Jason, and his daughter, Wendy Hawkins Foster, as well as his grandchildren, Laney, Caleb and Caden.