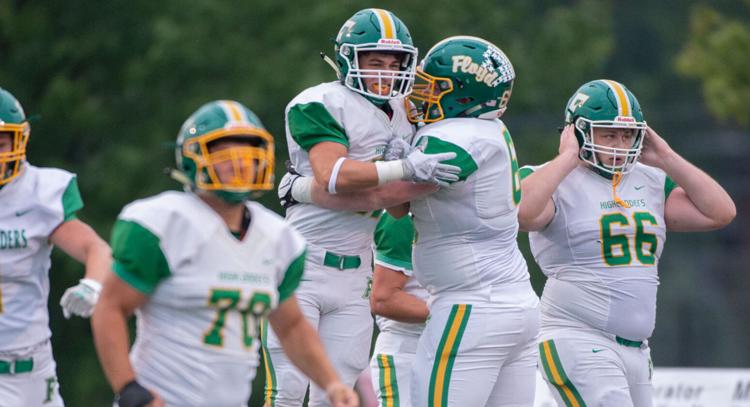 NEW ALBANY — Floyd Central was methodical and New Albany was mistake-prone Friday night. That helped the Highlanders roll to a 56-19 win in a Class 5A Top 10 showdown, and Hoosier Hills Conference game, Friday night at Buerk Field.
"We made too many mistakes," New Albany coach Steve Cooley said. "We never got momentum."
New Albany (3-1, 1-1) came into the game unbeaten and ranked No. 9 in 5A, one spot ahead of rival Floyd Central (3-1, 1-0). There was talk of a 4-0 start by the Bulldogs — which would've been their first in over 25 years — and a long-sought after win against Floyd Central. The Highlanders, coming off a loss, took notice.
"We took it personally," Floyd Central coach James Bragg said. "This is big. Any time you can beat a crosstown rival it's big."
However Floyd's sixth straight win over New Albany didn't come without some struggles early on.
"Our kids didn't quit," Bragg said. "It was amazing to see them buy into the team."
Things got off to a very poor start for the Bulldogs, who took the opening drive backwards to their own 21. A bobbled snap on a punt led to a block, Floyd senior Andrew Spurgeon scooped up the football and he walked into the end zone from the 5-yard line. Max Grangier's point-after kick gave the Highlanders a 7-0 lead with less than two minutes gone in the first quarter.
That was just one of several big plays in the first period.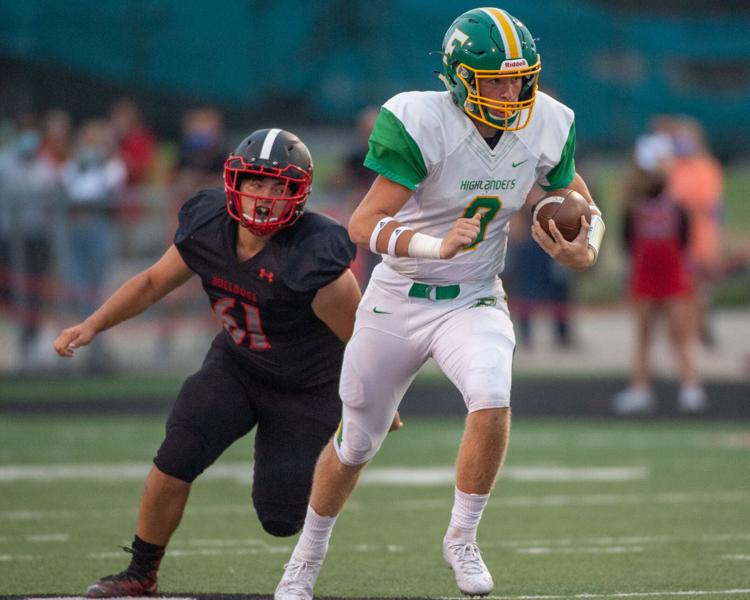 New Albany answered almost immediately. From near midfield, Bulldogs quarterback Derell Simmons connected with wide receiver Ja'raylan Johnson for a 51-yard touchdown pass. Freshman Zach Fleming added the point-after kick to make it 7-all with 8:49 to play in the first quarter.
New Albany's momentum was short-lived. On the next series, the Highlanders faced third-and-10 from the Bulldogs' 42 when wide receiver Eli Branham took a sweep 36 yards to the New Albany 6. That set up a touchdown run by senior running back Wenkers Wright, giving Floyd Central a 14-7 lead.
"Over-and-over just run the football, that's what Floyd Central is all about," Bragg said.
The Highlanders put it away in the second period.
Early in the quarter, senior quarterback Tristan Polk and Wright combined for 63 yards over seven plays on the ground, capped by a 3-yard touchdown carry by Wright that made it 21-7.
Down 14, New Albany had a pretty touchdown pass from Simmons to Johnson called back due to a penalty. Three plays later, Simmons was intercepted by Colin Cummins. That set up another Highlanders' touchdown as Polk connected with Zac Hutslar for a 34-yard score two plays later.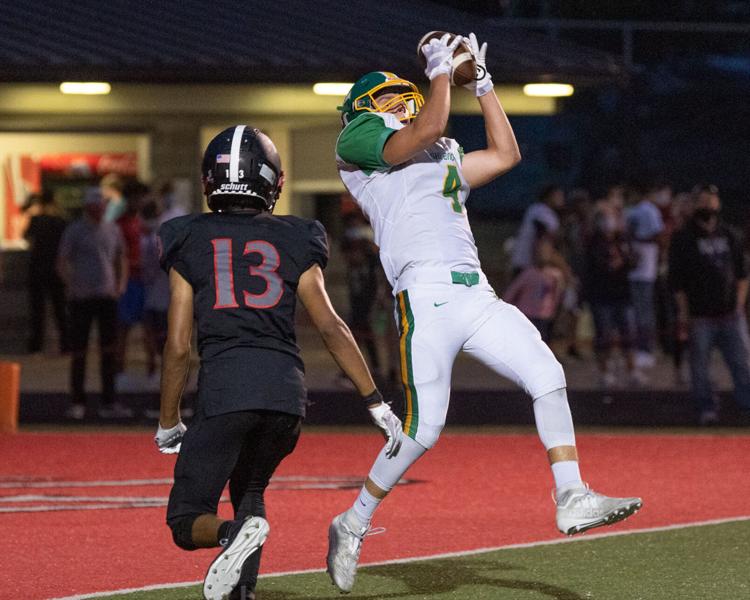 New Albany wouldn't bounce back from that 14-point swing, but the Bulldogs made a game effort. On the ensuing possession, New Albany put together a nice drive that was capped with a Myles Johnson 2-yard TD run to make it 28-13 with 3:24 left in the half.
However, any chance New Albany had to carry some momentum into the locker room faded in a hurry. On Floyd Central's ensuing possession, Polk hit Branham with a 44-yard pass to the New Albany 12. From there, Wright scored on a 12-yard run to make it 35-13.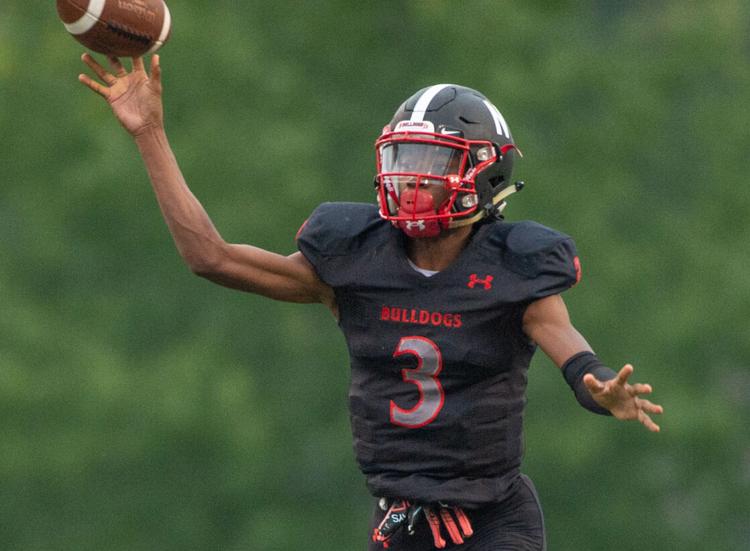 The half ended as poorly as it had began for the Bulldogs. A fumble late in the half put Floyd Central at midfield with under two minutes left. Five plays later, Polk hit Jake Hausz with a 14-yard TD pass to make it 42-13 at the break.
For the Highlanders, Spurgeon added two touchdown runs in the third and fourth quarters to help make the final margin.
"They were better than us tonight," Cooley said. "But we'll learn from it. The little things we've got to fix."
Next up, New Albany travels to HHC-power Columbus East, which blanked Jeffersonville 49-0 Friday, while the Highlanders host the Red Devils for the second time this season.