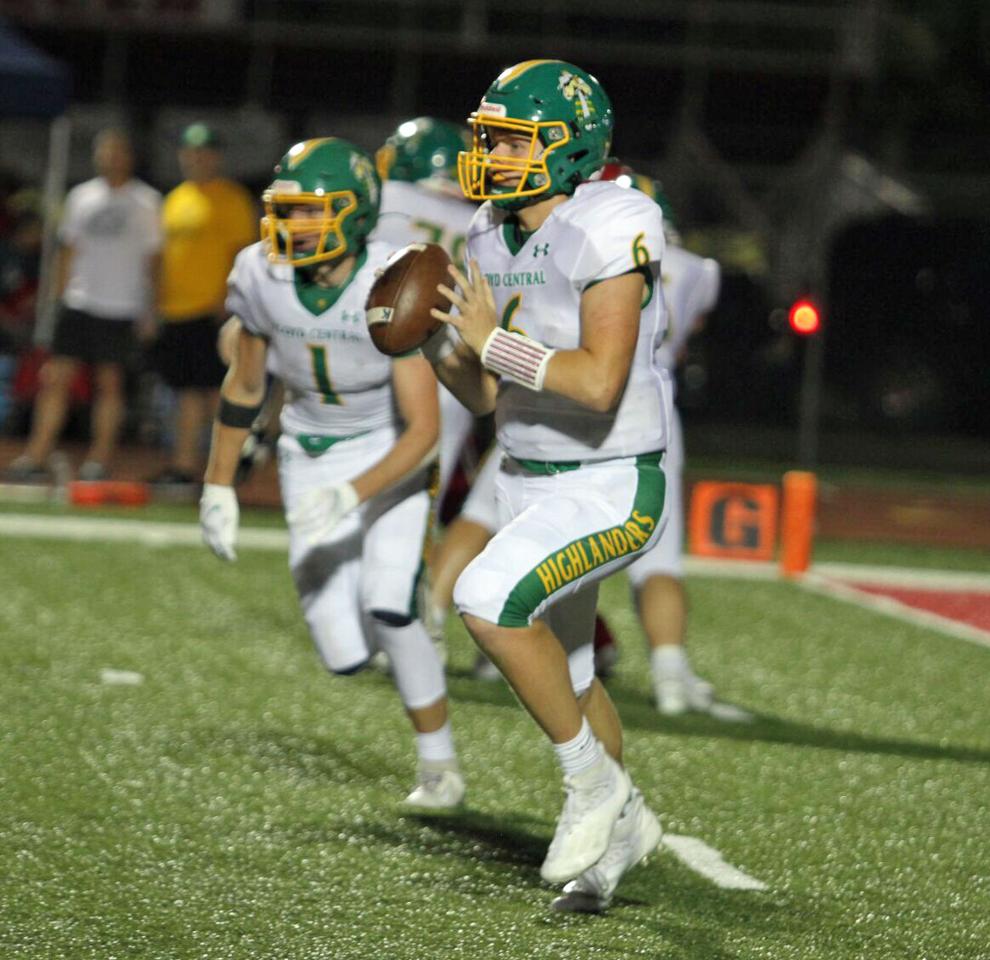 JEFFERSONVILLE — Sophomore quarterback Tristan Robertson hit junior wide receiver Eli Branham with a 46-yard touchdown pass on fourth down with 49 seconds left to lift Floyd Central to a 20-13 win over host Jeffersonville in a Hoosier Hills Conference clash Friday night at Blair Field.
Branham was cradling the ball after the game when Highlanders head coach James Bragg yelled to him: "You can take it home and sleep with it, but I need it Monday!"
Floyd Central (1-4, 1-0) picked up its first win of the season thanks to a late-surging offense that had only scored 14 points in its first four games and went without a point in the first half. Robertson threw a trio of second-half TD passes to lead the way.
"It's tough. We've been battle-tested across the river," said Bragg, whose team has lost three games to teams from Kentucky. "We needed to play well and we did. I can't be happier for my boys."
Defenses held sway in the first quarter, but Floyd Central did threaten after starting with great field position midway through the period.
A Jeffersonville (1-3, 1-2) punt from its own end zone led to Floyd taking over at the Red Devils' 35. From there, Floyd Central sophomore running back Mitchell Bernardi had four carries for 32 yards and got the Highlanders deep into Jeff territory.
However on first-and-goal at the Jeffersonville 3, a high snap sailed over Robertson's head and was recovered by Jeffersonville sophomore lineman Ethan Phillips at the 25-yard line.
A scoreless first quarter was followed by much of the same in the second. Late in the period, the Highlanders again showed some punch on offense. On third-and-13 at the Floyd 15, Robertson connected with Branham for a 31-yard pass to midfield.
The drive stalled there, though, as Robertson was sacked on third-and-10 by Jeff junior linebacker Jake Curry.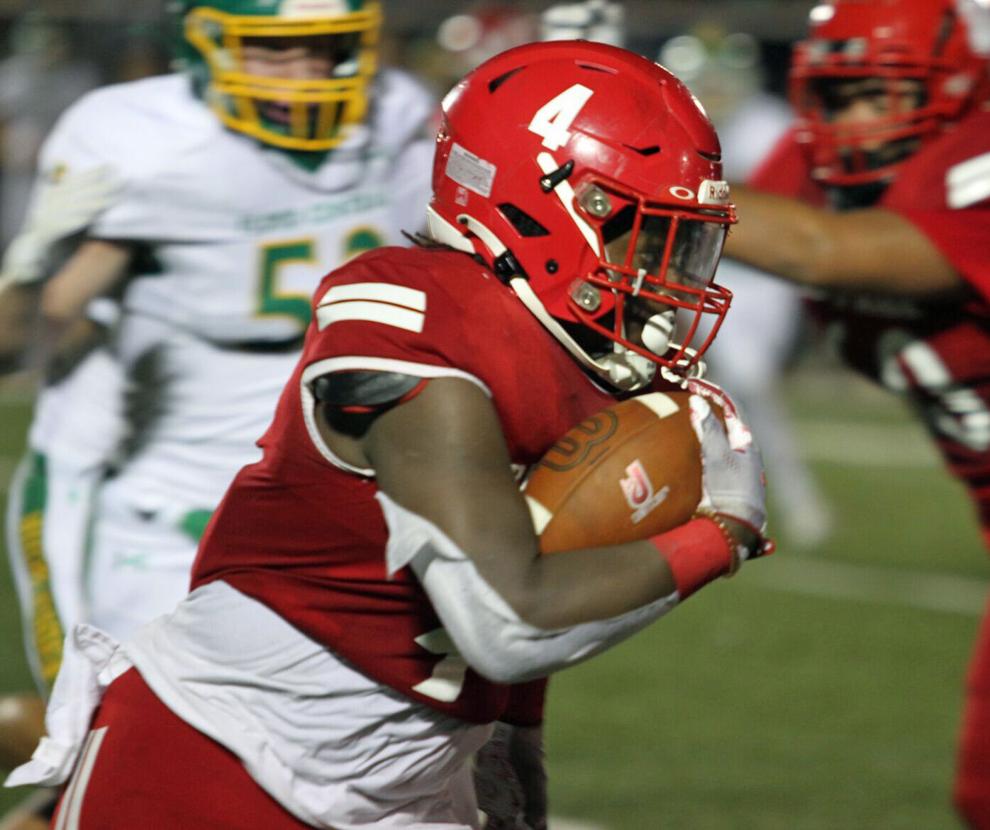 Following a Floyd punt, the Red Devils took over with 2:38 left in the half and immediately got a big play of their own. A 28-yard pass from senior quarterback Cole Phillips to senior wide receiver Davarhy Julian put the ball at midfield. That drive, however, stalled as well and it was scoreless at the break.
Aside from the one Floyd Central threat, the first half was marked by both teams unable to sustain drives as the defensive side made most of the key plays.
Jeffersonville came out firing to start the third quarter. A pair of passes, of 14 and 11 yards, from Phillips to senior wide receiver Tyson Maddox took the Red Devils to midfield.
On cue, the Floyd Central defense stepped up with a pair of sacks and Jeff was punting again.
With the offenses struggling, it was only fitting that the scoreless tie was broken by the defense. Floyd Central had the ball on its own 33 when a fumble was scooped up by Maddox, a defensive back, and returned 28 yards for a touchdown. The PAT failed, but the Red Devils were on top 6-0 with 8:44 left in the third.
Floyd Central responded with its first sustained drive of the game. A 21-yard pass from Robertson to junior wide receiver Jude Harrison took the ball to the Red Devils' 23. From there, Bernardi helped the Highlanders into the red zone.
On third-and-13 from the 14-yard line, Robertson carried it to the 3. On fourth down Robertson connected with Branham for the touchdown to tie it at 6 with 1:46 left.
Jeffersonville ended the third quarter with a punt snap miscue that gave Floyd Central the ball in the red zone to start the fourth.
The Highlanders took advantage as Robertson hit junior wide receiver Jordan Fonda with a 17-yard touchdown pass. Max Grangier's point-after kick put the Highlanders on top 13-6 with 11:13 to play.
Jeffersonville looked to be in trouble after a stalled drive, but the Red Devils got the football back and made the most of the late opportunity.
A pair of passes from Phillips to Julian put the ball on the 1 and Phillips scored from there. Hannah Magruder's point-after kick tied it at 13 with 2:01 left in regulation – enough time for Floyd Central to answer.
Next up, Jeffersonville travels to Silver Creek while Floyd Central goes to Columbus East for another HHC game.
.
FLOYD CENTRAL 20, JEFFERSONVILLE 13
Floyd Central  0  0  6  14 — 20
Jeffersonville  0  0  6   7 — 13
SCORING SUMMARY
Third quarter
   J — Tyson Maddox 28 fumble recovery return (kick failed), 8:44.
   FC — Eli Branham 3 pass from Tristan Robertson (kick failed), 1:46.
Fourth quarter
   FC — Jordan Fonda 17 pass from Robertson (Max Grangier kick), 11:13.
   J — Cole Phillips 1 run (Hannah Magruder kick), 2:01.
   FC — Branham 46 pass from Robertson (Grangier kick), :49.