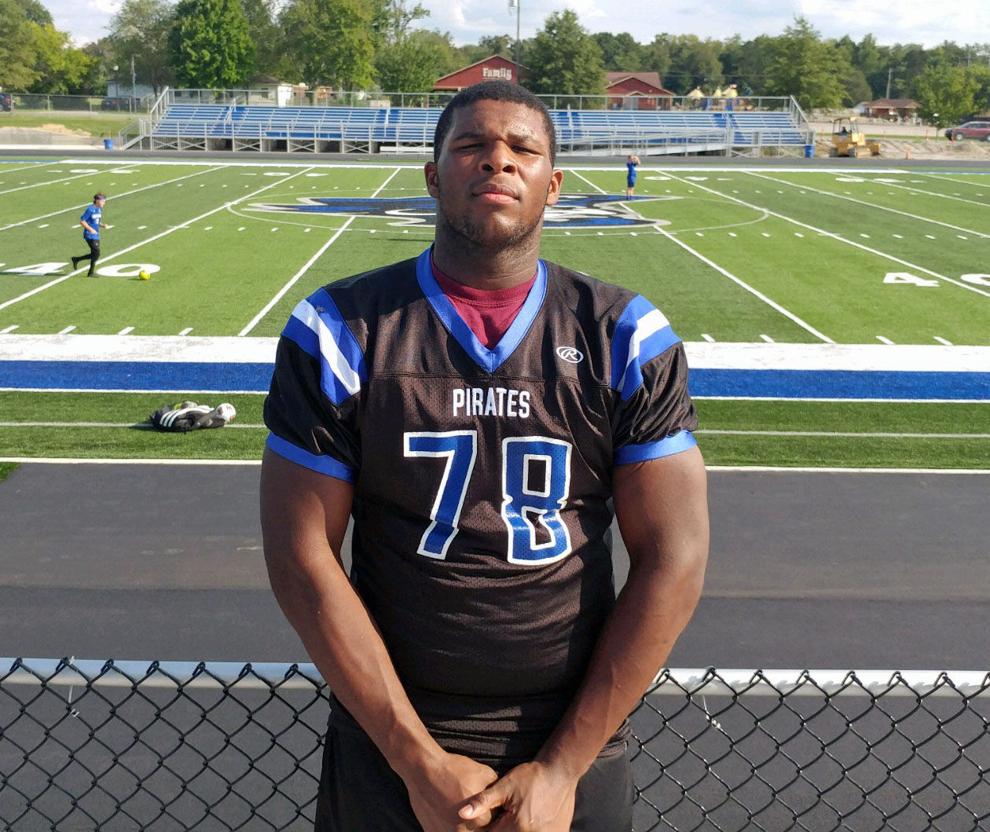 It's down to five for Kiyaunta Goodwin.
The Charlestown junior football standout announced Friday that he has whittled his list of potential colleges to a handful. In a photo illustration released from his Twitter account, Goodwin held up all four fingers and his thumb, with the logos of five schools — Alabama, Clemson, Kentucky, Michigan State and Ohio State — at the end of each digit.
The 6-foot-7, 300-pound Goodwin figures to be one of the top offensive line recruits in the nation next year. He is rated as a four-star recruit and ranked 54th nationally by both 247Sports and rivals.com.
FLOYD'S DIDAT NAMED TO COLTS' ACADEMIC ALL-STAR TEAM
Floyd Central senior Spencer Didat was one of 24 seniors — 11 offensive players, 11 defensive players and two special teams players — from the state named to the Indianapolis Colts Indiana High School Academic All-Star Team, which honors players across the state who excel in the classroom as well as on the field.
During the 2020 season Didat, a running back/defensive end, ran for 50 yards on offense while recording 32 stops (tying for eighth on the team), including two sacks, on defense. He's the first player from Floyd to receive the honor.
All 24 players are ranked in the top five percent of their class, and 19 are slated to either be class valedictorian or salutatorian. Nominations for the award are collected from coaches across the state each season. The Indiana Football Coaches Association then selects the top student-athletes to receive the recognition.
The complete team is listed below:
2020 INDIANAPOLIS COLTS ACADEMIC ALL-STAR TEAM
Offense: QB — James Arnold (South Adams); RBs — Spencer Didat (Floyd Central), Holden Montarsi (Noblesville); WRs — Benjamin Riggins (Triton Central), Noah Howell (North Decatur); TE — Leyton Czarnecki (LaVille); OL — Ethan Wright (Castle), Kenan Bowling II (Terre Haute North), Collin Campbell (Greenwood), Jameson Beaty (Muncie Central), Colton Lehnen (Lafayette Jeff); K — Samuel Thomas (John Glenn).
Defense: DLs — Gabe Pirtle (Sullivan), Elijah Greene (Seeger Memorial), Jake Martin (Northwestern); LBs — Troy Llewellyn (LaPorte), Andrew Daming (South Spencer), Tyler Smith (Edgewood), Kayden Bensheimer (Mt. Vernon), Owen Smith (Clinton Central); DBs — Sam Schott (West Lafayette), Lewis Dellinger (Twin Lakes), Garrett Leman (West Central); P — Kyle McCreary (Eastern).
THREE LOCALS NAMED TO ALL-REGION TEAM
A trio of local seniors were among 30 recently selected to the IFCA All-Region 10 team.
Floyd Central's tandem of running back Wenkers Wright and quarterback Tristan Polk were named to the squad, as was Providence running back/linebacker Jeremy Gettelfinger.
This past season Polk completed 86 of 130 passes (a 66.2 completion percentage) for 1,696 yards and 19 touchdowns with five interceptions. He also ran for 258 yards and four TDs.
Wright ran 144 times for 1,288 yards (8.9 per carry and 143.1 per game) and 16 touchdowns while also hauling in eight passes for 94 yards and two more TDs.
Meanwhile Gettelfinger ran 153 times for 1,118 yards (7.3 per carry and 111.8 per game) and 10 touchdowns while also tallying six receptions for 71 yards and another score. He also passed for a TD. On defense, Gettelfinger recorded a team-high 66 tackles while also picking off one pass and recovering a fumble.
Floyd Central's Michael Fowler was named to the all-region team as a manager.