For the Jeffersonville Red Devils, their dramatic about-face can be summed up in one word: believe.
"The biggest thing is belief. Coach (Isaac) Parker just says, 'Believe in yourself and you can do it,'" senior running back Jordan Ferguson said following last Friday night's 35-25 victory over New Albany in the Class 5A Sectional 16 final. "We just believed in ourselves and we worked as a unit and we didn't give up."
The Red Devils didn't give up after losing dynamic senior Deydrian "Dey Dey" Hughes to a knee injury in their preseason scrimmage against Whiteland.
They didn't give up after losing starting quarterback Gervasio Mitchell to a knee injury just a few days before the season-opener against Floyd Central.
They didn't give up after a 35-point loss to the Highlanders in that game, or after a 19-point loss to archrival New Albany two weeks later, or after a 49-0 loss to Columbus East, or after a second loss (this one by 28 points) to Floyd, or their first-ever on-the-field loss — by 27 points — to Madison on Oct. 2.
Things began to turn in Oct. 9's 41-14 win at Jennings County.
"Scoring so many points at Jennings really just kick-started the whole team again, it gave us a new heart," senior center Cameron VanCleve said.
The Red Devils needed that heart the following week when they trailed 19-7 late in the first half at Bedford North Lawrence. Jeff scored a touchdown just before intermission, then added a scoop-and-score TD in the third quarter to take a lead it wouldn't relinquish as the Devils' D pitched a shutout in the second half.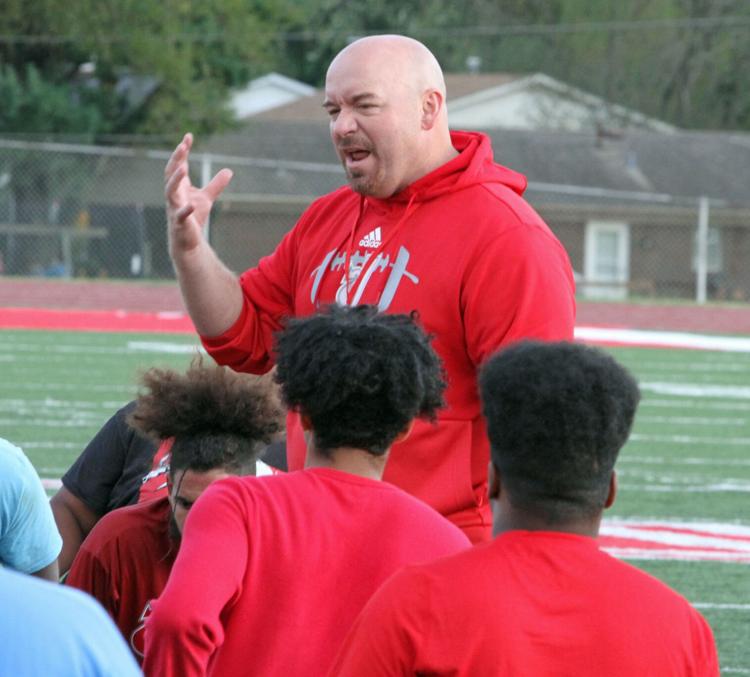 Jeff also got a big boost from the return of Hughes ("We get a lot of our swag from DeyDey," Parker said) against Madison, as well as the addition of transfer Tyson Maddox, who became eligible late in the regular season.
Still, the Red Devils were a big underdog heading into their sectional semifinal game against the Highlanders, who had beaten Jeff by a combined 63 points in their first two meetings.
"Nobody believed in us for that Floyd game, everybody had us out. I'm pretty sure we had a less than one percent chance to win that game," said junior Cole Phillips, who was thrust into starting quarterback duties following Mitchell's injury. "Our bye week before Floyd, we just keyed on believing in each other and believing that we could win."
The Red Devils carried that over into last week's sectional final against the Bulldogs. Once again, Jeff found itself down at halftime, but the Red Devils didn't blink.
"We knew we just had to turn it up," VanCleve said.
They didn't panic, they just believed.
"We just knew that if we worked together as a unit that we could achieve anything," Ferguson said. "One of the biggest words that my coach, Coach Parker, told us was 'believe.' We believed in each other, we worked as a unit and we won."