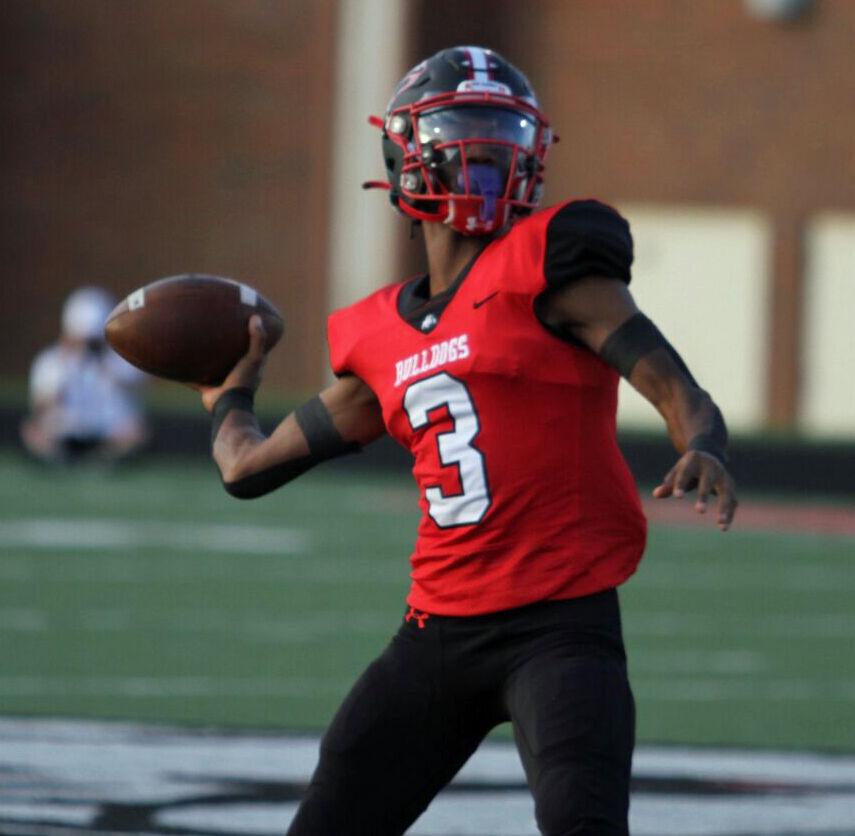 BEDFORD — Senior quarterback Derell Simmons ran for two touchdowns and threw for another as New Albany took over sole possession of first-place in the Hoosier Hills Conference with a 27-16 win at Bedford North Lawrence on Friday night.
The Bulldogs and Stars entered the game tied atop the league standings at 1-0.
New Albany, however, took a lead it wouldn't relinquish when Kyondre Winford capped a 99-yard drive with a short touchdown plunge with 2 minutes, 35 seconds to play in the first period.
BNL (1-3, 1-1) got within 7-3 on a field goal with 41 seconds left in the first quarter.
The Bulldogs responded, though, with another TD — a short run by Simmons.
The Stars answered with a Memphis Louden touchdown run, which made it 14-9 1:02 before intermission.
New Albany regained the momentum in the third quarter when Simmons connected with DeJon Winburn for a 26-yard TD that gave the 'Dogs a 20-9 lead.
Simmons added another short touchdown run on New Albany's next possession to push the visitor's advantage to 27-9.
The Bulldogs (2-2, 2-0) cruised from there.
New Albany visits Columbus East next Friday night.
.
NEW ALBANY 27, BEDFORD NL 16
New Albany     7     7     13     0 — 27
Bedford NL     3     6     0     7 — 16
SCORING SUMMARY
First quarter
     NA – Kyondre Winford 3-yard run (Zachary Fleming kick), 2:35. 
     BNL – Ryker Hughes 29 field goal, 0:41.
Second quarter
     NA – Derrell Simmons 1 run (Fleming kick), 7:07.
     BNL – Memphis Louden 9 run (kick failed) 1:02.
Third quarter
     NA – DeJon Winburn 26 pass from Simmons (kick failed) 10:16.
     NA – Simmons 3 run (Fleming kick) 4:24.
Fourth quarter
     BNL – Ryker Hughes 3 pass from Louden (Ruel Steele kick), 0:06.
INDIVIDUAL STATISTICS
Rushing
New Albany: Kyondre Winford 21-113, Myles Johnson 18-87, Elijah Jennings 13-68, Derell Simmons 6-12, Daquan High 1-(-5).
BNL: Anderson 12-64, Louden 6-14, Childs 2-13, Todd 2-12, Nikirk 1-0.
Passing
New Albany: Simmons 14-25-1-189.
BNL: Louden 14-31-2-128.
Receiving
New Albany: DeJon Winburn 7-105, Ja'raylan Johnson 2-20, Kaden Watson 3-18, High 1-8, Winford 1-38.
BNL: Hughes 4-28, Nikirk 3-47, Dalton 3-29, Anderson 2-6, Todd 1-17. 
.
WOLFPACK SLIP PAST LIONS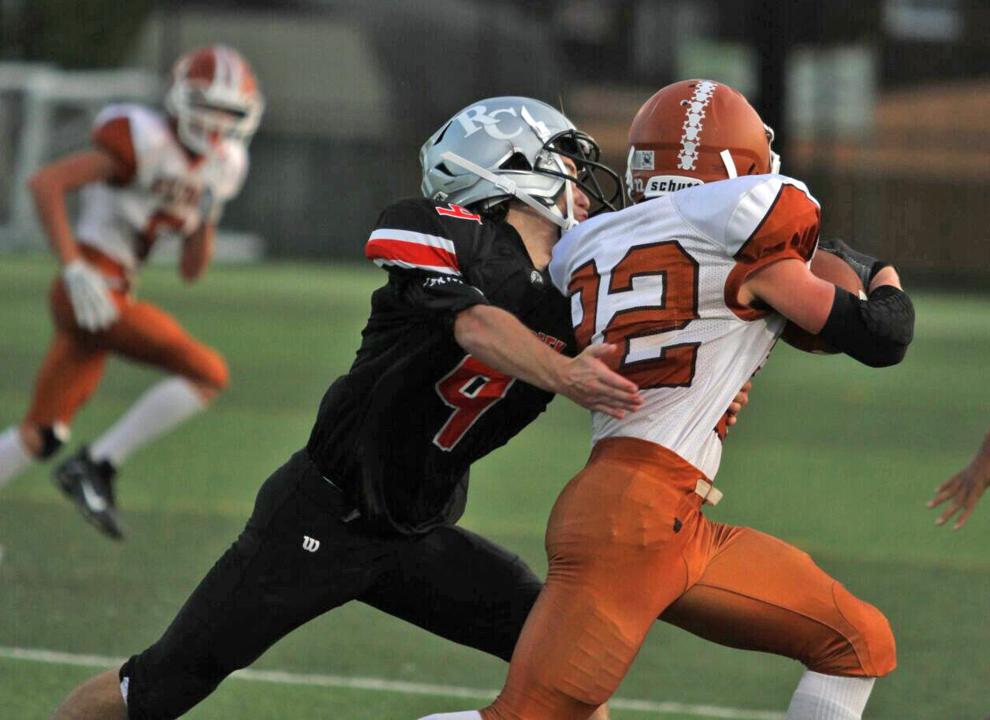 JEFFERSONVILLE — Crawford County hit a field goal with 5.8 seconds left to edge host Rock Creek 15-14 Friday night at the Woehrle Athletic Complex.
The Wolfpack led 6-0 late in the second quarter and appeared to be driving for its second touchdown when Chris Graham picked off a pass and returned it 94 yards for a pick-six for the Lions. The conversion run failed, but the game was tied 6-all at halftime.
Rock Creek took the lead on a 25-yard Seth Sleepe to Graham touchdown pass with 8 minutes, 44 seconds to play in the third period.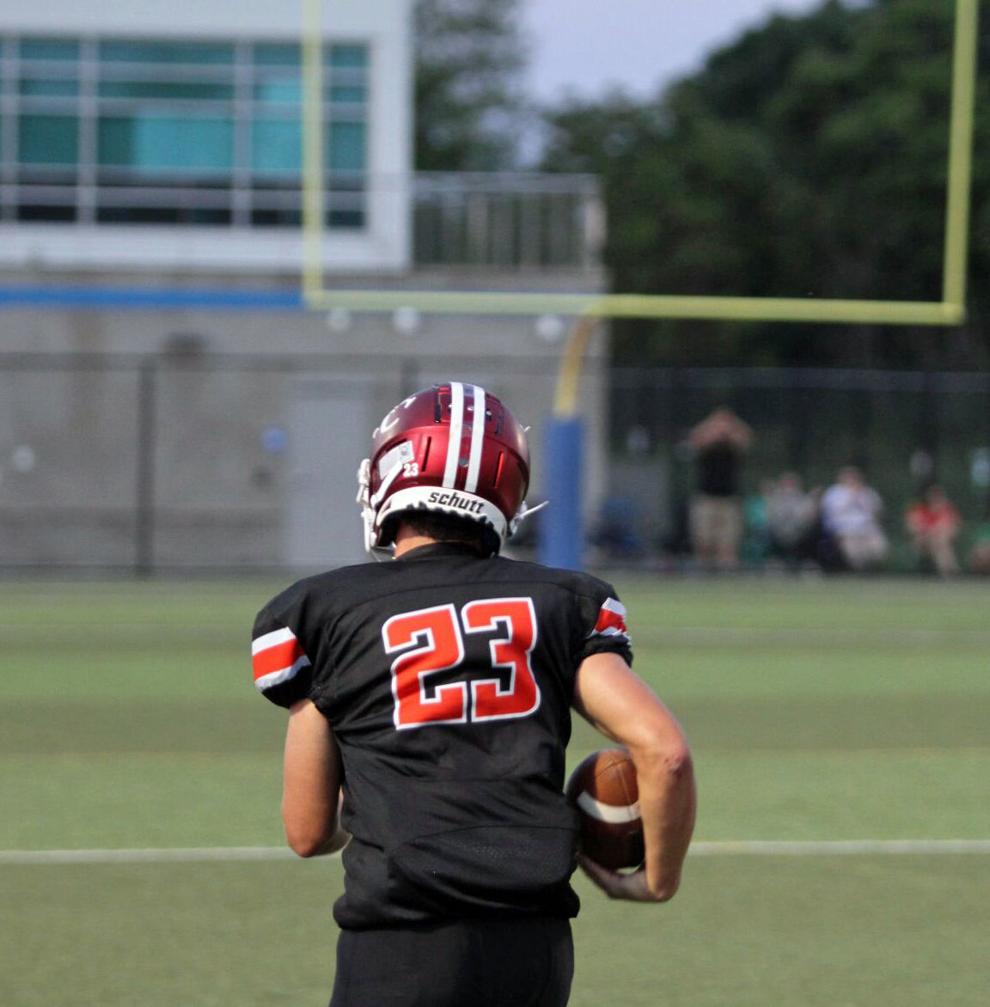 It remained that way until Crawford scored with 7:24 left in the game. The Wolfpack's two-point conversion failed and the Lions held a 14-12 lead. They couldn't hang onto it, though.
Rock Creek (1-2) visits North Daviess next Friday night.
PIRATES TOP COUGARS
RAMSEY — Sophomore quarterback Clay McClelland accounted for five touchdowns (four passing, one rushing) to lead Charlestown to a 39-7 Mid-Southern Conference win at North Harrison.
McClelland finished 10 for 15 for 207 yards. His top target was Jake Ottersbach, who had four receptions for 122 yards and three TDs for the Pirates.
Charlestown (2-2, 1-2) hosts Providence at 7:30 p.m. next Friday night.
WILDCATS DOWN DEVILS
MOUNT VERNON — Class 3A No. 7 Mount Vernon (Posey) outscored visiting Jeffersonville 35-6 over the final three quarters en route to a 35-13 triumph Friday night.
The Red Devils (1-2) host Floyd Central at 7 p.m. next Friday night.