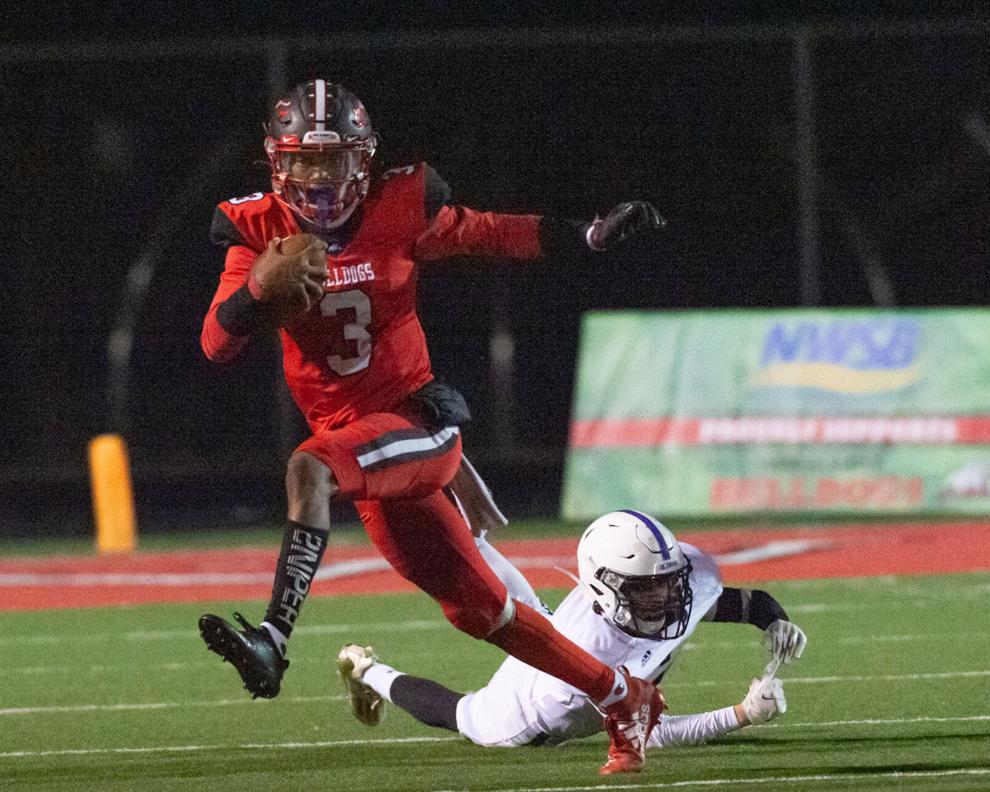 NEW ALBANY — New Albany coach Steve Cooley calls Derell Simmons a "game-changer."
After last Friday night, it's safe to say he's a game-winner too.
However you refer to the Bulldogs' senior quarterback, there's no doubt that he's been a difference-maker this season.
"He makes us go, even when he's hurt and beat up. He's a tough young man," Cooley said. "He's done a great job as a leader, as a quarterback, I couldn't be prouder of the young man."
Simmons hopes to lead New Albany to victory Friday night when the Bulldogs (8-3) host No. 8 Bloomington South (8-2) at 7 p.m. in a Class 5A regional championship game at Buerk Field.
"The goal for next week is do the same thing we did today," he said after New Albany's thrilling come-from-behind 34-27 victory over visiting Seymour in the 5A, Sectional 16 final last Friday night. "We plan on going 1-0 and winning this regional."
That would be a benchmark achievement for the Bulldogs, who are coming off only the program's third sectional title — and first since 2002.
Simmons has been a big reason why New Albany is having its finest season in 19 years.
"His game has gone from down here to way up here," Cooley said, taking his right hand from low to high. "He's improved dramatically. He's improved as a runner, as a thrower and as a leader, that's pretty much everything."
Indeed, Simmons has come a long way.
Three years ago, he and his classmates went undefeated on the freshman team.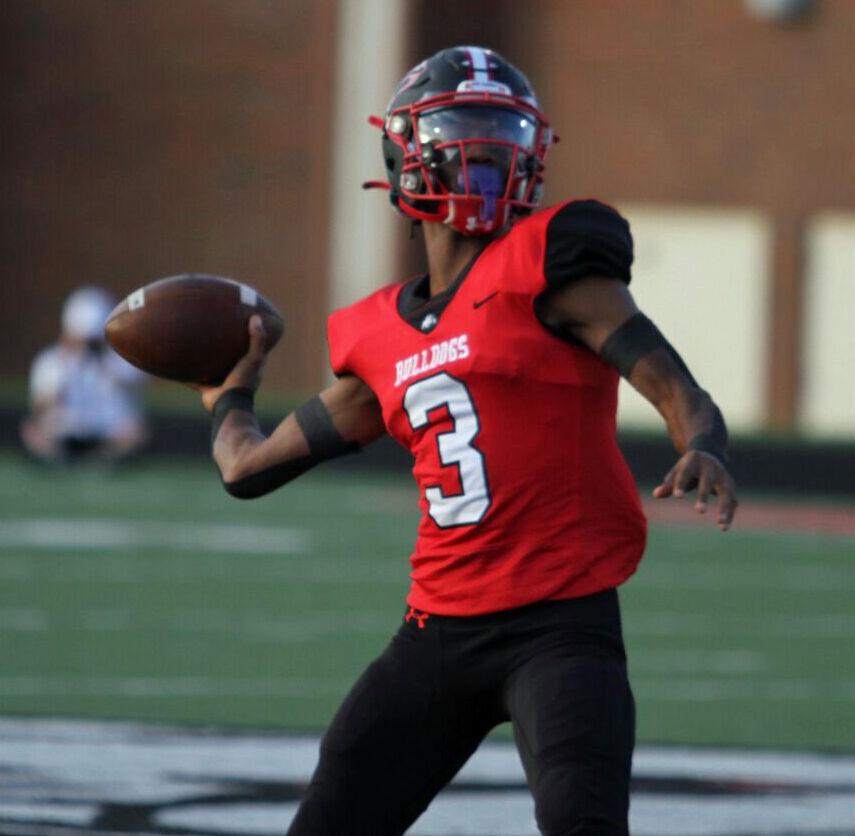 Two years ago, while splitting time as a starter with classmate Kyondre Winford, Simmons completed 30 of 59 passes (50.8 percent) for 407 yards and one TD against four interceptions.
Then last year, after taking over full-time as the starting QB, he completed 57 of 101 passes (56.4 percent) for 1,115 yards and 13 touchdowns with six interceptions while rushing for 498 yards and seven more TDs for the 'Dogs, who finished 6-3 after losing 35-25 to surprising Jeffersonville in the sectional final.
This season, the 6-foot-2, 165-pound Simmons has picked up where he left off, and then some. He's completed 143 of 235 passes (a 60.9 completion percentage) for 2,231 yards (202.8 per game) and 29 touchdowns, against only four interceptions, while rushing for 418 yards and 11 more scores.
"Two years ago, he and Kyondre they alternated back-and-forth. We were still trying to get them both to get everybody lined up and run the offense and those type of things," Cooley recalled. "Now it's to the point where Derell makes sure everything's done perfect. He knows when something's not done right."
Simmons has done a lot right this season, triggering an offense that is averaging 35.6 points per game (37.9 ppg in its victories) and a team that has won five in a row and eight of its last nine.
"Derell has meant a lot to this team. He's basically the leader — QB1," senior offensive tackle Blake Osborne said. "He's put a lot of work in and talked to us one-on-one about what we need to do."
"We've been playing together since fifth grade. This has been the goal, to win state for New Albany and that's what we're pushing for," senior wide receiver DeJon Winburn added.
Winburn (50 receptions for 887 yards and 13 touchdowns) and classmate Ja'raylan Johnson (57 catches for 983 yards and 10 TDs) have been Simmons' top targets.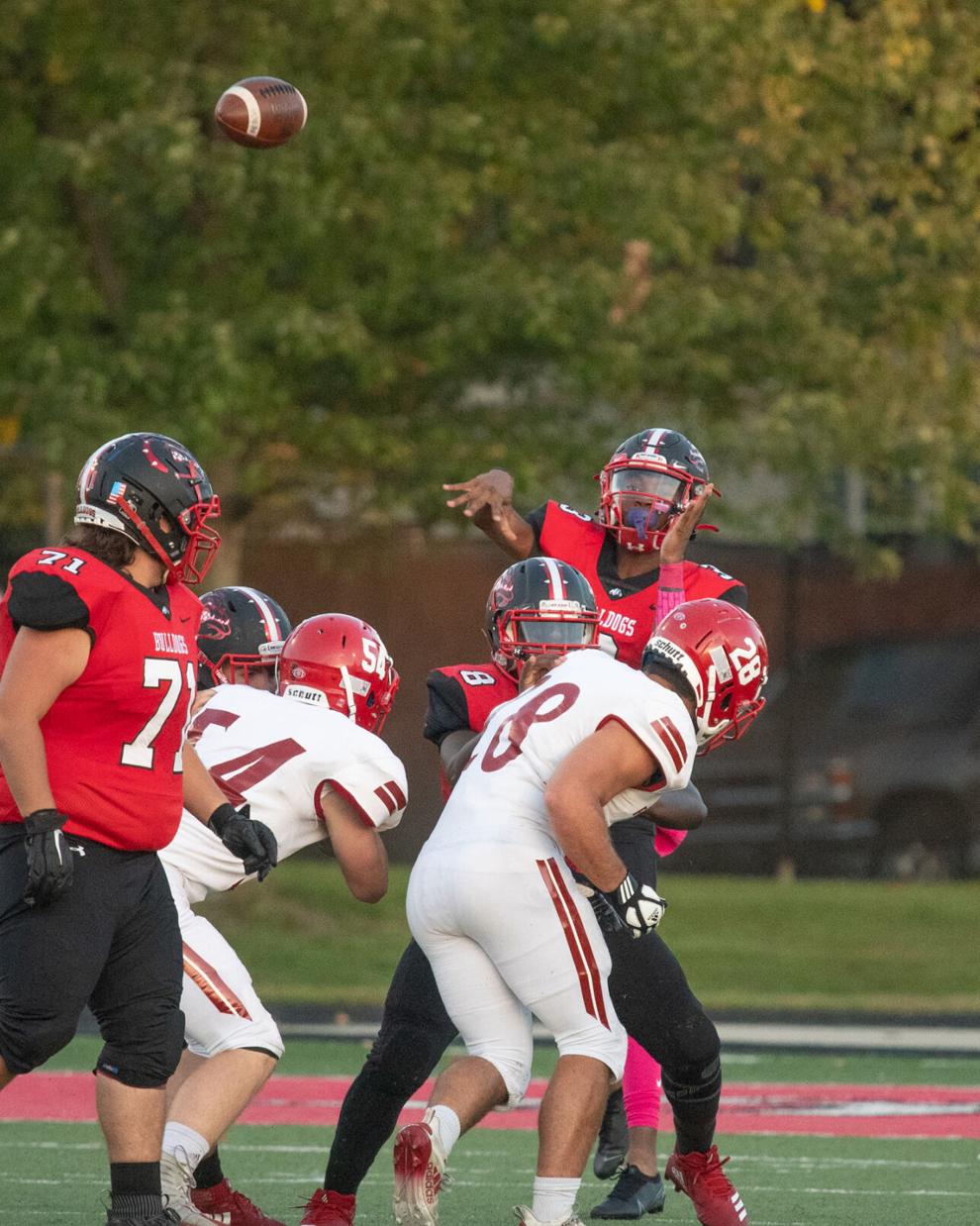 "Me and my wide receivers, we've always come together. All my starting wide receivers, they're like my closest brothers. Like my real brothers," Simmons said. "We all practice on our routes and build up our chemistry. We've been doing this since our freshman year. We always dreamed about it our freshman year that we were really going to be really good our senior year because our freshmen year we beat all these teams by like 20 or 40 points."
Last Friday night the Bulldogs and Simmons accomplished something they had dreamt about for awhile — winning a sectional title.
After running for a touchdown and throwing for a TD in the first three quarters, Simmons helped the Bulldogs tally 20 points — 14 in the final 2 minutes, 59 seconds — as New Albany rallied for the seven-point win.
"We were down most of the game, but we were picking each other up," Simmons said.
Trailing 27-20 late in the fourth quarter, Simmons led a drive that ended with Daquan High's 27-yard touchdown run.
The Bulldogs then went for a two-point conversion, which would've given them the lead, but Simmons was stopped short of the goal line.
"I thought I sold it," he said afterward of his play-fake.
Then on the Owls' ensuing possession, Simmons, also a defensive back who is second on the squad in interceptions (with three), picked off his counterpart, Seymour QB Bret Perry.
On the heels of his leaping INT, Simmons then guided New Albany down the field once again. After a couple of short passes and runs, the Bulldogs had the ball at the Owls' 5 with only 10 seconds to play.
That's when Simmons, on a play called "Zip-Pick," rolled to his left, then — with a defender coming at him — threw a jump-pass back to his right to Winford in the middle of the end zone for the game-winning TD with 4 seconds left.
"The winning touchdown pass, that's the best moment of my life right there," Simmons said afterward. "Coming back out of halftime (after trailing 14-7), then coming back together and winning this game, it's a big win! It's history!"
The Bulldogs will go for more history tonight, when they try to hoist their first-ever regional championship trophy.
Last Friday night Simmons, the game-changer/game-winner/difference-maker, did just that with the sectional trophy.
"It's a blessing to be here at this moment," he said.