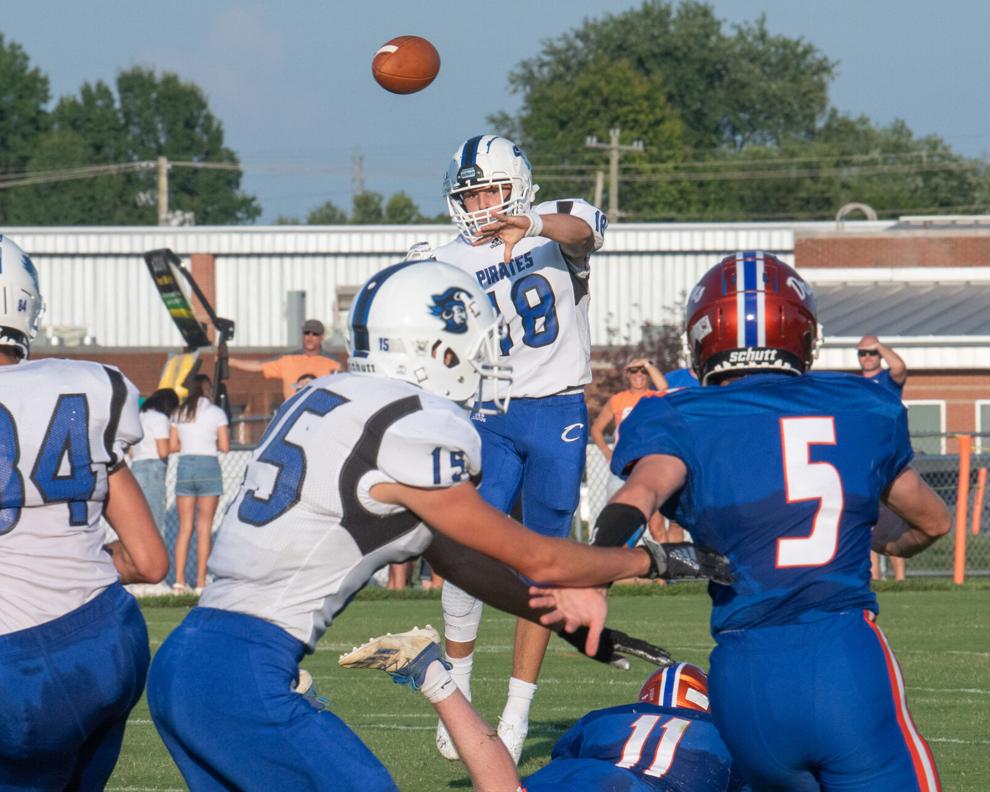 Down! Set! Hut! Welcome back to the Southern Indiana Tuesday Morning Quarterback, where we look back at the news, notes and quotes from the local high school weekend that was, as well as look ahead at what's to come.
Sophomore signal-callers are all the rage, it seems, in Clark and Floyd counties this season.
At least half of our eight area teams are relying on quarterbacks who are in their second years of high school.
At Providence you have Carter Lannan. At Charlestown there's Clay McClelland. At Silver Creek, it's Peyton Lacy. And, at Rock Creek you'll find Seth Sleepe.
In several cases, those QBs are exhibiting the presence and poise of an upperclassmen.
"Lannan played great. I was really proud of him. He played like a senior," Pioneers head coach Daniel McDonald said after his quarterback completed 16 of 22 passes for 266 yards and four touchdowns against one interception in Providence's 46-27 triumph at Clarksville in the annual Town Championship this past Friday night.
So far this season, Lannan has connected on 49 of 88 passes (55.7 percent) for 711 yards and seven TDs against one interception for the Pioneers (2-2).
Not to be outdone this past Friday night, McClelland completed 10 of 15 throws for 207 yards and four touchdowns while rushing 16 times for 91 yards and another score in the Pirates' 39-7 win at North Harrison.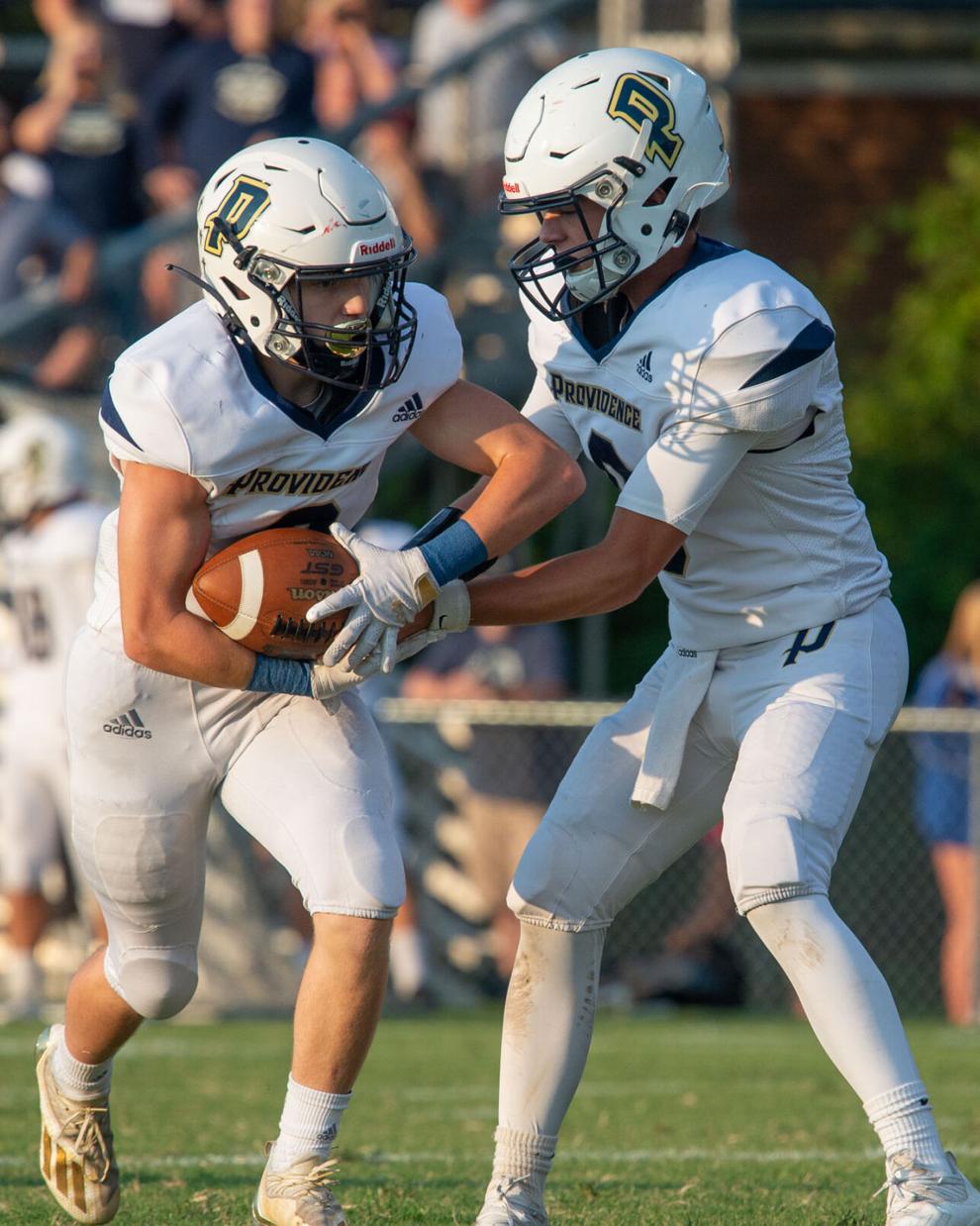 So far this season, he's connected on 37 of 67 passes (55.2 percent) for 627 yards and seven touchdowns against only two interceptions. He's also run 57 times for 399 yards and seven more TDs for the Pirates (2-2).
"Clay is really progressing nicely. He is throwing the ball very well and has always been a good runner. He is playing very well for us and will continue to get better," Charlestown coach Jason Hawkins said of McClelland, who's averaging 156.8 passing yards and 99.8 rushing yards per game so far.
Of course it doesn't hurt that McClelland has standout offensive tackle Kiyaunta Goodwin, who has committed to Kentucky, protecting and blocking for him.
Lacy, meanwhile, is triggering an offense that is averaging 28.7 points per game for the Dragons. Although he has only completed two passes — both to Trey Schoen — in three games, one of them went for a touchdown. He also sports a 116.7 quarterback rating for Creek (2-1).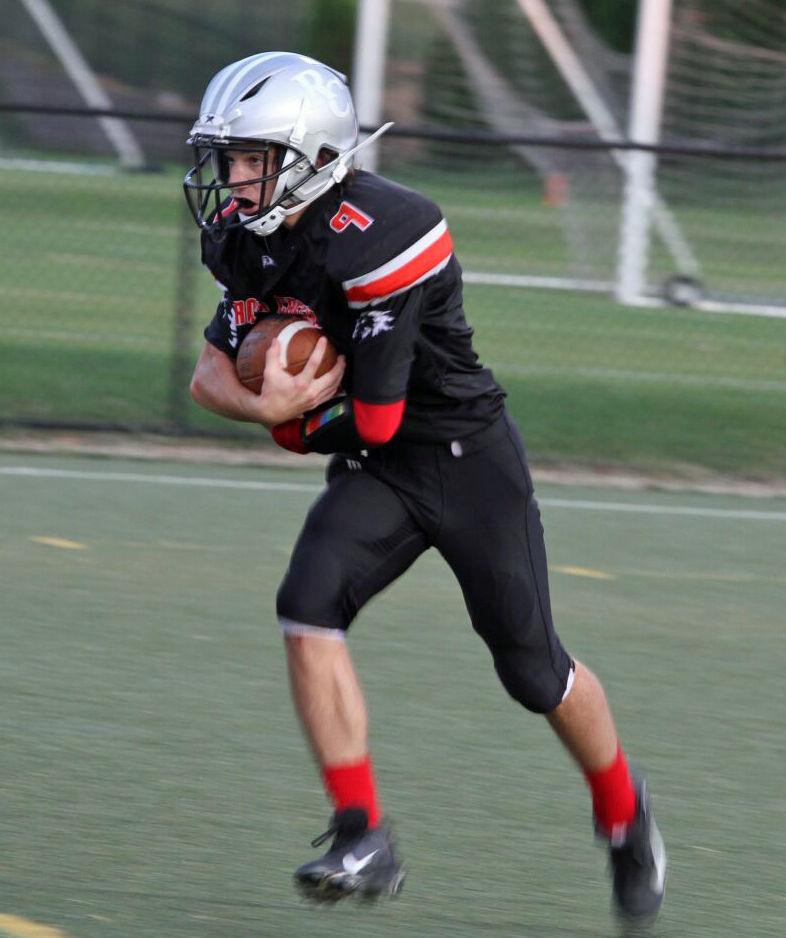 Then there's Sleepe, who like McClelland, saw significant time at QB as a freshman. He took over quarterback duties in the Lions' come-from-behind victory over Indiana Deaf on Sept. 3 and ran for the game-winning touchdown in that game. This past Friday night he had Rock Creek (1-2) on the cusp of its second straight victory before Crawford County kicked a field goal in the final seconds to pull out a 15-14 victory.
Then this past Friday night we got a new member to the club as Floyd Central sophomore Tristan Robertson made his first start. He had the Highlanders on the brink of their first victory before losing 21-14 in overtime to Daviess County (Ky.).  
PLAYERS OF THE WEEK
This one is too close to call, so we'll give it to both Lannan and McClelland for their performances (detailed above) in their teams' triumphs this past Friday night.
GAME BALLS
Chris Graham (Rock Creek): The junior running back/linebacker had 77 yards (37 rushing, 40 receiving) of total offense and a touchdown reception on offense. On defense, he recorded four tackles and returned an interception 93 yards for a TD in the Lions' narrow loss to Crawford County.
Robert Lamar (Clarksville): The junior running back/linebacker ran 34 times for 230 yards and two touchdowns on offense in the Generals' loss to Providence. On defense, he topped the team with eight tackles.
Sean McAfee (Charlestown): The sophomore middle linebacker tallied 14 tackles, including 10 solo stops and one for loss, in the win at North Harrison.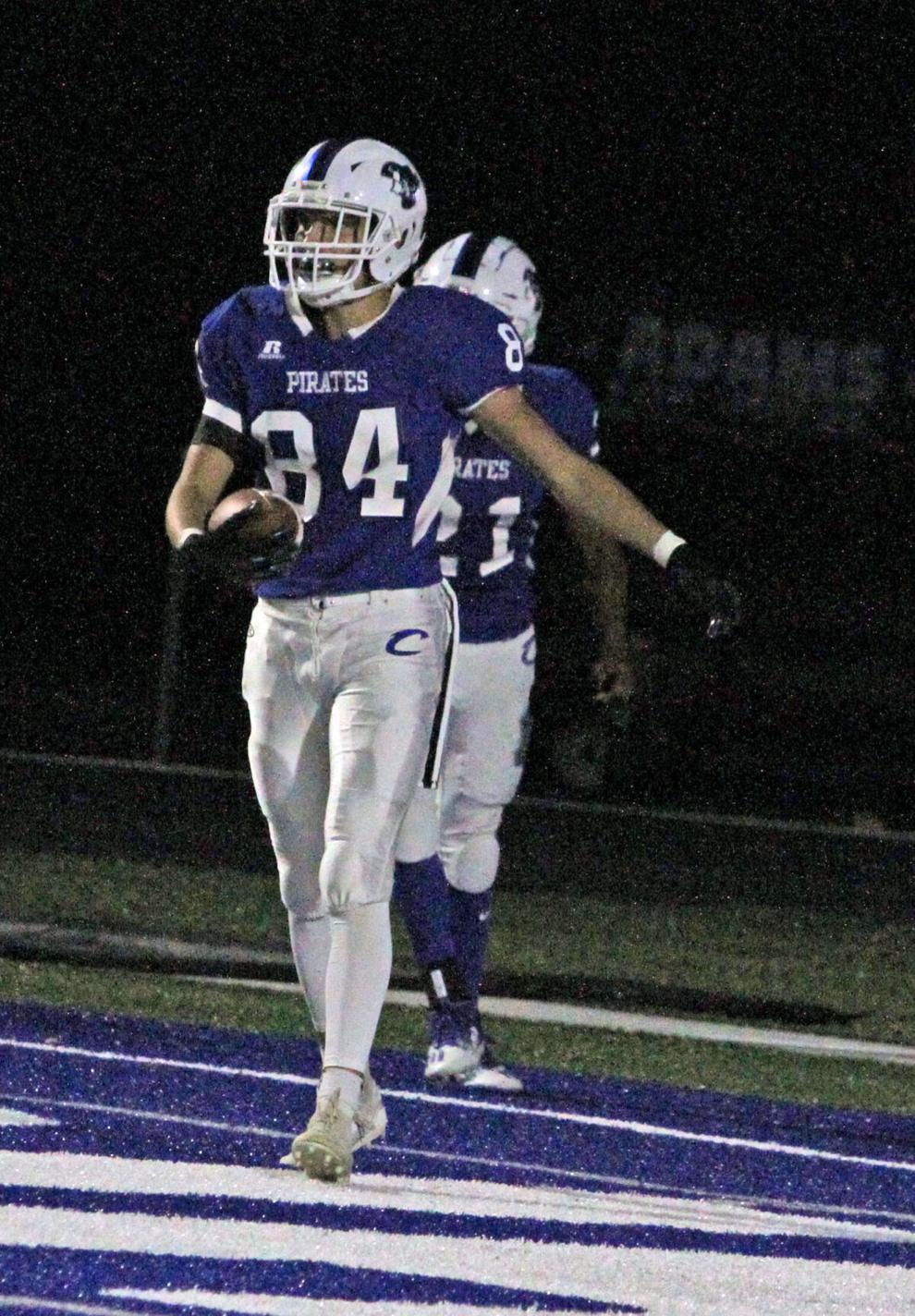 Jake Ottersbach (Charlestown): The junior wide receiver had four receptions for 122 yards and three touchdowns in the Pirates' victory.
Kendrick Peyton (Rock Creek): The senior linebacker/running back had 17 tackles, including three for loss and two quarterback sacks on defense. On offense, he ran for 84 yards. On special teams, he recovered an onside kick.
Derell Simmons (New Albany): The senior quarterback completed 14 of 25 passes for 189 yards and one touchdown while also running for two TDs in the Bulldogs' 27-16 triumph at Bedford North Lawrence.
Nick Stoner (Providence): The freshman defensive back had three interceptions in the Pioneers' big win over Clarksville.
Cade Unruh (Providence): The sophomore wide receiver had seven receptions for 99 yards and two TDs for the victorious Pioneers.
DeJon Winburn (New Albany): The senior wide receiver had seven catches for 105 yards, including a 26-yard TD grab, at Bedford.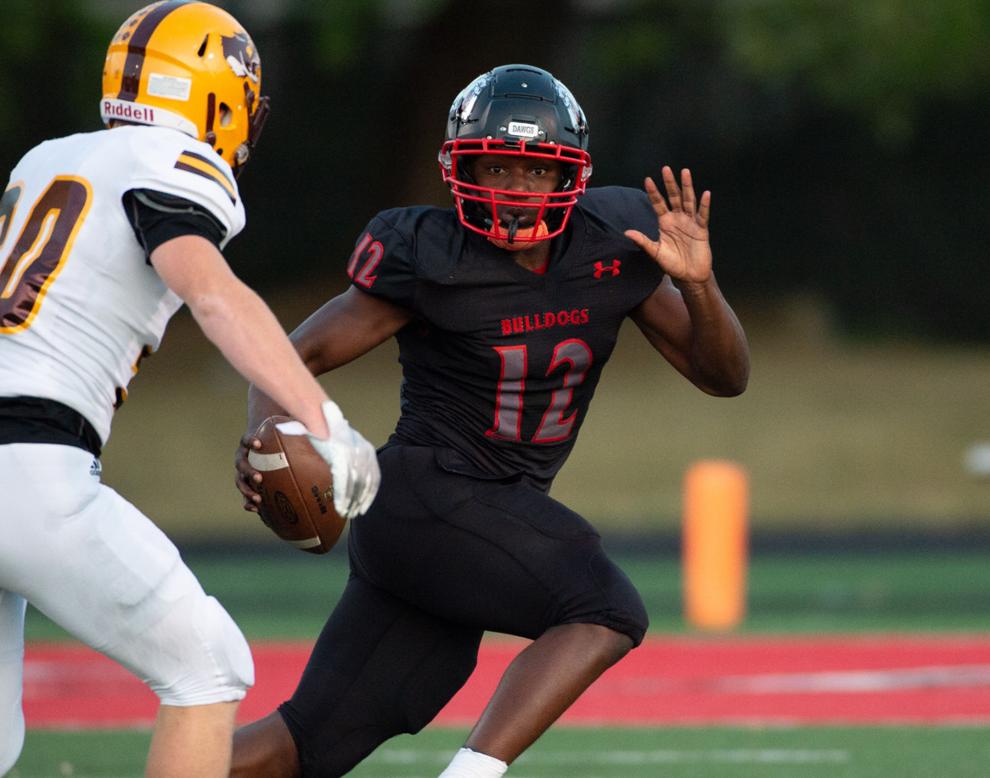 Kyondre Winford (New Albany): The senior running back ran 21 times for 113 yards and a touchdown in the Bulldogs' big win at BNL.
WEEK 5 LOOK-AHEAD
Providence (2-2) at Charlestown (2-2), 7 p.m.: The Pioneers will try to carry over the momentum from Friday night's win at Clarksville while the Pirates look to build off their back-to-back wins.
Salem (1-1, 1-1) at Clarksville (1-3), 7 p.m.: The Generals attempt to rebound from consecutive losses when they host their former Mid-Southern Conference rivals.
New Albany (2-2, 2-0) at Columbus East (1-3, 1-1), 7 p.m.: The Bulldogs try to carry over the momentum from their consecutive victories — and take a giant step toward a HHC title — when they visit the Olympians, whom they haven't beaten since 2002.
Floyd Central (0-4, 0-0) at Jeffersonville (1-2, 1-0), 7 p.m.: The Highlanders, who are still looking for their first win of the season, finally open Hoosier Hills Conference play when they visit the familiar Red Devils, who try to bounce back from back-to-back road losses, as well as stay unbeaten in the HHC.
Silver Creek (2-1, 1-0) at Scottsburg (4-0, 2-0), 7 p.m.: The Dragons, who had their game against Eastern canceled at the last minute Friday, look to get back on track when they visit the surprising Warriors, who have outscored their first four foes by an average of 23.7 points per game.
Rock Creek (1-2) at North Daviess (3-1), 7:30 p.m.: The Lions look to rebound from their last-second loss to Crawford County when they visit the Cougars, who have won their last two games by a combined score of 77-0.