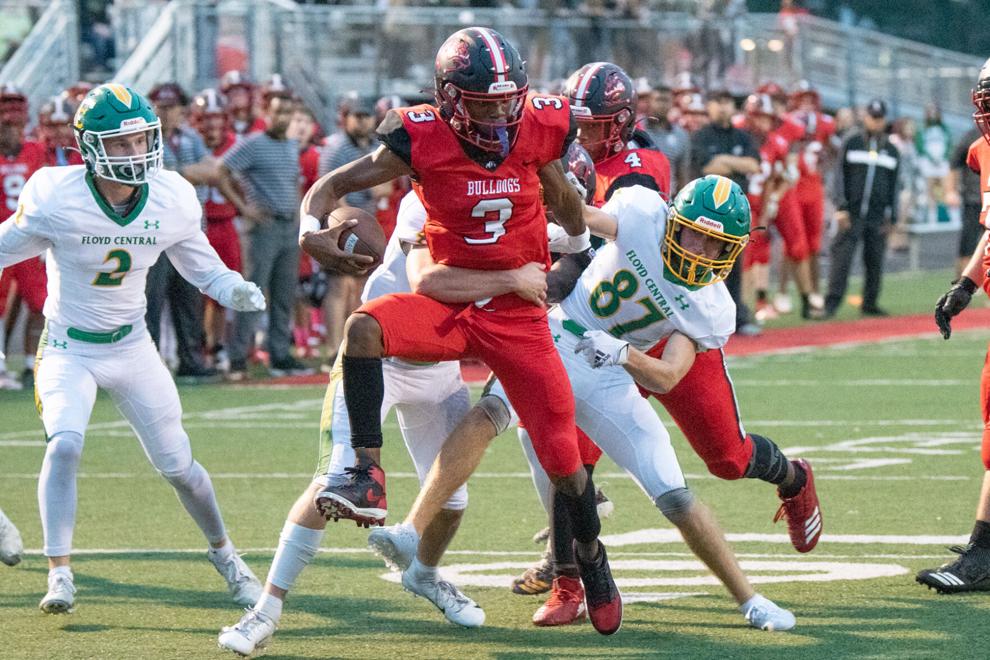 NEW ALBANY — New Albany's DeJon Winburn took matters into his own hands.
With his team trailing rival Floyd Central 10-7 at intermission, the senior wide receiver fielded the second-half kickoff at his own 5-yard line and returned it to the Highlanders' 10.
Three plays later, Derell Simmons' 5-yard touchdown pass to Ja'raylan Johnson gave the Bulldogs a lead they wouldn't relinquish and sparked a 28-point second half in New Albany's 35-16 win Friday night at Buerk Field.
The victory capped off the Bulldogs' unbeaten Hoosier Hills Conference campaign and was the finishing touch on their first league title in 19 years.
"That was one of our goals," said New Albany coach Steve Cooley, whose team lost to Jeffersonville in last season's sectional final. "Now we have another goal, and that's to win the sectional."
It didn't come easily for the Bulldogs on Friday night, though.
Floyd Central used a ball-control ground game on its first scoring drive.
The Highlanders went 49 yards in 15 plays, taking a 7-0 lead on Garron Jenkins' 1-yard run and Max Grangier's extra-point kick. The drive encompassed over eight minutes.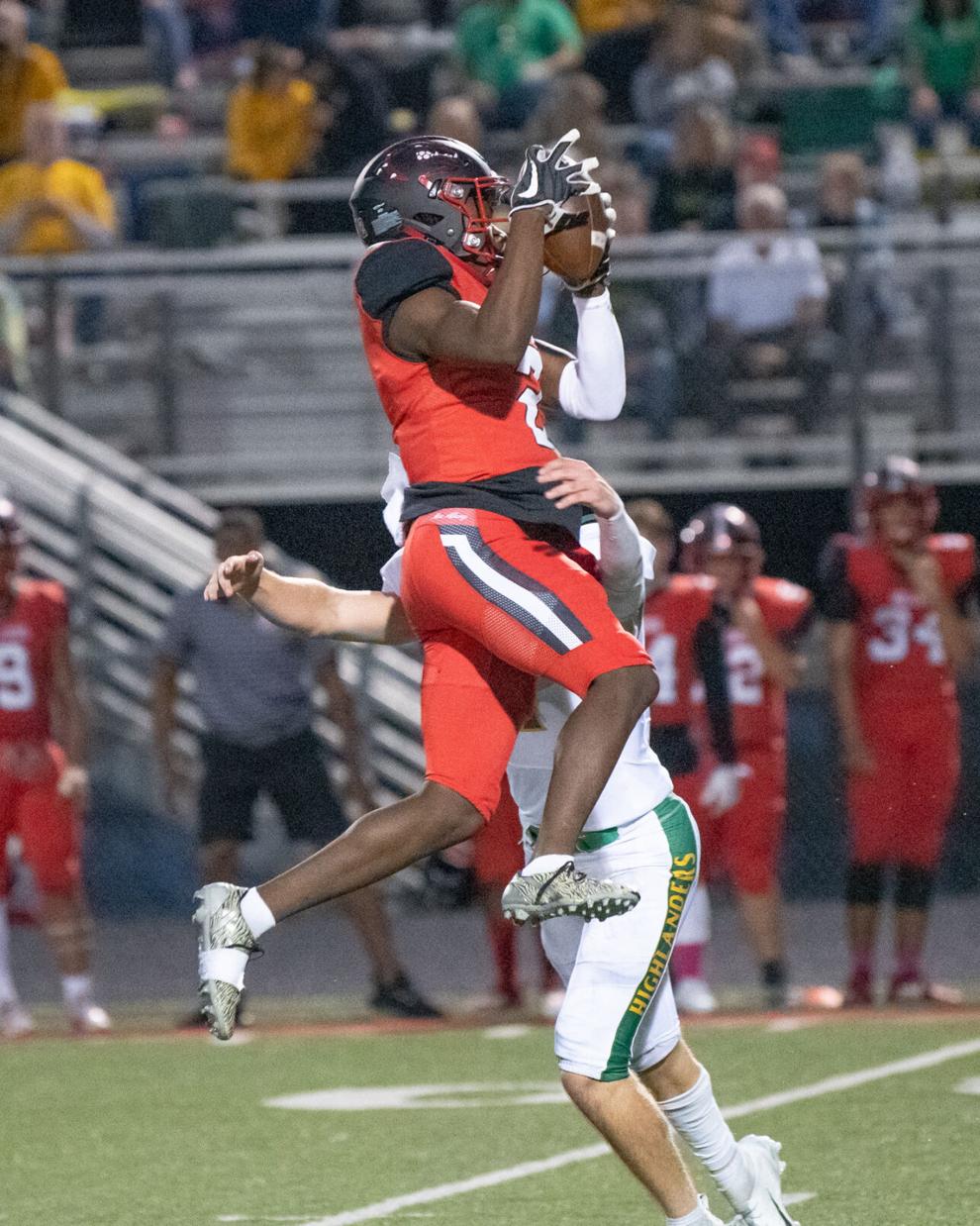 New Albany came right back with a scoring drive of its own as Simmons' 14-yard touchdown run, and Zachary Fleming's point-after kick, tied the game at 7 with 9 minutes, 27 seconds left in the second quarter. The Bulldogs went 80 yards in nine plays. The big play on the march was a 39-yard pass from Simmons to Johnson.
On its ensuing possession, Floyd Central put together a drive that resulted in a 24-yard field goal by Grangier with 4:43 to play in the period and gave the Highlanders the lead at the break.
That's when Winburn returned the third-quarter kickoff 85 yards deep into Floyd Central territory to set up the Simmons to Johnson TD toss.
"Anytime DeJon has the ball in his hands he has chances to make plays," Cooley said. "That was a big play to start the second half. Their defense is good. I'm proud we were able to put up 35 points on them. It was a challenge."
"I think that run back motivated us," Winburn added. "Me running that back and the offensive line just kept us moving the ball."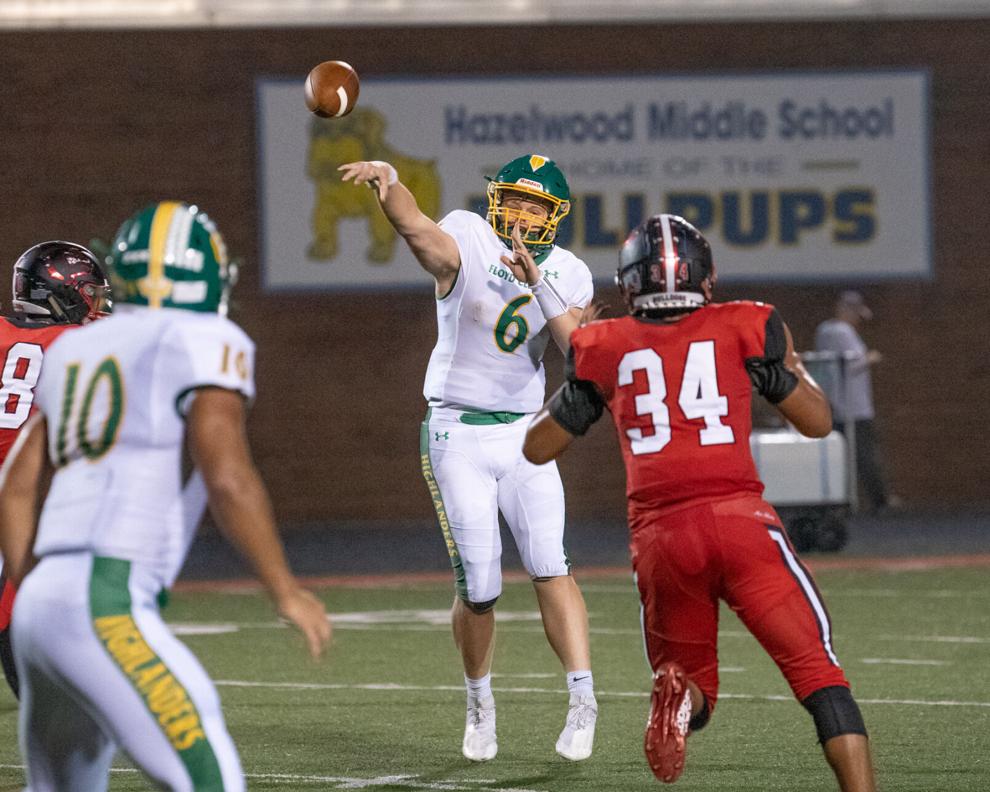 Later in the third quarter, New Albany went on a six-play, 69-yard scoring drive. Simmons connected with Winburn on a 32-yard pass to the Floyd 8. On the next play, Simmons bulled his way into the end zone. Fleming's PAT kick gave the Bulldogs a 21-10 lead with 3:34 left in the third quarter.
Floyd Central (3-6, 3-2) didn't die. The Highlanders drove 73 yards in six plays. Mitchell Bernardi's 2-yard TD run got them within 21-16 with 16 seconds to play in the period.
Floyd coach James Bragg decided to go for two after the TD, but Tristan Robertson's pass fell incomplete.
"That deflated us and ignited them," Bragg said. "Our sideline should have been excited and we weren't. I'm disappointed in our play. Some of our youth showed tonight. They attacked us where our sophomore linebackers are."
New Albany added two fourth-quarter touchdowns as Winburn caught a 2-yard scoring pass and Johnson hauled in a 6-yard scoring pass.
"We went in at (halftime) and said, 'We've got to stop the run and continue to fight,'" Winburn said. "We've got a team full of playmakers."
Cooley was happy with his team's D as well.
"Our defense came up big," he said. "Our front four got stronger against the run as the game wore on. We've got to get healthy and get everybody back and get better fundamentally."
Simmons, a senior quarterback, had another good game with two rushing touchdowns and three passing.
"Derell has been consistent all year. Our kids, especially our seniors, have been really consistent," Cooley said.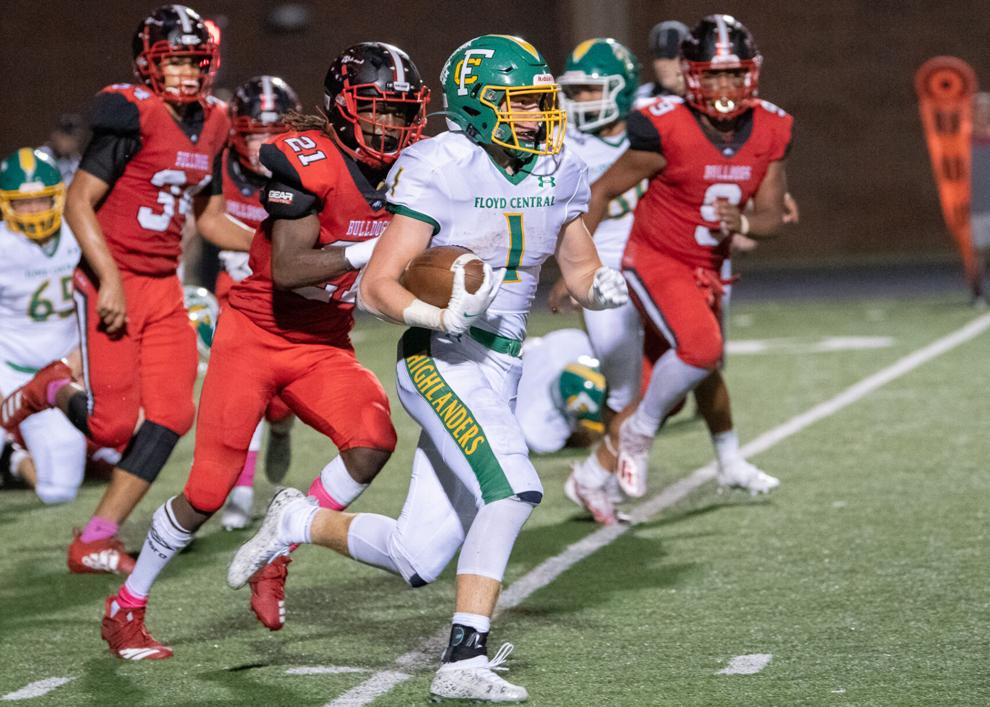 While New Albany has a bye next week, Floyd Central (3-6) will host Jeffersonville (3-5) in a Class 5A, Sectional 16 first-round game Friday. If the Highlanders win, they would host the Bulldogs in a sectional semifinal on Oct. 29.
"We have to have a good week of practice," Bragg said. "I hope we see them again in two weeks."
.
NEW ALBANY 35, FLOYD CENTRAL 16
Floyd Central  7  3   6    0 — 16
New Albany    7  0  14  14 — 35
SCORING SUMMARY
First quarter
   FC — Garron Jenkins 1 run (Max Grangier kick).
Second quarter
   NA — Derell Simmons 14 run (Zachary Fleming kick).
   FC — Grangier 24 field goal.
Third quarter
   NA — Ja'raylan Johnson 5 pass from Simmons (Fleming kick).
   NA — Simmons 8 run (Fleming kick).
   FC — Mitchell Bernardi 2 run (pass failed).
Fourth quarter
   NA — DeJon Winburn 2 pass from Simmons (Fleming kick).
   NA — J. Johnson 6 pass from Simmons (Fleming kick).