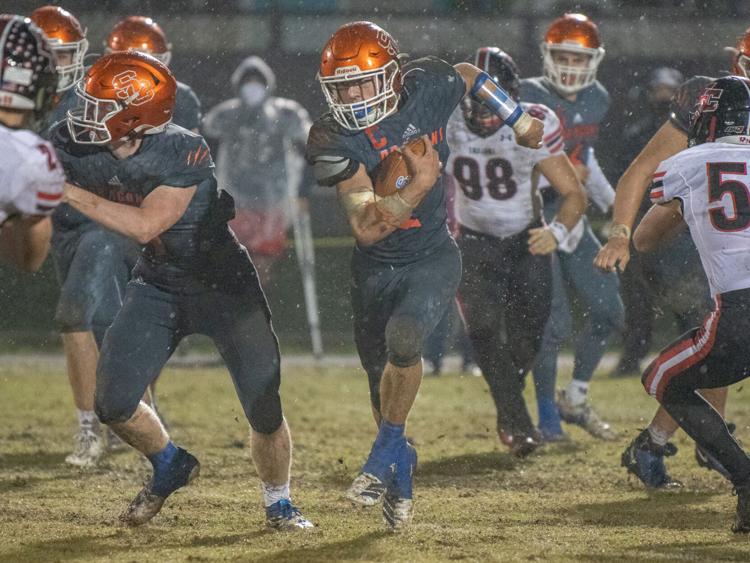 SELLERSBURG — Ninth-ranked Silver Creek saw its unbeaten season come to a close in the first round of the Class 4A playoffs Friday night as No. 5 East Central ousted the Dragons 35-0 in a Sectional 23 matchup.
A perennial power in 4A football, East Central powered its way on the ground to 392 rushing yards, leading to the shutout. It took a bit of time for the lights to come on in Sellersburg as a near two-hour weather delay prevented the scheduled 7:30 p.m. start in the highly anticipated match-up.
"That's a program that year-in, year-out is one of the best in the state," Silver Creek coach Dave Papenhaus said. "I think what this senior group and last year's seniors have done is pretty strong. We have work to do as a whole, but at least we know where we stack up against some of the state's best."
A 10-play scoring drive began the contest on a positive note for the visiting Trojans. Kole Viel, who would close with three touchdowns, scored from the 8-yard line for a 7-0 lead.
Silver Creek's most promising drive was its opener. In his own territory, LaShun Mays, Jr. picked up a tough 2 yards on a fourth-and-short. The Dragons would push the ball toward midfield before turning it over on downs.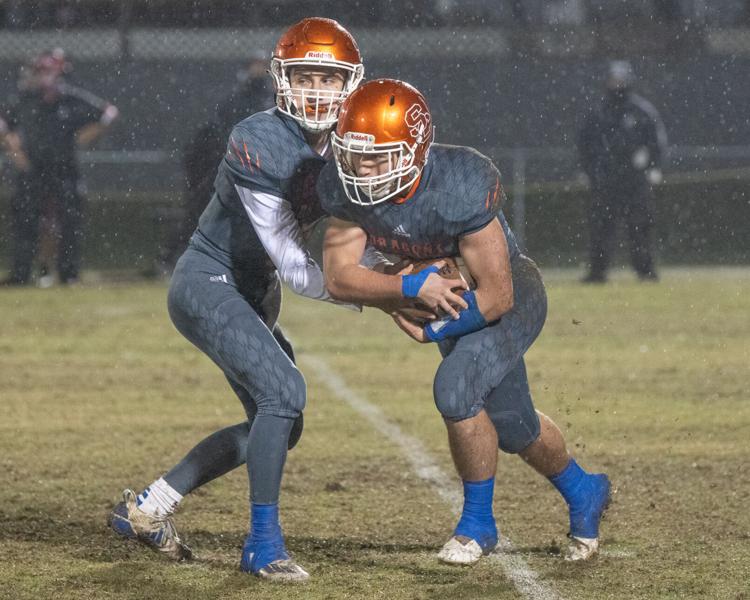 "We moved the ball early but we made some uncharacteristic mistakes, but credit them for forcing us into them," Papenhaus said.
With a bruising ground game, East Central didn't veer away from the run. The Trojans' second drive, which was 12 plays, saw them  pick up a pair of key fourth downs. The closer was a 13-yard fullback plunge from Hall. The 6-foot-1, 220-pound back would go for 186 yards on the night.
After its opening series, Silver Creek was stifled by the East Central defense. The second and third quarters saw the Dragons held without a first down. Moving the markers was limited to four times for Silver Creek on the whole, while East Central amassed 23.
"Their two linebackers (Bryce Hall) and (Nathan Griffin) are the best two we will see," said Papenhaus. "They are tough. Our offense didn't help us."
East Central seemed content with a 14-0 halftime lead. There was one mistake the Trojans made that the Dragons couldn't capitalize on.
A punt by the Dragons was muffed by Erik Perkins and recovered by Trey Schoen at the East Central 23-yard line. Silver Creek, however, was only able to move the ball up 2 yards before giving it back to the Trojans on downs.
"They out-physical'd us from the jump," said Papenhaus. "I don't think responded well. They came out and hit us in the mouth early."
Menacing runs continued for East Central in the second half as the Trojans rolled up three additional touchdowns. Viel scored his third, the final from 7 yards out. Griffin, another big back at 6-2, 215 pounds, had two scores late from the 4- and 3-yard-lines.
Perkins was also steady on the ground for East Central, carrying 29 times for 168 yards.
East Central kicker Sophie Browndyke was a perfect 5-for-5 on PATs as well.
"For a long time we played well defensively," Papenhaus said. "Offensively we were stalling out drives and turned the ball over."
Ben Landers paced the Silver Creek offense with 49 rushing yards on 15 touches. Schoen rushed for 11 yards and caught one pass for 16. Mays, who exited the game late in the first half with an injury, had 10 yards rushing.
Silver Creek, the first-time Mid-Southern Conference champion, closed the season at 9-1.