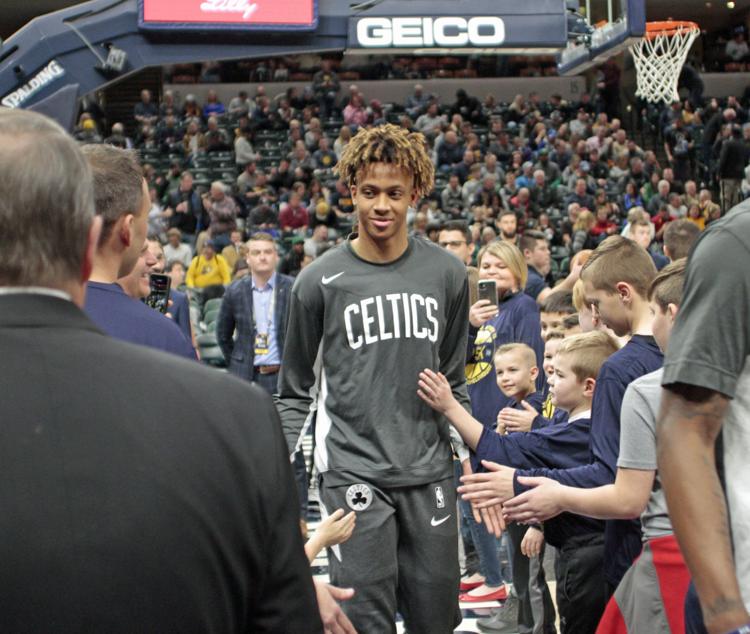 Romeo Langford hopes he's finished with injuries, at least for the foreseeable future.
The former New Albany High School star and Indiana University standout will begin his second NBA season somewhere he spent a good deal of his rookie year — on the sidelines.
Langford is still recovering from wrist surgery and won't be in uniform when the Boston Celtics open their 2020-21 campaign next Wednesday against the Milwaukee Bucks.
"Hopefully I'm getting these injuries out of the way right now, so I don't have to worry about it anymore once I get down the road in my career," he said during a Zoom call with reporters last week.
The 6-foot-4 shooting guard was plagued by injuries and only played in 32 of Boston's 66 games in the COVID-19-shortened 2019-20 season after being selected 14th overall in the 2019 NBA Draft.
Langford had surgery to repair a torn thumb ligament, which he played with at IU, after being drafted by the Celtics. That forced him to miss the entirety of the 2019 NBA Summer League. Then, in training camp, he battled through a groin injury. Next, while with the Maine Red Claws (Boston's NBA G-League affiliate) he twice suffered a sprained ankle.
Once healthy, he averaged 2.5 points, 1.3 rebounds and 11.6 minutes a game in his rookie campaign. However in the Celtics' final seeding game — and Langford's second career start — before the playoffs in the Orlando Bubble he injured a ligament in his right wrist.
In spite of that, he went on to appear in seven postseason contests, averaging 1.4 points. In his final action he played only 81 seconds in Game 2 of the Eastern Conference Finals on Sept. 17 against the Miami Heat after suffering a right abductor strain.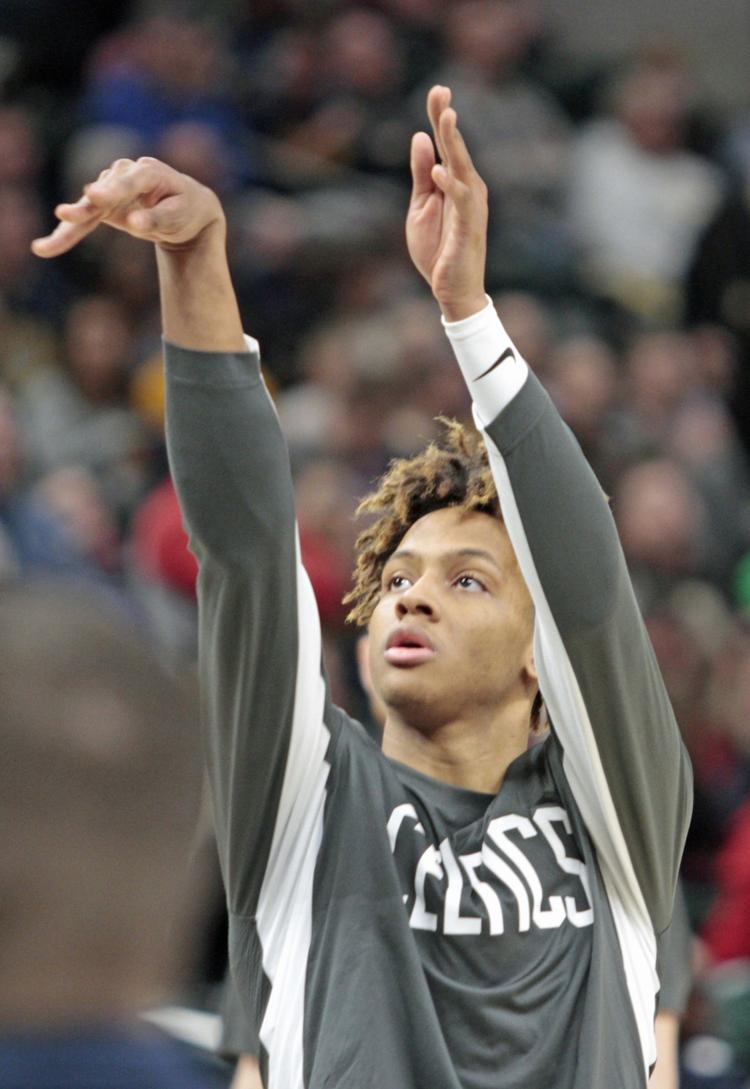 After that injury, and coupled with his wrist ailment, the Celtics decided to shut him down for the remainder of the postseason. He had surgery on Sept. 22.
"It's going to be a long recovery from the wrist surgery," Boston coach Brad Stevens said then. "It'll probably bleed into next season, whenever that starts, just because of the length of time it takes for that particular operation."
Last week, during his meeting with the media, Langford gave an update on his condition.
"The wrist is feeling good. I just got out of a hard cast yesterday. Right now I'm focusing on getting my range of motion back in my wrist and strengthening it back up," he said.
Despite being sidelined once again Langford, who is slated to make $3.6 million this season, said he's trying to use the extra time to his advantage.
"Really it just helps me, it just gives me more time being able to watch more film and see the game and work on different things that I need to improve on," he said. "So when I do get back out everything isn't all new and I'm well-prepared and well-studied on film things."
He also indicated that while he can't use his right hand, he's focusing on strengthening his left hand, and working on his conditioning.
"I've been doing other things without my right hand. I've been getting in shape, running, still doing a lot of left-hand workouts and I'm still in the weight room," he said. "Getting in shape is one of the hard things about this injury and this rehab process with my right wrist."
"That's one of the good things I can take from this injury, is to be able to improve on my left hand, make it stronger and make it more natural. I feel like I have improved, and I can feel my left hand becoming stronger and I have more control of the ball with different things — different layups, different passing with my left hand."
Although there is no official timetable for Langford's return, he's expected to be out until at least February.
For his part, Stevens isn't worried about Langford's rehabilitation, during which time he'll continue to work with Celtics assistant coach Joe Mazzulla.
"I think one of the great challenges that he'll do well with is maintaining the right mindset through all of the mundane work," the Boston coach said. "That's one of the challenges, I think, with long rehabs is that guys get into a rut very easily. But he and Joe Mazzulla work together; they have a great relationship. Joe does a great job keeping things fresh and that'll be a great challenge over the next couple months as he goes through that. And once he's ready, we'll see where he fits in with the team we have."
Looking long-term, though, Stevens doesn't believe Langford's early injuries will hinder his career.
"I think Romeo is going to be an NBA player for a long time, I don't think there's any question about that," Stevens said. "He's got a great feel. He's got a great athleticism. He knows the game, he works at the game, he's a very good worker. So, I think about it more in terms of he's just missing half of his second season, or whatever it is, and I think that that's hard when you already went through injuries as a rookie.
"You know, he pulled his hamstring a minute into the stint versus Miami, so that's frustrating. But as far as big-picture, long-term, I would venture to guess that he's going to have a long career based off who he is, his work ethic, and his ability."