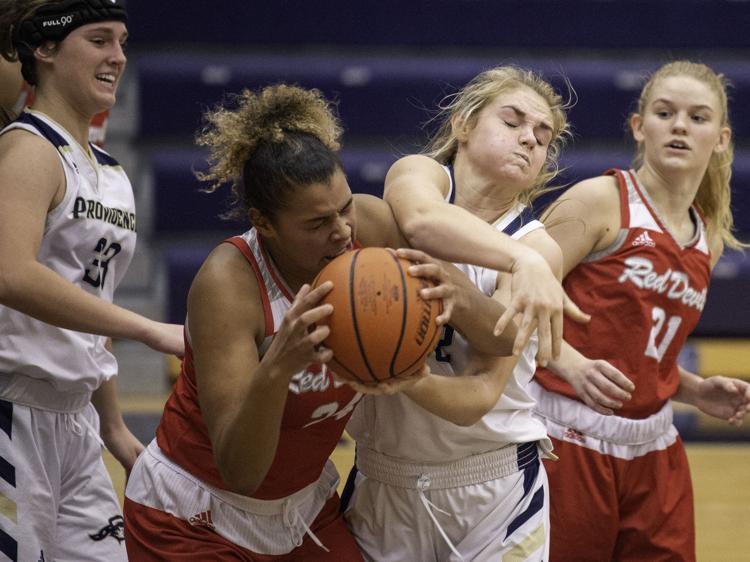 The 2019-20 News and Tribune All-Area teams feature several familiar faces, especially at the top.
Two of the three NTSPY Girls' Basketball Player of the Year finalists have been here before. Jeffersonville senior Nan Garcia has won the honor each of the past two years, while Providence senior Natalie Boesing is a repeat finalist. Those two are joined by newcomer Alana Striverson, a Silver Creek junior.
The winner will be announced during the seventh annual News and Tribune Sports Performance Yearly (NTSPY) Awards, which will take place June 16.
NATALIE BOESING, PROVIDENCE
Boesing, a finalist for the second straight year, followed up her breakout junior season with a sensational senior campaign. 
After averaging 21 points, nine rebounds and 3.2 steals a game as a junior, the 5-foot-11 forward put up 23.7 points, 10.6 rebounds and 1.8 steals per game for the Pioneers in 2019-20.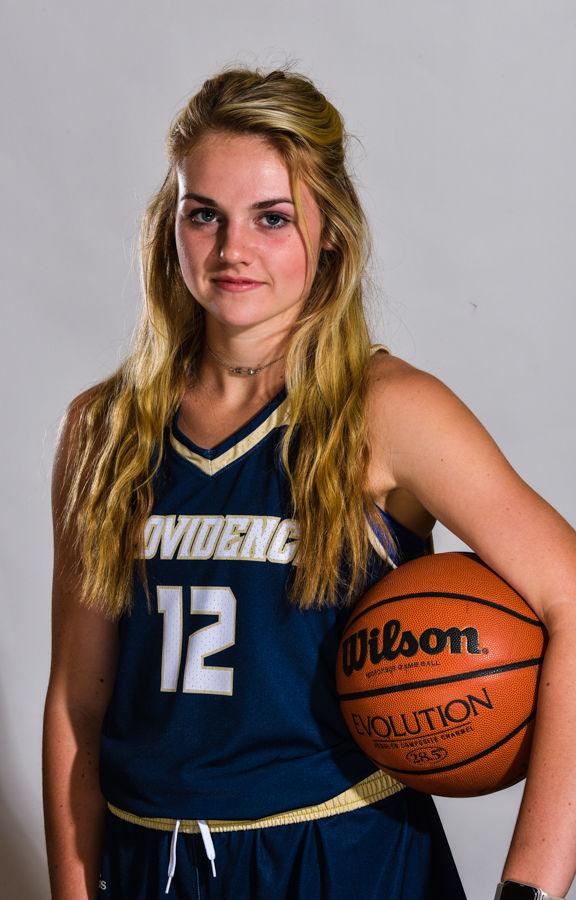 "I had a blast this season," said Boesing, who also shot 50 percent from the field and 71 percent from the free throw line. "With it being my senior year I knew it would be special, then to get to play with all my best friends was really awesome. I wouldn't have changed anything. 
"The team chemistry and the connection we had with our coach was really awesome this year, unlike any team I've ever been on." 
After the season, Boesing earned high honorable mention All-State recognition from the Associated Press and was named to the Small School All-State team by the Indiana Basketball Coaches Association. 
"I came in with a lot of confidence from my junior year, but I didn't know if I could do any better my senior year," she said. "But coach [Brad] Burden told me, 'Just do your thing, don't worry about it and let the pieces fall into place.'" 
She finished her career with 1,328 points and 606 rebounds. 
"I was really happy with my four years," said Boesing, who also ran cross country and played tennis throughout high school. "I think overall, basketball was my favorite sport ... I think I had the most fun with basketball."
Boesing has signed to play college tennis at Butler University, where she plans to major in business, marketing or possibly sports media. 
NAN GARCIA, JEFFERSONVILLE
The two-time reigning Player of the Year had high hopes for her senior year, which came to a premature end after she suffered a season-ending ACL injury in late December. 
"It definitely didn't go as planned, obviously," Garcia said. "But I think it taught me that everything happens for a reason. It was definitely a learning experience. It definitely taught me how to be a better teammate and how important it is to keep your body healthy."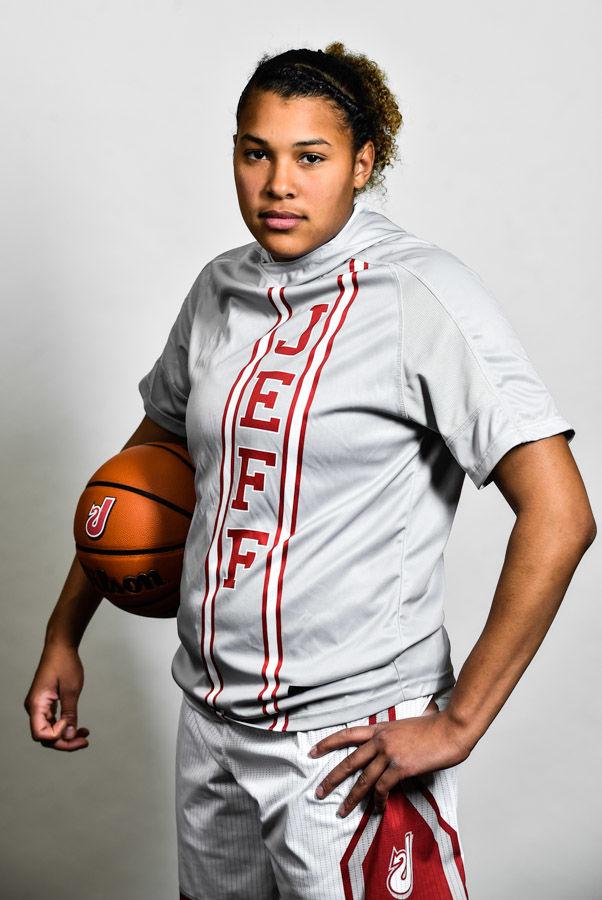 Still, in the 14 games she did play the 6-0 forward made her mark, averaging 18.8 points, 10 rebounds, 1.4 assists and 1.4 steals while shooting 54 percent from the field and 75 percent from the free throw line for the Red Devils, who were a preseason Top 10 team.  
Despite playing a little more than half the season, Garcia was still selected to the Indiana All-Star team while also being named to the Indiana Basketball Coaches Association/Subway Supreme 15 and second team All-State by the Associated Press. 
She finished her prep career with 1,281 points and 607 rebounds. 
"I'm grateful for the 3 1/2 years I got," Garcia said. "I'm extremely thankful for all the amazing people I've met, and all the coaches who helped me through the journey. At the end of the day, Jeff High's always going to be home.
"I'm just grateful that my career won't end at Jeff High." 
She has signed with Penn State University. 
"It's a new start at college," said Garcia, who is continuing to rehab from her ACL injury. 
ALANA STRIVERSON, SILVER CREEK
The 5-10 guard/forward had a breakout junior season for the Dragons after transferring from Louisville Male. 
Striverson averaged 16.3 points, 3.5 rebounds, three assists and two steals per game while shooting 47 percent from the field, including 38 percent from 3-point range. 
"I definitely grew a lot from the beginning of the season to the end of the season," she said.
Striverson helped Silver Creek win a program-record 21 games and advance to the Class 3A Charlestown Sectional championship, where the Dragons lost 54-52 to eventual state runner-up Salem.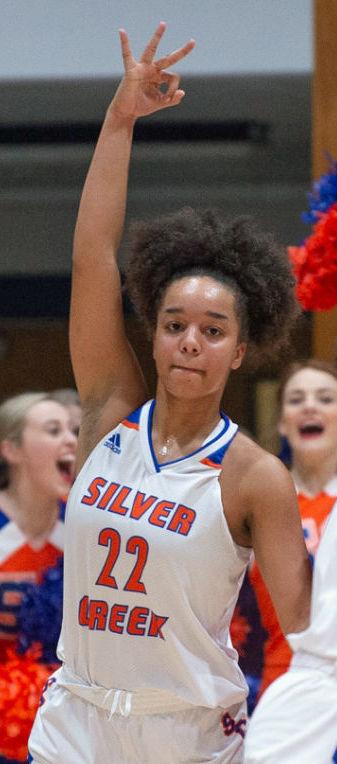 "I feel like our season went really well, it ended in an unfortunate way, but a lot of people have said that our game against Salem was like the state championship game," Striverson said. "It was a game I think we'll all learn from, especially the last two minutes. ... It's a game we won't forget, for sure. That's a game that will be in our back pocket for when we see them again next year." 
In addition to leading the team in scoring, Striverson also topped the squad with 150 made field goals and tied for the top spot in made 3-pointers (42) en route to earning Underclass All-State honorable mention from the Indiana Basketball Coaches Association. 
Striverson, who wants to play college basketball, recently received her first offer from NCAA Division II Lindenwood University. She still, however, has one season left with the Dragons, who are set to return all five starters, including her younger sister, Kynidi, in 2020-21.   
"We're coming back next year even hungrier," Striverson said. "Next year is going to be about critiquing the small things and making a statement that we're still not anybody to mess around with. I'm pretty sure we'll have a lot of pride to play with next year and hopefully I'll end my high school career on a good note."